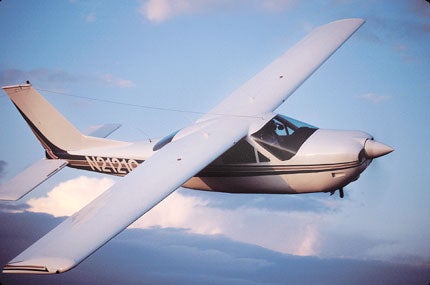 The Cardinal RG was introduced in 1970 to satisfy the market's enthusiasm for the model 177, which can easily be identified by its cantilever monoplane wing.
Many of them are airplanes you don't see on every ramp, but pilots in the know almost universally regard them as "sleepers," flying machines with more than their share of talent. In some cases, they were overshadowed by faster or more powerful models. In others, economic forces doomed them to relative obscurity.
These airplanes often were neglected and maligned on the used market, but they represent better deals than you might imagine. Almost inevitably, some excellent buys will be left out, but here are our nominations for the top 10 most undervalued general aviation airplanes.
Prices for these aircraft are taken from the most current Aircraft Bluebook Price Digest, published by Primedia Business Directories and Books. The values listed an average of aircraft sold within the recent months. Buyers shopping for these aircraft models should expect to see examples of prices both higher and lower.
1. Cessna Cardinal RG The retractable version of the Cessna Cardinal was a far more talented airplane than many realized. Although the model was often maligned for an unreliable gear design, the swept Cardinal RG was arguably the sexiest of the 200 hp retractables, second fastest in the class (to the Mooney) with plenty of leg room, large entry doors and outstanding visibility.
The Cessna 177RG sported a strutless, full cantilever wing, constant-speed prop and essentially the same 200 hp, IO-360 Lycoming engine used on the Arrow, 112, Sierra and Executive. The combination yielded cruise around 145 knots following a 900 fpm climb. Cessna built Cardinal RGs for seven years in the '70s, and today, you'll spend $57,000 to $69,000 for a reasonable 177RG.
---
2. Piper 235/Charger/Pathfinder/Dakota In some respects, Piper's PA-28-235/236 may have been the best of the four-seat Cherokees. It certainly had more names than any other Piper. The model was intended to compete head to head with Cessna's popular Skylane, and if it never quite measured up to that task, the reason may have had more to do with timing than talent.
Like the Skylane, the Cherokee 235/Dakota offers full fuel, four-passenger capability, good short-field performance, easy 1,000 fpm climb and 140-knot cruise. The cabin is about the same size as the Skylane's, though there's only one door on the low-wing Piper design. Dakotas, by any other name, enjoyed a near-continuous 30-year production run, so price varies from just under $50,000 for the early PA-28-235s to $157,000 for the last 1994 Dakotas.
3. Piper Seneca Piper's Seneca offers high-performance flying for a good value, especially considering the power and room you get. It started out as little more than a twin-engine, retractable Cherokee Six. Plagued with too little payload and a low single-engine service ceiling, the first Seneca was only produced for three years, but today, well-maintained used examples represent viable airplanes for pilots who don't operate over tall terrain. Even its later siblings, including the earlier Seneca IIIs, offer much more for your money, giving you more flying fun for a good price.
The Seneca I mounted twin Lycoming IO-360s rated for 200 hp each, a total of 400 normally aspirated horsepower to lift 4,200 pounds. Later Senecas have more powerful Continental TSIO-360-KB turbocharged and counter-rotating flat-six piston engines. You'll spend at least $76,000 for a nice Seneca I, and $185,000 or less for an immaculately maintained older version of the Seneca III. The price may sound a bit steep, but all of that buys a good, heavy-hauler twin with a lot of speed and bite.
4. Bellanca Viking Starting in the late '60s, Bellanca's Viking offered Bonanza performance from a wood-and-fabric airplane. Spruce and Ceconite were regarded by many as outmoded construction materials, and that doomed the Viking to also-ran status, but the airplane had a lot to offer for those wise enough to ignore the aluminum lobby.

Though they were compact machines (only 40 inches across), some models featured speeds near 174 knots, the magic 200 mph, and climb was almost universally the best in the class. Vikings also were good short-field machines, outperforming most everything else in the four-seat retractable category.
Many Vikings sell in the $40,000 range, but the downside of wood and fabric is that it's not as durable as metal. A very careful pre-buy should be an important prerequisite to purchasing any Bellanca.
---
5. Mooney Ranger/Statesman The 180 hp Mooneys may be among the best buys on the market for pilots interested in economy travel. The Ranger offered the short body with the 180 hp Lycoming engine, while the Statesman utilized the stretched Executive body with the same engine.
Predictably, the heavier Statesman was the slower of the two, but both airplanes acquitted themselves admirably in the class. With the front seats adjusted for normal folks, rear-seat legroom in the Ranger was only practically nonexistent, but both airplanes were 150-knot machines on 11 gph. You'll spend at least $50,000 for an early, all-metal M20C (don't even consider the wood wing or tail), $49,000 for a Statesman.
6. American champion Citabria The Citabria brought aerobatics to the masses. It was the first airplane to truly expand the flight envelope for pilots with a penchant for vertical and inverted fun. Without an inverted fuel or oil system, the Citabria couldn't sustain inverted flight, but it was still capable of most basic inside aerobatic maneuvers.
Better still, the Citabria was far from a one-trick pony. The tandem, two-seat cabin was comfortable and roomy, if a little spartan in furnishings, and most Citabrias could carry about 40 gallons, enough for five-hour cross-country flights. The tough, conventional gear granted the airplane good manners on unimproved strips, and you'll sometimes see Citabrias fitted with balloon tires operating in and out of the boondocks of Canada and Alaska. Floats were another option on the Citabria. Cruise was only 100 to 110 knots, but hardly anyone cared. Early used Citabrias sell for as little as $32,000, and late models can cost well over $90,000.
7. Beech Travel Air If you'd love to own a Baron but don't feel you can afford the price of admission or the operating costs, perhaps a Travel Air is the airplane for you. Introduced in the late '50s as a catch-up design to Piper's popular Apache, the model 95 Travel Air featured the Bonanza cabin with a pair of 180 hp engines on the wings. The whole idea was to provide an economy twin for training or a traveling machine for pilots who wanted the security of two engines.
Travel Airs are happy to plug along at 160 to 165 knots on 19 gph, and the 112-gallon, long-range tanks provide an endurance of 4.5 hours plus reserve, about as long as most folks are willing to sit in the seat anyway. Plan to spend $60,000 for a representative Travel Air, $74,000 for a totally renovated jewel.
---
8. Aerostar 600A Sometimes referred to as the "little" Aerostar, the Aerostar 600 was actually the same size as the 601, 602 and 700 models. The 600 was definitely the simplest of the bunch, with no turbocharging or pressurization and just a pair of 290 hp Lycoming engines and the lightest gross weight of any Aerostar at 5,500 pounds.
The Aerostar was Ted Smith's ultimate general aviation speedster, and the straight 600 could blaze along at 205 knots, making it, by far, the fastest of the normally aspirated medium twins. It was possible to load six souls aboard, but the airplane was happier with only four or five up. Smith built just under 1,300 Aerostar 600s, and you'll find them available from $120,000 to about $181,000.
9. Cessna Skylark Take a Skyhawk, transplant a geared, 175 hp Continental engine in place of the stock, 145 hp, direct-drive mill and you have a Skylark. At least, you did for a few years in the late '50s and early '60s.
The geared engine needed 2,800 to 3,000 rpm to stay healthy, and that apparently psyched out many pilots. Accordingly, the 1958 through 1962 Skylarks take a $2,000 to $3,000 hit in value (compared to the standard Skyhawk), making the Skylark one of the least expensive four-seat, fixed-gear singles you can buy.
Entry-level prices run well under $25,000 for an early model, and you'll be buying an airplane with better climb and marginally more speed than the Hawk. Just don't run it too slow.
10. Beech Sierra If the Cardinal RG was one of the fastest 200 hp retracts, the Beech Sierra was one of the slowest. Realistic cruise rarely exceeded 135 knots, placing the Sierra on a par with the 180 hp Arrow.
The Sierra was also among the most comfortable of retracts, with gentle handling, simple systems and even a four-plus-two seating option (although the two rear seats were truly kid seats). Sierras were nicely furnished airplanes, typical of Beech products, and handling was characteristically quicker than almost everything else.
Produced from 1970 to 1983, Sierras range in price from about $47,000 to $70,000. Whichever airplane you buy, you can take satisfaction in knowing you have one of the few American airplanes that retracts its wheels outboard à la Me-109.