The iPad scene shifts faster than coastal weather, with new products and amazing updates from old friends. Keeping on top of what's out there is substantially harder than in the old days, when fights lasting years could break out over whether a straight or circular E6B was a cockpit necessity. The big screen and large number of useful apps has led to widespread adoption in the cockpit for a little device that's neither laptop nor cell phone. The introduction of iPad 2 has only made it easier to bring some apps on your next flight. Not only is the newest iPad lighter and faster, it has pushed the prices on the first-generation iPads into reach of the pilot who has misplaced his or her E6B (regardless of shape). With new hardware pieces, like GPS units for the iPad, pilots now have a choice of several solid applications for an electronic flight bag. For around a thousand dollars, you can ditch the heavy bag of charts, and carry everything in the side pocket. We fly in interesting times.
AOPA Airports
www.aopa.org/airports/mobile
If you're a member, this is a great way to access the AOPA database on airports. It includes all the standard AF/D information and a list of FBOs, hotels and food. The information here is also incorporated into ForeFlight and a couple of other apps. Free for members. Available for iPhone only.
FAR/AIM By ASA
itunes.apple.com/us/app/far-aim/id361784690?mt=8#
Since the FAA persists in making and changing rules, it's worth keeping a current copy of the Federal Aviation Regulations. The Airman's Information Manual also gets regular updates in the explanatory material. For $9.99, you keep up on both in one app.
Flight Guide
www.flightguide.com/flight_guide_iefb.html
The digital successor to the ubiquitous little brown book of airports, the iPad version has the data quality you've come to expect, with moving maps that include the TACs needed in busy airspace. The IFR subscription adds procedure plates. For non-3G iPads, the software will interface with the Fly-WI bluetooth WAAS GPS. $9.99-$19.99 per month.
FlightAware
www.flightaware.com/mobile/iphone/
For my family, when they're wondering where I am, this app shows the track of any flight in the ATC system and NextRad radar. One safety-of-flight use is to zoom in on an area with worrisome weather and see how flights that are already in the air are dealing with it. If the tracks are all fleeing the line of clag between you and home, it's just one more hint to grab that comfy hotel bed. Free. Available on iPhone only.
FltPlan
wh83.fltplan.com/iPhoneInfo.htm
Like the FltPlan website, this app is a bare-bones tool for looking at airport information, but the price is certainly right, and it saves you from carrying an AF/D. It includes a not-yet-ready-for-prime-time plate reader. Free.
---
ForeFlight (HD)
www.foreflight.com
One of just a few contenders for a true electronic flight bag, the app still does a great job of flight planning as well as in-flight tracking. Georeferenced approach plates were added in the last revision, and the software will interface with a WAAS-enabled Bluetooth GPS for horizontal guidance. There's no vertical guidance though, so keep the IFR GPS and glideslope in the plane. Still the benchmark for a perfect iPad interface, the new version adds a lot more in-flight capability: fully featured navigation log, configurable moving-map display and auto-sequencing of waypoints. This iOS app is really at the point that someone should build a plane around it. $74.99-149.99/year.
Garmin Pilot MyCast
www.digitalcyclone.com/products/pilot-my-cast/iPad/
A comprehensive weather and flight-planning application with access to the AOPA airport database. There's also a moving-map feature that lets you follow the familiar magenta line. The feature set is continually expanding. Monthly subscription variable.
External GPS Units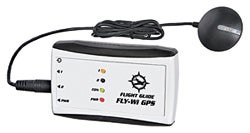 FLY-Wi GPS by FlightGuide
The built-in GPS unit in the iPad isn't something you should rely on for navigation in the sky. Each of the units below is an external GPS unit that communicates with the iPad in its own way, greatly increasingly the reliability of navigational data.
Bad Elf GPS
www.bad-elf.com
This matchbook-sized receiver plugs into the 30-pin port at the bottom of the iPad, giving WAAS GPS to killer apps like the georeferenced approach plates in ForeFlight. The receiver locks on fast, and provides a good signal as long as it has a good view of the sky. An attached GPS reduces clutter while grabbing power from the iPad, so you don't have to track charge status. Depending on the way you mount and use the iPad, Bad Elf might not get a good view of the sky; if you have a kneeboard mount this could be particularly problematic. $99.
Flight Guide FLY-Wi GPS
www.flightguide.com
The publishers of one of the most complete EFBs for the iPad have entered into the hardware business. The FLY-Wi GPS has two parts, one the size of an original iPhone, and the other a tiny hockey puck. Together, they're a WAAS GPS that transmits location data to your iPad. This unit is interesting because it works over WiFi instead of Bluetooth. This means that up to four iPad units can connect to it. Your passengers could be following the flight on their own iPads, as long as they also have a copy of Flight Guide installed. The battery lasts eight hours, with a 110V charger included. There are two ports on the unit, with the GPS antenna connecting to one of them. That leaves a place to later add a connection to XM weather or ADS-B when they're developed. My setup was a dream, and in five minutes I had six satellites locked in. $299.
GNS 5870 MFI
www.mfi.gns-gmbh.com
This bluetooth WAAS GPS receiver has a 10-hour battery life, a USB charger that worked well in my plane's 12V socket and a tiny form factor. That size is key, because I mounted it with a bit of Velcro to the glare shield for a clear view of the sky. It locks on to the GPS constellation quickly, and provides an accurate lateral guidance signal for the iPad, no matter which georeferenced charting system you're using. My only complaint is that turning it on requires swiping a finger across it in one direction. Which direction is the key, and if the battery happens to be dead, you'll be playing "pet the rock" for a while before you think to plug it in. $150.
---
iChart
www.flightprep.com
This app will replace all the paper charts in your plane, but this early version won't provide a moving map. Look for more features coming soon. $49.99/year.
Jeppesen Mobile TC
www.jeppesen.com/microsites/jeppesen-mobile-tc
This VFR/IFR charting app received FAA authorization to be used as an alternative to paper charts. It also features AF/D information. This entry from the IFR chart powerhouse is worth keeping an eye on. Subscription prices variable.
King Schools
www.kingschools.com
There are now five titles, each one a segment of video from a King course. The footage of John and Martha King's always informative lessons is presented in Apple's default video player. Available for iPhone only. $29.99.
LiveATC
www.liveatc.net
As an unabashedly airplane-obsessed pilot, I love listening to air traffic control, even when I'm not in the air. If you want to get your head into the air early, or hear common calls at a new airport, LiveATC is great. Tower calls from more than 350 airports are available as live, streamed broadcasts. You search by state, for airports near your home base, or someplace you've wanted to fly to. Available for iPhone only. $2.99.
Logbook Pro
www.nc-software.com
This app provides a way to sync flight-log entries made with your iPad with the same software ($69) running on your Windows computer. The feature set is rich, and it interfaces nicely with your calendar. $20 to sync for a year.
LogTen Pro
www.coradine.com/logten-pro
This digital logbook is stand-alone, but it will sync with the Mac-only version of LogTen Pro. The professional pilot can track duty limits, both domestic and international; for the private pilot, there's a surfeit of categories for categorizing your time and ensuring currency. $79.99.
MyRadar Pro
www.flightwise.com/iphone.aspx
Use this simple weather app showing the latest radar animation to see the current conditions and the direction cells are moving. It doesn't do much more, but this important task is done very well and with a solid user interface. $1.99.
---
Sporty's Plates
www.sportys.com/plates
There now are a few replacements for the banker's box full of chart books that I packed on my first coast-to-coast trip with my brother. This app has the whole country, and you can print out any of the plates right from iPad. The plates are interactive and have some useful informative features. $49.95/year.
SPOT Connect
www.findmespot.com
The SPOT Connect can transmit regular position information, or mark an emergency location. In the latter mode, it also will notify emergency responders. The app allows a Spot Connect owner to interface with the device over Bluetooth. Once paired, the iPad will display the tracking options for the Connect, including a check-in or call for help. The app is free, but you need a SPOT Connect unit. Available for iPhone only.
WeatherBug
weather.weatherbug.com/mobile/weatherbug-for-iphone.html
Live weather, including Doppler radar, makes this a very useful app. iPad's larger form factor is perfect for viewing the weather, allowing a full display with overlay information. $4.99.
WindSock
www.members.cox.net/wind_sock/
This is an amusing app to pull out your iPhone for in the cockpit. When you dial in the runway and the wind reported on the ATIS, it will tell you the crosswind and headwind components, and warn you if they're over the limits that you've set in the preferences. A great idea. It will even tell you what head-ings to fly for your downwind, crosswind and final to stay lined up in the pattern. Available for iPhone only. Totally worth the dollar.
WingX Pro7
www.hiltonsoftware.com
WingX Pro7 is a comprehensive moving map solution that recently added ADS-B in-flight weather. WingX Pro7 is unique in that it has a split-screen view and can overlay terrain on the VFR sectional and IFR enroute charts. $.99 for the app and $99.99/year plus chart geo-referencing subscription.
X-Plane
www.x-plane.com
Is your plane grounded for its annual inspection? This app will fill those ground hours with virtual airtime. There are lots of airframes, so fly something you wouldn't have the chance to otherwise. The aerodynamics are top notch, the scenery is very good, and the animation is fluid and flicker-free. You even can set up four iPads as part of the glass panel of a simulated airplane using the related EFIS app. $9.99.
---
Kneeboard Solutions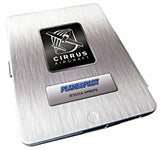 iPad Kneeboard by MyGoFlight
iPad Kneeboard Pro C
www.mygoflight.com
This strong yet lightweight aluminum case, designed for pilots by pilots, holds an iPad firmly in place for use in the cockpit. The kneeboard swings open 330 degrees, and can be secured by a removable Velcro strap to either leg, and used left or right handed. It's available in silver, black or with a high-resolution-graphic skin back, made from an adhesive-backed cast vinyl and sealed with a glossy enamel. The iPad sits within a Slim-Fit Case Back that's placed into the iPad Kneeboard Pro. The case back also serves as high-strength protection if you want to use the iPad outside of the kneeboard unit. A specialized clipboard, which includes aviation reference information such as lost comm procedures, attaches to the outside or inside of the case via magnets.
iPad Kneeboard
www.globalnavsource.com
Adjustable leg strap with a curve for ergonomic fit. Canted at the top for line-of-sight viewing.
Knee Dock iPad Holder
www.kneedoc.com
Secures to the leg with an adjustable strap and buckle.
MyClip Kneeboard
www.tietco.com
Its clips attach in either portrait or landscape mode. Secured to the leg with a faux-suede strap.
Sporty's iPad Kneeboard
www.sportys.com
A bifold kneeboard with adjustable stand. Includes mesh pockets and a zippered compartment.
Colin Summers is an instrument-rated private pilot, flying N971RD out of KSMO when he's not writing programming code for CapLinked.Com.