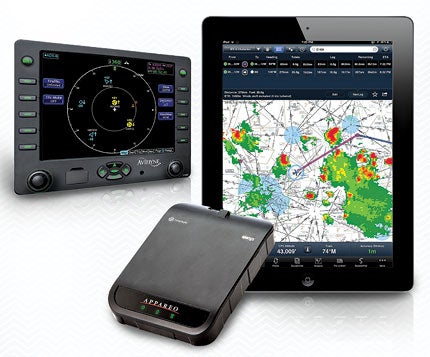 Avidyne EX600; Appareo and Sporty's Stratus
By 2020, aircraft operating in airspace currently requiring a transponder must be equipped with a certified Automatic Dependent Surveillance-Broadcast (ADS-B) Out transmitter, a key component of the FAA's NextGen Air Transportation System. The past year saw the introduction of a host of ADS-B solutions, and while only a few meet the 2020 requirements, they can provide real-time weather and/or traffic data in the cockpit now, and some solutions provide a path to future certification. Below are the basics of evaluating ADS-B products, along with a catalog of OEMs and their ADS-B solutions.
Evaluating ADS-B Solutions

"In" and "Out." ADS-B has an "In" and "Out" component, and not all ADS-B products have both. ADS-B Out transmits an aircraft's location, its registration number, speed, track and altitude; aircraft must have a certified product with this Out capability by 2020. Weather and traffic data sent via ADS-B ground station network in the U.S. can be received by aircraft equipped with appropriate ADS-B In receiver.
978 UAT and 1090ES. ADS-B has two operational frequencies: 978 and 1090 MHz. Weather and ATC traffic information is sent from ground stations and received in the aircraft via the 978 MHz Universal Access Transceiver (UAT) channel, only available in the U.S. The 1090 MHz Extended Squitter (ES) channel sends and receives only traffic information. An ADS-B solution may use the 978 or 1090 MHz channel, or both. In the U.S., come 2020, aircraft flying below 18,000 feet can use either a 978 or 1090 Out to meet the ADS-B requirement; aircraft flying at 18,000 feet and above (or operating outside the U.S.) will be required to use the 1090 Out.
Display devices. Depending on the ADS-B solution chosen, data received by aircraft equipped with ADS-B In receiver(s) can be displayed on an installed multifunction display (MFD), compatible portable GPS, or iOS, Android or PC/Windows mobile device. Display devices are typically not included with the ADS-B solution. The connection between the hardware and the display may be wireless via Wi-Fi or Bluetooth, or hard-wired or cabled.
EFB apps. Whether displayed on an MFD or mobile device, the ADS-B data is presented through an electronic flight bag (EFB) application, either developed by the hardware manufacturer (as with Garmin's Garmin Pilot app) or by a third party (such as ForeFlight and WingX). There's little cross-platform compatibility, and EFB app providers may be married to a single or small number of ADS-B hardware platforms. If you're attracted to a certain EFB app, choose the equipment that supports that app. If you're driven by hardware, make sure you're comfortable using the EFB apps
it supports.
Traffic. Some ADS-B solutions provide traffic information. In portable products, this comes with several asterisks: Only aircraft equipped with a certified ADS-B Out matching the receiver's In capability (i.e., 978 or 1090 MHz) will be displayed, unless near a ground station that the certified ADS-B Out signal triggers, which sends a burst of ATC traffic data from a ground station that non-certified units can receive and display.
Price. If you're waiting for prices to come down on certified or portable ADS-B products before buying, don't. Prices are unlikely to decline as they do with large screen TVs or other electronics that sell volumes in the millions. Some uncertified ADS-B products sold today promise a free upgrade when certification is completed, enabling users to take advantage of ADS-B today, and have a no-cost path (besides installation) to meeting the ADS-B mandate tomorrow.
---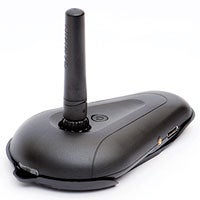 Garmin GDL-39
The FAA has mandated that all airplanes operating in airspace that currently requires a transporter will need to be equipped with an ADS-B Out transmitter by the year 2020.
ADS-B OEMs and Products

Appareo Systems
www.appareo.com, www.sportys.com
Introduced at Sun 'n Fun 2012, Appareo's Stratus launched the mainstream portable ADS-B market, bringing subscription-free weather to GA cockpits with its 978 MHz solution. The Stratus gained great traction out of the gate through Appareo's collaboration with Sporty's Pilot Shop and the EFB app provider ForeFlight. ForeFlight remains the only EFB the Stratus supports, and vice versa, which Appareo sees as preferable to "trying to support three, four or five different apps," according to Jeff Johnson, Appareo's vice president, business development. The low-profile black unit is designed to sit on the glareshield, but the company has introduced a ram mount to protect against overheating. The Stratus is priced at $799.
Avidyne Corporation
www.avidyne.com
Avidyne's TAS600A Traffic Advisory System utilizes 1090 ADS-B In, and the company plans to release a 1090 ADS-B upgrade for its TAS600 series in the first half of 2013. Current TAS600 Series and Ryan 9900BX TAS owners can register online and lock in an upgrade that adds 1090 ADS-B In traffic for a price not to exceed $2,000. Avidyne's AXP340, also slated for release in the first half of 2013, is a panel-mounted Mode S Transponder with 1090 ADS-B Out that meets the FAA's 2020 mandate. As for its all-1090 MHz lineup, "Avidyne has not made any specific announcements regarding a 978MHz solution for free weather," said Tom Harper, director of marketing, "but you can expect that there will be additional ADS-B related announcements forthcoming."
Dual Electronics
www.dualav.com
Dual Electronics' XGPS170 GPS+ADS-B 978 MHz portable receiver provides weather and traffic displayed on iPad and Android tablets via Bluetooth. The XGPS170 supports EFB apps including WingX Pro7, EFB from Global NavSource, i1000 from Digital Sectional and Reader Plates. Internal rechargeable battery provides up to five hours of use. The detachable ADS-B antenna enables the receiver to be connected directly to an aircraft's external antenna, said Dual's Greg Lukin. The $799 unit is about the size of two stacked smart phones, and the mounting pad allows placement on the glareshield or window.

If you're waiting for prices to come down on certified or portable ADS-B products before buying, don't. Prices won't decline as they do with electronics that sell volumes.

Freeflight Systems
www.freeflightsystems.com
The first company to certify an airborne WAAS receiver, Freeflight Systems' certified Ranger series of ADS-B receivers, transmitters and transceivers are used by helicopter operators in the Gulf of Mexico, among others. Its non-certified Explorer provides ADS-B weather and traffic, while offering an upgrade path to future certification. "Our goal with the Explorer is to give people the ability to not have to throw away the box in a few years," said Jessica Power, Freeflight's director of marketing and sales. "When they're ready, they can send [the unit] back, and we'll marry it to a certified Ranger Out system." The Explorer can be displayed on iPads, and runs WingX and its own proprietary EFB app. The certified Ranger system is $3,995 and the Explorer is $685.
Garmin International
www.garmin.com
Garmin's GDL-39, is an "all-encompassing portable ADS-B solution," said Jim Alpeiser, Garmin International's director of aftermarket sales. The dual-link transceiver (both 978 MHz UAT and 1090ES channels) with WAAS GPS can display data via cable on compatible Garmin portable products (like Aera series, 396/496 and 695/696) or through the Garmin Pilot EFB app on iPad, iPhone or Android mobile devices via Bluetooth. Price is $799. For a certified ADS-B solution, Garmin offers two types of GDL 88 products: with and without an internal WAAS GPS, both available with either single or dual antenna. Garmin WAAS 430 or 530-equipped aircraft can buy the stripped-down GDL 88 for "about $4,000," and with WAAS the price is "a little over $5,000."
---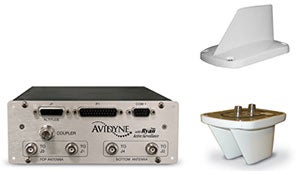 Avidyne TA5600A
NavWorx
www.navworx.com
The NavWorx ADS600-B is a remote mounted 978 MHz transceiver providing weather and traffic that supports several panel mounted EFIS/MFD and portable displays (including Garmin). This is the transceiver used in SkyVision's Xtreme portable ADS-B (see below). "Our first customer in 2010 was Cessna Citation ultra jet plus," said NavWorx president Bill Moffitt. "He flies regularly, no problem getting weather and traffic." Traffic can be displayed via an optional ARINC 429 interface. Currently uncertified, NavWorx will replace units with certified UATs when available, so customers can buy now ($2,595) without concern for obsolescence. NavWorx plans to release a dual channel solution in the summer of 2013.
Sagetech
www.sagetechcorp.com
Sagetech makes the Clarity line of ADS-B solutions, smallest of the current portables, with single and dual channel In, and single and dual channel In-Out units. The Clarity line features a patent-pending internal phase array antenna, rather than less robust circuit board antennas. Internal battery provides 6-12 hours of use. Data burst capability enables the unit to store and send bursts of received information to a display device; if a mobile app is shut down to conserve its battery, the EFB app can be awoken, and at the touch of a button the Clarity's data burst will feed the information instantly, instead of waiting the 15-20 minutes for complete ground station reception. Which unit should customers buy? "If you're not sure, get the cheap one," advised Sagetech founder and president Kelvin Scribner. "That's going to give you 80-90 pc of benefits." Prices of the Clarity units run from $699 to $1,117.
SkyRadar
www.skyradar.net
The SkyRadar-L and SkyRadar–D2 offer single- and dual-band (978 MHz, and 978 and 1090 respectively) portable ADS-B In and Out weather and traffic. The D2 also supports AHRS for synthetic vision and other graphical displays. The data can run on SkyRadar's proprietary EFB app, WingX and MountainScope, and the architecture is designed for simple compatibility with other EFB apps. "We prefer to have an open solution," said SkyRadar chief technology officer (CTO) and founder Alexey Zaparovanny. SkyRadar is also compatible with iPad and Windows tablets. Both the L, a brown plastic unit with internal antenna, and the D2, metal with two small external antennae, are designed to perch on the glareshield in flight. The L and D2 are priced at $600 and $750, respectively.
SkyVision Xtreme
www.skyvisionxtreme.com
SkyVision Xtreme was first to market with its portable Xtreme Vision 978 MHz ADS-B In-Out product, providing in-cockpit weather and traffic displays. Since introduction the Xtreme Vision has been repackaged into a small suitcase unit, externally powered by an electrical source in the aircraft. The transceiver is made by NavWorx (see above) and data can be cabled into a compatible display unit or to a dedicated monitor, sold separately. "We see this product as something they can purchase and use today, pay for the UAT they're going to install, then [later] install that with permanent mount antennas," said SkyVision operations manager Jeremy Brady. An optional Wi-Fi unit can display the output on multiple iPad, Android or Windows-based mobile devices. The company has its own proprietary app for weather and traffic, which includes a 3-D traffic depiction. Xtreme Vision is priced at $3595.
Trig Avionics
www.trig-avionics.com
UK-based Trig Avionics makes certified Mode S/1090ES Out transponders, with an emphasis on the light-sport and GA market. "If you're getting a certified Out [solution], it's best to have 1090, so you're not restricted to any altitude, and it can be used outside the U.S.," said Trig marketing manager Jon Roper. With hardware separate from the control head, the units are ideal for aircraft with limited panel space. Its TT22 is the world's smallest GA transponder. The TT31 is a plug and play retrofit for the Bendix King KT76A, and can become the hub for a certified 1090ES ADS-B Out solution. Trig plans to introduce a certified ADS-B In receiver with optional built-in WAAS GPS in 2013. The products are well supported in the U.S. List price for the TT22 is $3,071; the TT31 is $3,349.
Zaon
www.zaon.aero
Zaon's MAX 1090 and MAX 1090 GR portable ADS-B units are designed strictly for traffic detection, utilizing a 1090 ES receiver. "Collision avoidance is our focus," said Zane Hovey, Zaon president and owner. "The only country that's spending the money on the 978 is the U.S. The rest of the world is limited to 1090, a market we think has been overlooked." Interface options for porting to displays include Bluetooth, Wi-Fi and two RS232 ports for connecting to compatible Garmin products (396 and up). The MAX 1090 can complement Zaon's PCAS XRS, which tracks Mode C and Mode S transponders, and in conjunction, the two units can provide a comprehensive traffic solution. The 1090 GR, or "Ground," is for buyers who want to monitor traffic from the ground, displaying traffic on PC or iOS systems as it would appear on an ATC screen. Base price for the MAX 1090 is $599; Bluetooth or Wi-Fi options, $649; MAX 1090GR is $399.