Anyone who has followed the development of the LSA market in the States is probably aware that many of the current crop of LSAs were developed in Europe as many as 20 years ago. That was long before there was any formal definition of the type, and those airplanes have been adapted to accommodate the American definition. America "discovered" the economy and fun of flying LSAs only three years ago, but pilots on the opposite side of the pond have been aviating in economical two-seaters for decades to offset the high operating expenses of private aircraft.
Many European countries have faced avgas prices in excess of $6 per gallon for years, and in combination with weight-based landing fees that handicapped heavier machines, designers had natural incentives to reinvent the airplane with major emphasis on economy. Now, those same prices have moved 3,000 miles west, and today, it's not uncommon to pay $6 per gallon at major American FBOs on large airports and $5 per gallon at rural fields.
Little surprise then that variations on many, entry-level, European designs have also flown west. Case in point, the Italian line of Storm sportplanes. Storm Aircraft of Sabaudia, Italy, is currently producing the high-wing Rally and low-wing Century (both tricycle designs), and the company is hard at work on the Sea Storm, a taildragger amphibian.
The company has been building composite airplanes in Europe for 20 years, and variations include one aircraft powered by a 160 hp engine and approved for 2+2 operation. There's even an aerobatic model approved for vertical and inverted fun with a single person aboard. The Storm designs are constructed of carbon fiber with Kevlar-reinforcing, built hell for stout and generally regarded as stronger than steel.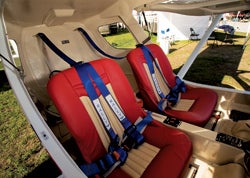 The high-wing Storm Rally has twin gull-wing doors that open to reveal a comfy and surprisingly spacious cabin (with a 43.7-inch cabin width, the two-seater has the same dimensions as a Cessna Skylane).
The Storm Rally is characteristic of Storm's S-LSA product line. The Rally may be new to the U.S. market, but it has been produced in Europe since 1991 as a normal-category aircraft, with some 870 Rallies of all varieties delivered overseas and five delivered in the States at this writing.
The high-wing design looks like a cross between a scaled-down Cessna Cardinal, with its low-rider swept fuselage, and a Diamond Eclipse, with a low-tail version of the latter's waspish empennage. The tricycle design perches low on aluminum-leaf landing-gear legs with five-inch wheels and disc brakes.
In fact, despite the Rally's deceptively diminutive external dimensions, they don't translate to the interior. Twin gull-wing doors open up beneath the wings to unveil a comfortable cabin that's larger than you might imagine. Cabin width of the Italian two-seater is a generous 43.7 inches, about the same dimension as in a Cessna Skylane. Height is a little more compressed, about 40 inches, but seating position is semi-supine, so anyone under six feet, two inches should be comfortable. Baggage area behind the rear seats is a large 16 cubic feet and will accommodate 100 pounds of miscellaneous stuff.
Meanwhile, out on the pointy end, the Rally employs the powerplant that has become practically standard in the LSA class, an Austrian Rotax 912 ULS. The four-cylinder, 100 hp Rotax is geared down and approved for mogas. TBO is 1,500 hours, and following some early growing pains, many of the current engines are actually achieving such longevity.
---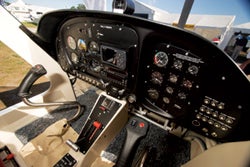 With an ICOM A200 transceiver and Garmin GTX 320A transponder, the Rally has a panel adequate for operation in controlled airspace. Each seat is fitted with curved joysticks that allow for easier inboard foot access.
Storm Aircraft translates horsepower to thrust via a composite, three-blade Warp Drive propellor. The 70-inch-diameter prop is ground-adjustable for climb or cruise.
Base price on the Rally S-LSA is $107,900, and that includes a basic VFR radio package. Unlike some LSAs that offer minimum or no avionics as standard, the Storm Rally features a functional panel adequate to operation in controlled airspace. Standard transceiver is an ICOM A200 with an ICOM intercom, and the transponder is a Garmin GTX 320A with an Ameri-King encoder.
A portable Garmin 296/396/496 GPS/moving map is optional in an articulating Air Gizmos mount to improve visibility in various light situations. The sophisticated 496 is a miniature avionics powerhouse that brings terrain and XM Weather into the mix, along with voice alerts and battery backup power to provide several hours of operation after a complete electrical failure.
The Rally also has uncommon features like electric trim and electric Fowler flaps that translate aft as they extend down. The nosewheel is steerable through 18 degrees of travel for ground maneuvering. Both seats are fitted with four-point harnesses and cleverly curved joysticks designed to allow for easier inboard foot access.
The Storm Rally weighs in at 760 pounds, and that leaves 560 pounds for useful load. Standard fuel is 21 gallons, so payload works out to 439 pounds, two hefty front seaters and a baggage compartment full of whatever. Storm wisely offers an optional fuel capacity of 34 gallons. That means, if you're flying alone, a typical 190-pound pilot can carry full aux fuel and 100 pounds of baggage and still be 65 pounds under gross.
Put all the ingredients together in flight, and the result is a responsive LSA that's fun and practical. It's important to remember, that it is an LSA, and that means it's constrained by all the limitations the FAA has imposed on the type. Cruise speed can't exceed 120 knots, gross weight is restricted to 1,320 pounds, and stall must not exceed 46 knots.
Still, climb at max weight is 800 fpm from sea level, about the same as a midweight Skyhawk, and predictably, the Rally flies notably lighter than the popular Cessna. Storm lists cruise speed as 107 knots at 2,000 feet, probably a concession to those who like to fly low and smell the roses (and the cows). That probably translates to about 112 to 114 knots at 8,000 feet. Service ceiling is 12,000 feet.
With the tanks full (21 gallons standard; 34 gallons optional), the Rally can transport you as far as 800 nm at one sitting, suggesting an endurance of 8.5 to 9 hours at reduced power settings.
When you get to the opposite end of the trip, the wide Fowler flaps allow you to drop the Rally into virtually any flat spot that's longer than 800 feet. Technically, the specs suggest a takeoff distance of 360 feet and a landing roll of 450 feet. Add any significant wind, and you could probably make do with 400 feet for both numbers.
The Rally will always be an LSA, subject to all the limitations above, but if you're properly rated and equip the airplane appropriately, you could operate a Rally at night or in IFR conditions.
At this writing, the North American distributor for the Storm Rally is Air Elite (www.aireliteaviation.com), located in Three Rivers, Mich.
LSAs bring a new dimension to flying. In contrast to normal-category airplanes, they're a relatively economical means of transportation that provide reasonable payload and performance at a price that usually won't break the bank.
SPECS: Storm Aircraft Rally LSA