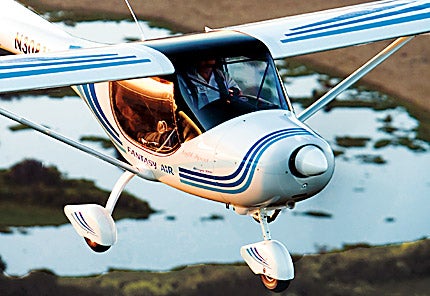 Not all light sport aircraft are created equal; some are more equal than others. From old aircraft barely able to get off the ground to speedy, shiny, new glass aircraft—LSA covers a lot of ground.
From the outset, light sport was conceived as a way to simplify flying and reduce costs. When Uncle Sam gets involved, it sometimes works out that way and it sometimes doesn't. The price for a lower-cost hurdle is a complex set of rules. The question for us is whether the new rules take the fun out of flying.
When you fly the Allegro 2000, the answer is a resounding "no." Go try one out and you'll see what I mean. Fast, fun, easy to fly and relatively inexpensive—the Allegro is a top-notch airplane in any category.
As with all things in the 21st century, we have to deal with the complexities before we get to the fun. The bottom line is that you must operate within the limitations of that particular LSA.
Perhaps the gold standard of LSA performance is the venerable J-3 Cub, an LSA before LSA was cool. A 65 hp Cub weighs 1,220 pounds, cruises at 65 knots, stalls at 33 and still bounds off the ground with two people in less than 400 feet. Of course, the youngest of these airplanes is north of 60 years old. The Cub is light and fun, and allows passengers to see everything up close, but it doesn't go anywhere fast. Most "new" LSA aircraft come from the microlight/ultralight world.
The Allegro 2000 is no exception; the aircraft, which is originally from Czechoslovakia, has been flying in Europe for more than 11 years. Doug Hempstead, of Fantasy Air USA, "discovered" the Allegro and brought it to the United States at the start of the LSA craze. "I was involved in ultralights, and decided that I'd like to take my wife on cross-countries," says Hempstead. "I began searching and narrowed the field down to four. None of them had dealers, and when I called, they all asked if I wanted to become one. I decided to concentrate on two manufacturers. First, we visited one in Spain; we discovered that they were less than prepared to produce the airplane. Discouraged, we went to Czechoslovakia and, when we got there, the airplanes were ready to fly right away.
"We ended up staying at the factory for three and a half weeks. Everything they did there was right. All the workmanship was good and showed an understanding of what they needed. They already had more than 500 flying in Europe, so it was a proven airplane. We came back to the United States to get started on certification. In May 2005, we became third in the nation to get the S-LSA certification. Now there are 41 Allegros in the country, and we have 11 more on order."
---
A new Allegro 2000 can be ordered in several different configurations. A basic version will cost $60,225. Adding a light package for night flying, radios, a GPS or even a Dynon EFIS can run the cost to approximately $75,000. Of course, these prices produce a flyaway airplane. For considerably less, you can order an experimental kit version and spend an average of 230 hours putting it together.
Using the gold standard as a yardstick, the Allegro will cost you about twice that of a restored Cub. What you get for that difference, however, is significant. Designed 70 years after the J-3, the Allegro displays a lot of progress in engineering and technology. Easy to get into, and with room enough for two 21st-century Americans sitting side by side, the Allegro is comfortable, and visibility is excellent from either seat—a definite cut above a loveable old Cub.
In the performance arena, the Allegro is no slouch either. The Allegro clocks in with a gross weight that's 12 pounds more than the Cub, a 64-pound useful load advantage and an extra 35 hp. With virtually the same stall speed, the Allegro can cruise at 104 knots, nearly 40 knots faster than the Cub. The Allegro ranks near the top of all new LSA and does indeed satisfy Doug Hempstead's desire for a cross-country-capable LSA, in spades. Recent delivery flights to California stand as proof.
For Hempstead, respectable performance and a price advantage over comparable new LSA aircraft aren't enough. "We've got 17 dealers scattered to all four corners of the United States," he says. "Each has an airplane and can give instruction in their LSA. Each of our dealers goes through training at the factory and uses common training techniques. We support the dealers and the owners in the field with parts we keep at our headquarters in North Carolina. Our focus is on long-term customer service, before and after the sale.
"We think that LSA will be the next big growth area in aviation, making the dream reachable for thousands. And we're convinced that our success depends on how much we focus on the customer. The EAA and others in the community are backing LSA in a big way and we, as an industry, need to take advantage of that in a long-term way, instead of making a quick buck. With the Allegro, we know we have the best value, quality, workmanship and performance in the marketplace. All we need to do is let folks know how good the airplane is."
If speed and load capacity aren't enough for you, a certified float version of the Allegro is due soon. Any pond or waterway longer than 720 feet would make an ideal spot for the float-equipped Allegro 2000. At four gallons an hour, you can have a lot of fun—it's cheaper than just about anything in the air.
Score one for the little guy.