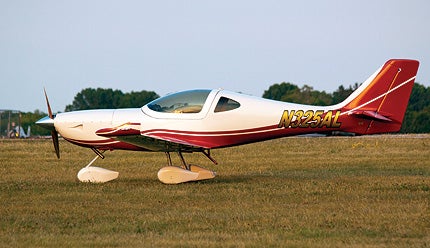 Produced by the same team responsible for the Jabiru series of S-LSA, the composite Lightning LS-1 is an aesthetically pleasing aircraft that offers high-performance handling capabilities.
The first one I saw was gorgeous, even bare of paint accents. That Arion Lightning prototype looked undeniably smooth and, well, fast as lightning. Pilots are inspired by lovely flying machines, and on the factory ramp in Shelbyville, Tenn., was one of the most fetching examples of an LSA I had ever seen.
Arion Aircraft's Lightning LS-1 (www.flylightning.net) isn't new. Indeed, in three years, the company has sold 80 kits, and 40 already are flying. Now comes a ready-to-fly airplane, an all-American flying machine that's able to hit the LSA max speed of 120 knots (138 mph). The Lightning's smokin' fast speed, however, is just one measurement of its appeal.
Wherever it goes, the Lightning gathers admiring glances. That's no surprise, as it's an amalgam of the former Esqual from Spain with touches of Van's RVs, the Aerospool Dynamic, various Lancair models and the also-Spanish Toxo LSA—each as shapely as a fashion model.
The Dawn Of Arion
Arion Aircraft consists of the same team responsible for the successful Jabiru series of S-LSA. Those fully built aircraft are the product of an Australian kit and American assembly process that morphs a crate-full of kit parts into a ready-to-fly airplane. Jabiru's success is notable in that, in just a couple years, it has arrived at a #8 position in the market. [Read "Jabiru 230: Heart Of Gold" from P&P Dec. 2008.]
Arion's tale is sure to be passed on to grandchildren: One night, while sitting around a campfire at Brennand Field, Jabiru's former base, near Oshkosh, Wis., the Jabiru brain trust—Pete Krotje, son Ben and Nick Otterback—discussed a new airplane concept with several friends and supporters. The trail was a winding one, but in time, it led to the low-wing Lightning.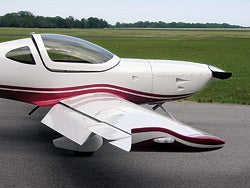 "We're not an engineering team, but we have a lot of practical experience, and we applied that over time to create the Lightning," reported Krotje. The team did, however, hire outside engineering services to technically validate its concepts.
The results speak for themselves: The aircraft performs enthusiastically, requires only a light grip on the joystick and is priced agreeably. The campfire crew came through.
A Bolt Out Of The Blue
On my second visit to Arion's Shelbyville facility, I logged another hour aloft at "lightning speeds." Even on a lumpy, bumpy day, the Lightning slipped through the air and exhibited a grace you'd associate with a much more expensive airplane. Otterback's expression as I contoured through maneuvers told me something—as someone who does a lot of demo flights, he had seen my look of pleasure before.
After a year of hunkered-down work by the Arion team, the LS-1 earned its S-LSA airworthiness a few breaths before it was time to pack for Sun 'n Fun 2009.
---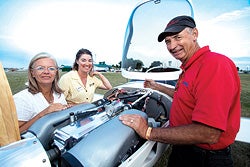 In the nose cowl, the six-cylinder Jabiru 3300 puts out 120 hp while burning 5 gph or less.
Arion slowed the Lightning kit from its nearly 200 mph top speed. A fixed-pitch prop took the most knots off the top, and an extended wing closed the LSA low-end gap. "Extra wing area brought wing loading and stall speeds into compliance," said Otterback.
Thanks to its large cockpit, which is four inches wider than that of a Cessna 172, Otterback and I didn't bump elbows. Because the wind was gusty, he performed the first takeoff. Otterback advanced the throttle on the 120-horse Jabiru engine and raised the nose a little. In seconds, we flew briskly off the deck.
We didn't use any flaps, as we had considerable headwind, but when necessary, you can adjust flaps from the panel. I did note, however, that the flaps and trim use a similar lever—implementing a different tactile feel for these might be a good idea so as not to cause confusion. Flaps are an infinite control so you can set them anywhere you want, but there are no presets; Otterback suggests that pilots visually check them.
Aloft, we had time to spread the wings of this swift bird. At 2,900 rpm, we read 116 KTAS. Otterback reported that this speed was close to max continuous power, the hardest you can run an ASTM-certified engine.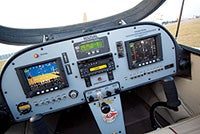 Notably different from the ubiquitous Rotax 912 powerplant, the Jabiru is an impressive engine. Not only can it run strong and long at maximum continuous power, but it's also smooth and easily started. Jabiru powerplants lack the market share of Rotax, but many GA pilots prefer the Jabiru because its operating revs and sounds are more familiar.
Flying upwind and downwind runs to check max groundspeed, I recorded 150 knots with a tailwind and 85 knots into a headwind for an average of 117.5 knots, about as close as you can get to the theoretical max of 120 knots at max continuous power. Throughout the upwind and downwind runs, airspeed indicated 106 to 109 knots, true calculated to 112 to 115 knots.
Shoving the throttle full forward produced 3,300 rpm and 135 KTAS. At that power setting, the Jabiru sounded like it was working. But at max continuous power (2,900 rpm), the six-cylinder engine seemed like it was hardly trying while topping out the LSA speed category.
The Lightning's impressive performance also translates into breathtaking climbs. Near gross at about 2,500 MSL, with me flying gently, we saw 1,200 feet of climb and 900 to 1,000 fpm. In the hands of an experienced Lightning pilot like Otterback, the LSA can even achieve climb rates of up to 1,800 fpm.
A Fistful Of Lightning
Okay, even if you accept that the Lightning knows how to blast into the blue yonder and zip toward the distant horizon, you might still wonder how it behaves.
---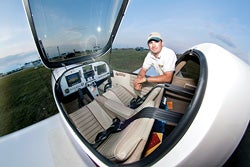 The Lightning's canopy is hinged at the front and opens into a spacious cockpit. The aircraft comes standard with basic avionics, but glass panels and autopilots are an option.
I use Dutch rolls to learn handling qualities. In the Lightning, I banked to fairly steep angles and was able to keep the nose headed in a straight line. And I did this quickly, which suggested ease in gaining handling familiarity with the Lightning. The Grand Rapid EFIS has an electronic coordination ball that works well, but I'm old-fashioned, I guess. A tube of curved glass filled with benzene holding a steel ball seems more fluid and better guides my understanding of stick-and-rudder inputs.
Having gained familiarity with the Lightning's well-harmonized controls, I moved to stalls, another good place to learn flight characteristics. The Lightning proved exceptionally user friendly.
Accelerated stalls at 45 degrees of bank tended to roll level from either direction. Straight-ahead power-on and -off stalls tended back to straight and level with the gentlest of persuasion. You don't need to apply much stick pressure; in fact, merely relaxing whatever pressure you have seems to be a good policy.
In 720-degree steep turns at 45 to 60 degrees, the Lightning asked for an additional 150 rpm to hold altitude, suggesting wings designed for speed, not loitering. During this exercise, I deployed no flaps
.
The Lightning seems a bit light in pitch; from this, I can envision the potential for a student to exaggerate a post-stall nose-over. Arion can direct a less-experienced, newer pilot to the Jabiru J170 if somewhat more docile handling is preferred.
For landings, Otterback likes to reduce to about 90 knots on the downwind leg, slowing further into the low 50s for final on a low-wind day, or perhaps 60 knots on a gusty day. But he advises that you'll want to keep it under 65 knots, or you'll never get the aircraft down.
Because the slippery Arion model wants to stay aloft at higher speeds, Otterback normally uses 40 degrees of flaps to slow down. In the gusty conditions, we used only 20 degrees. Touchdowns proved straightforward, so long as you remember that the plane likes to linger in the air.
Catching Lightning
Along with its sweeping lines, the $93,900 base price deserves close attention. The Lightning comes reasonably complete for this figure, but some pilots may want full glass and a three-axis autopilot. These options will bring the price to well over $100,000, a figure that still sounds reasonable compared to other choices.
The smokin' Lightning handles smoothly and predictably, and she's doggone beautiful. If you're looking for a conventional-flying aircraft with miserly fuel usage that can run as fast as the law allows, then the Lightning may be for you.