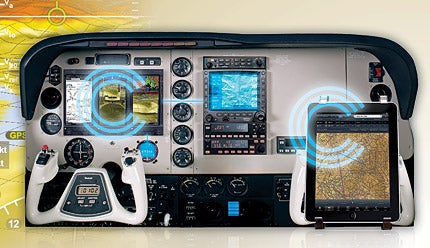 Aspen Avionics' Connected Panel allows iPads to communicate with the Aspen system to load flight plans, tune radios, record flight and engine data, log flight time and monitor maintenance requirements.
It's becoming an interactive world. Like many of you, I own an airplane that's a legitimate antique but that will probably outlive me. Similar to many older flying machines, my 1969 Mooney Executive has been progressively updated and improved so much that pilots unfamiliar with Mooneys sometimes comment on my "new" aircraft.
Older airplanes can be literally made to look and fly new with mandatory annual inspections, airframe and powerplant upgrades and a variety of other improvements. The instrument panel is a different story. It's often a dead giveaway to an airplane's age. Updating a panel to a fully modern configuration can extort an amount equivalent to the national debt of Bolivia, and that's exactly the reason so many aircraft, fully refurbished in all other respects, are betrayed by their panel.
My Mooney's panel is disguised with one of Hal Pflueger's teak wood panel covers, and the avionics contained within are far from antiques, but the airplane's age is a dead giveaway because of the six-pack of steam gauges. Anyone with an eye for instrumentation and avionics can recognize the basic configuration as 40 years old.
That's not to suggest the avionics included aren't talented. It does mean, however, that there's a minimum of continuity between systems. There's not much cross talk because my avionics—the latest acquired only two years ago (a Garmin 696)—have been added one at a time over 20 years, some with little relationship to one another.
That's an important consideration for pilots to whom instant gratification isn't fast enough. The governing concept is: The more information displayed in the shortest period of time, the better.
My airplane's panel doesn't understand that concept. The number-one VHF NAV/COM GPS talks to the EHSI, and the TIS/transponder communicates traffic information to the screen of the main radio, but for the most part, each sensor remains relatively independent.
Such realities are part of the reason Garmin created its G1000 for production aircraft and G500 for the aftermarket several years ago. Garmin introduced the glass-panel PFD/MFD system to encompass virtually all functions in two, flat-screen readouts.
Integration was also the justification for Aspen Avionics offering similarly capable PFD/MFDs for the aftermarket in its entry-level Evolution Flight Display 1000. Founded in 2004, Aspen Avionics is located in Albuquerque, N.M., more of a haven for technology than you might imagine. Indeed, there are dozens of companies in the Duke City that concentrate on advanced technology and electrical engineering for the aviation market.
---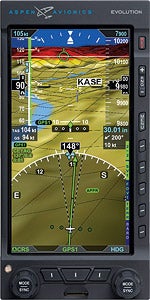 The latest option to be made available to the Aspen Avionics Evolution system is synthetic vision, in which color-coded terrain will warn pilots of ground clearance. It's priced at $2,995.
Aspen is a relatively small company producing similar glass-panel systems that are more compact but also notably less expensive than Garmin's flat-panel products. The Albuquerque company offers a combination of products designed to span the needs of everything from light singles to medium twins. The EFD1000 Pro model is intended for IFR operation, while the basic Pilot model is designed for VFR at an entry-level price under $6,000.
Aspen's Pro system is capable of generating virtually all the same capabilities as Garmin glass, but in a more compact package with reduced installation requirements more appropriate to smaller panels and more modest budgets. All the Aspen glass displays contain their own power supplies capable of driving the displays for a half hour in the event of a failure of the ship's power.
Aspen is targeting most general aviation aircraft under 12,000 pounds, and so far, there are more than 900 models on the approved list. In other words, the system is probably legal for installation into any airplane you can name outside of heavy twins and turbines. In a similar sense, the Aspen product is specifically designed to interface with a wide variety of source inputs so most instrument and radio sources should be compatible.
From the beginning, Aspen was determined to minimize perhaps the major concern of glass-panel buyers—installation cost. Aspen's products are all based on modular mounting techniques designed to reduce installation expense and make it simple to add new capabilities if a pilot decides to grow his panel. The foundation unit mounts in a single instrument hole and is intended to directly replace the ADI/HSI without affecting the readouts of other instruments.
A full listing of the EFD1000's capabilities would require most of this magazine, so we won't go through the entire list. The single-screen Aspen EFD1000, however, combines information on virtually every possible flight and navigation parameter and more: airspeed, altitude, artificial horizon, HSI, rate of climb and turn coordinator, along with CDI, ILS, DME, TAS, GS, moving map, altimeter setting, wind vector data (via an air data computer), plus traffic, NEXRAD weather, the latest stock quotes, Las Vegas odds on the Super Bowl and this weekend's list of honey-dos. Base price for the Aspen EFD1000 is $9,995.
Aspen's other products are based on the derivative EFD1000 foundation display. The Evolution 1500 System incorporates a 1000 plus a separate 500 MFD for $14,990, and the Evolution 2000 combines a pair of 1000s for dual PFD compatibility at an entry price of $17,990. Finally, the top-of-the-line Evolution 2500 offers a pair of 1000s plus a 500 to display a primary flight display, a multifunction display and a third screen for such functions as weather or approach plate. Price is $22,980. All prices exclude installation.
Aspen also offers a glass-panel backup for ADI and HSI with its own independent, 30-minute battery. This may be used in conjunction with the existing EFD1000 or any other Aspen glass, or it may be mounted as an adjunct to steam gauges.
This year at Oshkosh, Aspen announced a number of new features, including new software versions of the operating program and the significant innovation of the Connected Panel. In an obvious concession to future think, this is an electronic bridge that allows tablet computers such as iPads to communicate with the Aspen system to load flight plans, tune radios, record flight and engine data, log flight time and monitor maintenance requirements.
In one application, a pilot will be able to lay out a comprehensive IFR or VFR flight plan on his iPad at home, drive to the airport and transfer the plan directly to the Aspen PFD/MFD.
---
Aspen has formed partnerships with a number of aviation technology companies, including PS Engineering, AvConnect, ForeFlight, Honeywell, J.P. Instruments, Parrot, Pinnacle Aerospace, Seattle Avionics and Sporty's.
Brad Hayden, Aspen's VP of marketing, commented, "We have an idea what some of the initial applications (of the Connected Panel) might be, and we're actively working on them. But our partners will be able to come up with apps that we haven't considered, and the open system will allow them to unleash their specialized knowledge and creativity in completely new ways."
The Connected Panel hardware plays through a small box called the CG100, blind-mounted behind the aircraft panel. This unit contains wireless, Bluetooth and USB connectivity provisions along with flash memory storage. The system is designed to make it easy for Aspen and its partners to incorporate new modes of interface as they become available.
John Uczekaj, president and CEO of Aspen Avionics, says, "We encourage and invite all hardware and application developers to push the boundaries of what's possible in aircraft electronics to make flying safer, easier, more affordable and more enjoyable."
The first Connected Panel hardware/software system, designed for interface with the Apple iPad, is called Connected Pilot, and it has a list price of $2,500. At this writing, Aspen, ForeFlight and AvConnect are offering interface programs for Connected Pilot. Aspen hopes the Connected Panel will be certified and available by the end of the year.
Aspen announced synthetic vision as an additional option to the company's line last year and hoped to offer the system in the second quarter of 2011. However, the company informed the press at Oshkosh that beta testers and human factors experts have suggested some improvements that will entail more development. Aspen hopes to introduce the final, dedicated edition of synthetic vision by the third quarter.
When Aspen synthetic vision does hit the market, it promises to be the lowest-priced system of its kind available for glass panels. At $2,995, the Aspen version will offer a representation of the terrain ahead with color-coded screens to warn of ground clearance: red for terrain less than 100 feet below, and yellow for terrain clearance less than 500 feet.
The database employed is the Jeppesen three-arc-second library, which provides approximately 400 data points per square mile or one every 265 feet. In a typical, 150-knot GA airplane, that works out to one data point every second of flight time. If Aspen runs true to form, you can bet the new system will be the equal of far more expensive systems on the market.
As we went to press, we received word that Aspen is now in formal compliance for FAA approval of synthetic vision, and the actual production certificate should be in hand by the time you read this. The company hopes to begin shipments as soon as the system is FAA-approved.
An Aspen EFD1000 flight display transforms virtually any airplane it touches, no matter what the age. Even an older Cherokee or Skyhawk fitted with an Aspen assumes a level of sophistication beyond its price. As an owner of a fairly ancient Mooney, I can only dream of the day I might be able to afford Aspen glass in my Mooney. At Aspen's prices, that day may not be as far off as I imagine.