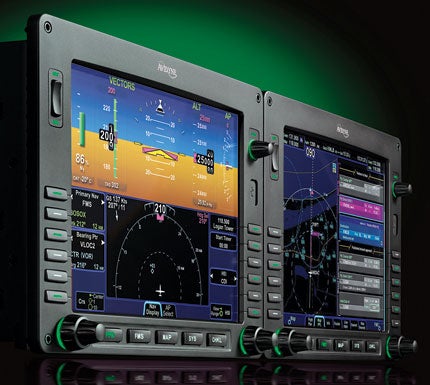 For all their dazzling screen displays and computational wizardry, glass cockpits can be complex to learn and challenging to operate. Avidyne, which introduced the glass cockpit to general aviation in 2003, aims to change all that with its Entegra Release 9 Integrated Flight Deck, which is now nearing FAA certification.
The system's backlit, high-resolution LED screens are certainly dazzling. And the FMS900w Flight Management System is certainly brainy—it can seamlessly calculate and fly a curved transition with wind-corrected roll commands from the en route phase to an ILS intercept, for example. What sets Entegra Release 9 apart, however, is the ease of operation. And then there's the optional Flight Deck Controller (FDC) with a full QWERTY keyboard that makes data input even easier and gives the panel a big iron look!
The 10-inch screens and bezels are similar in appearance to the Entegra displays in current factory-equipped Cirrus and Piper aircraft and previous aftermarket and OEM installations. The familiar façade fronts a metal chassis with slots for plug-in blades that control the Entegra's suite of functions. These line-replaceable units (LRUs) can quickly be pulled out and replaced for repairs or upgrades. The blades drive the Integrated Flight Displays (IFDs), as Avidyne calls the screens; any display on one screen can be called up on the other, erasing the distinction between the PFD and the MFD. Another major change: Previous Entegra iterations relied on Garmin's GNS 430 GPS/NAV/COM to drive the system. Entegra Release 9 utilizes Avidyne's own WAAS-capable GPS receiver and digital VHF COM/VLOC receiver, enhancing integration and freeing engineers to rethink the user interface (UI) as they developed the upgrade. Throughout the design process, Avidyne brought in pilots and observed their interactions with the work in progress, learning what pilots wanted to do at various phases of flight and how they instinctively expected a system to operate.
Entegra Release 9 has five primary function modes: Primary Flight Display (PFD), Flight Management System (FMS), Maps (MAP), Engine and Flight Systems (SYS) and Checklists (CHKL). Each mode is selected from a corresponding key from an array across the bottom of the bezel. The mode pages, in turn, have associated "tabs" on the bottom of the screen, each representing an alternate or split-screen view of the mode. The mode-select keys also operate as left and right toggles to cycle through the tab views.
---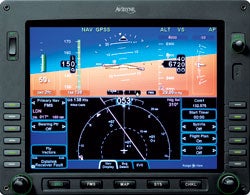 The top half of the pilot's IFD always displays the PFD view, showing power setting, airspeed, attitude, altitude and vertical speed, and also helpful information like speed and direction of headwinds and tailwinds. The PFD currently presents a generic exterior for the widescreen attitude indicator (AI); after initial certification, however, Avidyne plans to certify the system for both synthetic- and enhanced-vision capability in this mode. Any other mode can be viewed simultaneously on the IFD. So, for example, a map of the approach can be viewed on the same screen with the PFD.
Six line select keys (LSKs) on each side of the bezel serve as action keys to control data input and select functions within each mode, depending on the mode and tab being viewed. LSKs select radios, turn the weather overlay on or off, or arm an approach. Though individual LSKs are dormant in many mode views, they illuminate whenever active, making it easy for pilots to direct their eyes where they're needed. The data and function fields appear adjacent to the controlling LSK and are very clearly labeled. There are no hidden layers beyond this depth.
At the bottom corners of the bezel, two dual-concentric push-button knobs (DCKs) control inputs, dialing in identifiers and frequencies. But not much knob-turning time will likely be spent here for two reasons, as a recent flight in the company's Entegra Release 9–equipped Cirrus SR22 demonstrated.
First is the aforementioned optional FDC—aka the ACD215 control/display unit (CDU)—with full QWERTY keyboard. A map pointer on the FDC moves a cursor so you can, for example, quickly see the weather ahead and change the map scale by rotating the pointer knob.
The second reason very little knob turning or keyboard inputs are required is the FMS900w FMS. The "context-sensitive" system knows where you are, and nominates frequencies, waypoints and routes when flight planning or flying. Therefore, often all that's required to input data is a click to confirm a selection the system has suggested. Selecting from a list of approaches is about as complex as it gets.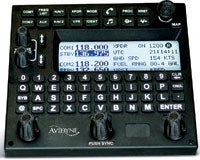 This is most evident when creating a flight plan in FMS mode. The GeoFill feature predicts and nominates upcoming waypoints on your flight plan based on proximity and route of flight as you type in identifiers or airways.
The system architecture includes a dual-redundant peer-to-peer data bus, ensuring that a single-point failure can't create a daisy chain of failures that affects other functions.
Avidyne, based in Lincoln, Mass., is introducing Release 9 as an aftermarket upgrade for Cirrus and Piper aircraft equipped with Entegra panels. Certification for Cirrus aftermarket installations is expected in the first half of 2009; in the second half of 2009 for Pipers. Contact Avidyne for exact pricing and availability. For more information, visit www.release9.com.