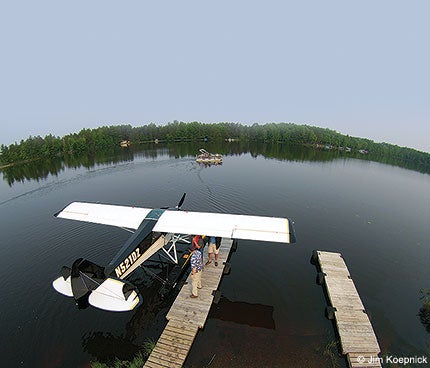 With the water glassy, we waited a few minutes before departing Lake Nokomis from Cranberry Seaplane base. As our photo pontoon boat slowly made its way east, and being mindful of the neighbors, we taxied to the right in this photograph to head out into the more open waters of the lake before taking off to the northeast.
With only tiny ripples from a small wind gust disturbing the surface of Lake Nokomis, Dave Zawistowski gently pushed the left rudder pedal to the stop as the wavelets lapped against the sides of the Wipaire amphibious floats. Dave's Aviat A1C Husky obediently started to drift sideways on a tangent to the gentle breeze coming from the northeast. With the Lycoming flicking over the MT prop, Dave's thumb dropped to the rocker switch just below the throttle knob and slid it aft as he added a touch of throttle.
"Wait, whoa, that doesn't look right," you might have thought as you watched. "He just stopped. On the water. With the engine running. Floatplanes don't usually do that."
Most piston-engine-powered seaplanes make at least a little bit of forward movement whenever the engine is running. It's just a fact of life when on floats. Seaplane pilots learn to adjust their technique to sail and use the wind, but sometimes, it would just be great to stop and wait for conditions to settle down or to stop your forward momentum. This Husky can do just that. In fact, if Dave wants to, he can even back up.
My list of seaplane logbook entries is far shorter than I'd like it to be, but more than once I've thought about how nice it would be to just walk up to a floatplane, hop on board, fire it up, and back away from a shoreline or floating dock, waving to the astonished crowd. Wouldn't that be fun? Some seaplane pilots get to do it pretty often (ask a Seabee pilot, or the crew of a turboprop Caravan), but not in a Husky—until now. A new supplemental type certificate (STC) makes a reversible pitch propeller an option on the Husky, and it will be available for other airplanes, as well.
One of the most active purveyors of MT propellers in the United States is Flight Resource LLC of Bloomer, Wis. Larry Schlasinger, an air show pilot who also happens to have his A&P-IA, founded the firm more than 20 years ago. He has been very active in working with the FAA to obtain STC approvals for a wide variety of MT propeller applications, from the fixed-pitch prop for the Cessna 170 up through the controllable prop for the high-performance needs of the Extra 400 or Piper Malibu. As a Husky pilot, Larry felt there was room for performance improvement with a two-blade 83-inch diameter MT prop, and after a conversation with Aviat president Stu Horn at Sun 'n Fun in 2002, Flight Resource obtained its first full STC. Flight Resource made the non-reversible STC/prop available to the Aviat factory and to owners, and it has proven to be a popular choice, with the three-blade prop selling more than the two-blade variety—200 triples sold versus 150 of the twin-blade props.
You may be surprised to learn the Husky series of airplanes is nearly 30 years old. Conceived by Frank Christensen as a better-than-the-original competitor to the Super Cub, the Husky was certified in 1987 and put into production in Afton, Wyo., population 1,911. While one might wonder why a little town on the edge of the Salt River Range in the Northern Rockies would be the location of a company known worldwide for its products, it's really pretty simple: That's where the talent resides.
Originally the site of a small factory for the CallAir series of ag/personal planes, the local craftsman there are pretty experienced at building tough airplanes. Since 1971, starting with the Pitts S-2, the plant has also been the location for the production of various flavors of the Pitts Special.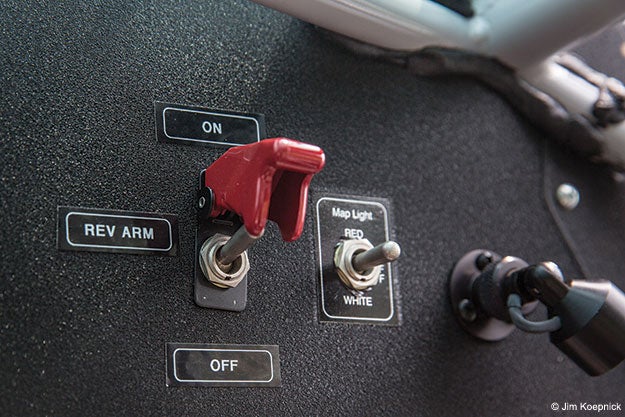 1. The propeller system is controlled in part by this switch on the upper wing root panel. Normally off and guarded, you arm the system by allowing power to be applied to the electrical coil that actuates the reverse pitch control within the governor.
Christensen created an instant classic with the Husky, an airplane with comfortable lines that reminds us of airplanes we like, while not looking exactly like anything else. A bush airplane able to leap over bison after a short bound (some pilots refer to a Husky departure as a "launch"), it's also at home as a taildraggin' personal airplane, one that's easier to climb into than other high-wing airplanes with swing-up/swing-down doors when climbing aboard, thanks to a bigger door than the "bearplane" derivatives from Lock Haven and other manufacturers. But that wasn't the only difference.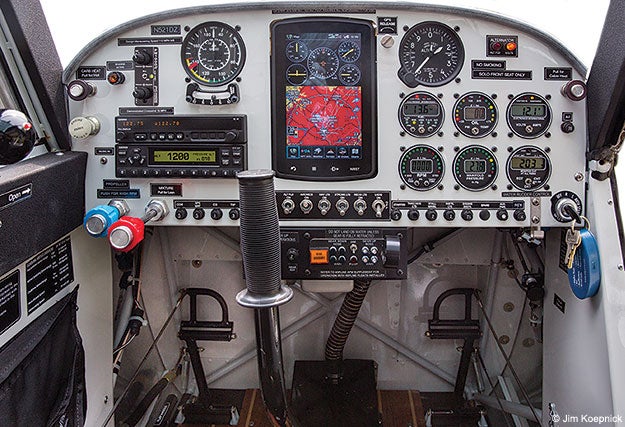 2. The 2012 Husky panel, with the Wipline amphibious float's landing gear controls mounted on the centerline below the panel, between the pilot's knees. A Garmin 796 touch-screen multifunction display/GPS dominates the center of the panel.
A series of "What do you like?" and "What don't you like?" Q&A sessions and surveys with Cub owners helped define the basic Husky airframe. That type of aircraft refinement has continued during the 20-plus years Stu Horn has owned Aviat Aircraft. Stu is a regular and enthusiastic flier of his own products, and the Husky clearly benefits from Stu and his small band of Aftonites listening carefully to the "wants" list of dealers and customers.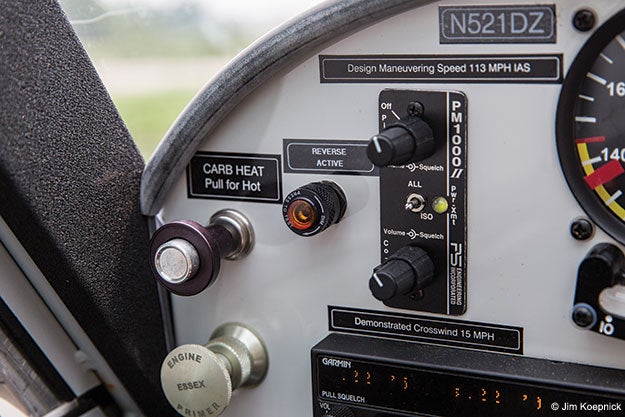 3. When the system is armed, this amber annunciator lamp will illuminate. In subsequent installations, a second lamp will light when reverse pitch is selected.
That small-town style coupled with big-city business savvy (Stu developed real estate in New York before making a very different lifestyle change) has kept Aviat chugging along at a steady pace. Some 1,400 Huskys have been made since 1987, so the skies have never been darkened by flocks of them, and that's part of the brand's secret of success. By not over-building production capability, the production rate of the airplane has been matched by the demand for it. Along with other overhaul and maintenance work, often on customer's Huskys, the company has carved out an innovative and quickly adaptable niche within the small world of aircraft OEMs.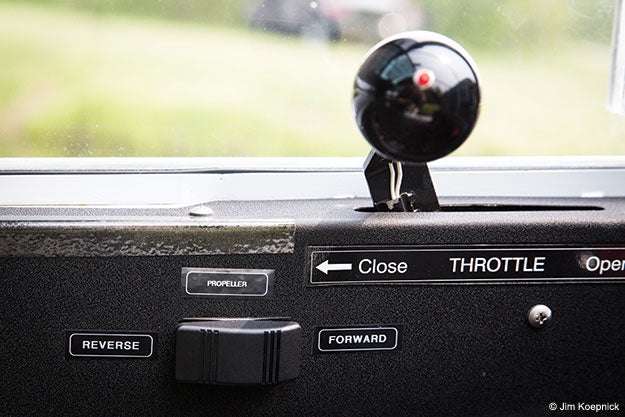 4. Dave Zawistowski chose to have the actual control switch for the reverse function mounted just below the throttle knob, so he can actuate the control with the heel of his hand as he works the throttle with his fingers. The system is locked out at airspeeds above 40 knots or 1200 engine rpm.
This has also created a mindset that seems to be open to looking for innovations that can be incorporated in the airplanes, from night vision goggle systems (NVG) to alternative fuels. (A Natural Gas to Fly; see the Pireps on the NVG and natural gas mods.)
That's why it's not surprising that a partnership between Flight Resource and Aviat would revise the Husky floatplane in a way that makes it easier to deal with maneuvering on the water; both companies seem excited by the prospect of making the Husky as appealing as possible to a wide variety of operators.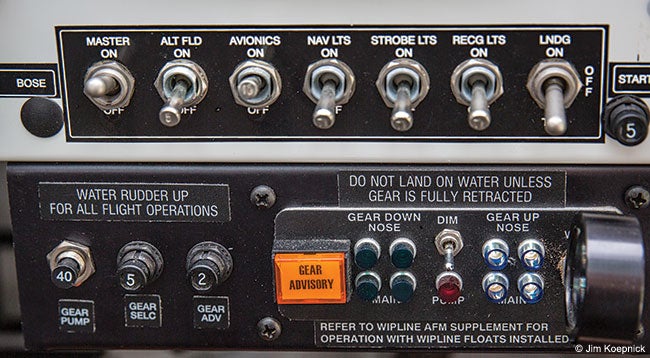 5. Mounted below the instrument panel, the control panel for the Wipline amphibious floats contains all the annunciator and status lights for the four retractable wheels.
Larry isn't shy when it comes to his admiration of MT Propeller. Having flown behind one, both while on floats and with his aerobatic mount, he's pretty keen on their work: "MT Propeller has shown the industry many innovations in propeller technology over the years, and the MT Reversing system is certainly one of the most revolutionary," he remarked. "This MT reverse system gives a pilot ultimate control of float aircraft on the water, ski aircraft that normally have no brakes on snow and ice, and for the pilot of a wheel aircraft on slippery, wet or icy runways."
Dave Zawistowski is no stranger to innovation in his business. As a successful cranberry farmer in Northern Wisconsin for more than 40 years, he has had to adapt his business practices to adjust for variable market conditions, and to build his business so it was large enough to sustain the costs involved in farming the tart fruit, but not so large that a down market would mean a significant loss. He started out at age 21 with just 19 cranberry beds spread over 60 acres, on a farm be bought from the creditor of the previous owner. He has increased that farm's size to 320 acres with 68 cranberry beds. In addition, his son now runs the cranberry farm Dave grew up on, which he bought a few years ago, adding 60 acres to his farming business. Since that farm is over near Hayward, Wis., he can choose to drive the two hours in his car, or hop over in one of the seaplanes and be there in about an hour. Which would you choose? Yeah, I thought so.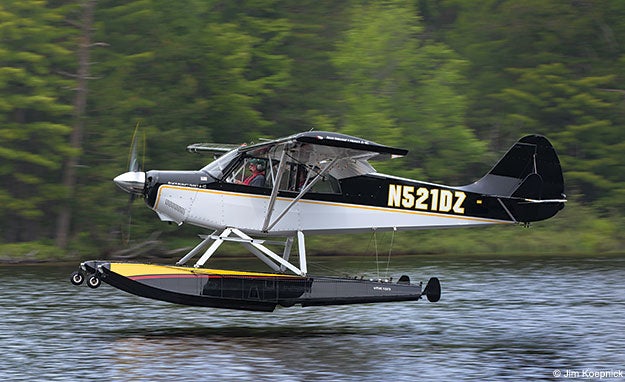 Now since he's a pilot, Dave had to incorporate a grass strip alongside the cranberry bush beds, plenty long enough to handle the other aircraft that have occupied his hangar, including his Beech Bonanza. He started flying in the mid-1980s with a Cessna 185, and has flown to Alaska, Canada and the Great Lakes states, all on straight floats. While land-bound airplanes are useful and clearly enjoyed by him, Dave's eyes brighten when he speaks of his Cessna 180 on straight floats, a Super Cub on amphibious floats and his fairly recent addition, the 2012 Aviat A1C Husky mounted on a pair of Wipline amphibious floats that we flew on a bright but hazy morning in Northern Wisconsin. With the visibility cut a bit from the smoke being generated by Canadian wildfires, we stuck close to Dave's home base as we flew over the woods surrounding the lake. He pointed out a bald eagle's nest dominating a stand of trees on the north side of the lake, and as our gaze lingered on the trees as we circled above, we could make out the massive nest ready for her eaglets.

!the Husky clearly benefits from Stu and his small band of Aftonites listening carefully to the 'wants' list of dealers and customers.

Mating the Husky to Wipaire Floats
This particular Husky didn't originally come to Dave on floats. He purchased the Wipline amphibious floats from a friend and had them mated shortly after purchasing the airplane. As a Husky owner since 1992, he was very familiar with the breed and has enjoyed flying lake to lake, and he particularly enjoys the flexibility the amphibious floats give him. With an extra bit of enthusiasm in his grin, he'll tell you the Husky on amphibs is his favorite, and the reversing prop tops it off.
Dave and Larry have been friends for a long time, enjoying float flying and the camaraderie of being North Woods pilots. It wasn't long before Larry approached Dave with the idea of changing the propeller on the A1C to a new MT with the latest in governor technology, one that would give the airplane a reversible propeller. At first, Dave was hesitant to get involved in a prolonged STC program, but Larry assured him they'd work hard to keep the downtime to a minimum.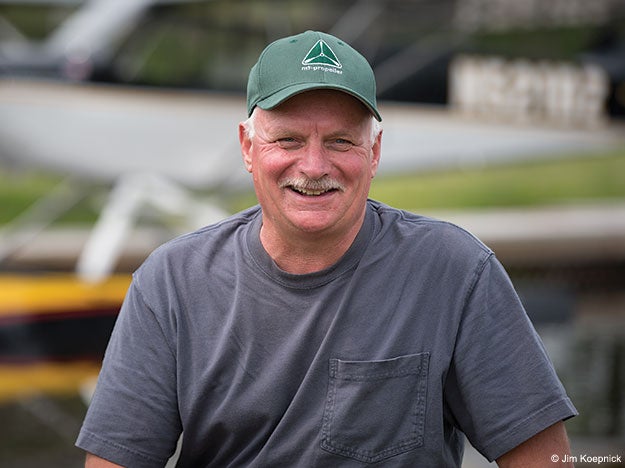 Dave Zawistowski, cranberry farmer, seaplane pilot and the enthusiastic owner of the first MT Prop reversible pitch propeller STC installation on an Aviat Husky.
Over 10 years ago MT's engineers had been working on a governor that would allow for the reverse pitch option, but it had occasional glitches that meant it wasn't ready for prime time. A follow-up engineering approach to controlling the governor, using a two-stage coil—one for forward pitch control, and another for negative pitch movement—solved the reliability issue, making it the perfect match for one of MT's new-design 79-inch, three-blade props with reverse pitch capability.
Dave flew the airplane to MT USA's Deland, Fla., facility where MT's innovative two-stage electrically controlled hydraulic governor was added to the 180 hp Lycoming on the Husky. The modification went quickly but, as one might expect, the paperwork took longer to process. Static and flight testing revealed the three-bladed prop had just a bit more thrust than its two-bladed counterpart, and it was quieter. Finally, during Sun 'n Fun 2015, the final approval was granted by the FAA for reverse capability on both the 79-inch, three-blade MT, as well as the 83-inch, two-blade MT. Dave's Husky was moved back to normal category certification (it had been in the Experimental Research and Development category during the STC approval process), and the Husky and its happy pilot were soon heading back north to Wisconsin.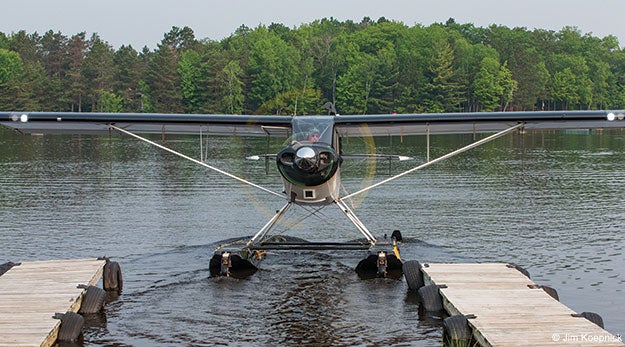 Maneuvering both in and out of tight spots is a snap with the prop capable of reverse pitch. Here, Dave Zawistowski backs out of his seaplane dock on Lake Nokomis in Northern Wisconsin.
Operation of the reverse function is pretty straightforward. On approach to landing, the power switch to enable reverse pitch is turned on, arming the system. Then, after touchdown, the pilot can slide his hand down to the momentary-contact switch and slide it aft, actuating the governor and moving the prop blades into negative territory. There's no doubt it has been actuated, as the sound is dramatically different, and the pilot and passengers find themselves pushing forward against their shoulder straps.
I asked Larry what safeguards were in place to prevent inadvertent actuation of reverse pitch while in flight. He explained, "The MT reversing propeller has three safety features that keep it from selecting reverse in flight: first, there is a pitot switch that limits actuation to a forward speed of 40 knots or less. Above that deactivates the reverse power to the governor.
"Second, the governor will not activate reverse over 1,200 rpm, so while in flight, with any significant power applied, reverse is locked out of the system. Lastly, as the power to the system must be off for takeoff and normal flight, an indicating light shows the pilot if the reverse system has power and reminds him to turn off the master reverse power switch for takeoff."
There are a few additional changes planned for subsequent installations of the reverse-pitch prop and its associated controls. First, instead of just one "power on" lamp, there will be a pair of annunciator lights added to the instrument panel. The first light will illuminate when the reverse system is armed, and the second will alert the pilot the system has been actuated, and reverse pitch is actually being applied to the prop blades. That, of course, will be accompanied by the rather odd sound, at least for a non-turbine engine, of a prop biting into the roiled-up air in front of the cowl!
Props and Water
One of the biggest bugaboos to operating a propeller-driven airplane on the water is the damage done to props when the water hits them as they're turning anywhere from idle up to takeoff power. In Larry's experience with MT's composite props with stainless-steel leading edges, that's no longer an issue.
"The stainless leading edge is tough, and it's also exchangeable and repairable. We're just developing a nickel leading edge for this propeller, which we have on other props, making it even more durable. The stainless leading edge is basically impervious to water," Larry noted. He mentioned he had flown his Cessna 185 on floats for many years in commercial operations, and he and his fellow pilots watched their aluminum props erode away as the flying season progressed. Years of operating his Cessna, now with an MT prop installed, have hardly put a mark on the stainless, and now nickel, leading edges of his prop. According to MT prop documentation, the nickel leading edges, most often used on turboprop blades, have nearly twice the resistance of stainless steel to nicks and other impact damage.
Larry notes the performance of the Husky with the new three-blade prop is about the same as what he had with the earlier two-bladed version, with the added bonus of a bit more prop/ground/water clearance, quieter operation and an unexpected benefit—better cooling of the rear cylinders of the Lycoming.
Dave explained, "The MT has got more of a curve toward the base of the prop; it adds a little extra airflow there to blow into the cowling. I'm pretty sure that's what's keeping it cool." While working with photographer Jim Koepnick out on the lake and during our fly-bys, the cylinder head temp on the Lycoming up front never climbed higher than 340 degrees F.
By the time we flew together in early June, Dave had about 40 to 50 hours on the new prop. I mentioned to him that he seemed to have adapted pretty quickly to using the reverse function. He agreed; it didn't take very much time at all to get used to using the option of reverse thrust, and to learn when it was helpful and when it wasn't needed. He repeated something that both tailwheel pilots and those who fly seaplanes will find familiar; "The only trick was, when you're docking, never have the rpm any faster than you need to move the airplane. Take your time, don't do anything fast. As soon as you try to speed it up, things happen too quick." I can hear Jon Brown and my seaplane instructor Clay echoing an, "Amen!" to that!
As far as personal preferences go, the final switch location for controlling reverse pitch can be varied; the location on this Husky was chosen to be off the actual throttle handle, just below on the top of the sidewall, so it could be actuated by the pilot's palm as he also controlled the throttle with his fingers. Throttle operation is independent of the reverse switch, and experience has shown that small amounts of throttle are needed when using reverse pitch. It doesn't take much to stop the airplane or move it backward from a dead stop. Using reverse to shorten a landing run on the water is always an option, and with the MT's tough leading edges giving peace of mind when it comes to kicking up water spray into the prop, you won't feel as though you've just used up one of the prop's nine lives when you decide you want to duck into a small lake or pond.
The reversible MT prop and governor combination will cost you about $30,000 installed, giving you a prop that has greater water/prop clearance than a two-bladed version, and a long-lasting blade/leading edge combination that has no life limits or rpm/vibration limits. Plus it has the ability to back up or stop when you're maneuvering to your favorite dock or sandbar, giving you more control during those critical moments during your docking or beaching. I'd imagine there will be pilots who fly in the bush on wheels who'll also find this option very appealing.
If the fun Dave was having with his Husky on Lake Nokomis is any indication, there will be plenty more Huskys and other single-engine, piston-powered seaplanes with that capability in the future. So don't be surprised when you see one taxi up to the seaplane dock and then, with a whoosh of prop noise, gently come to a complete stop right next to the cleats on the dock. Be sure to look in the cockpit at that moment. I'll bet the pilot will have a big grin on his face!
For more information about the STC installation of the two or three-blade MT reversible propeller, contact: Larry Schlasinger, Flight Resource, 108 N Duncan Rd, Post Office Box 4, Bloomer, Wis., 54724, www.flightresource.com, (866) 717-1117, Fax (866) 517-5047.