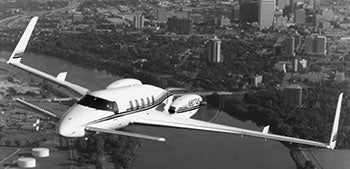 STANDARD DATA: Seats: 8-10; Gross weight: 14,610 lbs.; Empty weight: 10,085 lbs.; Fuel capacity: 534 gals.; Engine: two 1,200 shp Pratt & Whitney PT6A-67A free turbines.
PERFORMANCE: Top speed: 385 mph; Cruise speed: 377 mph; Initial climb rate: 2,969 fpm; Ceiling: 34,800 ft.; Range: 1,633 nm; Takeoff distance, 50 ft.: 4,093 ft.; Landing distance, 50 ft.: 2,630 ft.
The Beech Starship is perhaps the most technologically advanced aircraft to ever hit the business aviation scene. Its twin-turbine pusher and canard-wing configuration is a direct development from the innovative efforts of design pioneer Burt Rutan. Rutan is famous for his unconventional proof-of-concept aircraft that have become some of the most popular kit-built and plans-built airplanes to grace homebuilt aviation. The Starship is built entirely of composites such as carbon graphite, Kevlar and E-glass, which make for an exceptionally strong and light aircraft that isn't subject to the same inherent long-term weaknesses found in aluminum airframes. The structure won't fatigue, crack or rot, and is impervious to attack by most chemical substances. The composite makeup of the airframe doesn't transmit noise or vibration from its twin 1,200 shp Pratt & Whitney engines, thus keeping interior cabin sound levels extremely low. Because of its canard configuration, the design is virtually impossible to stall, and the stock aircraft was equipped with an impressive avionics suite. The Starship was definitely a ground-breaking step into the future of business-aviation transportation; unfortunately production ceased approximately 10 years after its introduction.