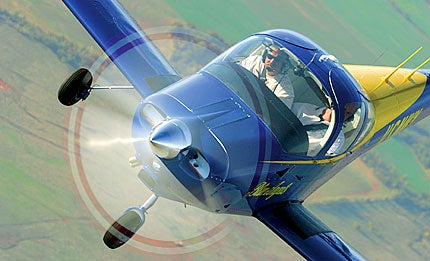 The sun has barely broken the eastern horizon, and the Dixie Chicks are just finishing the song "Wide Open Spaces" on the studio monitor. The on-air light flashes as Dan Stroud turns to his microphone, "You know, Dave, when my wife got home last night, she asked me to take her bra off."
"So what did you say?" asks his partner Dave.
"I said, 'Well, okay…I suppose you want your pantyhose back, too.'"
For more than 21 years, Stroud has been a morning-drive disc jockey, half of the immensely popular Dave and Dan radio team in Oklahoma City. At the end of each show, Stroud is off to the airport. It's because when he's not on the air, he's in the air.
Stroud came by his love of the air honestly. His dad, mom and brother flew. He spent a lot of his youth with his father in the family Stinson. Dan soloed in a sailplane at 14, and when he was old enough, moved onto powered aircraft. Since then, he has wiggled his way in all kinds of cockpits, including F/A 18s, B-24s and MiG 29s. He has even flown the Concorde. So what better way to round out that complement of aircraft than…a Tomahawk?
"It's an underrated aircraft," says Stroud with honest conviction. His is painted in the Navy Blue Angels' color scheme. "I've found that people who dislike Tomahawks have never flown one. It's got great visibility, it's comfortable and it's wider than a 152."
Stroud's attention to two-seaters started years ago when he began learning aerobatics. And for a dozen and a half years, he taught aerobatics in his Super Decathlon. But when he decided to teach his wife how to fly, he traded his tailwheeler for a nose-dragging Piper Tomahawk. She soloed, but stopped when she discovered that she was pregnant. "Looking back, I think she did that on purpose," grins Stroud. So he had a little time on his hands. And a Piper Tomahawk.
"I decided I was going to turn this airplane into a learning experience," remembers Stroud. "I was a pretty good pilot, but I had never opened up an engine. I had never done any interior work. I had never worked on any instruments." And so it began. Stroud took the Tomahawk down to its bare bones.
---
"I had some friends who were airplane mechanics or owned instrument shops or upholstery shops," reasons Stroud. Out came the panel, out came the seats and off came the cowling.
"It was great," he remembers. "I put in new glass and new plastic on the inside. I reupholstered everything. I learned how to rivet. I rebuilt all the instruments."
When it came time to address the Tomahawk's 112-hp engine, Stroud called in favors. "I had never done anything on an engine before and I learned a lot," he says. "I learned I'd never do that again!"
His IA friends were part and parcel of almost everything. "A lot of times, they had to correct what I screwed up, but eventually, I got it right!"
While he pulled the airplane apart, he added some things that he thought the original Tomahawk was missing. "I put in a manifold-driven standby vacuum system," he points out. "If I'm going to be flying instruments, I like having an extra pump."
He also added a hard-mounted GPS antenna. "It makes a huge difference," says Stroud.
After all was said and done, he not only became a father to a new baby, he became a proud father of perhaps the world's finest Tomahawk. And like any father, he loves to show off his baby.
"I take all kinds of people flying," he beams. "It burns 6 gph—6 gph! Motorcycles burn more than that," points out Stroud. "It will cruise all day at 105 knots, although it's kind of embarrassing when ducks hit you on the trailing edge."
Off the air, he's passionate about being in the air. For the last 18 years, he has emceed Oklahoma's Aerospace America, the state's second largest public event, which regularly features air-show performers, like the Thunderbirds and the Blue Angels. He auctions off rides in his airplane for charity, rides in parades and regularly makes pro bono appearances to talk to civic groups and groups of schoolkids about aviation.
"When I was a kid, I used to go out to the airport and hang around at the fence, until somebody said, 'Hey, you wanna come and look at my plane?' I don't see that a lot lately, and it just infuriates the crap out of me," says Stroud. "Children have a very different perception of aviation than they used to. All they see is the airplane crash on the evening news. Many of them have never seen an airplane up close."
And if the kids don't come to the airport anymore, Stroud is happy to fix that as well. Recently, he arranged to land a Jet Ranger on a local school yard so the kids could crawl around inside a real flying machine.
"For all the good things that happen to me in my life, I feel obligated to pass it on," says Stroud humbly. "Anybody can fly. I don't care if you're handicapped, have one eye, no legs. Anybody can fly. It doesn't require someone to be a Superman to fly an aircraft and have some fun!"
"I love aviation," continues Stroud as he takes off his baseball cap, revealing his thinning hair. "Lots of pilots don't have any hair, and I think that stems from the bald eagle."
"I did aerobatics between the peaks of the Alps, a 10-turn spin with snow-covered peaks all around you. That's the kind of amazing experiences that general-aviation pilots can have. Flying is an adventure," he says. "I get as much fun flying a J3 Cub with no instruments as I did flying the Concorde. In a Cub, you can fly right above the fence line and you get a wonderful sensation of speed that you can't get in an airliner. Oooh, I love it!" And when you look in his eyes, you can see that he does.
SPECS: Piper Tomahawk N2459G
---
The Piper Tomahawk is one of the best deals on the used market. Check out some of the other Cheapest Planes In The Sky.