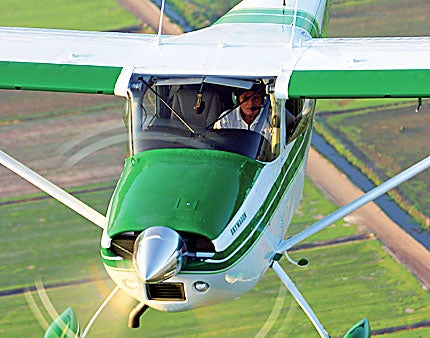 When Cessna makes single-engine airplanes, it makes them with wings on top. It's a given—that's just the way things are done at Cessna. There are many advantages of a high-mounted wing: Downward visibility is good, and it's easy to get in and out of, not to mention the fact that cabin space isn't taken up by messy spars and other protrusions. The interior volume is huge. To paraphrase the old Honda commercial, "You'd be surprised what you can fit in a Cessna."
Oh, I forgot to mention that Cessna's handling characteristics hold no surprises in the dark corners of the envelope. Virtually every single-engine aircraft that Cessna has made is a decent basic airplane. That isn't surprising, given that they all started out from the same design and evolved from there. They're solid trainers and fun to fly.
Bob Tullius bought his pristine example of the Cessna 185 Skywagon for fun and probably because he has a thing for taildraggers. The conventional-geared Skywagon is an anachronism in today's tricycle world, but it has been one of the most enduring single-engine airplanes ever built. The Cessna 185 was first made in 1961 and ended its production run in 1985.
But its roots started with the Cessna 120 and 140 taildraggers, which were Clyde Cessna's entry into the small-business airplane market. Ads from Cessna, Beech and others extolled the virtues of being able to fly to a meeting in one place and arrive fresh for another meeting hours away on the same day. Convenience and speed were the watchwords. Cessna perceived that the market wanted more, and it was ready to satisfy it. A four-seat 140 appeared—model number 170. More power and speed were satisfied in the model 180. When tricycle gear became the neatest thing since sliced bread, the 170/180 evolved into the 172 Skyhawk and 182 Skylane—arguably, the most successful general-aviation airplanes ever made.
Then in April 1964, Geraldine Mock became the first woman to fly around the world. Moreover, she did it in the Cessna Skywagon's predecessor, a 1953 Cessna 180, with custom-made fuel tanks. She flew the Spirit Of Columbus 23,103 miles in just less than 29 days and 12 hours. Cessna was so proud of Mock's accomplishment that it gave her a new C-180 and sent the Spirit Of Columbus to the Smithsonian National Air and Space Museum in Washington, D.C. The achievement of that particular airplane undoubtedly added to the passion in Wichita, Kan., to take that basic design and show the world what a Cessna single could do.
Enter the Skywagon. Cessna decided to refine an already good C-180 design and made an even better flier that can go in and out of any terrain that ranges from Tanzania to Alabama. The original Skywagons first flew with a 260-hp engine in July 1961 and boasted a 1,600-pound useful load. Then, Cessna added an IO-520D engine to its C-185E model to boost engine horsepower to 300 hp on takeoff. The resulting "new" engine gave the Skywagon 285 continuous horses and a cruise speed of 147 knots for 850 nm.
---
When it first came out of the factory, the option of choice wasn't the cigarette lighter or a coupled autopilot. It was the factory float kit. Skis, 84-gallon fuel tanks, stretcher doors and even STOL kits were popular items at the time.
All of these things combined gave the Cessna 185 Skywagon the reputation as one of the best bush planes around. By the end of its 14-year production run, 34,048 Skywagons were built, 480 of which saw service in military garb as U-17As and U-17Bs.
Today, the Skywagon shares the same reputable heritage that all other Cessna singles embody. It has become a truism in life, wearing a mystique, an aura that's so compelling that even those who have tons of conventional-gear time in other airplanes are impressed.
And Tullius obviously agrees. He has added a Skywagon to his collection of classic aircraft.
What has impressed Tullius, and almost everybody else, is the Cessna 185's large size. Tall folks don't have to duck when they walk under the wing, while average-sized people can use the small step in order to get into and out of the cockpit—yes, it's a long stretch to the ground. It was made to haul plenty of stuff and passengers almost anywhere.
Most Cessna 185s are basic VFR machines, and a few are even IFR capable. Although the Skywagon's ability to fly in weather and its docile handling characteristics has made it a favorite among heavy-hauler fanatics, the C-185 really made its mark because it can carry up to six people and their gear or any combination thereof into and out of very tight, far-flung locations. Its 1,700-pound useful load allows for storage inside the spacious cabin or underneath the fuselage in a cargo pod.
The Skywagon is a bush pilot's dream, even from the beginning, and the backcountry has now become its home. The wilderness of Canada, Alaska, South and Central America, Asia and Africa are more likely to hear the roar of a Cessna 185 Skywagon than any other airplane. Cessna Skywagons with over 10,000 hours are common; they're better than a Timex watch.
But what makes Cessna 185s better is its aftermarket modifications. Robertson, Horton or Sportsman STOL kits are available for those looking to revamp their Skywagon. Wing modifications, such as leading-edge cuffs, stall fences, vortex generators and wingtip extensions also are available. And for those who want floats, you can choose between straight or amphibious, depending on whether pavement interests you at all. Skis, huge tundra tires, cargo and fuel pods, extra-large doors, patroller windows and baggage extensions are among the upgrade options. Of course, you can install any of the modern avionics and gadgets, as well.
Another popular modification to the Cessna 185 is to add a Continental IO-550, 300-hp engine. With 15% more horsepower and a Hartzell Scimitar propeller, the huge, draggy, fixed-gear airplane will cruise 15 to 20 mph faster, climb 20% faster and have a 20% lower takeoff roll. By any measure, a fully tricked-out Cessna 185 Skywagon is an incredible performer.
The Skywagon has seen its share of ground loops, landing accidents and other typical general-aviation accidents. The most interesting statistic on the list is the large number of accidents where the pilot attempted to land with the gear down with amphibious floats. I'm sure you might think it's pretty hard to land an aircraft with fixed conventional gear and have an accident, since you landed with the gear down. Nevertheless, it's true. If you put the gear down when you land on the water, you get nothing but trouble and perhaps a swim. Beware of the Skywagon gear-down accident history.
Despite some of its general misgivings, Tullius is perfectly happy with his own Skywagon. After buying one, he refurbished it and added new avionics, a better interior and a paint scheme reminiscent of his days as a race-car driver and team owner. It now lives in his hangar in Sebring, Fla., with his collection of World War II-era Stearman, Ryans and WACOs. If you peek into his hangar, you'll notice that his love for taildraggers are well-represented—and his Skywagon is on the top of the list of planes that he enjoys to fly, so much so that Tullius still hasn't gotten around to telling his own son that he bought the Skywagon for him to gain conventional-gear experience and haul his family around. Tullius says he'll eventually tell him!in due time.
SPECS: 1978 Cessna 185 Skywagon N44TU