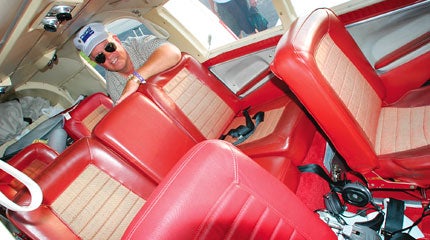 Folks who live in Seattle, Wash., tell strangers about how bad the weather is; it's a mantra for them. The message is almost subliminal—it's a gloomy place, the sun never shines, it's always raining! For some reason, they don't want the rest of us up there. But the weather in Seattle actually is different from the message. In reality, the climate is mild, the landscape beautifully green, and for Randy Kersten, it's one of best places on the planet to own an airplane.
Kersten is one of those Seattle natives who goes north to the San Juan Islands for vacation. He bought a cabin on Center Island, 12 miles south of Orcas Island, in 1978. Kersten and his family go up to the cabin every chance they get. By his own admission, "In over 20 years, we've only turned around twice and got stuck twice. In summer, we go up there every weekend; during the winter, only once a month."
One of the things that Kersten likes the most about his cabin is that there's no road or bridge to the island, and there isn't a ferry that goes near there either. Kersten smiles, "The only way in or out is by boat or airplane, and I'm still not sure about boats."
Several years ago, Kersten had a problem with the septic system at his cabin. The local powers that be told him that the whole system needed to be replaced. For a place as remote as Center Island, getting all the supplies to install a new system would be expensive. Most people would feel the pain in their wallets.
For Kersten, it was no problem at all: "I had my 3⁄4-ton flying pickup truck. I got all the stuff together and with four other guys, I made five trips in one day. I'd go in heavy and come out light. It's only 40 minutes away, so I got everything there and we banged out the work. It was fun."
---
Kersten's flying pickup truck is the Cherokee Six, which wasn't his first airplane. When he was a kid, he knew a neighbor who flew for United Air Lines and introduced him to flying in a 1947 Bellanca. "Instantly, I got hooked. I thought, I could do this!" he recalls.
Kersten began flying on his own in a Champ and finished in a Cessna 150. After getting his license in 1966, he bought a 1940 Taylorcraft. He says, "It was all I could afford and I flew it everywhere. I wish I still had it."
Later, Kersten owned a Stinson 108-3. "I really like the Stinson—you can haul four folks and it has more beans than a Cessna 172. As a matter of fact, I took my wife, Eileen, for our first date in my Stinson, only the mags didn't check, so I borrowed a Champ and took her up. She was so scared, she grabbed my neck, but I calmed her down and after that, she was fine," describes Kersten.
"Eileen took the AOPA pinch-hitter course, and she's a lot of help when we go flying anywhere. You have to have a wife who likes airplanes. When our kids came along, we bought a Cessna 206. It was great and flew like an airliner. We needed something else to carry the load up to the cabin. The airport at Center Island is in the middle of the island and our cabin is only 150 yards away. It only takes us a little more than 40 minutes to get to the island from home if we go by air; by boat, it would take six hours or more. Since it's easy to get to, lots of friends and family want to go. We just needed to haul a lot of stuff. That's why we bought into the Six—it hauls the same as a 206, but has more room and a cargo door," explains Kersten.
Most successful airplanes are evolutionary, and the Cherokee Six is no exception. The Six traces its lineage to the PA-28 Warrior and Archer. The airframe is longer, lower, wider and, well, heavier. The pilot and co-pilot have their own door, and the four or five passengers have a large door of their own on the left side of the airplane. If you want, you can get one with seats arranged in a club format. The Six has a rather long nose—by thrusting the engine way out there, Piper solved CG problems with the bigger airplane and added a 100-pound baggage compartment between the firewall and the cockpit. An additional rear baggage compartment sits behind the rear seats.
Stepping up from an Archer or a Warrior isn't a leap. A new Six pilot simply has to accept the fact that the airplane is heavier and won't respond as quickly as its lighter brethren. The upside of mass makes it a better instrument platform and offers a smoother ride for passengers. On the downside, the long nose makes the landing flare problematic.
---
By far, the quirk that requires the most attention is maintaining your speed on the approach. The fat Hershey-bar wing of the Six can generate prodigious sink rates quickly if you let the speed decay. For carrier pilots, this isn't unusual; but for most of us, an arrival like that will result in more negative attention than you'd prefer. The respectable cruise speed of 140-plus knots, coupled with the optional 84-gallon fuel tanks, makes the Cherokee Six a capable cross-country performer.
Kersten is a partner in the Cherokee Six and has found it to be a great relationship. He comments, "Randy Churchill owned the airplane when I began looking. The Six was the only airplane that could haul his six kids around, and it fit our needs as well. About three years ago, I bought a half-share from him and it has been a great partnership ever since. We share everything and complement each other on most things. I wouldn't do anything else differently."
Kersten and Churchill had the airplane repainted in 2002 by Sun Quest at Paine Field, Wash. Kersten relates, "We used the standard 1967 factory scheme. I really like it, and folks recognize it. A friend and I flew it to Oshkosh in the summer of 2003. We stayed over the weekend and had a great time. We left early to beat the thunderstorms and went by Mount Rushmore and Devil's Tower, sightseeing on the way home. It took us three days, and we had a wonderful time."
When Kersten got home, the EAA notified him that his airplane had won the 2003 Contemporary Best Cherokee Six Award. A compliment like that was icing on the cake for a summer vacation flying through America's Northwest in a 3⁄4-ton flying pickup truck.

SPECS: Piper Cherokee Six 300