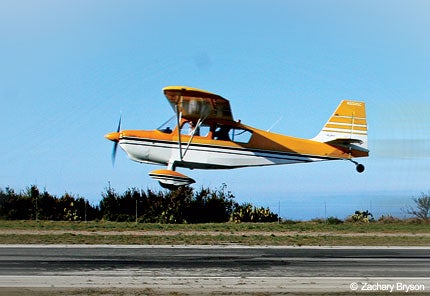 Jessica Meredith co-owns a 1979 Citabria with three other pilots at Santa Monica Airport. Each owner pays $160 per month of fixed costs, $30 per hour for future engine maintenance, and their own fuel.
There was one specific moment when I knew I had made the right decision to join an aircraft partnership. We had just completed some major maintenance work on the airplane involving the starter, alternator and various parts of the electrical system. It had required some custom fabrication and many hours of work, and had kept the plane grounded for over a month. The bill for the work had just arrived in my mail. As I looked at the four-figure number on the invoice and felt the shot of adrenaline hit my heart, I breathed deep, remembered the number would be divided by eight, and calculated my small-by-comparison share. I knew the other seven guys felt exactly the same.
Owning an aircraft is expensive. If you've ever sat down with a spreadsheet and input all the costs that go into owning and flying an aircraft, you've realized that financing it all yourself is a ponderous burden. The big-ticket items of maintenance, insurance, storage (hangar) and, of course, the cost of unexpected "surprises" are enough to dissuade anybody with an average pocketbook from owning an aircraft.
Unlike a car—where you can run to the local Pep Boys and pick up any part on sale—aircraft require specially certificated parts installed by mechanics with unique training. They require specialized "care and feeding" because of their unique role in flying several miles high at speeds much faster than a car. Not to mention the regular inspections and highly specialized instrumentation, as well as highly refined (and expensive) fuel requirements. No, owning an airplane isn't for the timid.
But pilots were never meant to be renters. If you think about it, aviation is one of very few areas where renting is considered normal. Though it's possible, you don't usually rent your motorcycle; or your mountain bike, or horse, or race car or boat. Yet in aviation, most of us have to rely on an FBO with possibly tired airplanes and unknowable maintenance to provide us our flying fix. Owning an aircraft has become too expensive for most folks. And that's where partnerships save the day.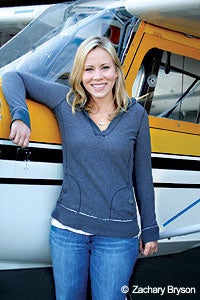 Types Of Co-Ownership
There are many flavors of partnerships: limited liability company (LLCs), simple partnerships, fractional ownership and flying clubs. The difference is in the individual responsibility of the members, the liability exposure of the group, insurance ramifications and tax implications. The structure of the partnership can be anything from an informal agreement between two or more pilots to a corporate arrangement with officers, yearly meetings and shareholder agreements. One of our great freedoms in this country is the ability to create aviation partnerships that fit our unique situations.
A better word for sharing the cost of owning an aircraft is "co-ownership." The word "partnership" is actually a formal designation of one type of co-ownership, and carries with it certain legal parameters. The term is usually used with a "for-profit" business relationship. It would be prudent to note that the legal, liability and tax variables for each type of co-ownership scenario is outside the scope of a magazine article and should be researched further—preferably with the advice of an attorney.
The simplest arrangement for pilots is the "co-ownership" scenario where there are two variants: tenancy in common and joint tenancy. The difference between the two relates mainly to whom the owner's interest goes after death. Co-ownerships aren't subject to tax because they aren't a business entity. If an accident were to occur with a co-owned aircraft, attorneys could go after each individual for damages.
---
An LLC provides some liability protection. In an LLC scenario, an aircraft is owned by the company, and each member owns a share of the corporation. State fees and a tax return are due, but individual members report their share of profits or losses on their own tax returns. There also are requirements for annual meetings, complete with minutes and documentation. Individual members are usually named as officers in the company. LLCs are governed by state laws, as well, and should be researched carefully.
For most pilots without deep pockets, the simple co-ownership works best. These usually consist of 10 or less members and share one or more aircraft. The simplest scenario is co-ownership of a single aircraft with somewhere between two and eight pilots. These partnerships are easy to understand and run, and plainly show the advantages of owning an aircraft with several people.
The Good
There are so many beneficial aspects of co-ownership that it amazes me how all pilots aren't clamoring for a share in something that flies. Those, like myself, who are in partnerships feel they're one of aviation's best-kept secrets. We thought we'd tell you a little about actual partnerships and how they work in the real world.
Jessica Meredith has only been a private pilot for several months. With the ink on her certificate still wet and about 80 hours in her logbook, she discovered a low-key co-ownership deal on a 1979 Citabria. "I had gotten the flying bug and couldn't stop," laughs Meredith. "I thought the Citabria would be a great airplane to improve my flying skills."
The airplane was owned by four individuals who hardly flew the airplane. "Most of them had other airplanes," Meredith says, "so the Citabria sat for long periods." One of the owners had left, so the group was looking for a new fourth partner. Meredith stepped right in. An elementary-school teacher and a high-school rowing coach in her working life, Meredith was attracted by the idea of flying a more challenging aircraft than what was available at the local FBOs. She also wanted the chance to learn more about the airplane and the low cost of flying within a partnership. "It was much less expensive than renting," she adds.
The group is very low-tech, like many successful partnerships. For scheduling the Citabria, "We just text each other," Meredith laughs. She likes to fly on weekdays, which is the opposite of when the other members fly, if they fly it at all. Meredith has discovered that most of the time she has the airplane to herself.
Meredith enjoys working on the airplane with the mechanic—she's the only partner who does. In doing so, she has discovered one of the hidden benefits of helping to turn the wrenches on a co-owned airplane: You get to know the airplane better than anybody else. Pilots who help with maintenance know the condition of each screw, the location of each leak and the condition of all the parts under the cowling. Meredith agrees there's no better education in aviation. "I love to work on the plane! I really get to know it better," she says.
Of course, cost is the biggest benefit. Any aircraft owner can cut their costs by 50% by adding just one co-owner. And the savings go on from there depending on the number of partners. In both Meredith's and my case, that means huge savings when big maintenance bills come.
---
Co-ownerships can be priced differently, still with many similarities. In Meredith's case, she paid a modest buy-in, pays her share of the fixed costs each month ($160) and then pays for her own fuel. Each member also pays a $30/hour engine reserve fee for future repairs and overhauls. My case is similar, except all of us pay a fixed per-hour cost of $80 that covers fuel, oil, engine fund, etc. Our group has eight equal members so our buy-in was less, though our airplane costs more. You can see that anything is possible, cost-wise.
AOPA did a recent study and posted some cost-of-ownership comparisons on their partnership website http://ap.aopa.org. Based on a brand-new $140,000 LSA, the cost of ownership for one person flying an average of 50 hours per year was $524 per hour after an initial outlay of $24,500. By comparison, owning the same airplane with four equal co-owners cost each member $164 per hour after a buy-in of $6,125. Increasing the airplane's hours flown each year to 75 brought the per-hour cost down to $121. Remember, that's for a brand-new, upper-tier LSA and not some student-hardened veteran sitting in the sun on an FBO's ramp.
Another enormous benefit is the ability to fly an airplane that would normally be out of reach or unavailable. In my case, it means co-owning an aerobatic biplane that's a hoot to fly for less money than I was paying to rent a 35-year old Skyhawk from an FBO. For Jessica Meredith, it means flying a challenging tailwheel aircraft with plenty of capability to urge her along in her piloting experience, for a fraction of the cost of renting.
The Bad
There are few, if any, negatives in co-ownerships. Nightmare scenarios are rare. One of the keys is choosing the right people. "My advice to anybody looking to get into a partnership is to talk first," says Meredith. Like a marriage, owning an aircraft will be a relationship that must withstand good and bad. Interview prospective members and be candid about your requirements and personalities. Decide upfront what type of pilots you're willing to own with, and stick to those requirements.
The biggest barrier to co-ownership for many pilots is availability. However, both in reality and on paper, that shouldn't be of any concern. AOPA's statistics show most pilots who fly recreationally fly between 50-100 hours per year. However, there are 8,766 hours in the year, so there's plenty to go around.
Experience also shows that availability is simply not an issue. There's a partnership at my home airport that flies a Cessna 172 with 10 members. The airplane flies an average of 80 hours per year. In my ownership situation, the airplane had flown only 32 hours the entire year before I joined. Since the group's inception, the aircraft has flown less than 100 hours most years. In Meredith's case, the airplane would sit for months without being flown. AOPA's numbers show a four-owner aircraft flies an average of 200-300 hours annually at best. That equates to 1.75 to 2.5 hours out of every 100 hours during the year.
Getting Started
AOPA has revamped their partnership site, creating what could arguably be called the best co-ownership resource available. It's called the AOPA Aircraft Partnership Program (http://ap.aopa.org), and it's free. You can list yourself as looking for a co-ownership situation, or as an owner looking for partners. It's a great place to start your search.
There's more to the co-ownership idea, with such details as partnership agreements, methods of scheduling, insurance concerns and more, so there's plenty to learn. But those of us who love to fly will find a way to do it. And if cost is a concern (as it is to most of us), then look no further than co-ownership.
---
Co-Ownership Considerations
Type Of Legal Entity: The type of entity you join—or create—will impact your liability exposure, taxes and fiduciary responsibility.

The limited liability company (LLC) has gained much popularity with aircraft-owner groups. Such an effort will cost more money and be slightly more complex to set up than a simple partnership, but the liability protection is well worth the added costs.

Selecting Owners: The compatibility of the owners is paramount. Such elements as piloting experience, mission profile and overall financial standing are important to discuss openly.

Termination Procedure: If a member doesn't work out, or if a member chooses to leave the group, there needs to be an exit strategy. Events such as a member's loss of medical, divorce, sudden illness, bankruptcy or even death need to be addressed. Can a member sell his/her shares or does the company purchase them? What type of advanced notice is required? What if the aircraft loses some of its value?

Management And Administration: The partnership must stipulate whether members will manage the finances, maintenance, book-keeping and membership duties for the group, or whether these tasks will be hired out. The group must decide who will be authorized to handle the financial side of the co-ownership, who can write checks and who will authorize expenses.

Insurance: Insuring larger groups has become more difficult in today's litigious society, and the typical limits of liability per occurrence and per accident are hardly adequate. Insurance pricing can vary wildly, so various sources should be looked at.

Maintenance: Many partnerships require the members to get their hands dirty, especially at annual time. This keeps maintenance costs at a minimum and imbues each pilot with intimate knowledge of the mechanical condition of the airplane. Some groups can afford to simply farm out the maintenance to a local facility.

Resolution Of Disputes And Problems: Establishing documented resolution procedures will help keep you out of court. Remember that as soon as you begin talking with an attorney and start dealing with the court system, costs will mount quickly. Consider how disagreements between co-owners will be resolved, and what procedures will be followed (such as mediation) before resorting to the legal system.

Aircraft Management: Issues such as scheduling and squawk procedures will need to be specified. Several free and paid options exist, from simple to feature-rich. You must decide whether the aircraft will be allowed to be used for instruction, and what the check-out requirements will be for new members, as well as currency requirements for existing members. Such details as weather minimums and how minor maintenance will be handled should all be addressed.