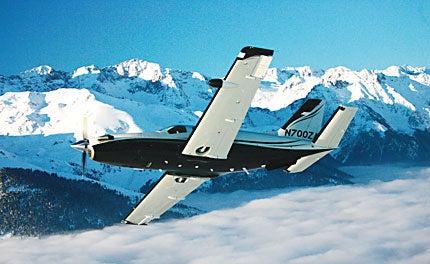 High and wide, we cruise above the forbidding white ice cap of Greenland at 28,000 feet and 300 knots groundspeed. I half expect a flight attendant to bring me a glass of pinot grigio and a plate of Camembert cheese. Except there's no flight attendant. Drat! Next to me, über ferry pilot Margrit Waltz checks the instruments, nods to herself in satisfaction, pops one of her favorite German salty licorices into her mouth and regales me with another tale from her storied career delivering aircraft all over the world.
Waltz has been making ferry flights across the North Atlantic for 25 years now, which makes her a bolder pilot than most of us. EADS Socata, the multitentacled French aviation giant, hires her regularly to shepherd the flagship of its single-engine airplanes to American customers.
Now, comfy and warm in the fully pressurized cabin, I'm wondering what general-aviation pilot wouldn't trade all of his hamburger hop flights to be sitting where I'm sitting right now because, defying most of my visceral persuasions, I'm not strapped into a Boeing 757 flying across the Big Pond, but riding shotgun in a sleek, sexy TBM 700C2. And, brother, it's a cool ride.
The first leg was from Tarbes, France, to Glasgow, Scotland. From there, we hopped to Reykjavík, Iceland, for an overnight stay. Next stop, Narsarsuaq, Greenland, then on to Sept-Îles, Canada; Bangor, Maine, for U.S. Customs; Albany, N.Y., to drop me; then to North Perry Airport in Hollywood, Fla., for Waltz.
Waltz made her first crossing 25 years ago and believes she has more North Atlantic crossings at 588 than any other pilot alive. So when I look out the window and succumb to the occasional dark thought about the 40-foot wind-whipped waves clearly visible below—even from FL280, yikes!—I glance over at Waltz. Her kick-back confidence is all I need. That and the fact that although we're making this crossing on one instead of four engines, the TBM 700C2's engine is the most reliable of its kind in the world—a Canadian-built Pratt & Whitney PT6 A64.
---
The TBM flies the way it looks: fast, easy and tight, with excellent performance. Was it only yesterday we took off from the Socata factory at Tarbes Airport in France?
Tarbes is near Lourdes, the quintessentially charming French city that welcomes five million visitors every year. Most are on a Christian pilgrimage to the little grotto where Bernadette saw the Virgin Mary.
Just before getting our clearance, Socata CEO Stéphane Mayer had shared his own brand of faith with me. Brought on board from the Concorde program, Mayer helped turn Socata into a leaner, more profitable company. "I love to fly, and I trust this aircraft very much," says Mayer.
Those words aren't hollow public relations: He recently made his own TBM ocean crossing with the company's chief pilot. Destination: EAA AirVenture at Oshkosh, Wis.
Mayer says, "Going there was my own pilgrimage, like Lourdes. It rekindles your faith in what you love."
Part and parcel of the TBM's phenomenal success (more than 170 delivered to America) is the company's relentless attention not only to performance, structural integrity and aesthetics, but also to "flyability."
"We embrace the spirit of our roots, from the Morane-Saulnier days, as exemplified by Roland Garros," says director of communications and marketing Philippe de Segovia. Garros was the legendary WWI fighter pilot who "helped develop more pilot-friendly airplanes in that era," according to de Segovia, who wrote his own excellent history of the company.
"We have carried that tradition forward to the TBM, which we have refined for 10 years," comments de Segovia. "One example: The TBM does not require stall strips to mollify less savory handling characteristics.
"Pilots shouldn't have to fly by the book so much either. We put our designs through a rigorous test program to make sure that they're easily flyable by the average pilot. We insist on a more enjoyable, hands-on type of aircraft."
And if there is anyone who knows plenty about that, it's Waltz. In the beginning of her career, she lived for the sheer joy of flight. "I took absolutely every ferry job I could get my hands on in my 20s. I didn't have fear. I felt it would always work out somehow."
---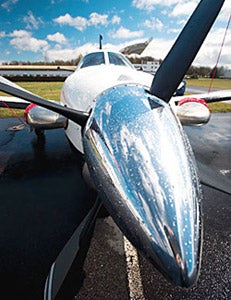 The TBM 700C sits on the runway in France awaiting its morning departure for the United States. Ice-protection equipment includes an electrically de-iced and heated four-bladed Hartzell propeller, a pneumatically de-iced wing and tail unit, and a heated engine air-intake lip.
Many of her bottom-feeder charges were old and decrepit, with run-out engines and woefully inadequate instruments. "No matter, I thought. I can do it. When I moved into my 30s, I became more careful. I got married, had a child, and didn't need to do it that way anymore," she reasons.
"That way" included hairball trips, such as crossing on only one comm or flying into hideous forecast conditions, fun stuff to a 20-something hot stick. Once, she even landed in a total zero-zero.
"The tower told me to stay on the runway. They sent a truck out to bring me in because they couldn't even see me!" she explains.
All of that talk of derring-do brought me back to our trip at hand. Crossing the Labrador Sea en route to Sept-Îsles, my own faith is tested once again. The roiling green sea down there looks angrier than before. Giant waves and foamy white wind lines stretch to the horizon. And I'm remembering what Nicolas Chabbert, EADS Socata's vice president of customer support and a major force in Socata's American success, told me back in Tarbes about his own recent TBM crossing.
"Your chances of surviving a landing in extremely big waves is almost nil. You might as well land against a building!" he laughs. "But the crossing is an adventure. Of course, you take a little bit of risk in a single-engine aircraft. The advantage is the tremendous reliability of the engine, which removes almost any risk compared to piston engines."
"Properly flying a single turboprop engine is better than a badly managed twin," continues Chabbert. "Of course, redundancy always is a big safety factor. But if you don't know how to properly manage an engine-out on a twin, you'd be better off facing a difficult decision in a single-engine airplane. Why? Because you know you've got to manage whatever the emergency is."
Statistics show that fatalities in twins are slightly more common than in singles. "A twin gets you to your crash site sooner. One thing people forget is if you have an engine failure in a twin, go land now. Because 35 or 40 minutes flying on one engine is about the physical limit for most pilots," explains Chabbert.
---
In a TBM, a pilot faced with engine failure would have a 400 fpm sink rate and an excellent 14 to one glide ratio. "That gives you a full two minutes to read and perform the engine restart procedure, and you've only lost 800 feet. In France, unlike in the United States, our lower liability insurance restrictions let us do actual engine-out practice at 10,000 feet. That is a tremendous confidence builder," says Chabbert.
The last set piece in our chess match with the North Atlantic is landing the airplane at Socata's Florida facilities, where it will be checked with a fine-tooth comb—not always the way things were done in the past. "We made big changes with our subsidiary in Florida," says de Segovia. "After the technical inspections, nobody was making sure the aesthetics were perfect. Now we polish the nosecone, clean off the bugs and touch up any scuffs. All the big and little things that make a new aircraft owner say, 'Wow!' He must feel positive he got full value for the $2.7 million he spent for his new baby."
The pièce de résistance comes if an owner takes personal delivery in Florida. Socata rolls out the red carpet—literally—including gold stanchions with red velvet ropes. Pictures are taken of the key and paperwork exchange. Sometimes acceptance flights are made with a company pilot.
I, however, don't get to see and experience all of that excitement, for I was soon back on land in Albany. I watch Waltz taxi away from the Albany ramp. What a ride indeed. Even if the TBM made an anticlimax of "cheating death" over the North Atlantic, it was a ball.
As Stéphane Mayer told me before we left France, "The TBM 700 is an object of passion and love for our customers. They love the aircraft, and they love to fly in it." Roger that.