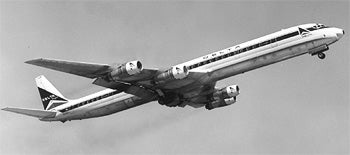 STANDARD DATA: (Super 61) Seats 259. Gross wt. 325,000. Empty wt. 148,897. Fuel capacity 23,390. Engines four 18,000-lb. s.t. Pratt & Whitney turbofans.
PERFORMANCE: Top mph 600. Landing mph 153. Initial climb rate 2,270. Range 3,750. Takeoff run 9,980. Landing roll 6,140.
The DC-8 has been produced in eight versions that can be divided into two groups: the first five standard versions and the Super Sixty line. The Series 10, introduced in 1958, was powered by 13,500-lb. s.t. turbojets and had a 17,600-gallon fuel capacity. In the same year, the Series 20 flew with its 15,800-lb. s.t. turbojets and similar fuel tankage. The long-range Series 30 flew in 1959 and was outfitted with 16,800- or 17,500-lb. s.t. turbojets and 23,079 gallons of fuel. The longrange Series 40 was introduced in the same year and differed from the Series 30 by utilizing Rolls-Royce engines. The Series 50 was the first to employ turbofans: either 17,000 or 18,000 lbs. s.t.
The Series 61 was the first of the Super Sixties. It and the Series 62 were introduced in 1966 and were powered by 18,000-lb. s.t. turbofans. The 61 was the extended-fuselage version, and the 62 was designed for long-range routes. The Series 63 used 19,000-lb. s.t engines and combined the features of the 61 and 62.
Despite the company's optimism over the development of the DC-8, by the mid-1960s it became clear that Douglas Aircraft was in need of capital, and in the view of some, new management as well. In 1967, Douglas accepted an offer from McDonnell Aircraft Corporation, and McDonnell Douglas began operations on April 28, 1967.