I love orange. It's the color of excitement and adventure. In 1910, when William S. Harley and Arthur Davidson decided to design a logo for their then-fledgling motorcycle company, orange was the color they chose. And when rockabilly great Eddie Cochran belted out "Summertime Blues" from every AM radio station in the country in 1958, that incessant guitar lick came from an orange, model 6120 Gretsch guitar—one of the most recognizable in rock 'n'roll history. Even nature reserves orange for only the most special of offerings: sunsets, habanero peppers, clown fish and Cheetos. An orange airplane, then, is really something.
The Super Decathlon has a storied history, and part of the airplane's considerable charm comes from that lineage. First conceived in 1970 by Champion Aircraft Corporation, the Decathlon 8KCAB was a derivative of the company's famous Citabria (that's "airbatic" spelled backward). It was created as a stronger and more capable airplane that could handle outside maneuvers and extended inverted flight. The Decathlon featured an inverted fuel and oil system and a major redesign of the Citabria wing, resulting in a semi-symmetric airfoil that gave it far better inverted performance. Bellanca Aircraft Corporation bought Champion Aircraft in 1972 and sold a smattering of Decathlons through 1976, before adding a more powerful 180 hp engine and other improvements, resulting in the Super Decathlon. The design went through several manufacturers' hands throughout the '80s aircraft sales slump, and was eventually acquired by American Champion Aircraft in 1990, where it has been in production ever since.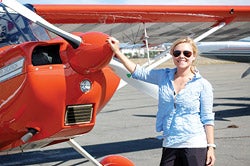 This particular morning, I was to meet Super Decathlon owner Michelle Kole, who had just taken delivery of her beautiful orange 8KCAB, complete with sunbursts and invasion stripes. Too often, we writers take an airplane up with a demo pilot, go through the specs, and perform a list of maneuvers from our notepads, then come back for a few touch-and-goes. For me, it's hard to find the "soul" of the airplane that way. But this time we had a mission, and it was a good one because it involved food and scenery. We were flying some 130 miles south along the Pacific coast from Santa Monica, Calif., on a quest for the best vegan potato tacos anywhere. I'm not even vegan, but the thought of something new was enticing.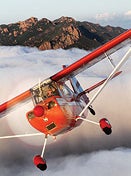 Like its seminal cousin, the Aeronca Champ (Champion Aircraft acquired the Champ design in 1954), the Super Decathlon is a tandem aircraft with stick controls and a tailwheel. One major difference between the "vintage" Decathlons and the newer ones is the aluminum wing spar that replaced the original wood spar. Today's Super D is still made with fabric-covered metal tubing, and sports aluminum landing gear instead of spring steel. Like the 1940s Champ, the Decathlon retains the triangular welded fuselage truss, giving it proven strength and rigidity.
When Kole had me roll open the door to the vintage-era hangar and I saw her factory-fresh Super D for the first time, the effect was magical. Its burnt-orange color contrasting against the velvet blue of the morning sky gave it a decidedly retro look, and Kole had the good taste to add white upholstered seats, making the airplane look fabulously classic.
---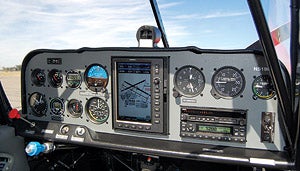 The Garmin 696 with solid-state ADAHRS and a fully capable panel makes the Super Decathlon both an aerobatic and cross-country platform.
The $100 Taco
Climbing into a Decathlon happens from the wide single door on the right side. Access is generous, and larger pilots would find it easy to get into. The 30-inch cabin width feels expansive, even in the rear seat. Of course, this being an aerobatic aircraft, the visibility is fantastic. I notice that the deck angle is relatively low for a taildragger, and find that even us smaller pilots can see pretty well over the panel with a cushion or two. That's a bonus on landing, and may be one reason why Decathlons are considered one of the easier tailwheel airplanes to land. With electrical switches on a side panel overhead, visibility to the front and sides is uncluttered, and the overhead window adds a huge chunk of sky to the view. Taxiing with S-turns is easiest, though taller pilots can just peer over the nose without it.
Takeoff is comfortable and quick, with the tail coming up in 400 feet or so, and the wheels coming off at about 56 mph. It's intuitive having a stick in your right hand and a throttle on your left, so control comes easy and feels natural. This Super D is new, and it sticks to the book numbers pretty closely, giving us an 1,100 fpm climb at 75 mph with a nose angle of about 18 degrees. We're pushing a little harder than usual to accommodate the Los Angeles Class B airspace requirements. The book says max climb rate is 1,280 fpm.
Though everybody thinks of the Super Decathlon for aerobatics, it becomes apparent that this also is a fine cross-country machine. The seats are comfortable, and with the exceptional visibility and 145 mph cruise speed at 75% power that I'm seeing on the panel, the Super D delivers a great long-distance ride. Fuel consumption is typical, ranging from just under 8 gph when leaned at altitude, to 11 gph and greater when flying low and pushing for a little speed.
As we settle into cruise, Kole tunes in some '80s rock on XM radio. With Loverboy reminding us, "Everybody's workin' for the weekend," I take the stick and get to savor the wonderful handling this airplane is known for. I find the controls as light as the tendrils of egg white in a delicate soufflé, though Kole likes to call them "crisp and twangy." While an Extra 300 does have lighter stick forces, it's not fair to compare this airplane to that or to a Pitts, because it's not meant to be those airplanes, and it doesn't need to be.

Looking out on the tarmac, our Super Decathlon sits ready to pounce, like a new kitten eyeing a feather on a string. It's an airplane that evokes the past but
sits in the present.

Flight instructors long ago discovered that the Super Decathlon is a supernal aerobatic training platform because of—and not despite—its draggy design and power loading. Kole—who's a CFI and is training for aerobatic competitions—agrees. "What I love about this airplane is that it makes you work for it. It teaches you to be a good aerobatic pilot because you can't just power through maneuvers." Kole is talking about energy management; it's a concept that Super D pilots learn early.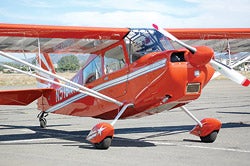 The Super Decathlon has a power loading of 10 lbs./hp. That means you can't rely on power alone to motor you through sloppy maneuvers. Instead, the Super D teaches pilots finesse and precision and turns out—most agree—a better pilot as a result. In comparison, a Pitts S2C has a power loading of 6.25 lbs./hp, while the Extra 330 has a power loading of 5.7 lbs./hp. "You can get sloppy with the rudder in a Pitts or an Extra, but the Decathlon won't let you get away with that," Kole adds. "It just won't do what you want it to."
Another strength of the Super Decathlon is its benign handling characteristics; the airplane doesn't have any scary surprises up its sleeve in any flight regime. Loops and rolls are a joy and easily executed with minimal G-load (4 in a typical loop). Stalls are straight ahead with no tendency to break off to either side, and spins are fast but easily recoverable with deliberate, positive elevator input. This is an honest airplane that doesn't let students get away with sloppiness, but doesn't scare them into submission. It's gentle and fun—a whole lot of fun.
---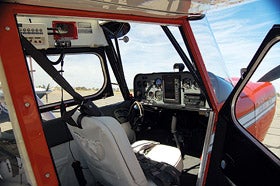 The Super Decathlon is flown solo from the front seat, and the wide door and low deck angle make getting in and out an easy maneuver.
With the delicious potential of good tacos filling my mind, I was ready to land. The Super D is as docile as expected, with good visibility over the nose and no nasty tricks when transitioning to the runway. Kole prefers a hybrid technique that's a combination of a three-point and a wheel landing, as you would land a DC-3. It keeps visibility good throughout the flare. Even hampered by a pretty good crosswind at Montgomery field near San Diego, the Super D takes it with aplomb. That's another reason why you'll see Decathlons just about anywhere that offers tailwheel training; it's a solid teaching platform with predictable handling.
The 8KCAB has a base price of $164,000, so it's within reach of pilots who want aerobatic thrills and a good airplane for longer trips. It gives you nearly the same aerobatic bang as some other airplanes in this category that hover in the half-million-dollar area. As usual, there's a vast array of options, and the airplane comes well equipped with a Lycoming AEIO-360-H1B 180 hp engine, inverted fuel and oil systems, a Hartzell constant-speed, 74-inch propeller (Kole's has the two-blade MT prop), and a 370-pound payload capability with full fuel in the Normal category.
Back at Montgomery, Kole and I are sitting down to the long-anticipated meal with a view across the runway. Potato tacos may sound strange outside of California, but they're flavorful beyond measure. Looking out on the tarmac, our Super Decathlon sits ready to pounce, like a new kitten eyeing a feather on a string. No nostalgia toy, it's an airplane that evokes something from the past but sits squarely in the present.
Mission Complete
I took the controls for takeoff. Montogomery is tricky because of the complex airspace—both civilian and military—all around it, so I try to remain focused while Kole gives me the lowdown on what to expect. We roll down the runway, and the takeoff is a breeze.
"Thaaat's it. Nice. Okay, that looks good," says Kole in a vocal tone I hadn't yet heard on our flight. "Oh my gosh," I chided her, "You just used your instructor voice!"
"No, I didn't do that. What are you talking about?"
"Yeah, you did! That was awesome," I shot back. "It was like I was 16 years old back in the Cessna 150."
Of course, Kole had reverted to her instructor role, talking me through the takeoff. It was nice to be in student mode again, and I appreciated her guidance, even though I chivvied her about it on the way back. The Super Decathlon is that kind of airplane; as happy doing takeoffs and landings as it is upside down or powering through an outside loop. For many pilots, the Super D is an end in itself; not a stepping stone.
---
It's interesting that an airplane like the Super D can not only deliver good aerobatic performance, but provide a solid cross-country platform, too. Traditionally, aerobatic airplanes are lousy machines for long trips, but the Super D is a pleasantly fast, comfortable airplane for long flights. "For my trips, it's perfect." says Kole. "It's fast enough." With a faster cruise than a Cessna 172 and great visibility all around, it makes a good medium-haul partner.
Back in the cockpit, with George Harrison's voice coaxing us into an easy silence and the world's problems far below us, we followed the shoreline home while I played some more with the airplane. Coming into Santa Monica, Kole slipped hard and steep to lose 4,500 feet in about a mile. It was another "Whoopee!" moment. The orange airplane settled onto the runway with all eyes on it, reminding everyone that it's about as fun an airplane as there ever was.
We Asked You!
Do you have any experience with aerobatics?
---
So You Want To Own A Plane?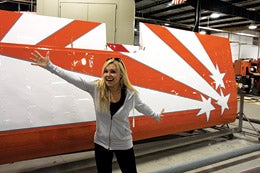 Michelle Kole was a first-time airplane buyer with a changing mission and a wide variety of aircraft on her short list. A chance opportunity led her in a different direction from her original buying plan, and she ended up purchasing a new American Champion Super Decathlon from the factory. We talked to Kole about what it's like to become a new aircraft owner, and the scary and exciting moments along the way to fulfilling her dreams of ownership.

Q. Tell us about how you chose the Super Decathlon.
A. I knew I wanted to be an airplane owner. There were so many choices and it was confusing; nothing out there was speaking to me. I was all over the place as far as the types of airplanes I thought about buying. I considered a Beechcraft Baron, a Cessna 182 and a Bonanza, among others. I knew I really wanted to own an airplane.

Q. Did you have a specific mission in mind?
A. It kept changing. I knew I wanted something I could eventually instruct in, and I knew I would be going places with it. But I didn't really have it narrowed down to a specific mission.

Q. How did you end up with the Super Decathlon?
A. I was selected to be in a documentary called AcroCamp that filmed during the time I was shopping for an airplane. In that film, I flew a Pitts, Citabria and a Super Decathlon; it was my first time in each. I had never thought of flying a taildragger before—it just seemed too difficult. But I eventually soloed the Citabria, and I really liked it. I felt like I could handle it. The Super Decathlon seemed too challenging. But I knew I could grow with the Super D. I found out the price was right; I could buy a new one for about half of the other airplanes I was considering. I ended up flying about eight hours in the Super D during filming for the movie, and I decided that's what I wanted.

Q. Did you have any special criteria in choosing an airplane?
A. I had to know where the airframe had been—and had not been! Buying a new airplane made that easy. Also, the Super D is safe and predictable, and it feels that way to me. The main thing is that it requires you to be a good aerobatic pilot to make the figures look nice. You have to work for them and actually fly the airplane. The Super D is also a comfortable airplane; it's fast enough for my trips. It's the perfect airplane for me.

Q. What was the actual buying experience like?
A. I was a first-time buyer, and I really didn't know how to buy an airplane. I started at the American Champion website. There I found a dealer—Bob Hannah and Kasey Lindsey of Northwest Backcountry Aircraft in Caldwell, Idaho—who were tremendously helpful. I could not have done it without them. They were amazing. They answered all kinds of questions, helped me select what options made sense and which ones didn't, and just guided me through the whole process.

Q. What was the most difficult part of the buying process?
A. Choosing the paint scheme and waiting for the airplane to be delivered! I don't have that female gene that knows what colors look good together. Plus the color samples they give you aren't real paint, so it was really hard. As far as waiting, I put my deposit down in May or June, hoping to get in on the July manufacturing "slot"—they make about four airplanes a month. But I didn't get the airplane until September due to a bunch of issues that weren't the dealer's fault: UPS had damaged a replacement cowling after the original cracked when they flew the airplane from the factory to the dealer. The third one (cowling) finally made it. All that time, the airplane was just sitting in Idaho. Bob and Kasey took a week to fly it and get everything tweaked until it was just right. They made sure it was ready for me.

Q. Tell me about taking delivery of your airplane.
A. I just couldn't believe that this beautiful machine was mine! I couldn't stop looking at it; I don't have kids but I did baby-talk to it, and I just couldn't believe it! I flew commercial to Idaho with a friend that was supposed to ride back with me and teach me the Garmin 696, but he ended up sleeping the whole way.

Q. Were there any surprises?
A. Aside from the process taking longer than I thought, and the whole cowling debacle, the cost is something I should have looked at more carefully. The initial pricing was low, but you got a very basic airplane for that. It seemed there were a lot of options that maybe should have been standard, and the price crept up. Oh, and I just got the tax bill, and had to have my friend who is an accountant look at it because I was so shocked.

Q. What is it like being an owner for the first time?
A. The flight home taught me a lot of things. With all the stuff they give you with a new airplane, and with my passenger and everything, we were at max gross, and the airplane flew completely different with all that weight in the tail. Plus I was out of my brain with excitement—I don't know—and I didn't do weight and balance, which I now realize was dumb of me. The first landing, the tail swerved more than I was used to, and I almost lost it. Later, the engine quit a few feet off the ground because the mixture had been adjusted too lean at the factory based on their "best guess" for sea level. The airplane felt completely different from the one I had flown. There were a lot of things that kind of discouraged me and I thought, "I'm not sure I can fly this airplane." But when I got back, I grabbed an instructor I trusted and made him fly with me until I regained my confidence. It's part of the whole buying experience, I think.

Q. Has owning this airplane changed your flying habits?
A. Absolutely! I fly more often. I feel surer as a pilot and I learn more about my airplane every day. I know what my engine sounds like—what's normal and what's not. Good pilots say the airplane will eventually fit like a glove and become an extension of you. I don't know if I'm there yet, but I feel like
I'm getting to know my airplane's personality. I don't know how to describe that feeling, but it feels good.

Q. Any advice for those who are thinking about buying?
A. Do your homework. Take time to look into the airplane you're considering. Learn about it from owners' groups or others who already own one. Owning your own airplane is an amazing feeling. I was out there today with the sun and the clouds and I thought, "It doesn't get any better than this." I think that's pure happiness.