Summer flying is done: Long live summer flying! But with the prospect of winter-building projects, exciting new avionics units to buy, panels to update, cockpits to make cooler, new software apps to download for the iPad and exciting new aviation developments to read up on over the next several months, we've found all the temptations we need to keep you plugged into the exciting world of flight.
Below, you'll find our latest offering of gadgets and goodies to carry you through your holiday season and sugar plum-fairy fantasies.
Although pilots in colder climes typically turn their thoughts toward winterizing their winged steeds, boot up the desktop computer simulators and hit the manuals to finally study all the nuances of that feature-rich EFIS display they haven't quite figured out yet, year-round sun-blessed fliers get to continue reveling in the joys of airborne "keepin' on."
Herewith, our latest offering of enticements to delight both camps: fair-weather fliers and snowcountry stick jockeys alike.
BENDIX-KING KLR 10 LIFT RESERVE INDICATOR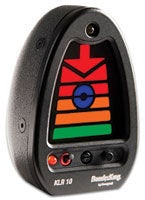 Angle-of-attack (AOA) warning devices are the new superheroes of safe flying. Making sure to never exceed critical AOA is a flight instruction staple—ask any CFI.

Nearly half of all takeoff and landing accidents come from inadvertent stalls—and 60% are fatal. The KLR 10 Lift Reserve Indicator provides a safety "lift reserve" awareness that always warns you of an approaching stall.

No matter what flight attitude, weight, altitude or speed regime you're in, a wing always stalls at the same critical AOA. Keep the wing from exceeding that event—and you'll never stall the airplane.

The device backs up Bendix/King's adage that, "The easiest stall to recover from is the one that never happens". The bright two-inch LED device is easy to see and also gives audio (through intercom) cues that speak loud and clear to how much lift remains in the wing.

The easy-install unit is intended for experimental aircraft. Mounted on the glare shield in your field of forward view, you instantaneously and constantly know where you're relative to the stall.

The LED display shows horizontal color bars that progress from green through yellow to red. At the same time, a woman's voice over the intercom announces stages of the approaching stall: "Check AOA." "Caution. Too slow." "Too slow! Too slow!"

Bendix/King's custom probe, mounted in clean airflow, measures changes of air pressure and is calibrated to each specific aircraft. Price: $1,600. Contact: www.bendixking.com.
---
CLARITU SV ADS-B RECEIVER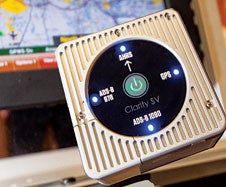 Sagetech's palm-sized Clarity SV (Synthetic Vision-capable) ADS-B receiver takes economical advantage of our new ADS-B (Automatic Dependent Surveillance-Broadcast) aircraft tracking safety net. It's all part of the NextGen air transportation system.

ADS-B Out transponder devices, by design, transmit precise location to ground stations and all aircraft equipped with an ADS-B receiver. The Clarity SV picks up those ADS-B Out signals from any aircraft in the vicinity carrying the device, (which by law will be just about everybody by 2020). It then delivers the data to an iPad via WiFi link, and the display instantaneously shows where those aircraft are.

The Clarity SV communicates fully with 3D Synthetic Vision software, such as Wing-X Pro, Mountain Scope, iPad EFB and Xtreme Vision 3D. These and other software suites interpret the data to show the nearby aircraft, on a GPS moving map, with AHRS (Attitude Heading Reference System) 3D Synthetic Vision precision that shows you another airplane's location, altitude, direction of flight and other critically important information.

Clarity SV includes a high-precision WAAS GPS receiver, internal six-to-eight- hour battery, and inflight FIS-B (weather radar, forecasts, NOTAMS, etc.)—and no subscription fees. Price: $1,400. Contact: www.sagetechcorp.com.
QUICKSILVER SPORT 2S
For more than 30 years, the name Quicksilver was synonymous with top-quality, fun-flying ultralight aircraft, as more than 15,000 buyers of the kit aircraft discovered. With the advent of the LSA movement and the rush to create "little Cessna 172" aircraft, the virtues—and lower costs—of open-frame, ultralight-style construction went overlooked.
Then mushrooming prices brought renewed appreciation for more basic, affordable aircraft. Quicksilver Aeronautics was given a second lease on life by new investors and management, and at AirVenture this year, the company announced its Sport 2S and partially enclosed cockpit GT500 models (the 500 is already Primary Category certified) should be official ASTM-approved SLSA by the time you read this.
Quicksilver was a top hang-glider manufacturer in the 1970s. When it fitted the popular rigid wing "Quick" with a 15 hp engine, it helped usher in the Ultralight age.
Other aircraft in the Quicksilver line include the single-seat Sprint and Sport, two-place Sprint 2, Sport 2S and single-seat GT 400. The company expects to have all seven models certified as either LSA or Primary Aircraft (to help sell in Europe) by year's end. Contact: www.quicksilveraircraft.com.
---
WSI PILOTBRIEF OPTIMA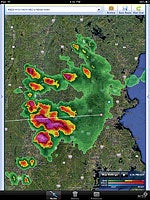 Here's a new iPad app from WSI (Weather Services International) that's part of the company's Pilotbrief Optima service. Pilotbrief for General Aviation is a subscription-based system that brings professional-grade weather info to the cockpit.

The new app, Pilotbrief Optima, brings vital preflight briefing information right to your Apple iPad. Now you can easily retrieve weather and NOTAM information for your next flight in a jiffy.

The user-friendly, easy-read app takes full advantage of the advanced iPad technology and includes cool features including graphical route layout and station information.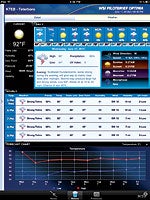 • high-definition weather layers
• radar, Satellite IR, VIL and EchoTop mosaics
• route-specific Weather and NOTAM briefings
• recently FAA-cleared flight routes
• graphic METARs
• tropical storm tracks
• textual aviation weather reports and forecast
• 10-day planning forecasts
New subscription accounts are activated within 24 hours of purchase. The app is a free download at Apple's App Store. Contact: www.wsi.com.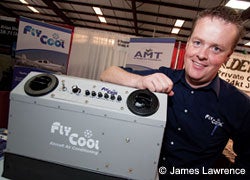 FLYCOOL
Hot cockpits are nobody's idea of fun flying. Flight safety is also compromised when you're sweaty and miserable. Air Management Technology aims to change all that with its all-electric, lightweight (22 pounds) air-conditioning system aimed at the LSA and experimental aircraft markets.
Several light-sports already incorporate the brushless motor-powered unit, including Flight Design's CTLS, the CorbiAir Alto 100 and Czech Sport Aircraft's SportCruiser. Major LSA maker Tecnam offers the FlyCool for its entire line of LSA.
The compact 5,500 BTU/hour capacity unit operates much like an automobile air conditioner. Each FlyCool installation is customized to the specific aircraft it's mounted in.
The hermetically sealed compressor unit is typically mounted in the baggage compartment. A hermetically sealed, brushless DC motor/compressor drives the innards for long life and no radio interference with flight instruments.
FlyCool is powered by an additional engine alternator, rather than tapping into existing engine power with a belt drive. That keeps maximum engine power available for takeoffs and climbs.
Primary components (compressor, condensor and evaporator) are separable and can be installed away from the hot firewall-forward environment. The system also allows cooling of the cockpit before engine start, providing a 20ºF cabin temp drop in 10 minutes.
After all, why should we finish preflight, only to climb into a blistering torture chamber? Price: $12,000-15,000 depending on aircraft and complexity of installation. Contact: www.amt-aero.com.
---
SAFRAN SR460 DIESEL ENGINE
What red-blooded stick jockey doesn't get his or her "need for speed" jollies met by the debut of a new, beautiful engine package?
French engine maker SMA/Safran, which brought smiles to motorphiles with its four-cylinder diesel SMA SR305-230E a year ago, now pops eyeballs with its new six-cylinder diesel offering, the SR460.
The SR460 powerplant (460 cu. in./7.5 l…hey, can I put one in my 1965 Cobra car kit?) should debut in high-profile airframes soon. The company so far remains coy as to which ones, since it's reportedly still in negotiation with several GA single and twin-engine airframe OEMs.
The compact, low-profile package comes in at 595 pounds and delivers 330 to 400 hp depending on configuration. Maximum ceiling is spec'd at 25,000 feet—with full power promised up through 10,000 feet MSL. That'll work!
There are the two turbochargers mounted behind the engine. The kerosene-fueled mill sports camshaft-driven fuel injection pumps. A single-stick digital engine control system simplifies cocokpit ops for pilots and boosts fuel economy.
The engine will weigh 595 pounds dry and deliver 330 to 400 hp. Maximum ceiling is 25,000 feet, and full power will be delivered up to 10,000 feet MSL.
FAA and European EASA certification are expected by 2015 with first deliveries planned for that year. Contact: http://lebourget.safran-group.com.
ARINC DIRECT XPLORE
ARINC Direct Xplore is a new mobile onboard satellite communications module that's controlled by an Apple iPad, and brings data services to pilots and passengers on larger GA business aircraft.
It taps into ARINC's subscription ($750/month) Aircraft Communications Addressing and Reporting System (ACARS) digital datalink network for transmission of short, relatively simple messages between aircraft and ground stations via radio or satellite.
The Xplore is small: just two inches thick and about the width of an iPad. It's completely portable: no installation is needed.
Users connect the unit to aircraft power and an external antenna to access Iridium satellites.
The Xplore comes loaded with features, including:
• access to ARINC Direct's ACARS communications system for pilot iPad display
• moving map
• easier to use than a typical FMS interface
• instant messaging/texting, text-based email and air-to-ground, high-quality VOIP (voice over IP) phone calling for passengers with smart phones or iPads
• graphical and textual weather display
• Notams, Metars, Tafs info, not restricted to the current leg of a flight plan
• Arinc Direct full lightning database
• flight planning and changes to flight plans
• predeparture and oceanic clearances
• instant Messaging and SMS capabilities
• managed Blackberry email
Price: $25,000 (Xplore module). STC'd Iridium/GPS antenna installation: approx. $5,000. Contact: www.arinc.com.