It's no secret that learning to fly is expensive. Recent studies by AOPA and other general aviation groups have confirmed that the cost of flight training is one of the major barriers to entry into aviation for the average person. Those studies are a direct result of the fact that student pilot starts are at a historic low while the projected need for pilots in the coming years is uncharacteristically high. The convergence of the two is causing great worry in every corner of aviation, and much of the focus of various industry groups has been how to reduce the cost of flight training.
Traditional sources of financing aviation have transformed in recent years or have disappeared altogether. Many lenders left the aviation-financing market as the current financial crisis deepened. Sallie Mae loans—a staple resource of flight-training cash—severely cut back the number and amount of their loans in 2008. Even the GI Bill has morphed from its original form to something altogether different. It's simply not as easy today to find sources for funding flight training.
It's important to divide aviation training into its two components: the academic, educational side, and the flight training/ratings side. That distinction is important because different financing is available for each aspect, with more opportunities available on the academic side. In addition, students have a choice of going to a flight-training academy that specializes only in accelerated flight training and ratings acquisition, or to a flying program that's part of a college or university that offers both flight training and a degree program, fulfilling both requirements. In our search to find the best financing sources, we spoke to both academies and colleges to bring you the latest on financing your flying goals.
Scholarships
If you think scholarships only apply to college aviation programs, you'd be surprised. All the academies we spoke with offered sources for flight-training scholarships, though many student pilots don't consider them. In fact, this relative obscurity makes scholarships the first source of funding that prospective pilots should investigate. Kurt Barnhart of Kansas State University tells us, "Hundreds of thousands of dollars in scholarships go unrewarded each year." The trick for the student pilot is finding them.
Every flight-training student should invest in a publication called The Collegiate Aviation Scholarship Listing, available from the University Aviation Association website (www.uaa.aero). For just $19.95, the book (also available on CD) consolidates publicly available information concerning aviation scholarships in one place. The publication describes how to obtain applications for more than 700 aviation scholarship awards with a total value in excess of one million dollars.
The second trick is combining small scholarships together for larger dollar amounts. For example, many EAA chapters offer scholarships that range from $250 to $1,000. The 99's organization has many scholarships in the same dollar range, as do niche organizations like the Regional Airline Association and many others. Probably out of laziness, few people apply for these smaller awards. Combining three, four or more of these scholarships could fund a lot of training. Even more surprising is that many require nothing more than meeting an application deadline, supplying a reference letter and writing a short essay. There's a free database offered of some 300 aviation scholarships on www.nextstudent.com.
---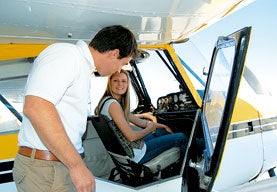 Federal Grants And Loan
Unlike a loan, a Federal Pell Grant doesn't have to be repaid. A Pell grant is a monetary award given only to undergraduate students who haven't yet earned a bachelor's or a professional degree. The great news is that many of the accredited flight-training academies like Aerosim or FlightSafety are eligible institutions for students to receive Pell grants. The amount you receive depends on several factors, including how much you can contribute financially to your training, the school's tuition, your own financial need and more. As of this year, the maximum yearly amount you can qualify for is $5,550. You can apply for Pell grants multiple years, and the process begins by filling out a FAFSA (Free Application for Federal Student Aid), which is available at www.studentaid.ed.gov.
There are other federal grants, including the Iran and Afghanistan Service Grant, which offers $5,550 to students who had a parent or guardian who died during military service in Iraq or Afghanistan after September 11, 2001. There's also the Federal Supplemental Educational Opportunity Grant (FSEOG) that awards up to $4,000 based on financial need. These grants are available through both college aviation programs and academies like ATP, Spartan School of Aeronautics, Kansas State University and others.
Loans have to be paid back, of course, but according to our academies and college programs, they're an easy—if not painless—way to fund your training. Federal loan programs usually allow a grace period of six months after training is complete before they have to be repaid, allowing students to secure a job and settle into it before having to worry about repaying a large loan.
The most popular federal loan program is the Stafford Loan. Stafford Loans are low-interest loans for eligible students to help cover the cost of higher education at a four-year college or university, community college, trade, career or technical school. This requirement allows most accredited flight training academies to be eligible, just as university aviation degree programs are. As of 2010, students borrow directly from the U.S. Department of Education, and not from private lenders participating in the program.
While the basic Stafford Loan is for students with demonstrated financial need, the Stafford program also offers what are known as "direct unsubsidized loans" that don't require financial hardship. The aggregate loan limit for undergraduate students who aren't dependents of their parents is $57,500. Applying for a Stafford loan entails the same FAFSA form as for the other grants.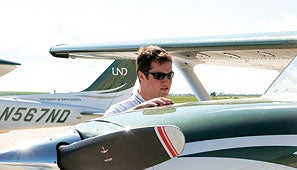 GI Bill Benefits
If you're willing to do some military service in exchange for government funding of your flight training, the post-9/11 GI Bill is the way to go. The "classic" GI Bill that many veteran pilots used to fund their flight training in decades past has changed substantially but still offers some amazing benefits for those who have served—or had parents who served— recently in any branch of the U.S. Military. It's important to note that the latest iteration of the GI Bill went into effect October 1, 2011, and contains some critical changes of benefit to flight students. This version is called the "Post-9/11 GI Bill."
Like all federal programs, the nuances of the GI Bill are complex, but flight students really just need to know the basics, and these are fairly clear: If you served in the military for at least 36 months after September 11, 2001, you're eligible for 100% of the benefits of the Post-9/11 GI Bill. The three major benefits of the Bill include up to 100% paid tuition no matter what education level you're seeking, a monthly housing stipend and a stipend of up to $1,000 a year for books and supplies, as well as a flight-training-only reimbursement of $10,000 per year. If you served less than 36 months, you're eligible for a percentage of these benefits, based on your time served.
Tuition and fee payments are uncapped for public colleges and universities (at the in-state resident rates). Students attending private colleges and universities have a $17,500 annual tuition-and-fee payment cap (nationwide). The most significant change for flight students is that the newest GI Bill now includes flight-training programs.
---
To receive these new flight-training benefits, students must have already earned their private pilot certificate and have a valid medical before beginning any other training. Students who are receiving flight training only (not in conjunction with a degree program) receive $10,000 per year to reimburse the cost of that training. Flight training-only students don't receive a housing or book stipend. The housing stipend currently ranges from 61% to 91% of rent costs, and includes up to a third of a student's utilities expenses.
Another variation of the GI Bill known as the "Montgomery GI Bill" will reimburse up to 60% of approved flight-training expenses. Phoenix East Aviation is one of a few training academies approved under the Montgomery Bill and also offers two "Patriot Grants," which are designed to financially assist veterans who are training to be professional pilots.
If the fact that Uncle Sam will reimburse 100% of in-state tuition if you attend a public college with a flight-training program doesn't impress you, maybe the dependent benefits will. There are several prerequisites and forms to fill out, but Post-9/11 GI Bill benefits can be transferred to dependents. Details of the Post-9/11 GI Bill and dependent benefits are available at www.gibill.va.gov.
Pilot Finance
Pilot Finance, Inc., was started in 1999 exclusively as a source for flight-training financing. The company has been growing in recent years and has become one of few private-training funds resources. Pilot Finance is offered through hundreds of Part 61 and Part 141 flight schools across the country, with more being added daily. Their program is based on the frequency of flight lessons a student takes during a week. More frequent lessons will save a student money with Pilot Finance in the long run.
For example, a student who takes four flight lessons per week pays a cash downpayment of $250 and commits to 30 monthly payments. The payments are based on the total cost of training for the certificate. So if the student spent a total of $8,000, they would commit to 30 payments of $323. While a student who took only one lesson per week and spent the same amount overall would commit to 72 payments of $177 per month. With finance costs, the overall savings of four lessons per week versus one amounts to over $3,000. Pilot Finance interest rates range from 9% APR to their maximum 18% APR, based on borrower qualifications. More information is available at www.pilotfinance.com.
Dedicated Credit Cards
Many of the schools we spoke with told us an increasing number of students are getting specific credit cards just to pay for flight training. Credit cards have a few advantages over traditional loans, including lengthy introductory periods with zero interest, deferred payment schedules, cash-back offers and travel points. Also, prospective pilots who may have some blemishes on their credit can apply for secured credit cards—such as those from Capital One or Orchard Bank—and be able to finance their training where no other option existed. The key to using a credit card to pay for training is to make sure you're disciplined in paying the card off quickly, or the interest will eat you alive.
The Dean of Enrollment for the Prescott campus, Tom Rajala, says that there isn't much innovation in funding for flight training today, but that traditional sources can still get students the ratings they need. "We also offer students the option to work part-time on campus," she says. "We have a website dedicated just to on and off-campus jobs." She pointed to traditional scholarships and even private loan programs to give students the funding they need. "Students should also seek out state-based aid programs," Hanns added.
With ever-increasing fuel costs and skyrocketing insurance premiums, it's doubtful that flight training will ever be inexpensive. But creativity is the rule when seeking financing for flight training, and the options listed here are just a beginning. If the dream to fly is alive in you, then there will always be possibilities.
---