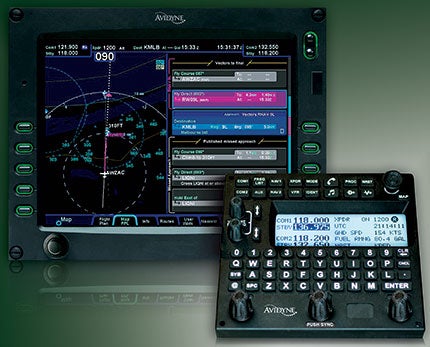 Airline and bizjet pilots have been using flight management system (FMS) technology for almost 30 years, but it's new to general aviation pilots. From the beginning, the FMS has appeared to the pilot as a control unit with at least two features: a keypad to enter waypoints and an alphanumeric display to show navigation and performance data. That's still true for most FMS displays, though some now provide graphical features, and not all GA installations include a keypad. The FMS can also drive navigation instruments (or the PFD on a glass panel).
Basic FMS features can be helpful to any pilot—particularly those of us who fly IFR. FMS equipment usually (but not always) is integrated with the autopilot, flight director (if available) and, on some jets, autothrottle system. This enables single-button Take Off/ Go-Around (TOGA) functionality. Press the TOGA button on the throttle quadrant, and the autopilot is disconnected, the flight director commands a climb attitude (about 10 degrees nose-up in GA installations; on heavy jets, this may depend on the aircraft weight), and the autothrottles will be set for takeoff power (in most GA airplanes, you still need to throttle up manually). The pilot can concentrate on clearing any obstacles, cleaning up flaps and gear, and stabilizing the plane in climb. Then the autopilot can be reengaged to complete the missed-approach procedure and either make another attempt to land or head for an alternate airport. Until recently, this kind of feature was available only in cabin-class airplanes. What follows is a rundown of avionics with FMS capabilities produced by major manufacturers for GA airplanes.
Avidyne
The Entegra FMS900w from Avidyne looks like a traditional FMS, with a control unit that features its own dedicated five-line alphanumeric display and a complete keyboard. It's designed for use with the Entegra glass panel, where it replaces the typical dual Garmin GNS 430 radio stack and provides full GPS/WAAS and NAV/COM features. The keyboard simplifies flight-plan entry, and complex flight plans can be entered much more quickly using the FMS900w keyboard than the knob and enter-key commonly used on competing GA systems. A context-sensitive menu structure is used for all navigation functions. It can store up to 100 routes, each with up to 128 legs. Automatic cross-fill is supported in dual FMS installations. The FMS900w also supports automatic NAV tuning. Advanced features include "FMS Vectors," which automatically compute and display a curved-intercept flight path, and the ability to issue wind-corrected roll-steering commands to the aircraft autopilot. The FMS900w is capable of supporting required navigation performance (RNP) radius-to-fix legs, as used by airlines and business aircraft. List Price: TBA. Contact: Avidyne, (800) 284-3963, www.avidyne.com.
---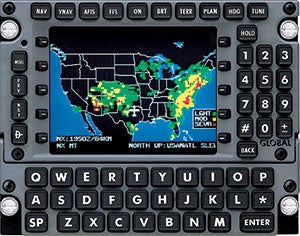 Honeywell Bendix/King
Honeywell Bendix/King offers a wide range of FMS equipment, including descendents of the original 1982 Sperry FMS for airline use (see "History Of FMS" in this article). Of more interest to private pilots are the Honeywell GNS-XLS and KSN 770. The former is aimed at the higher end of the owner-flown market (and the lower end of the bizjet and regional airline market), and provides something of a compromise between traditional FMS and modern, digital looks, combining a color display with a full keyboard for data entry. The GNS-XLS includes a built-in GPS receiver supporting en route and terminal navigation; it can blend position data from other sensors. For entry-level applications, Honeywell offers the KSN 770, a WAAS-enabled GPS/NAV/COM combined with a 5.7-inch MFD, which includes a number of FMS features from the higher-end product lines, notably graphical flight-planning. List Price: $44,225 base price for the GNS-XLS; $13,995 for the KSN 770. Contact: Bendix/King, (800) 601-3099, www.honeywell.com/aero.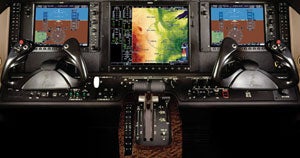 Garmin
Offering some 5,000 G1000 glass-panel systems (each of which has an FMS knob), Garmin probably has the lion's share of the GA glass-panel and FMS market. Indeed, if an FMS is considered to be any navigation device combining inputs from multiple sources, Garmin may have a larger installed base than Honeywell. By the time you read this, the 100,000th GNS 400/430/500/530 GPS/NAV/COM will have shipped. Many pilots don't consider any of these to be a true FMS, but Eclipse Aviation disagrees—the company recently touted its decision to add dual GNS 400Ws to E500 light jet panels as providing long-overdue point-to-point navigation and FMS capability. Garmin Director of Flight Operations Tom Carr says the 400/500 series was originally intended as a NAV/COM replacement, "But Garmin included so many additional features that it became as capable an FMS as many other systems—and with the G1000, we've really provided all the features of an FMS." Whether a G1000 implementation includes a keyboard depends on the aircraft manufacturer—most piston singles don't have room for it, though Columbia (now Cessna) is an exception. Cessna also provides keyboard access to the G1000 in its Citation Mustang. Regardless of how data is entered, the G1000 offers a wide range of FMS features, including WAAS-compatible GPS navigation, automatic NAV tuning, VNAV (vertical navigation) and storage of multiple flight plans. List Price: In most cases, the G1000 is sold on an OEM basis through aircraft manufacturers, though one exception is a G1000 retrofit package for the Beech King Air C90, which sells for $350,000 installed. Contact: Garmin, (800) 800-1020, www.garmin.com.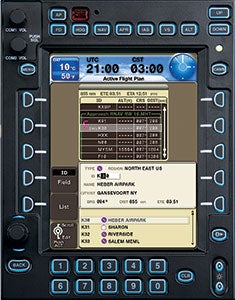 L-3 SmartDeck
L-3 Communications doesn't describe its SmartDeck glass panel as an FMS, but after flying a Cirrus SR22 with it, I have to say that it sure seems like one. Navigation waypoints are entered, and NAV/COM frequencies are tuned on a central control unit (CCU) that replaces the conventional radio stack. Although the SR22 I flew didn't have a full alphanumeric keyboard, the CCU did offer a numeric keypad that can be used for both NAV/COM frequencies and transponder codes. Uniquely, in my experience, SmartDeck will automatically look up the nearest facility associated with a NAV/COM frequency. It also offers a "scratchpad" for buffered data entry similar to that found on high-end airline FMS displays. Other SmartDeck features include WAAS-compatible GPS guidance, context-sensitive menu architecture (including a graphic that shows you exactly what the outer- and inner-tuning knobs will do depending on the mode selected), automatic NAV tuning for approaches and VNAV. List Price: TBA. Contact: L-3 Communications, (800) 253-9525, www.l-3avionics.com.
---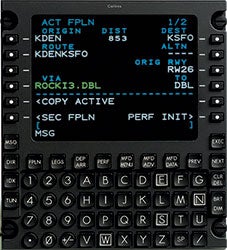 Rockwell Collins
Rockwell Collins has been producing FMS hardware for almost as long as Honeywell. The company's current "low-end" product is the FMS-3000, which is certified for use in the Beech King Air B200 and 350, Beech Premier, and Cessna CJ1, CJ2, CJ3 and Citation Encore. Typical systems from Rockwell Collins include a single FMC-3000 flight-control computer connected to a GPS-4000S WAAS sensor and two CDU-3000 control units, which have a 14-line alphanumeric display and a full keyboard. Designed to integrate with Pro Line 21 panel instruments, the FMS-3000 supports GPS, VOR/DME, INS and ILS/LOC sensors. It provides multiple-waypoint VNAV, time and fuel planning based on aircraft performance data, and scratchpad data entry. List Price: Installation-specific. Contact: Rockwell Collins, (319) 295-1000, www.rockwellcollins.com.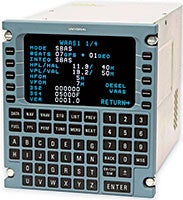 Universal Avionics
The UNS-1 FMS was introduced by Universal Avionics back in 1982; since then, the company has continually updated the product. The latest versions offer a 12-channel WAAS-compatible GPS receiver, per-pilot and per-company stored routes, full VNAV, fuel management and automatic entry to holding patterns. Optional features include frequency management and data-link support. A variety of models are available in both all-in-one and remote-computer configurations, including a low-profile version with a four-inch, flat-panel LCD screen. All UNS-1 control units include a graphic display and an alphanumeric keyboard. List Price: Varies with selected options. Contact: Universal Avionics, (800) 321-5253, www.uasc.com.
HISTORY OF FMS
The first FMS was developed by Sperry Flight Systems (now part of Honeywell) from the VOR/DME-based random navigation (RNAV) systems that appeared in the mid-1970s. RNAVs could store multiple VOR/DME pairs and compute aircraft position. The FAA developed approach procedures to navigate over such waypoints, and RNAV was quickly adopted by airlines for terminal guidance. Long-haul routes required other navigation methods. Transitioning from long-range navigation to terminal navigation was a problem, complicated by the fact that in heavy aircraft, best airspeeds for climb and descent depend on an aircraft's weight.
A solution appeared with Sperry's first FMS, designed for the Boeing 757 and 767. It used microprocessor technology to compute aircraft position from RNAV, inertial navigation system (INS) and other sensors; it also provided a rudimentary form of VNAV for efficient climbs and descents, taking into account aircraft weight and fuel consumption.
Over time, additional features were added, including automatic tuning of navigation radios, graphical moving-map displays, fuel management, system control and even in-flight data-link services.