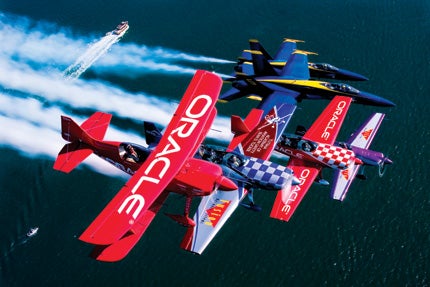 I've seen few things in my lifetime as beautiful as looking down on other planes in flight while on the top of a wingover. Multiple airplanes acting as one require a significant amount of discipline, dedication and practice. Even after more than 3,000 hours of flying within 20 feet of other airplanes, I know that this is an extremely risky activity that should never be attempted without considerable ground and flight training. I carry a Formation and Safety Team (FAST) card as well as the Statement of Aerobatic Competency card that's required for flying formation aerobatics at air shows in the United States and Canada. I'm also an FAA-designated Aerobatic Competency Evaluator (ACE) for formation aerobatics.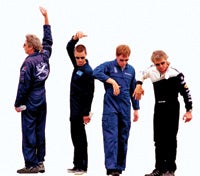 The Collaborators walk through their sequence before flying with the Blue Angels at Fleet Week.
The FAA defines formation flying requirements in FAR section 91.111: "Operating near other aircraft. (a) No person may operate an aircraft so close to another aircraft as to create a collision hazard. (b) No person may operate an aircraft in formation flight except by arrangement with the pilot in command of each aircraft in the formation. (c) No person may operate an aircraft, carrying passengers for hire, in formation flight." For me, the definition of formation flying is operating aircraft relative to one or more aircraft.
The formation flight briefing is usually done by the lead pilot and includes all aspects of the flight profile such as weather, airport and communications information, potential issues (e.g., dissimilar airplanes), takeoff and join-up procedures, flight route, maneuver profile, landing operations and emergency procedures. Communications are extremely important to safely conducting a formation flight and must be understood by all flight members.
This article is a description of techniques I employ on formation flights—it isn't a substitute for training. Flying formation is an easy way to die, and engaging in a formation flight without proper dual instruction is unthinkable!
Responsibilities
There are large differences between the responsibilities of the lead pilot ("lead") and those of the wing pilots ("wing"). Lead must think, communicate and provide a safe and smooth flight profile. Lead must trust wing, be extremely consistent, plan for issues such as formation size and time requirements, and accommodate a large enough power advantage required by wing to stay in position. Good lead pilots will have a very consistent roll rate and pitch change, and will keep the formation in level flight or turning at a 30- to 40-degree bank. The lead pilot should usually be the best pilot in the group.
---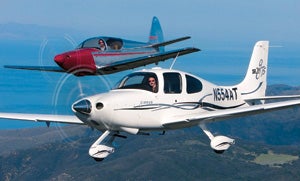 Photo by Chad Slattery
Wing's responsibilities are to maintain position and separation from lead and other lower-numbered members of the flight, and to alert other flight members of problems and emergencies. The act of maintaining position relative to lead's airplane is called "station keeping"; to do this well, you must use lead as your horizon and as the only reference that you use for flying. One skill that requires extensive dual instruction is the ability to see closure toward lead. Remember, you can only tie the record for flying close to lead!
Flying Wing
When I was with the Red Baron Squadron (and now with the Collaborators Formation Team), we used a technique called "three-axis control": Use ailerons to match wing bank with lead, elevator to match fuselage pitch, and rudder to move laterally in and out from lead. The throttle is used to move forward and backward relative to lead. This allows us to maintain a stable position and eases the load of the outer wingmen in formations larger than two-ships.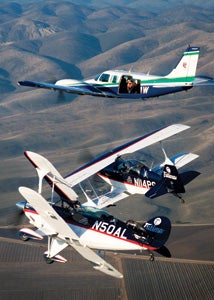 When flying wing, it's essential to know exactly where your perfect position is relative to lead. It's best to use triangulation with at least two sets of points for your sight picture: one set for the bearing (or 45-degree) line and another for lateral spacing. For example, when I'm flying my Globe Swift with friends to visualize my sight picture, I "connect" the lead Swift's innermost aileron hinge with the front of lead's cowl. This serves as our bearing line. I "touch" lead's tailwheel to the outer edge of the aileron on lead's far wing to get my target position. If we're on our bearing line and there's space between the tailwheel and the aileron, I know I'm too far forward (and too close) to lead; if lead's tailwheel touches the wing inside of the far wingtip, I need to move forward (and also in). One of these should cover vertical alignment.
Wing makes constant small corrections using all flight controls to keep the wings matched in bank and the fuselage matched in pitch, and to stay in the same relative position. The throttle, stick and rudder are almost always moving during station keeping. One trick: After making a power change, take half of it away as soon as you see it start to have an effect. This helps to smooth out the cycles of forward/back from lead.
When you're just starting to train, you'll work hard to open up your vision to "see" the entire lead airplane. This comes with experience, and if you're not able to do this, you should continue training before you fly solo as wing. Wing pilots must always keep sight of and maintain separation from lower-numbered flight members. If you're #2, you must keep sight of and maintain separation from lead. If you're #3, you must keep sight of and maintain separation from both lead and #2.
Once you can fly straight and level with airplanes matched, you need to be able to fly turns in formation. When lead turns toward wing, wing reduces power, descends slightly and banks to match lead. After everything is stable in the turn, wing returns to the process of making constant corrections with all flight controls. When lead begins to level out, wing will likely need to add some power while keeping the wing bank matched. When lead stops the rollout, wing will slightly reduce power because the small climb back to lead's altitude is achieved. The converse is true for turns away from wing: Wing will need to add power and climb slightly while banking to match lead.
---
But before you can do any of this, you have to join up with the formation. This is most efficiently done while lead is in a turn so that the geometry of a shorter path allows wing to catch up and establish position, instead of a throttle-only tail chase. The general mechanics of a join-up turn are as follows: Get inside the arc of lead's turn; get close to the same altitude as lead (put lead just above the horizon); get on the 45-degree line (for most planes this sight picture has lead's far wingtip touching the front of the vertical stabilizer); reduce power as you get closer to lead (400 to 800 feet); and slowly slide into position. The description is pretty simple, but in practice it can be very challenging. For me, a well-conducted rejoin is one of the most gratifying moments of any formation flight.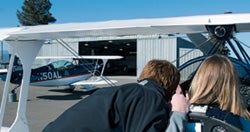 The Airplane
Some airplanes are fun to fly in formation; some are okay; and some are terrible. The biggest issue is visibility. High-wing planes have very limited visibility, which can turn a small error into a full-blown emergency. High-wing aircraft shouldn't be used for formation flights. Certain low-wing aircraft also have reduced visibility. The Mooney owners club advises its members not to fly formation in its airplanes because of visibility, and that can be generalized to many popular planes, such as the Bonanza or Pipers. I agree—pilots should develop expert-level skills before flying formation in a limited-visibility airplane. One of the reasons that I love my Globe Swift (with its bubble canopy mod) is that its visibility is excellent.
When Things Go Wrong
If something goes wrong in a rejoin, it can go very wrong! Brief your overshoot procedures, and make sure you're very experienced in rejoins and overshoots before your instructor gets out of the plane. There are several strategies for pilots of low-wing airplanes who overshoot. If the flight is turning, go under formation to keep it in sight; if the flight is flying straight and level, stay on your side below the flight to maintain sight of formation. Communicate by radio that you're overshooting, then call in when stable. If you're unable to keep continuity with the flight, call "out" while maintaining separation, and then request permission to rejoin.
If you can't see the flight (very scary!), then you're having a real in-flight emergency because you're unsure where the other members of the formation are. One way to manage this is to call, "out, no joy," and indicate where you are ("level at 3,000 feet heading west"). Lead should tell you where the flight is ("lead is at 2,500 feet heading north"). Use altitude for separation until you find the others, and then request to rejoin.
It's a very good idea not to do anything in a hurry. When people make a big error in formation training, they often want to fix it as quickly as possible, causing them to fly erratically. If you're lucky enough to survive an "out, no joy" situation, then you probably owe the other flight members a cold beer, as well as an apology. High-wing airplanes are prone to no-joy situations, and I recommend that you never conduct formation flights in them, especially if you don't have considerable formation experience.
Exiting the formation can be done two ways. When lead breaks off first (as in a break to land), lead signals the break, then splits off away from wing, and wing maintains level flight. After the proper amount of time, wing then breaks and follows lead. When lead has wing break off first, lead must ensure that there's nothing in wing's way. It's smart to make sure lead is correct—when I'm waved off from a formation, I'll start my exit slowly until I'm able to verify that I'm headed toward unoccupied air.
---
The Real Risks
If you lack significant training in formation flight operations, then stay on the ground. The right way to get formation training is to go through the FAST organization (www.flyfast.org). They use military techniques, and their communications standards come from the T-34 formation manual. FAST has many signatory organizations, including Sport Class Air Racing, Swift, Red Star Pilots and various warbird clubs. There are also flight schools such as the Tutima Academy of Aviation Safety (www.tutimaacademy.com), where I teach, that provide formation training.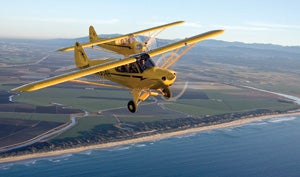 Due to their limited visibility, it's very risky to fly formation in high-wing aircraft.
I feel a responsibility to warn aviators about photo flights because they represent the biggest risk. By definition, a photo flight is a formation flight, but many pilots don't even consider this. As a result, pilots with zero formation experience will still fly a photo mission. This leads to an unorganized process where briefs are often poor and not followed. In the air, pilots will attempt things beyond their skill level, because of photographer requests or because the camera pointed at them minimizes their situational awareness. Other complications include dissimilar aircraft with very different flight characteristics and a constantly changing formation, with aircraft moving in and out of formation to be on- or off-stage. Don't be tempted by the photos on these pages—everyone involved has extensive formation training. Make sure you get the same.
In an upcoming issue, look for "Formation Flying, Part II," where we'll focus on the complexities and mental challenges of flying the lead position.
Bill Stein has logged thousands of hours of aerobatics and formation flight. He has flown a Pitts Special, Globe Swift, Red Baron Stearman and Zivko Edge 540. He performs solo in his Edge (www.billsteinairshows.com) and as part of a four-ship formation team, the Collaborators.