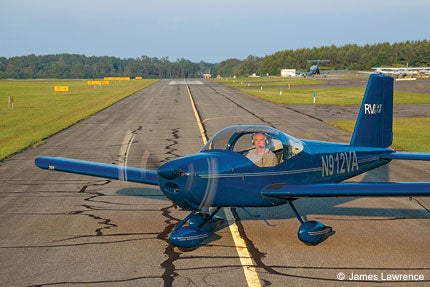 Mitch Lock is the northeastern dealer for Van's Aircraft and built his RV-12 from an ELSA kit in 555 hours.
"You've got the RV grin on your face," says my genial demo host Mitch Lock, and indeed, I do. We've just launched from his home airport of St. Mary's Municipal, not far from Annapolis, Md. The weather has been beastly for days: hot, humid, kinda Vietnam jungle-like. It's before 9 a.m. and already well into the 80s. So, why am I feeling so good?
Of course, it's the airplane. After a takeoff that was as difficult as pulling away from the curb in your car, we're climbing out—at a Vy of 75 knots, mind you—at about 800 fpm. Considering our combined weight (400 pounds), full fuel (20 gallons) and the high-density altitude, that's plenty strong.
"On a cool day, solo, I get 1,100 feet per minute, easy," says Lock. Van's aircraft spec: 900 fpm. It's refreshing when companies make conservative performance claims.
The cockpit is comfortable. Cooling air flows nicely from the side vents. But mostly, I'm happy because the RV-12 is simply the kind of airplane you only want to climb out of when your physiology demands a break.
The control response is light, nimble, solid, fighter plane-ish, and so natural and balanced, you feel like you've flown this bird all your life. Banking the 26-foot, nine-inch wings brings virtually no adverse yaw: Other than during climb and power-off descent, this is a feet-on-the-floor airplane, and yet it's so lively.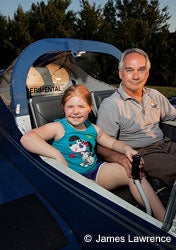 Mitch Lock and his daughter Victoria, who loves to fly with Daddy.
LSA as a category has well-earned its reputation for well-designed, forgiving, easy-flying aircraft. Still, every now and then, I have the pleasure to meet an LSA that stands out. The Remos GX was one, as were the Pipistrel line, the Bristell and Tecnam's entire fleet.
But, the RV-12 may be the most good-natured, docile, yet sporty LSA I've flown yet. It feels both sweet and a little sassy.
A Pedigree Bloodline
Van's Aircraft, named after founder, designer and chief cook/bottle washer Richard VanGrunsven (aka Van), has sold wildly popular Experimental Amateur Built (EAB) kits (8,000-plus built since 1972, thousands more under way) and created an entire aviation subculture in the process. Just how popular is the RV line of aircraft?
Exhibit A: Although the company introduced the RV-12 prototype as an E-LSA in 2009, just as the economic recession was hitting its malevolent stride, deposits immediately flowed in. To date, more than 300 of the RV-12 kits shipped, and more than 750 sub kits started. You can get one, including engine, for around $70,000 and build it in about a year.
---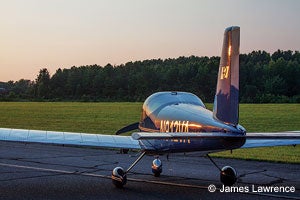 The all metal LSA RV-12 is available as a kit or ready to fly.
Exhibit B: When Van's announced the S-LSA Signature Edition of the RV-12 last year, priced at $115,000 complete, the initial run of 12 aircraft sold out overnight, leaving another 50 disappointed buyers standing in the rain with ink dripping from the checks in their outstretched hands. Alright, I'm making the rain part up, but there was a huge surge of excitement for the S-LSA version.
So, what makes the RV brand so appealing? Where do I start? The RV-12 capitalizes on the pedigree: It's good looking, all metal, has a low wing and one-piece bubble canopy for excellent visibility, and is easy and really, really enjoyable to fly. It's also got that GA appeal of venerable designs like the Grumman Tiger, Thorp homebuilts, Piper Cherokee and other low-wing mainstays.
The RV-12 represents Van's 39 years of engineering, design evolution and manufacturing. The complete kits are legendary for their precision fit and easy construction. All metal parts are formed and prepunched with fastener holes, and all hardware is included. The kit is optimized for fast building. How fast? An inexperienced builder can knock out an RV-12, says Mitch Lock, in 800 to 900 hours. He built his in 555, but he had danced the builder's dance before.
All components—engine mount, instrument panel, fuel system, landing gear and airframe—are prefabbed. "Simple hand tools" are all you need, says the website, and Lock concurs. What's missing? Only paint and fluids.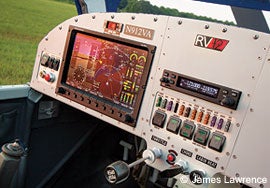 The brand-new Garmin GTR 200 Comm radio adorns a tidy panel headlined by a Dynon SkyView.
The S-LSA RV-12 capitalizes on Van's deep design and manufacturing experience. There have been eight RV models produced to date. Some of 12's cool features include five-minute, two-person removable wings for trailering or storage in small spaces; a lovely, ground-adjustable two-blade composite prop from Sensenich; the proven and ubiquitous Rotax 912ULS 100 hp engine that burns auto gas or 100LL; and a low empty weight of 740 pounds. For a worthy useful load (580 pounds), that's not that common among LSA.
That 580 pounds translates to two 210-pounders, full fuel and room for 50 pounds baggage.
A quick word about the removable wings. Pulling two pins behind the thick, comfortable seats is all it takes. All control linkages and wiring connections are automatic, and for us forgetful multitaskers, there's a magnetic ignition fail-safe interlock: If the wings aren't installed properly, the engine won't start.
Mitch Lock's RV-12, built from the E-LSA kit, has all the factory options: ADS-B module, lighting package with position and landing lights (steady or pulse option); two-axis autopilot; wheel fairings; and an attractive interior package that includes carpets and sidewall covers.
---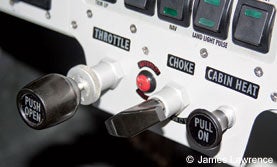 All the knobs and levers are well-placed.
Van's is considering offering a "bare bones" S-LSA at $105,000, but the final decision is still under evaluation.
Toys In The Panel
The handsomely appointed instrument deck is tidy and well-laid out. Dynon's mainstay SkyView 10-inch EFIS display commands the left side. And a brand-new Garmin GTR 200 Comm radio, just announced, is the first to offer this cool feature to the experimental and LSA community: a two-place auto-squelch stereo intercom, with "3D" audio for discerning between active/monitored frequencies and the passenger. The LED display is easy to see in daylight.
Robust black rocker switchers for ignition, master, trim, lights, avionics and autopilot are appealing, functional and well-placed. My only knock is the spring-loaded push-pull throttle. It has a knurled friction lock that I left too loose once. I took my hand away and the internal spring sucked the throttle home to full power—not a welcome trait, say, on final glide to landing. Lock says you do quickly adapt to it, but the company is investigating a vernier, which I hope they implement.
It's All In The Wrist
Fumble fingers aside, the enduring joy of this airplane is how beautifully and joyfully it handles on the ground and in the air.
Steering is by differential toe brakes and castering nosewheel: You can turn the RV on a dime. Not all LSA handle as adroitly with this type of setup, but the toe brake bars have enough real estate that your toes feel solid on them, and the hydraulic brakes are highly effective.
Per Mitch Lock's instructions, on our first takeoff, I kept the nosewheel a bit light until 60 knots, then let the RV lift off by itself. A flick of the wrist is all it takes to keep wings level, and I quickly realized I was holding hands with a sweetheart.
Running through stalls demonstrated how well the fat wing hangs onto the air. And if you keep it straight with a bit of rudder, it won't drop off on a wing. Under power, the RV-12 won't really break unless you work at it: It just burbles along nicely on the stall.
Rolling left and right was a kick, just for the fun of it. Handling is so crisp and solid. I snapped a 45-degree bank then let the stick go: It held the bank angle without effort. "That stability was designed in," says Lock. "Put it anywhere, and it wants to stay there."
---
Landing was another pleasure. The between-seats flap lever, a simple, effective two-position affair, drops the nose, requiring back stick and a push on the trim toggle.
My first landing, without even a demo, smoothed onto the tarmac with nary an embarrassment. Another landing approach, too high (my Achilles heel), required a slip to correct. Piece of cake. Snapping the bird out of it a few feet above the numbers brought another respectable landing: The short wing hangs onto lift at low speeds, while the big horizontal tail sends plenty of pitch feedback even near the stall. It's one easy airplane to land.
Do yourself a favor: If a low-wing, all-metal funship with wonderful handling and a good cruise are on your bucket list, don't fail to check out the Van's RV-12.
That Dang E-LSA Vs. EAB Question
Folks tend to get confused about the difference between E-LSA (Experimental Light Sport Aircraft) and EAB (Experimental Amateur Built). Here's Mitch Lock's take:

E-LSA: "Legally, Van's is the manufacturer of the aircraft, not you. There's a five-hour phase-one flight test period. You can do all maintenance on the aircraft you want. But, you can't sign off your own annual condition inspection unless you take an FAA sanctioned 16-hour Light-Sport Inspection Course. A lot of companies give it, typically over a weekend."

Lock explains that to license the RV-12 as an E-LSA, you must buy all the kits from Van's: "Spinner to tail cone: engine, prop, everything we say you need to buy.

"Even if you already have an engine, you can't delete that kit: The certification requires you buy the engine from us because that's the only way we can certify that engine is going into that particular aircraft." Once the final powerplant kit is shipped, "we send you an 8130-15 E-LSA compliance form."

Only factory-approved mods can be installed—and only during construction. Once the airworthiness certificate is issued, you're allowed to make changes as long as they don't exceed the LSA envelope (gross weight over 1,320 pounds, max speed beyond 120 knots, stall speed above 45 knots and so on).

"You could, though, take the whole panel out and install a Garmin G1000, or change the lighting system, or tint the windows and still be in compliance," Lock continues.

EAB: "Her­­e, the builder is the manufacturer; a 40-hour phase-one flight test period is required," Lock explains. "Then you can apply to FAA for a repairman certificate and do all your own maintenance and sign off your annual condition inspection."

After that, EAB builders can do whatever they want: put a different engine up front, change the tire size, whatever. Lock concludes, "At that point though, it's no longer officially an RV-12; it's your own experimentally built kit."