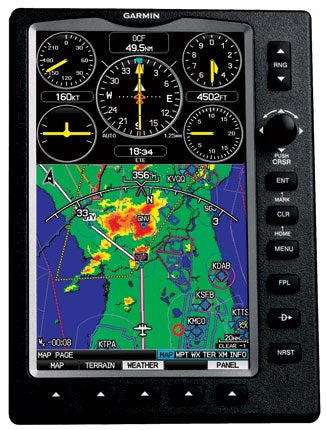 If you hadn't noticed, the Garmin 696 is bigger. Anyone who has seen the advertising for Garmin's new world-beater 696 GPS navigation unit knows it's a definite departure from Garmin's traditional philosophy of thinking small. Garmin entered the market back in 1989 by producing a small, high-quality, portable GPS unit; but the new system's most obvious talent is simply its size. (In fact, the 696 isn't the first larger-format Garmin portable GPS. The company did build a semi-notepad style GPS for a few years, the shortlived iQue.)
The 696 is a considerably larger and heavier system, and the screen measures seven inches diagonally. Diagonal measure is mostly a marketing gimmick borrowed from flat-screen TVs; a seven-inch diagonal dimension devolves to six inches tall by three inches wide. For those who care about such things, the pixel count is 480 wide by 800 tall, 384,000 total.
One obvious benefit of a larger screen is that you can display more information without producing clutter. The 696's screen is spacious enough to allow display of a full approach plate and provide finer detail on the map. The new Garmin also lets you display the IFR low- and high-altitude airways. It's about as close as you can come to a portable MFD.
Power on the 696 is provided by a nickel-metal hydride battery that's allegedly capable of providing about three hours of operation (includes power for XM and full backlighting). I never found out, as I had the system connected to aircraft power at all times. The display is the brightest of any portable I've seen, with no tendency to wash out in bright sunlight, a problem on earlier models.
Indeed, if there was anything to criticize on Garmin's previous portable GPS devices (and there wasn't much), screen size may have been a minor weak point. The earlier XX6 models used variations of a 3×2.5-inch format. Personally, I've always felt the 396 and 496 are nearly ideal systems for portable navigation, but there's no question the 696's size is its primary advantage. The system weighs about 2.25 pounds, nearly double the heft of Garmin's next heaviest portable (the old 195), so it's far more likely to be mounted on a yoke rather than handheld. Garmin also uses the multi-articulating RAM mount.
My demo unit from Garmin arrived two days before I was scheduled to leave on a delivery flight of a Marchetti SF.260 from Santa Monica, Calif., to Coventry, England. I expected to use the system on the trip (along with my trusty 396), but that turned out to be a challenge past Canada, as the 696 had only the Americas database installed. The other XX6 Garmins come standard with essentially all the airports and VORs in the world in memory, so you can navigate virtually anywhere on Earth with any of those systems, right out of the box. True, you won't have intersections or approaches available, but at least you can fly en route navigation overseas. It's probably a minor point for those who don't cross oceans on a regular basis, but the 696 won't travel internationally unless you're willing to input all airports as user waypoints.
---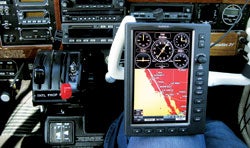 The 696's larger screen allows it to display more information without producing clutter. Additionally, the 6×3-inch screen is bright and easily read in direct sunlight.
I took the system with me on my delivery flight anyway, knowing I'd have 3,000 nm from California to Goose Bay to experiment with its functions. I was especially interested in the weather display on the trip, but in a case of perverse bad luck, the weather was great across the United States as far as Bangor, Maine, so there was little to see. As I flew north to Goose Bay, Labrador, Canada, on the third flight day, I ran out of XM range and the weather went down. XM's two satellites, idiosyncratically named "Rock" and "Roll" and parked in geosynchronous orbit above the East and West Coasts, cover the contiguous United States and the first 300 nm of Canada and Mexico, but you run out of coverage well before you reach Goose Bay.
Other than that, the 696 features all the navigational talents of its little brothers, along with the AOPA Airport Directory, terrain warnings and TIS traffic alerts (when coupled to a Mode S transponder). The terrain feature even includes a vertical profile display of terrain along your current ground track that allows you to check your entire trip for any possible conflicts. In all, the 696 is an interesting marriage of features from Garmin's glass-cockpit G1000 and the popular portable 496.
In combination with a fast (five-updates-a-second) refresh rate, the 696's display seems nearly seamless, especially in the panel page mode. Scales range from 200 feet to 800 nm, so you can display everything from the local airport ramp to the entire United States. In XM Weather mode, you can check the winds and weather ahead for your entire route of flight, even if you're flying a Learjet coast to coast. If you buy the high-end XM Aviator Pro package, the 696 also will display XM's turbulence, icing and pireps information, not currently available on the 396/496.
The Garmin 696's talents aren't limited to its external products, such as XM weather. It brings a number of features to the cockpit that haven't been seen before, at least not on a portable GPS navigation system. That's an important point, by the way. Like all the portables that have preceded it, the 696 isn't FAA-approved as a sole navigation source. It can, however, serve as an electronic flight bag (EFB), so you can finally make a major contribution to paperwork reduction.
Garmin SafeTaxi offers accurate airport diagrams that show every runway, taxiway and ramp on an increasing number of U.S. airports, allowing you to bypass the usual embarrassment of arriving at a busy airport you're unfamiliar with and having to ask for progressive taxi instructions. Garmin's FliteCharts allow you to view all U.S. NACO departure procedures (SIDs), standard terminal arrival routes (STARs), approach charts and airport diagrams. If you know the approach to expect, the 696 will automatically select the proper chart and display it.

One of the most versatile aspects of the new 696 is the ability to split the big screen into two electronic pages.
In IFR map mode, the 696 can display Victor airways, jet routes, MEAs and leg distances, similar to what you'd find on the paper chart. (One clever feature for IFR mode is that if you move the cursor over an airway, the system automatically pulls up the MEA for that airway at that position.)
One of the most versatile aspects of the new 696 is the ability to split the big screen into two electronic pages. For those who find it too much effort to punch the page button to electronically flip through the pages, you can now monitor two pages at once. Push the Panel button at lower right, and the pseudo panel appears at the top of the screen, covering the high 2.25 inches. The map or terrain page remains at the bottom. You also can select a variety of other displays at the top with the terrain or map at the bottom: flight plan, HSI, nearest airport/VOR/NDB, etc. This system is nothing if not multifaceted.
---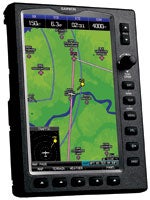 Garmin's 696 comes with a remote antenna, but it hardly needs it. The unit's built-in antenna is very sensitive, even under adverse conditions. After I finished the initial charge at home, I was surprised to see the system had initialized with six satellites and was ready for navigation, despite sitting on my kitchen table.
I've seen that trick before, and in that instance, I'd asked Garmin's Tim Casey about it. He inquired if my roof was made of wood. Probably so. Wood doesn't attenuate the GPS satellite signal as would some other materials, so the system can lock on to three or four satellites and be ready to navigate inside my home. That's a great feature should I decide to move my house to a new location.
If you're conversant with the functions on the 296/396/496 or the glass-panel G1000, you'll probably find the 696 very user friendly. The knobology is similar to earlier Garmins, though operating controls on the 696 are slightly different. The new system employs a small joystick (a "click stick" in Garmin speak) rather than a four-way rocker switch, but the transition from one to the other is reasonably intuitive for anyone who can sit, talk and work a radio at the same time.
Though Garmin's FliteCharts do bring instrument approach plates to the cockpit, and that's definitely a good thing, there's a catch for those aviators who accidentally or deliberately allow their subscription to expire. The display is electronic, so if FliteCharts becomes more than six months out of date, the chart page simply goes blank. Like you, I've never been an advocate of flying with outdated charts, but apparently, the prevailing philosophy is that you're better off with no information at all, even if it's correct, rather than the possibility of some bad info. Hmmm…
The nearest-airport feature came in for an overhaul on the 696. Press the Nearest button at lower right, then highlight an airport with the system showing both map position and panel page, and the 696 will draw a line from your present position directly toward the chosen airport. There's no longer any need to interpret the bearing with reference to your present heading. It's laid out on the screen for you. You also have runway length and width and tower/Unicom frequency on the same page.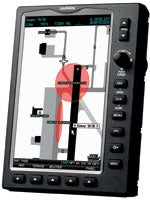 Still another interesting feature is the mini satellite look-down view. If you wait long enough, the 696 will construct, line-by-line, an actual picture of the local terrain, similar to what you'd see on Google Earth. I'm not sure what you do with that, other than impress friends, but it's there.
Combine large size and extra capability in one package, and you can bet the price will be a step above that for the 496. The 696 costs $3,295 MRP (your price may vary). That makes it either one of the most expensive portable navigation systems on the planet or the world's least costly MFD. [If you're only looking for a simple time-speed-distance GPS, you've come to the wrong place. You might be better served to consider the 296 ($995) or even the monochrome 196 ($595).]
The folks who'll use the 696 to best advantage are those who can benefit from its large database, XM Satellite Weather and EFB, and if the price of admission and maintenance seems a little high, consider what it buys. Operators of big singles and light twins may find the 696 ideal for reducing clutter in the cockpit and backing up an older-generation GPS package. Corporate aviators also may appreciate the system's talents for expediting IFR procedures (though again, the 696 can't be used as a stand-alone GPS).
By the time you read this, Air Gizmos or Tropic Aero may have come up with a panel mount for the 696 that will allow you to join the MFD club at a fraction of the cost.