The first serious purchase a pilot makes while learning to fly is a headset. Of all the equipment used in aviation, the lowly headset is the most used item. But, many pilots—especially those from earlier eras when headsets were nonexistent—don't give more than a passing thought to headsets and grab whichever one the FBO desk throws them. Even pilots who are long past primary training will often surprise me with a cobbled-together headset, complete with duct tape, missing windscreen, resoldered wires and horrendous sound. What should be the most important cockpit instrument sometimes becomes the least considered.
As thousand-dollar headsets have become the norm, lots of pilots give up and buy the cheapest import knockoff they can, figuring that their choices are either glorified junk or unattainable luxury. Since flying is expensive enough, they leave the "good" headset purchase for a never-arriving future date and put up with hearing damage in the interim, not even aware of what they're doing. But, with today's technological leaps, our goal as pilots should be to get the very best tools we can for our trade, and that doesn't mean mortgaging the house to buy a headset.
Pilots need to know that a headset is an almost medical device, literally stopping permanent hearing loss. They enable our most critical communication with each other and air traffic control (ATC) facilities. Instead of struggling with tinny garbled transmissions from a used headset we bought on eBay for $40, we should look at our individual flying style and choose the best headset for that environment. That $1,000 headset might not be the best one for your ears or your cockpit. With a little education, we can make the best purchase decision possible.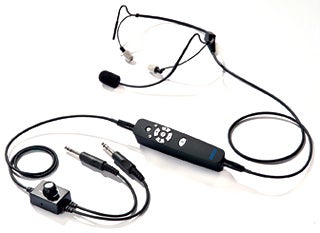 Clarity Aloft Link
NOISE-INDUCED HEARING LOSS
Sound frequencies are measured in hertz (Hz). The human ear can hear sounds that range from 100 Hz (low notes on a bass guitar) to 20,000 Hz (a high-pitched whistle). Our human hearing amplifies the 2,000-5,000 Hz frequency range because that's where the human voice typically registers. The intensity of sound is called the sound pressure level (SPL) and is measured in decibels (dB). For example, normal conversation is measured at a noise level of 50-70 dB, while the volume at a rock concert is typically 120-130 dB. Because the auditory system doesn't have a limiting mechanism to prevent dangerous amounts of acoustic energy from being transmitted to the inner ear, overexposure to high-intensity sound will damage nerve cells inside the ear. Repeated exposure to sounds above 90 dB (regardless of frequency) will cause permanent hearing loss.
Pilots are exposed to a unique set of frequencies for prolonged periods of time in the cockpit. We call this "noise." Noise frequencies range from engine rumble (below 300 Hz) to the sound of air rushing along the aircraft's fuselage (1,500–3,000 Hz). Extensive studies by the military and FAA since the early 1930s have proven the correlation of exposure to these frequencies and hearing loss. The bad news is that hearing loss from aviation exposure is cumulative and permanent. The good news is that damage can be prevented through the use of headsets. The key is finding the headset that will do the best job of protecting your ears in your cockpit.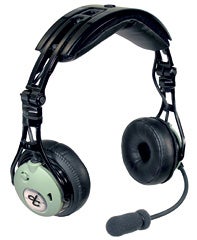 David Clark Pro-X
TERMINOLOGY
Before starting a deep-dive look at how to choose the best headset for your ears, it's critical that you understand the different terms used in headsets. Knowing the technical terms (and understanding what they mean) will make you a knowledgeable headset buyer. And, like the automobile industry, slick salespeople will never get the best of you if you know what you're talking about. So let's take a look at headset terms for the novice buyer.

Headset vs. Headphones. In aviation, we don't say "headphones." Headphones have miniature speakers and are mainly used for listening to music. A headset has speakers plus a microphone and is used for both listening and talking.
Active Noise Reduction (ANR). ANR means a headset uses electronics to block unwanted noise. Typically, an ANR headset will have tiny microphones inside the ear cups. These pick up noise. Complex circuitry "reads" that noise and inverts it by changing its phase, then mixes it with the original signal. The original noise and "inverted" noise cancel each other out. ANR has limitations that we'll examine.
Attenuation. Attenuation is the opposite of amplification. It means a reduction in strength (usually of noise). Attenuation is measured in decibels, and manufacturers will commonly list the attenuation rating of their headset. A headset with an attenuation rating of 24 dB will reduce more noise than one rated at 18 dB.
Bluetooth. Bluetooth is a trademarked technology that has become the standard for short-range wireless interconnection of cell phones, computers, headsets and other electronic devices. It means you can connect different devices without wires.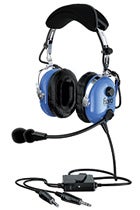 Faro G2
Digital (Dynamic) Noise Reduction (DNR). A new technology, DNR is a different way of analyzing and attenuating unwanted noise. DNR uses digital electronic techniques to remove the noise components from the incoming signal using mathematical formulas and digitization of the incoming signal.
Frequency Response. Frequency response is the measure of a headset's ability to reproduce all frequencies equally. In aviation headsets, we prefer to see an "attenuation curve." It's a graph that shows how much attenuation is done at what frequencies. The left-hand side of the line is the low-frequency area; the right side is the high-frequency. With decibels on the left scale, a "bump" at 300 Hz means that headset blocks the 300 Hz frequencies more than it does others.

Passive Noise Reduction (PNR). PNR uses mechanical means to block unwanted noise. Headsets with PNR use thick ear cup walls, foam, tight clamping mechanisms and different ear cup shapes to block noise by sealing around the wearer's ear. PNR has advantages and disadvantages depending on the cockpit.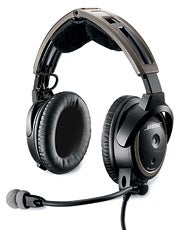 Bose A20
ANR vs. PNR vs. DNR
It's incorrect to assume that ANR is always better than PNR. Each type of noise reduction is different and is the first key to choosing the right headset for you. To begin, ANR doesn't attenuate above 300 Hz because it would start interfering with the normal signal (the radio transmissions from ATC or your passenger). Thus, ANR is best for protecting against low-frequency engine rumble such as that in newer well-insulated general aviation aircraft. ANR is lousy at blocking high-frequency slipstream noise like that in the cockpit of jets or the noise in open cockpits. For this noise, a passive headset is often the best tool.
The mechanical means used by passive headsets to block noise blocks it uniformly across many frequencies. So, if a passive headset is rated at 24 dB attenuation, it suppresses noise all the way from 200 Hz to 15,000 Hz (the actual attenuation curve depends on the headset) equally. This is why they're great for really noisy environments like open cockpits. The ability to block high frequencies is another advantage of passive headsets. In a jet cockpit, for example, the pilot is mostly isolated from low-frequency engine noise. Instead, the bulk of the noise in a jet (which is similar in characteristics to a running vacuum cleaner) consists of high-frequency drone from slipstream, cabin air and various cooling fans.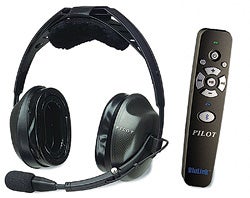 Pilot BluLink
Meanwhile, DNR is creating a whole new generation of headsets that are useful in various environments. DNR blocks unwanted noise by turning the incoming signal into a series of digital (numeric) values. A tiny computer in the headset's ear cup (or control module) analyzes the numeric string and looks for repetitive patterns of numbers (the noise). These noise components in the original signal are then removed mathematically, and the new "clean" signal is sent to the pilot's ears. DNR can achieve better noise reduction than ANR, and it increases the spectrum of noise it suppresses to that approaching PNR. Where ANR headsets can achieve 10-20 dB of attenuation in the under-300 Hz frequency range only, DNR can attenuate 15-25 dB in frequencies ranging up to 3,000 Hz or so. However, DNR is more expensive than both ANR and PNR. Some manufacturers such as Sennheiser and AKG offer hybrid headsets that use a combination of these technologies.
It should be noted that, when shopping for an ANR or DNR headset, the total noise suppression value is split between passive and active numbers. The passive value is the noise suppression the headset offers through mechanical means only (and if the batteries die) in decibels. The "active" value is the suppression added on by the electronics of the headset. Passive headsets have only a single noise suppression value.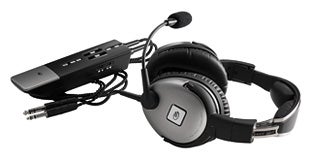 Lightspeed Zulu PFX
HEADSET STYLES
For my money, comfort is the number- one characteristic in an aviation headset. We've far surpassed the era when "bad" headsets were being sold. All name-brand headsets offer great sound and (usually) protection for the money. Today, comfort is the deciding factor. Since the difference in sound in premium headsets is so small, how a headset feels on your head after an hour is the difference between a headset you'll love and one you'll want to get rid of after just a few months. Incidentally, one hour is the magic headset evaluation time. Anything short of an hour isn't enough to make an educated buying decision.
Today, there are "over-ear," "in-ear" and "on-ear" headsets to choose from. Each has its own personality and comfort characteristics to fit unique head shapes and ear-comfort needs. Each has advantages and disadvantages.
The over-ear style is also known as "circumaural." They can have either active or passive noise reduction and are designed with cups that fit over and around a wearer's ears. Passive over-ear headsets offer their best protection when the cups are sealed against a wearer's head, and the adaptable foam forms around their skull bones and ear lobes. These are the heaviest headsets, and their clamping requirements mean they push against the wearer's head with considerable pressure. They sound great, however, because they seal against outside noise. Most typical aviation headsets are the over-ear style.
In-ear headsets are gaining popularity. They're an outgrowth of advances in stage music systems where performers rely on in-ear monitors to hear themselves. In-ear headsets are tiny (usually weighing less than an ounce) and offer amazing sound performance through the use of drivers that are independent from the speakers, and because the sound is directed right into the ear canal. These are the most comfortable headsets around without question. However, they rely on a perfect ear canal seal to provide the best noise attenuation. The Clarity Aloft is a typical in-ear headset.
On-ear headsets were around in the early days of aviation and were used on bombers of the 8th Air Force during World War II. Watch Twelve O'Clock High, and you'll see some on-ear headsets. They're best in cockpits that aren't excessively noisy, and they offer superb comfort for long flights. David Clark's Pro-X is an example of an on-ear headset. Jet pilots love them. Though it's puzzling, few manufacturers offer them.
Headset Buying Tips
1. Wear a prospective headset for at least 10 minutes in the store. Better yet, take advantage of the dealer's return policy and try it in your aircraft, then return it if you don't like it. Never buy a headset based on a three-minute demo at a trade show booth.

2. On ANR and DNR headsets, consider the bulky battery box/control module and how it will feel hanging on your cord after an hour or where you'll put it.

3. Know what type of microphone works best in your panel setup: electret condenser, dynamic (used in older aircraft and the military) or amplified dynamic.

4. Consider the case a headset comes in and any accessories (if included). Headset cases can become impromptu flight bags.

5. If you purchase a PNR headset, spend a little extra and buy an after­market microphone muff (Oregon Aero has excellent ones), aftermarket ear seals, "hush" kit and upgraded headband. The change in comfort and sound is remarkable.

6. In headsets, you get what you pay for. Stay away from cheap imports no matter how tempting the price tag is.

7. Consider buying a used name-brand headset on eBay. There are many folks trading up and offering their once-$1,000 headsets for a quarter of that. Also consider the entry-level options from reputable manufacturers such as Pilot USA and Sigtronics—both made in the USA.
Interested in regular updates from Plane & Pilot?
Sign up for our free newsletter to receive aircraft news, product information, pilot talk and more.