It's ironic that even in a multimillion-dollar aircraft, the ultimate cockpit situational awareness comes through a pair of headsets that can be anything from an $80 pair of eBay budget buys to $1,100 ANR big-namers. Our most precious commodity—communication with ATC—is all done through a piece of equipment that hasn't changed much in the last few decades, and runs the gamut in quality and performance.
It seems pilots are in two distinct camps when it comes to headsets: Those who don't care less what they put over their ears as long as they make sound, and those who are so attuned to sound that they notice every sonic nuance and frequency variation in each pair of headsets. Those "sound snobs" (of which I'm embarrassingly a part) aren't so much picky, but just more conscious of the difference a good headset makes.
If you've ever worn an excellent headset—and by excellent, I don't mean expensive—then you know what a pleasure it is to fly with them. A headset that's right for you literally adds to the pleasure and safety of a flight—and that's not just some magazine-speak for the advertisers; it's absolute fact. Unfortunately, those who are ambivalent about headsets don't know what they're missing! Like the difference between a $19 pair of discount sneakers and competition-grade running shoes, the two just aren't the same.
The good news here is that, surprisingly, price isn't the prime factor in headsets, as we'll examine. The key to headsets is finding the right one for you and your environment. It takes trial and error to find what's the perfect fit for your individual situation. Believe it or not, that $1,000-plus headset may be entirely wrong for you and your flying world.
We hope our buyer's guide will help you wade through the muck and mire of marketing brochures and buzzwords so you can find the headset that's right just for you. Once you find it, you'll find yourself concentrating more in the pilot's seat, feeling more rested after a flight and shedding the frustration that goes with constant "say agains" and lost radio calls. And don't forget that a good headset will make you sound clearer and more confident.
ANR Vs. PNR: Not What You Think
It isn't hyperbole to say that the headset is one of the most important pieces of equipment in the cockpit. Think about what goes through that unit and how it can affect your flight. It's important then to understand what makes a good headset and what makes a lousy one.
The two basic categories of headsets are active noise reduction (ANR), and passive noise reduction (PNR), and it's this difference that confuses pilots the most. I can't tell you the number of times I (being a sound snob) ask a pilot why they own a specific headset. "Well, ANR is better," is the usual response. But that's just not always the case! There's a reason why major headset manufacturers offer both ANR and PNR models, and it's not price. Several ANR headsets out there are actually less expensive than some passive headsets. The problem here is one of "environment confusion."
By now, most pilots know that ANR is "active" in that electronics onboard the headset sample sound coming into the ear cups and create an "anti-sound" that's a reverse image of the offending noise. This serves to cancel out the noise that reaches the speakers and thus the pilot's ears.
---
Manufacturer

Model

Weight (oz)

Peak
Reduction (dB)

Cell Phone/MP3 Jack

MSRP

Comments

PNR

ASA
asa2fly.com
AirClassics HS-1A
19
23
no
$149
Now with flex-boom; gold-plated plugs; dual volume controls; lifetime warranty
Avcomm
avcomm.com
AC-747
13.4
24
no
$260
Convertible for use in GA airplanes and helicopters
Avcomm
AC-920
13.6
24
yes
$295
White finish; ultralight Neodymium speakers
Beyerdynamic
beyerdynamic-usa.com
HS-400
Signum
11.5
30
Yes—separate box included
$429
German made; music auto mute; adjustable gain mic
Clarity Aloft
clarityaloft.com
Link
1.5
47.5 peak at 6,000 Hz; 29.5 avg
Yes—both wireless Bluetooth
$795
Integrated multichannel Bluetooth
Clarity Aloft
Pro
1.5
47.5 peak at 6,000 Hz; 29.5 avg
Yes, MP3 jack; no, cell phone
$695
TSO certified; no batteries
Comtronics
comtronics-aero.com
3100
16.0
34
no
$235
Can fit inside Comtronics helmet; various cable configs; ICOM interface
David Clark
davidclark.com
H10-13.4
16.5
24
no
$330
TSO'd available in five configurations; noise canceling; amplified electret mic
David Clark
H10-30
20.0
24
no
$270
One of few headsets with dynamic mic; wire-type mic boom; DC quality at value price
David Clark
H20-10
19.0
22
no
$350
Constructed of extra-light composite materials; no overhead cord; unique styling
DRE
drecommunications.com
1001T
14.5
24
no
$138
Mil-spec cabling; dual volume control; flex-boom
Flightcom
flightcom.com
5DX
17.9
22
no
$189
Polarfleece head pad; 30-day "fly and try" warranty
Flightcom
Denali Blue
11.1
21
No
$319
U.S. designed and manufactured; leather ear seals
Icaro
icaro200.com
Scarab/various models
20.0
n/a
No
$350
Helmet/headset integrated; Peltor makes ear cups; ideal for LSA or high noise
Lynx
lynx-avionics.com
Pilot System
13.0
Up to 110
No; yes with adapters and splitter
$750
Complete helmet and headset system; new increased attenuation of 8 dB; made in England
Nav-Data
nav-data.com
ND-71
14.3
26
No
$100
Dual volume; gel ear seals; flex-boom; black color
Marv Golden
marvgolden.com
Eagle XL
11.5
24
Yes
$120
Reversible boom; dual volume control; adjustable gain mic preamp
Peltor
peltor.com
Nordica Sport GT
9.8
23
Yes
$176
Electret noise-cancelling mic; comes in multiple colors
Peltor
7000 Pro GT
12.8
26
No
$299
Deep ear cups; goose-neck boom; gel ear seals
Pilot USA
pilot-usa.com
PA-2170BLU
10.9
26
Yes
$400
"BluLink" Bluetooth cell phone and music adapter; lightest, quietest PNR sold
Pilot USA
PA-1181T
13.4
23
Yes
$195
PTT; stereo; cell phone/music adapter; all black; flex-boom
Rugged Air
ruggedradios.com
RA-454
14.0
24
Music Jack
$150
EM-56 cup mic; gold-plated plugs; PTT
Sennheiser
sennheiserusa.com
HME-110
12.4
40
No
$312
JTSO approval; simple, clean design; black finish
Sigtronics
sigtronics.com
S-68
11.9
24
No
$252
Gold titanium hardware; noise-cancelling M-81 condenser mic; gel ear seals; swappable child/adult headbands
Sigtronics
S-58
11.9
24
No
$240
Swappable child/adult headbands
Softcomm
softcommheadsets.com
C-10 Chancellor
15.1
24
No
$151
M-65 RF-immune electret microphone; extra set ear seals; cloth ear covers
Telex
telex.com
Echelon 25XT
13.6
25
Yes
$310
Comfort-cam adjustment; new heat-sensitive, slow-recovery foam earpiece
---
Manufacturer

Model

Weight (oz)

Peak
Reduction (dB)

Cell Phone/MP3 Jack

MSRP

Comments

ANR

Avcomm
avcomm.com
AC-950 AFL
13.6
24
No
$600
Integrated flitelite LED lighting; flex-boom, M67 condenser mic
Alura
aluraheadsets.com
SSB
19.0
24 passive; 23 additional active
No
$299
Analog ANR circuit; deep ear cups; gel seals; flex-boom, 9V battery
Aircraft Spruce
aircraftspruce.com
Skycom
15.3
24 passive; 16-19 active
Yes
$235
Auto shutoff; black chrome hardware; flex-boom
Beyerdynamic
beyerdynamic-usa.com
HS-800
14
Not Available
Yes
$800
German made; adaptive ANR; 5-30,000 Hz frequency response
Bose
bose.com
A-20
12
Not Available
Yes
$1095
FAA TSO'd; Bluetooth enabled; electret condenser mic, various cable configs
David Clark
davidclark.com
X11
12.2
17-22
Yes
$865
Recut gel ear-seal shape; 25-hour battery life; stereo
DRE
drecommunications.com
6001-T
16.5
18-20 at 200 Hz
No
$475
Matte tan color available; gel ear seals; 20-hour battery life
Flightcom
flightcom.com
Denali
13.4
19-21
No
$599
"Sure Power" system; graphite blue; 30-day "fly 'em and try 'em" program
Headsets Inc.
headsetsinc.com
EM-1
21.0
18 at 20-800 Hz
No
$399
Comfort head pad; silicone ear seals; auto shutoff
Lightspeed
lightspeedaviation.com
Zulu.2
13.9
Not Available
Yes
$900
Dual aperture-disc mic; front-and-center stereo sound; full Bluetooth
Marv Golden
marvgolden.com
Golden Eagle ANR
12.0
24-26 passive; 10-12 additional active
Yes
$240
Dual volume; leatherette ear seals; batteries included
Pilot USA
pilot-usa.com
1779-T
13.0
25 passive; 20-22 additional active
Yes
$465
Self-contained charger; auto-shutoff; sheepskin head pad
Rugged Air
ruggedradios.com
RA-950
19.0
24 passive; 11.5 additional active
No
$499
Heavy duty hardware, extra-deep ear cups, dual volume, gel ear seals
Sigtronics
sigtronics.com
S-AR
17.0
19
No
$499
Electret mic; 9v-battery powered; flex-boom, ultradeep gel ear seals; U.S. made
Sennheiser
sennheiserusa.com
S1
14.5
Varies with environmen
Yes/Bluetooth
$1095
Revolutionary, real-time adaptive ANR circuitry; boostable treble, foldable ear cups, Bluetooth
Sennheiser
HMEC-461
14.4
Up to 40 passive + active
Yes
$860
10-year warranty; "Noise-Gard" technology; auto fade for music, mono-stereo switch; AA-battery powered
Softcomm
softcommheadsets.com
C-300
21.7
17 active; 24
Yes
$449
No batteries required; stereo/mono switch
Telex
telex.com
Stratus 50
18.0
50
Yes
$720
Patented digital signal processing, auto shutoff
Telex
Stratus 30XT
18.0
Up to 30
Yes
$549
Special tension knob for head Band; extra-thick ear seals; full-swivel flex-boom
---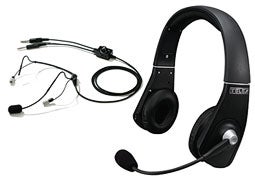 The Clarity Aloft (left) features an MP3 jack; the Telex Ascend (right) is well-suited for turbine cockpits.
That's great news if you're sitting in a cockpit with consistent noise and it happens to be in the range of frequencies the ANR headset samples and attenuates (reduces).
But what if you're in a fabric-covered aircraft, a utility aircraft, a noisier LSA or even an open-cockpit aircraft? In those environments, the increased and constantly changing noise will confuse the electronics and cause "warbling" in the headset's speakers, making communication very difficult without the pilot knowing why. It's just enough that many pilots simply live with it. In those cases, a possible fix would be to switch to the right passive headset.
Passive headsets don't work based on narrow frequency ranges. They block noise by physically stopping it through various nonelectronic means. Many passive headsets attenuate much more noise than their ANR brethren, and do so across different frequencies. In the noisier environments outlined, a PNR headset could mean a world of improvement.
ANR does have its place though, and that's in quieter environments like small jets, any of the technically advanced aircraft (TAA) like Cirrus and Diamond, etc., and most larger turboprops. ANR is especially effective against low-frequency engine and propeller noise, and blocks it impressively. ANR headsets start to lose effectiveness in the higher frequencies generated by slipstream noise, and that's why some airline pilots prefer PNR sets in the cockpit. Each environment is unique and is best served by only one type of headset attenuation, and sometimes that's PNR.
What To Look For
Headset manufacturers spend millions of dollars researching ways to attenuate noise. The discovery they've made is that it's the sum of many little things that yields the best attenuation and sound. It's these features that you should compare when shopping for a new headset. A headset's ear cups are the first line of defense against noise. The key here is the shape. Sure, they all look oval, but closer inspection reveals slight differences. Sennheiser's new S1 headset uses the largest cups we've seen, while Pilot USA's ANR headset features an indent on top of each cup. Meanwhile, Bose and Lightspeed use squared-off ovals or fat, round ear cups. The real-world difference between these is found by looking at the noise-reduction ratings provided by each manufacturer.
Sound attenuation is offered in "decibels" (noted as "dB"), which is a measurement of volume (sound intensity). The higher the number, the better the attenuation. For reference, a human conversation has a volume of about 60 dB.
Many manufacturers list only a fixed attenuation number, such as "-24 dB," and assume pilots don't want to know more detail. But we need to know at what frequency this attenuation happens. Is it 24 dB at 250 Hz or at 20,000 Hz? The attenuation should be at the frequencies we're most sensitive to (and can actually hear) in the cockpit. Attenuation at 30,000 Hz is no good to us humans since we hear mainly in the 20 to 20,000 Hz range, with speech in the 700 to 8,000 Hz realm.
Headset comfort is a function of the ear cup seals and the clamping mechanism. These days, ear seals come in gel, standard foam and "memory" foam.
The clamping mechanism is important because it affects the pressure on our temples. The biggest complaint pilots make is that the headset is uncomfortable due to pressure on their temples or ears. Metal clamping mechanisms usually produce the most pressure, but seal the best. Plastic produces less pressure but is more durable (especially carbon-plastic). Headsets with clamp connections in the center of the ear cup tend to be more comfortable than those that clamp in other areas. Again, this varies with each model and should be tested individually.
---
Microphones today are offered as dynamic or electret condenser. These two terms refer to the way in which the microphones create an electrical signal. It's generally accepted that, while dynamic microphones can handle more abuse and are sturdier, the sound quality of the condenser microphones is superior (at least in our aviation headsets). That "silky" sound you hear on the radio is usually a condenser microphone.
Hot-Rod Your Headset
Combined with a new headset, you can realize a dramatic improvement in performance by considering a few enhancements.
Microphone—Believe it or not, the right microphone will give you the most bang for your buck. Most of the headsets available from the major manufacturers today have decent mics, but a huge change in sound is available by swapping it. And it can be done for well under $100. Pilot USA manufactures a line of their own headsets as well as headset accessories and upgrades for many popular headsets. Part of that is their top-of-the-line, PA-9EHN high-noise electret condenser mic that interchanges with stock mics on many headsets. The audible difference between your stock microphone and their various upgrade mics is nothing short of amazing.
Hush Kit—Oregon Aero has been marketing this upgrade kit for a while, though it's still relatively unknown to many pilots. This is an upgrade that makes your headset easier to wear and much quieter. The good news is that a kit is available for just about every headset out there. It's comprised of new ear cup seals made from special "memory" foam, several other foam components that go inside the ear cup, a special mic cover, ear seal covers and a new head pad. It's user-installable with nothing more than a screwdriver, and makes a dramatic difference. It's designed only for passive headsets.
Ear Buds—The proliferation of MP3 music players has created a revolution that is benefiting aviation. Today we have little "ear buds" that connect to your music player and use increasingly small drivers to reproduce studio-quality sound directly to your ear. Many pilots are connecting ear buds to a stereo adapter (1⁄8-inch male to 1⁄4-inch male) and plugging that into the receiver jack in the airplane, using the ear bud to receive radio transmissions. It fits under their standard headset and provides not only better sound but also better noise protection similar to wearing ear plugs.
What's Coming
It's no secret that the future of aviation headsets is wireless. Though a few companies have dabbled with wireless headsets, none have made a product that's truly viable in the cockpit. That's rapidly changing as the R&D departments of these companies triumph over the complexities of designing a wireless headset that works with all intercoms in all aircraft.
Newer headset materials and designs are evolving. Speaker drivers will continue to shrink and improve, and comfort will drive manufacturers to innovate. Headsets are being offered in newer colors as pilots seek to personalize what they buy.