The early morning sunlight glinting off the crystal waters of Lake Pend Oreille (roughly pronounced "pond-o-ray") and reflecting back off our Husky's bright-yellow wing is too much for even my military-spec sunglasses to handle. The sky up here in Sandpoint, Idaho, is like a magnifying glass, and the sun is diffused by nothing but unpolluted air. It beams into my eyes like a laser. The vast shag carpet of tall pines below casts long shadows against the lake, and with nothing but unbroken forest around, the thought occurs to me that I have nowhere to go in an emergency. But then I remember the smiling dog painted on my tail and realize I'm in a Husky— the Willys Jeep of the backcountry.
Along with this Husky A-1C and its "new plane smell" (this one has just seven hours on the tach), the other star here is the land itself. Sandpoint, Idaho, is a jewel in the backcountry. A city of less than 8,000 people, it was voted the nation's most beautiful small town by USA Today. This quaint village of walkable streets, excellent local restaurants and lack of commercialism sits on the shoulders of Lake Pend Oreille, a vast expanse of some of the deepest, bluest lake water in the country. People here are friendly, and like the rest of Idaho, embrace general aviation for its utility and because it's the perfect aerie from which to see this breathtaking country.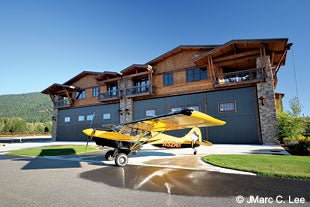 Silverwing is an 18-acre development with 44 exclusive lots at Sandpoint Airport in Idaho.
I'm here with Plane & Pilot Editor, Jessica Ambats, to spend some time getting to know these mountains while she photographs the newest Husky. Aviat has provided the new A-1C, and I'm anxious to learn how this remarkable airplane fits into this landscape. The Husky is built not far from here so it's a familiar sight in these skies. In an area where an aircraft could never get by on flash alone, the Husky has established itself as an indispensable tool in this land of verdant vistas and hidden backcountry strips.
Sandpoint will be our home base, with luxurious SilverWing Airpark acting as our "command center" from where we'll launch our adventures. SilverWing is an 18-acre development with 44 exclusive lots that lie on the west side of the runway, directly on Sandpoint Airport. Aside from the convenience factor of rolling out of bed onto a taxiway, buttering your biscuit to the sound of aircraft taking off while looking out over the majestic peaks of Schweitzer Mountain Ski Resort, just 15 minutes away, is tough to beat.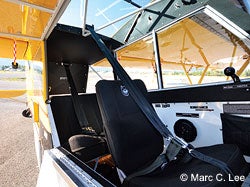 Aviat conducted considerable research in creating physiologically ergonomic seats that protect the occupant while reducing fatigue and increasing blood circulation.
Man's Best Friend
The year 2012 marks the Husky's 25th anniversary and brings with it some innovative enhancements. Longtime Aviat President, Stu Horn, isn't a person to sit on past accomplishments. A heckuva backcountry pilot himself, Horn knows what pilots need to get into and out of these challenging backcountry strips while maintaining a margin of safety. But his urban background and metropolitan sensibilities imbue Horn with a knowledge of what pilots are looking for outside of these craggy peaks and crooked sandbars. The result is that he's constantly tinkering with the Husky design, adding capabilities while also increasing the Husky's appeal with the non-bush-pilot crowd. Because of this, the latest Husky achieves that rare balance of an airplane that's equally suited to a week in the most remote backcountry imaginable, or a 600-mile nonstop jaunt to a business meeting in a shirt and tie. Few airplanes can make that claim.
Along with a slew of other enhancements, the big news for this year is a 50-pound increase in gross weight to 2,250 pounds and a new landing-gear option that adds independent shock absorbers to the bungee-cord arrangement, making a totally different landing-gear mechanism. The gross-weight increase means the useful load is somewhere around 925 pounds depending on configuration, with one of the most liberal CG envelopes out there. All of this simply means you can load the heck out of the Husky, without the CG sensitivity of most other airplanes like it. Nearly 1,000 pounds of people, fuel and gear in a two-place aircraft gives you a lot of flexibility.
---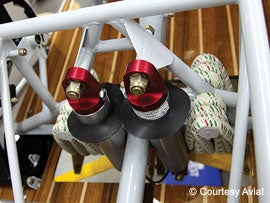 Shock absorbers act independently to dampen the spring-back on each landing-gear leg, resulting in less bounce and better crosswind handling.
The gross-weight increase really began with Aviat's redesign of the Husky's wing in 2007. Along with giving the Husky a respectable roll rate and spade-less ailerons, Aviat's engineers also began structural testing on every component on the airplane—a process that took the team well into 2009. To maintain the Husky's "overbuilt" structural integrity with the gross-weight increase, Aviat added about six pounds of structural modification, yielding a net 44 pounds of useful load. Rather than just tack on more pounds to the gross weight numbers, Aviat reengineered the structure to increase the weight capability safely. The A-1C model is also certified for a tow hook.
Those of us who have landed a Husky poorly know the model's propensity to hop, especially with tundra tires and on asphalt because of poor technique. It's certainly not a difficult airplane to land, but we noobs can easily plop it on and induce some cringe-worthy bouncing. Horn and his engineering team decided to breed that out of the airplane, making it friendly to even the greenest sticks.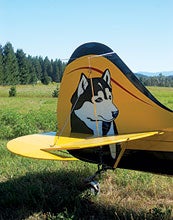 Husky takes the lead in paint schemes with new colors, matching interiors and various graphics options.
"During a firm landing, the gear splays out and stretches the bungees," explains Horn. "Like a rubber band, the bungees and gear spring back and create the potential for a hop or bounce." In a move that's simply genius, the team fitted each side of the gear with a special shock absorber to dampen the spring-back. The shock absorbs the spring of the gear much like it does road bumps on a car. "They act like wishbone suspension," adds Horn, "and in a crosswind, they absorb much of the sideload if you land a bit sideways, keeping you on the runway."
I got to feel the shocks in action on a particularly lousy turn on Sandpoint's paved runway. Flaring too high, the Husky obeyed my stick and came down firmly on its marshmallow-y tundra tires. I was expecting the usual big bounce and accompanying red face, but the new Husky just stayed on the runway, making me look like I knew exactly what I was doing. Kudos, Stu.
The new A-1C will handle up to 35-inch tundra tires, up from 31 inches on older models. This year adds some exciting interior options, too. In keeping with Aviat's vision of a more cosmopolitan aircraft, the Husky now comes with an array of interior options that include leather and cloth seat materials with different stitching options and matching sticks, as well as LED map lights and an oversized map case.
---
I've always thought Aviat leads the way when it comes to cool paint schemes, and this year is no exception. For the 25th anniversary, Aviat created six Special Edition aircraft with unique paint and interiors. Several new stock paint schemes and various LED exterior lighting options will help you personalize your Husky the way you want it—as wild or sedate as that may be.
Mountain Adventure
With the morning sun streaming into the cockpit on the ground at Sandpoint, Jim Taylor (Husky's dealer for the Central U.S.) briefed me on what I should expect from the airplane. I had flown Husky aircraft before, but I've learned that each Husky pilot does things a little differently. Stu Horn himself had spent time with me in Afton, Wyo., a few summers back, refining my Husky skills. Taylor had a different take on the bird, so I soaked up what I could of his technique.
Sitting in the airplane, I must confess it's made for taller people, though Horn tells me that Aviat now offers cushions of different thicknesses for both seat bottoms and backs (Husky seats don't adjust) for those of us on the shorter side. He also showed me how the bottom of the panel was raised while the top was shortened, compressing panel real estate to accommodate the new Garmin displays.

The tall pines below cast long shadows against the lake, and with nothing but unbroken forest, it occurs to me that I have nowhere to go in an emergency. But then I remember the smiling dog painted on my tail and realize I'm in a Husky, the Willys Jeep of the backcountry.

The new Husky comes with options for two VFR panels and two IFR panels. The VFR panels are centered around the beautiful Garmin 796, along with a solid state artificial horizon and various NAV/COM options, including the Garmin SL30. The IFR panels are based on the Garmin GTN 750 or the G500 or G600. They also include the JPI MVP-50 engine analyzer that can display a true weight and balance and CG location at the push of a button.
"Forget all that pushing-the-tail-up nonsense," Taylor instructed me as we started the engine and taxied out. "Just hold the stick back and then relax it a bit when you feel it want to fly." Little did I know that would take what seemed like 200 feet! Before I knew it, we were climbing into the early morning sky.
---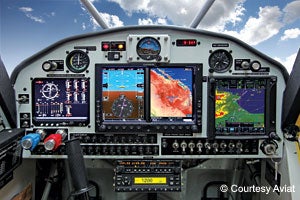 Four panel configurations are available. The most popular IFR panel features the Garmin GTN 750 and EDM 930 from JPI, while VFR panels can be configured with Garmin units, including the 796, 430W or 530W.
With the sunlit mountains all around me and the lightly whitecapped lake to my left, I was suddenly thrust into a postcard. I was struck by the comfort of the seats until Taylor explained the engineering that went into each one. Not only can the cushion alone absorb 16 G's of force, the structure adds another 9 G's. Horn explained to me how the seat and seating angle were set so they rotated your hips forward while moving your shoulders back, opening up blood flow through the area, resulting in much less fatigue and pressure points. They felt great.
The Husky is an obedient pup, never scaring or surprising you. Taylor—like many Husky pilots—prefers a power-off, slow-speed approach, then adding a smidge of power on the flare and setting the tailwheel down first, followed by the mains. It's pretty standard though it took me a few tries, and I concluded that it would take a few more hours before I really felt proficient; many more to land on those postage stamp-sized strips common in this area. Taylor and Horn make it look easy.
Sandpoint is a gateway to some of the most spectacular scenery I've seen anywhere. To be able to fly here is a gift, and the Husky—built like a tank but with the handling of a Cub—is one of the most ideal platforms for it. With a structure that has proven itself many times, this Swiss Army knife of the air has earned its name. Here in the Idaho backcountry, with the Canadian border looming a few miles north and the realities of winter in the air, the Husky gives a pilot peace of mind.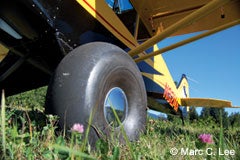 The 31-inch tundra tire option is new for 2012. The landing gear has also been reengineered with shock-absorber- dampened bungees for better ground handling.
As dawn gives way to the machinations of a new day, our options lie almost limitless before us. There's the prospect of a late breakfast at Cavanaugh Bay—a beautifully kept 3,100-foot grass strip on the edge of Priest Lake, with a stunning view of some of the most crystalline water you've ever seen, and a world-class restaurant to boot. Perhaps a hop over to McGee—a remote grass strip with breathtaking views of endless miles of blue spruce, aspens and stands of Douglas fir, with lush grass to throw a camping tent on. Or a dozen others all within an hour's flying time in the Husky, with enough room for all the gear we can handle and plenty of fuel, too.
Sitting on the grass at Sandpoint and mulling over our options, I catch a glimpse of our Husky sitting silently in the grass, its nose up in the air and its oversized tires looking like giant hiking boots. Overhead, another Husky enters the pattern, and still another calls in from five miles out. As the smell of fresh coffee wafts through the air from the FBO and turns daybreak into a regular morning, I realize these Huskys aren't really going anywhere. Here in these mountains born of glacial upheaval and tenebrous millenia, these Huskys and their pilots are home.
---
Check out the newest Husky and other fantastic single-engine airplanes in our latest Piston Singles Buyer's Guide.
---
SilverWing Dreaming
One of the best experiences we've had with any FBO was at SilverWing at Sandpoint. As it is, Sandpoint Airport in Idaho is a throwback to a golden time in aviation when FBOs were more concerned with a pilot's needs than making a profit, because both were intertwined. SilverWing Airpark owns SilverWing Flight Services—the only FBO at Sandpoint Airport—and their philosophy of attending to the client permeates everything they do.

On the airpark side, SilverWing is truly unique. A luxury fly-in community conceived just a few years ago, SilverWing sits on the west side of Sandpoint Airport with an array of lots that have some of the most majestic views around. Northern Idaho is easily one of the best-kept secrets in aviation, with mountains that climb gently from Lake Pend Oreille, a 65-mile-long freshwater lake the Kalispell Indians named because its shape resembles a person's ear ("pend oreille" loosely means "ear pendant" in French). Much like Alaska, the entire region is friendly to general aviation having recognized its value in these mountains. SilverWing is just minutes from the lake, so doing pattern work at the airpark puts you over the lake on downwind, making for the most picturesque landing practice you can imagine.

SilverWing Airpark is still in the imagination stage, meaning some 44 lots are ready to go, with three sold and several more under contract, but only two structures have been built. Developer John McKeown—who originally purchased the land in 2007—set out to create a fly-in community with three essential requirements. First, it had to be on a public airport with paved runways and instrument approaches that could accommodate private jets. Second, it needed to be in or near a town. McKeown wasn't interested in a remote development where residents had to travel far for essential services. Finally, it had to be near world-class recreational activities. Sandpoint, Idaho, meets all the bullet points.

"The people we want at SilverWing are those who share a common love for general aviation," says Mike Mileski, one of SilverWing's developers. "And we're unique because we sit on a public airport." Mileski explains that the newly enacted FAA Long Term Reauthorization Act and the FAA's change in policy on existing "through the fence" agreements means that the Sandpoint airport is in compliance.

Sandpoint, Idaho, is a rare town that preserves the backcountry feel of the surrounding Bitterroot Mountains while offering amenities typical in a much larger city. It's the home of both Quest Aircraft (makers of the amazing "Kodiak" turboprop) and Coldwater Creek—the women's apparel company. The town is famous for its music festivals and burgeoning art scene. Schweitzer Ski Resort is a few minutes away, and a vast array of camping, mountain climbing and lake sports awaits.

The area is perfect for pilots because it offers real backcountry experiences that run from gentle to challenging with everything in between. A pilot doesn't have to jump from the big city to a 500-foot crenelated sandbar with one-way approaches to get the backcountry experience. There are plenty of beautiful, well-groomed grass strips that offer pilots some of the best flying in the west. Sandpoint is the perfect home base.

Mileski says buyers have their choice of five hangar-home designs and can choose from three approved builders for the lots that start at $95,000. The architecture of the airpark takes its cue from the surrounding mountains, integrating exposed wood beams, natural stone and panoramic windows that take in the breathtaking views. "Buyers can also purchase a lot and decide later what kind of residence they want to build," Mileski adds. "They can also use their own builders or create a custom design." Lots are ready with utility connections, and plans are being made for maintenance hangars and other amenities for aviator-owners as the airpark develops.

Plane & Pilot got to stay in the model hangar-home and it was quite an experience. The convenience of being able to live above your airplane and taxi right out to an active runway while being surrounded by Northern Idaho's considerable beauty is spectacular. The airpark blends into the mountains to create a cohesive whole. Sitting out on the veranda at SilverWing, watching all kinds of interesting aircraft take off and land started to lull me into a kind of euphoric stupor. For any pilot, this is living. Visit www.silverwingatsandpoint.com.