Most musicians and guitar aficionados know about the legendary and mystical "Custom Shop," located deep in the bowels of Fender Musical Instruments' headquarters in Corona, Calif. It's here that drool-worthy dreams are made, and where custom, one-of-a-kind guitars and amplifiers are born. The shop is populated by the finest luthiers and builders in the world, and their passion and dedication to their artistry is evident everywhere you look. As a musician, I was lucky enough to visit the Custom Shop, and I've never experienced another place like it.
That is until I had the pleasure of spending a few days with Todd and Jo Peterson of Peterson's Performance Plus in El Dorado, Kansas. This is where the equally mystical and unique King Katmai is crafted, and where Todd and Jo have introduced their latest creation to the world—the swift and capable Kenai.
If you didn't know, the Katmai is likely the most capable backcountry aircraft out there. Rather than rely on marketing hyperbole, I experienced the airplane firsthand last year while visiting the red-rock Canyonlands and remote airstrips of Southeastern Utah. The King Katmai is a powerful machine with the heart of a pussycat that can do things nothing else can do. It relies on a number of innovations including a unique, moveable canard system, interlinked with the elevator, which gives the Katmai performance that has to be experienced to be believed.
The canard system allows nearly flat angles of attack even at very low speeds and a stall speed of around 35 knots. That means it can get into and out of places that no other aircraft this size can handle, but it does so in style and comfort. While a gutted, carbon-fiber Super Cub can take off in 300 feet in the mountains, it does so in a noisy, jeep-like way. The King Katmai does the same thing while carrying three or four people and their gear in comparative luxury. More on that later.
In their ongoing conversations with customers, the Petersons took note that some of them didn't want backcountry capability. What they did want was the aerodynamic safety of the Katmai without the hardened, bush-flying elements like huge tires. They needed the slow-speed, margin-above-the-stall capability of the Katmai, but with the genteel and refined character of a more citified machine. Enter the Kenai.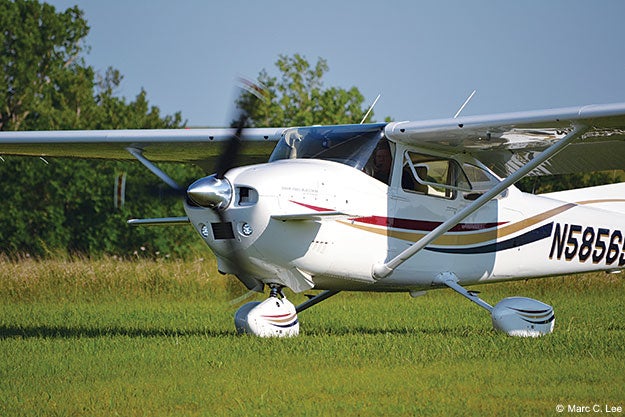 The Kenai is equally at home on grass as it is on pavement. Several panel options let owners select anything from round gauges to different all-glass configurations.
The Secret Sauce
No conversation about the Kenai, or Katmai, can be had without understanding what makes the aircraft special. "There are outfits out there who'll bolt on some huge engine to your 182, and that's it," says Peterson, in his soft Nebraska drawl. "But there is a lot more to it than that." He explains how aerodynamics give his airplanes their capability. "Anybody can slow an airplane down and hang it on its prop with a big motor, but we make it so you can go slow and still maintain a flat attitude and hold a lot of energy in reserve all the way down to the runway."
The Petersons secret is the sum of a number of modifications added to the unique handling qualities afforded by the canard. The canard itself opposes the down force on the tail and gives the nose extra lift at low speeds, especially below 60 knots, according to Peterson. It increases elevator effectiveness at slow speeds, also reducing the stall speed, and allowing takeoff and landing at much lower airspeeds than normal.
An aircraft only stalls when it reaches its critical angle of attack, easily done when flying slowly due to the need for more lift at low speeds. But imagine flying very slowly at a nearly flat angle of attack. The margin above the stall remains large, affording tremendous safety and allowing pilots with less experience to fly the aircraft slow enough to get into tight strips without excessive risk. And the 3,000-pound airplane will make a 180-degree turn at low speed in a radius as wide as a four-lane highway.
How It's Made
The Katmai and Kenai are both conversions based on the Cessna 182. Todd starts the process by hand-selecting only model P and Q Cessna Skylanes in pristine condition. He vets each one himself and meticulously picks only the absolute cleanest airframes with zero corrosion, complete and accurate logbooks, and no damage of any kind. Cessna built 7,000 of these, "so there's no danger of running out," Peterson laughs, "but I reject about 60% of the aircraft I look at."
He brings each airframe to his beautiful shop in the corner of a quiet little municipal airport in El Dorado, just northeast of Wichita. Here, Todd, his wife, Jo, and newcomer, Andrew inspect and gut the airframe and proceed to custom-build the aircraft to the exact specifications requested by his customers. "Each one is different. Each one unique," Peterson tells me while showing me the different airplanes he has awaiting delivery or additional work. Each individual brings specialized skills, and their craftsmanship is superb.
On the Katmais, Peterson lengthens the wing and modifies it structurally. The aircraft is beefed up with 29-inch bush tires and wheels, the nose wheel and mains are strengthened, and a host of aerodynamic and drag reduction changes are made. The complete interior and all windows are replaced and a new panel installed based on what the customer wants. Firewall forward, most everything is replaced, with the canard system installed and bolted to a custom engine mount. Most customers opt for the 300 hp Continental IO-550 engine, which Peterson has modified with a larger oil cooler, along with an 82-inch, three-blade propeller. The entire airframe is custom painted, and details like leather-wrapped yokes are added. The result is a nearly new airplane with a zero-time engine.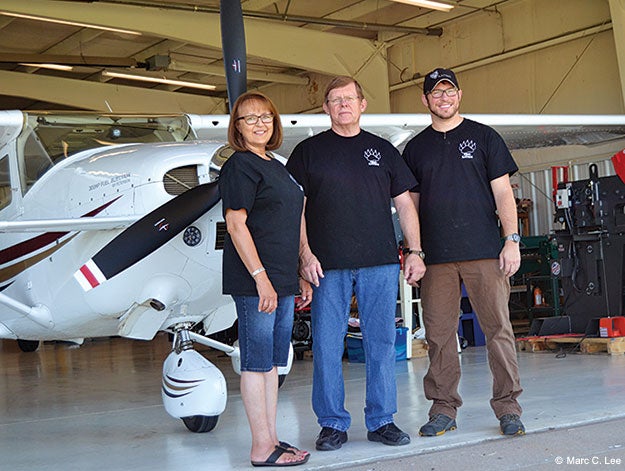 Jo and Todd Peterson and Andrew Warren are the artisans that create the Kenai.
The Kenai
The Kenai does away with the wing modifications and beefed-up tires of the Katmai, but it retains many of its trademarks, especially the canard. The big difference? Speed. "By getting rid of some of the backcountry elements, we still retain the safety and handling of the Katmai," Peterson explains, "but we can give them a faster airplane."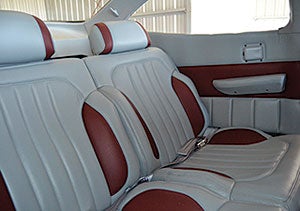 Interior options abound and help personalize each aircraft to its owner.
From far away, the Kenai looks like a really nice Skylane. But, closer inspection reveals not only the canard on the nose, but a host of modifications around the gear. Completely redesigned wheel pants and smaller tires than the Katmai change the airflow and seal gaps around the tire, also reducing weight. The Kenai thus sits lower, and its stock wing gives it a more refined look, along with more speed. Peterson advertises the Kenai with cruise speeds in the 152- to 156-knot range, and in my flight test, we were seeing 160 knots true at 7,500 feet operating rich of peak (ROP) and 156 knots true, lean of peak (LOP).
Even with that big engine, the Kenai isn't a gas hog, burning 13 to 16 gph depending on leaning. Its astonishing useful load of 1,210 pounds makes it a truly useful airplane, boasting 1,800-fpm climb rates and a range approaching 1,000 nm. The airplane can be outfitted however a customer desires, from Spartan to downright luxurious, and panel options abound. Today, most customers are opting for the Garmin GTN750 as a starting point, with various mixes of round gauges and glass.
In The Air
We took the Kenai to both paved and grass strips to test its mettle. From the moment I pushed the throttle forward, I was mesmerized. Being accustomed to stock 182s, I expected enough time before takeoff to finish my sentence of conversation with Peterson. But by the time the throttle reached the end of its travel, we were airborne.
"Go flat," admonished Peterson from the right seat. Just after breaking ground, I pushed the nose forward. "Now turn," he said. Just over half a wingspan above the runway, I cranked the big airplane into a solid bank, something you just don't do in a general aviation airplane. "Now, doesn't that still feel good?" asked Peterson. And I had to admit it did. There was no hanging on the prop, no stall warning blaring, no mushing or softness in the elevator. Just solid lift, with plenty more behind it. "You can feel how much lift is still there," Peterson noted. Pretty impressive.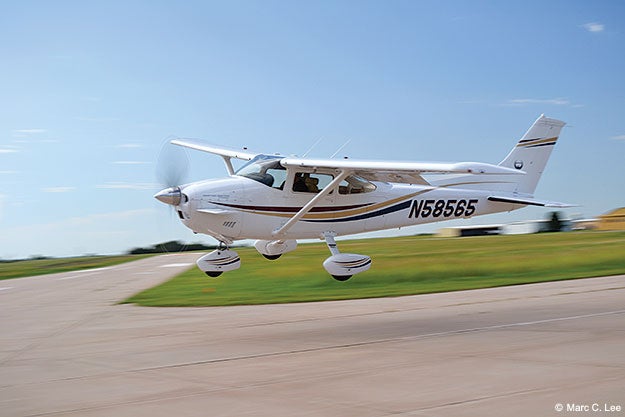 The Kenai's design allows extremely slow landing speeds with a nearly flat nose attitude, allowing for excellent visibility while maintaining a large margin above the stall speed.
Thinking it was maybe just a parlor trick, I slowed the big Kenai for some slow air work. The control harmony is particularly good at altitude, with that big Continental as smooth as a just-picked peach. At 13 inches on the manifold, I dropped the flaps. One thing to be careful of in the Kenai is throttle movements. You can't just yank the throttle back like on a 172. The Continental demands finesse, and that big engine and prop are huge aerodynamic brakes.
At 55 knots, I thought I had done something wrong because the nose was so flat. I could see over it, a rarity in flight this slow. Also, the controls felt solid and responsive without that characteristic softness. We did turns at 50 knots, then 45, trimmed hands-off and effortless, with not a peep from the stall warning.
Landings were a complete hoot, approaching at 65 nearly flat, then looking for some sink and using just the throttle to control the descent as we slowed to 55 and then 45 knots. Peterson had me scoot along the runway, nose slightly up at 40 knots, helping me to feel the buoyancy of the airplane, still abundant even at this slow speed. I remarked that it would be hard to get in trouble in this airplane. "Safety, that's what it's really all about," he answered.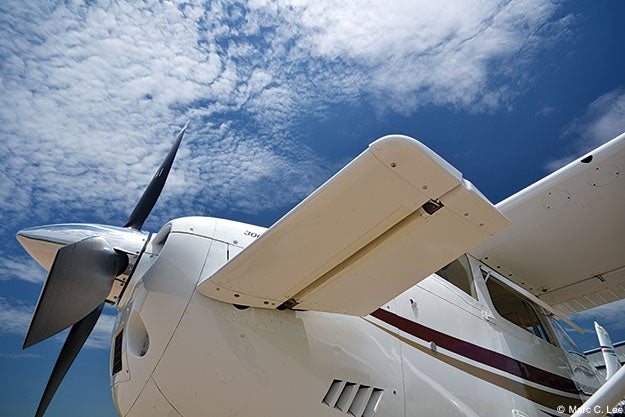 The canard has a movable surface that synchronizes with the elevator. It opposes downforce on the tail and adds lift to the nose, giving the Kenai and Katmai their unsurpassed capabilities.
Passion Comes First
The Peterson team reminds me very much of the artisans at Fender. It may sound like a cliché, but the truth is that their passion for aviation comes long before their desire to make a buck. Sure, making a profit is necessary, but there were many years when Todd and Jo didn't make much, if anything. They continued to build airplanes because they believed in their product.
The small team's dedication to aviation is evident in their business attitude. "We turn away a lot of orders because we want to focus on quality and not quantity," says Todd. "We're sold out through this year," he continues, "and you'd have to wait about two years to get one if you ordered it today."

Its astonishing useful load of 1,210 pounds makes it a truly useful airplane, boasting 1,800-fpm climb rates and a range approaching 1,000 nm.

The Petersons explain that they could add employees, expand their facility and make more airplanes to add to the more than 500 they've sold in some 15 countries. "But that would take the fun out of it," Todd says in his thoughtful voice. A man who's famous for his exacting routines in Harold Krier's de Havilland Chipmunk, Peterson spent 20 years flying air shows with Jo, who did her own amazing routine in Krier's famous single-pit Great Lakes. At one time, they were building 40 or more airplanes a year. "It became work and put too much pressure on us," he explains, "but we do this because we love it, so we scaled back, and I'm happy just where we are."
The Katmai has given birth to a whole community of fans who look to Peterson for everything from general advice to backcountry training to moral support. "Our business is unique because I fly with every one of my customers and check them out in the airplane," he says. "We know each one and stay in touch with them." Jo accompanies Todd on their backcountry trips, giving the whole operation a family feel.
Very much a regular backcountry pilot and known in that circle, Todd even leads owner's group flights to backcountry strips in Idaho, Utah and around the country. These don't benefit him financially; he and Jo do it to stay connected to the community. "We started this business because we just wanted a better backcountry airplane," he smiles. "Now, it has become a whole social thing, and I'm very pleased with that." Listening to Peterson talk about his life's work, I walk away knowing that it's aviation that drives him. "Really, I'm just a mechanic and a backcountry guy."