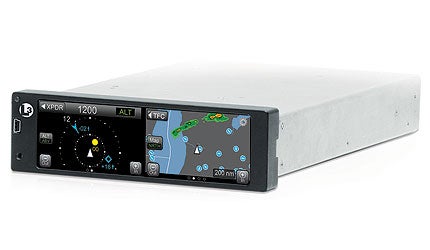 The Lynx NGT-9000 has a split display and touch-screen interface.
"We've entered the ADS-B mar­ket for GA," Steven Henden, L-3 Aviation Products' Sr. Communications Manager, announced before showing me the new Lynx MultiLink Surveillance System. That was no surprise given the company's big tease at EAA AirVenture Oshkosh last summer about its upcoming ADS-B product line. But now, Lynx is officially loose, and Henden and Todd Scholten, L-3's Business Development Representative for the North Central Region, had come to St. Augustine's Northeast Regional Airport (SGJ) to introduce the Lynx family and showcase the top-of-the-line model installed in a company A-36 Bonanza.
Tens of thousands of aircraft owners continue to play chicken with the 2020 ADS-B mandate—some waiting for a low-cost, steam gauge-friendly solution, others looking for a forward-looking answer that can add capability to a glass cockpit that has everything but ADS-B compliance, and many in-betweeners looking to cherry-pick ADS-B capabilities. Lynx makes a big step toward meeting this diverse range of needs.
The Lynx family includes four models, all bearing the NGT (NextGen Transponder) prefix: the NGT-2000 and -2500 comprise the basic models, and the NGT-9000 and -9000R (remote mount, for more advanced integrated glass cockpits) are full featured. All incorporate a WAAS-GPS position source providing ADS-B Out compliance to FAA 14 CFR 91.227, and they can also wirelessly feed (via an adapter) ADS-B information to iPad or Android tablets running compatible flight apps. (WingX Pro and SkyRadar are currently onboard; future apps pending.) All Lynx models are "one-box solutions" and compatible with existing wiring, simplifying installation.
The NGT-2000 and -2500, when coupled with a popular Mode C or S transponder like Garmin's GTX 327 or GTX 330, provide among the simplest and least expensive options for ADS-B equipage and cockpit integration. But the star of the Lynx lineup is the NGT-9000. Offering a wide array of features, this is the unit L-3 sees as the most logical choice for pilots looking to take full advantage of the ADS-B NextGen flight environment.
A form-factor replacement for existing transponders, the NGT-9000 supports 1090ES (Mode S Extended Squitter) ADS-B Out, as well as 1090 MHz and 978 MHz (UAT) ADS-B In. This provides ADS-B traffic (ADS-B, ADS-R and TIS-B) and FIS-B input. (Internal active traffic and/or ADS-B antenna diversity are available as options.) The -9000 series also uses ARINC 429, RS422 and RS429 Out protocols (as does the -2500), enabling ADS-B In data to be fed to a compatible multifunction display.
With its bright displays of traffic, weather and other data, and touch-screen interface, this is a unit you'll want to mount in prime real estate. In L-3's Bonanza, the -9000 is at the top of the radio stack, just below the audio panel. The display is divided down the middle into left and right halves.
---
The left side displays a transponder page (which only needs to be viewed when setting the transponder) or a traffic display page. A numerical keypad on the transponder page allows simple input of the appropriate code. A small cooling vent on the right side of the unit provides an anchoring point for steadying your hand in turbulence.
The right half of the screen has four pages that appear sequentially by swiping the screen: a traffic page; a radar page featuring color-coded graphical METARs, TFRs, and AIRMETs and SIGMETs; winds and temperatures aloft; and a page for displaying text data including favorite airports and GPS connectivity. The traffic pages that appear on the left and right side of the display are identical, enabling traffic to be viewed continuously, even if inputting data on the transponder page.
The radar page displays subscription-free NexRad radar imagery. Touch the METARs or other on-screen symbols, and corresponding text appears. (You can also tap on individual ADS-B traffic symbols on the traffic page and see the aircraft's N-number and other information.) The scale of the underlying map on the radar page is controlled by tapping on a plus and minus sign on the display, and there's also a "pan" function: Hold your finger on the page screen, and you can pull the map to the left or right, up or down. The simplicity of operation is impressive, and so was the amount of traffic the unit displayed.
The NGT-9000 has been submitted for technical standard order (TSO) approval; the -2000 and -2500 are already TSO'd. All the Lynx models require a dedicated WAAS GPS antenna. If you already have a certified GPS onboard, you can use your current GPS antenna for the Lynx GPS; otherwise, you'll need to install one. If you're wondering which model Lynx would make the most sense for you, L-3 has a free app for iPad and Android tablets that provides a realistic simulation of the features and in-flight operation of the entire product line. The NGT-9000 is priced at $6,800 MSRP; NGT-2000 is $3,200; NGT-2500 is $3,467 (other -9000 series models range from $8,133-$11,933). "All provide a tremendous amount of information for a fraction of the cost when compared to other systems and older technologies," L-3 says.
Based on my brief experience, were the Lynx able to show one more form of ADS-B traffic, I believe it would display a large number of inquiries and orders at the 12 o'clock position of L-3's sales force.