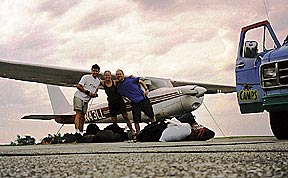 Learning how to fly means, among other things, mastering the controls of an airplane, understanding weather theory and unraveling the mysteries of aerodynamics—all of which can be studied at a local airport. That is an adventure in itself. But what if that process were taken one step further? Imagine, for instance, the Wild West as your flight school. The airplane, your teacher. Here, the vast expanse of the West plays an integral part in your flight training. It's a daring place where you sleep, breathe and eat aviation, 24 hours a day, seven days a week, where you can sleep underneath the wing of the plane you're learning to fly and where all around you is some of the world's most inspiring landscape. This is you learning to fly.
At Flight Training Adventure Camps (FTAC): The Reality Flight School, this idyllic concept isn't just a figment of the imagination. It's real. It's a unique school where the rigors of reality-based training truly meld with the adventure of flight.
A One-Of-A-Kind Concept
Getting A Demo Flight
Nothing makes committing to flight lessons easier than taking a half-hour demonstration ride with a certified flight instructor (CFI). A non-profit aviation-industry- sponsored group called Be A Pilot has arranged a special rate at hundreds of participating flight schools around the country. For $49, you can actually fly an airplane and get a taste of what your flight training will actually be like. For a demo ride at a flight school near you, log on to www.beapilot.com.
Established about a decade ago, FTAC's private-pilot training program is designed for determined self-starters who embrace adventure, challenge and teamwork. Its sole purpose is to create a learning environment in which aspiring aviators can have fun by traveling and camping out for several weeks across the west—all while experiencing an intense flight-training curriculum that equals any other flight school anywhere. According to Dominik Strobel, FTAC's founder, camp director and chief flight instructor, "At FTAC, we go places. It's exciting all the time and we make it fun so that you can associate what you've learned with the fun memory that will always remind you of what you've learned. And we do all of that at FTAC by not only traveling, but also having an intense curriculum, flying everyday and experiencing all kinds of environments."
The two-part, six-week course consists of a two-week base camp in which students learn all about the theories involving flight, otherwise known as groundschool. The second part consists of a four-week expedition across the Southwest where students actually learn to fly an airplane at different types of airports. The entire course costs $5,950 and includes instructor fees, 40 hours of flight time, books, supplies, food, exam fees, and base- and tour-camp expenses—quite an inexpensive package, considering the valuable 24/7 flight training it offers. The pilot's license that students can receive from FTAC is the same one that the FAA issues to every successful flight student, but the experience can be wholly different.
Minimum Requirements For Learning To Fly
1 There is no minimum or maximum age to be a student pilot. However, you must be 16 years old before you'll be allowed to fly the airplane by yourself ("solo") and 17 years old in order to get your license.
2 You have to pass a basic medical exam prior to flying solo.
3 You must pass a written examination consisting of 60 multiple-choice questions.
4 The student must pass an oral and flight test administered by an FAA examiner.
---
Flight Training By Campfire
The soul of FTAC's private-pilot training program is really its expeditions. Unique to the school, FTAC has two types of "moving classrooms" available to students as they travel across the Southwest for four weeks: two airplanes, in which students take turns learning to fly them; and a bus, in which students can learn flight plans and other flight-training basics as they await their turn to fly. This camp-like atmosphere allows students to focus on learning, practicing and applying their flight skills in all types of terrain and scenarios, such as flying to unfamiliar airports, experiencing density altitude and flying in inclement weather. And because of the fact that outside factors, such as weather delays and mechanical problems, can affect these moving classrooms, no two expeditions are alike—and that's part of the fun.
Scott Orland, a former FTAC student, explains, "There's no way to describe a 'typical' day at FTAC where nothing is typical and anything is possible. I would get up, pack up, take an orientation stroll around the present locale and then line up sectional charts on a picnic table to plot the day's destination. Flying time is divided among campers and everyone prepares for their individual leg. As the day's journey comes to an end, the assorted vehicles gradually arrive at the new destination and we debrief, set up camp and prepare for an evening of Swiss culinary delights shared over a campfire. Atypical days usually mean delays caused by severe weather, lost jeeps and perhaps an angry buffalo. The only thing that was always certain was the shared camaraderie between students and flight instructors, and the unique lessons and stories shared over the campfire at the end of each day."
These expeditions, however, aren't all about aviation. Students also get a chance to enjoy other outdoor activities, such as river-rafting, water-skiing or open-air theater.
"I don't recall a time when I had as much fun in my life as I had on Lake Powell with our rented boat," enthuses Pirmin Geisser, a prior student at FTAC. "We went water-skiing, tube-riding, cliff-jumping and cookouts in a remote canyon that's only accessible by boat. At night, by the campfire, under the clearest sky that one can only imagine, we played silly games, told our airplane stories and counted satellites and shooting stars. No wonder people opt to sleep on their balconies after their FTAC experience."
---
Not For The Faint Of Heart
The Right Flight School
Flight schools are widely listed in phone books and across the Internet. But in order to completely get a feel of whether or not each flight school is right for you, visit them, look at the facilities and spend some time talking to instructors. Your personal impression of a flight school is a big part of making the right choice.
While investigating flight schools, you'll often hear things, like "We're an FAA-approved Part-141 school" or "We're a part-61 school so we can customize to fit your needs." Others are formulated around student pilots who want an aviation career. The list of differences between schools can be ad nauseum. The difference that should matter to you the most is how the schools match your individual requirements. The pilot who wants to use his license recreationally, for example, will likely have different needs than the student hoping to end up in the left seat of an airliner. Discuss your goals with all the schools you'll be considering and see how well their programs will match your needs. But remember that all of the courses end at the same place—with a private pilot's license.
Yet, amidst all the fun, Strobel stresses that FTAC isn't all about the excitement of adventure camps. It's also about intense reality-based flight training.
He emphasizes, "FTAC sounds like a lot of fun—and it is. But it's also, probably, one of the toughest, most demanding and most rigorous flight schools that you can imagine. So, somebody who just likes to spend some free time at the mall would be a little in over his or her head."
In fact, one of the lessons that FTAC is quite proud of is its ability to build each individual's character. Students learn not only to become pilots, but also act, speak and calculate as one—quite a life-altering event for most FTAC students.
"It was very demanding because my instructor was very precise and goal-oriented," explains Claudio Corfu, another FTAC student. "Looking back, I'm very grateful that it was demanding. Even now, not a day goes by without the memory of yet another adventure and another experience that we had."
And nothing builds more character than that first solo, when students get to fly all by themselves—without their flight instructors by their sides! "Never has the decision-making process been more obvious as on the first solo flight when you look at that empty seat next to you. You realize, 'This is me. Nobody is going to help me, whether or not I want them to.' After they've flown for the first time, many students find the experience quite emotional. I've seen a lot of tears about the first solo," says Strobel.
Katie Koch, a former FTAC student, agrees: "I've not only learned how to fly an airplane, but I've also learned things that have helped me become a better friend and student because of that first solo. I've learned to appreciate the little things in life and to look at the world and its complications through new enlightened eyes."
Indeed, for most of its students and flight instructors, FTAC is more than just a flight school. It's hard work, teamwork and fun—all melded into one.
"As much as FTAC is a flight school, it's also a life school," says Strobel with a hint of pride in his voice. "It makes students mature and it gives them a license to proceed in a career in aviation. It's the most demanding first step to an aviation career that they could possibly imagine. What they get from this camp is a pilot license unlike any other—and it comes with a life-altering change in behavior that will benefit them for the rest of their lives."
For more information on Flight Training Adventure Camps: The Reality Flight School, contact Dominik Strobel at (641) 472-5217, or log on to the school's Website at www.ftac.info and learn all about its programs.
---
Private-Pilot Flight-Training Components
Groundschool
There is no required number of hours for groundschool and courses can vary from a single, intense weekend to the equivalent of a school semester. There are three options available for student pilots:
1. Many flight schools offer a basic classroom-style program. Also, universities and community colleges offer groundschool courses.
2. You may also do some or all of your groundschool training privately with a certified flight instructor.
3. There are a number of textbook, Internet and video (CD/DVD/VHS) programs that allow you to study at home, all subject to your own schedule and your own pace.
Flight Training
The actual flight training is broken into two categories: time spent flying with an instructor ("Dual") and time spent flying by yourself ("Solo"). While the required hours to earn a private pilot's license are listed between 35 and 40 hours, they're minimums. A national average of student flight time ending in a pilot's license is closer to 60 hours.
Minimum Dual Training:
•20 hours of total training
•Three hours of cross-country flight to an airport at least 50 nm away
•Three hours of night training
•One night cross-country
•10 night takeoffs and landings
•Three hours of instrument training without outside reference
Minimum Solo Training:
•10 hours of total training
•Five hours of cross-country flight
•One cross-country that's more than a total distance of 150 nm
•Three takeoffs and landings at an airport that houses an operating control tower
The Practical Test
When you've completed the training requirements, and you and your instructor think that you're ready, you'll schedule a "checkride" or practical test. An FAA-administered examiner will conduct an oral examination and ask you questions on many of the subjects that are studied in groundschool and during your flight training. The second part of the test is in the aircraft. The examiner will ask you to do most of the same maneuvers that you've practiced with your instructor. The checkride isn't only a test of a pilot's abilities, but it's also meant to be an educational experience. Students who pass both parts of this "practical test" are immediately awarded a private pilot's license.