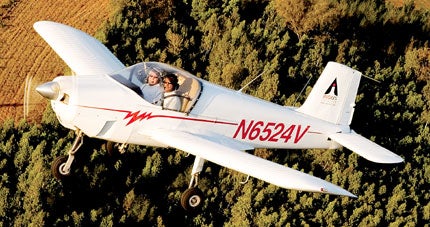 Ram Pattisapu and Vinod Vakharia of IndUS Aviation fly the Thorp
As some pilots may have heard, the FAA finally handed down its completed rulemaking regarding light sport aircraft (LSA) and sport pilots this past April 15 (perhaps, more than coincidentally, tax day) at the Sun 'n Fun Air Show in Lakeland, Fla. The LSA regulations were several years in the making, the consummation of extensive lobbying efforts by virtually all of aviation's alphabet groups. In fact, the final rules reflect extensive input by the EAA and AOPA, an example of what can happen in that rare instance when the government actually listens to the people it represents.
LSAs have now been legally defined, and the first type certificates have been awarded simultaneously to several LSA manufacturers. According to the final rule, a fixed-wing, light sport aircraft is generally defined as a fixed gear and prop, day two-seater with an unpressurized cabin. Max allowable speed is set at 120 knots, and stall can't exceed 45 knots.
The sport-pilot certificate is similarly less complicated than a standard private license. A sport-pilot ticket allows only day-VFR flight in the LSAs defined above. There are student sport tickets and full sport licenses, both of which require either a third-class medical or a current, valid U.S. driver's license, and the sport license demands that the applicant pass a written and practical test. No passengers may be carried for hire, but a pilot may share expenses with a passenger.
Unlike ultralights, there are no restrictions on empty weight or fuel capacity, so there's effectively no unreasonable limit to range. Many airplanes in the class will feature Rotax or small Continental and Lycoming powerplants, limiting fuel burn to 6 gph or less.
---
The whole concept of the sport-pilot license and LSA certification is to bring flying to the little guy. Little, in this case, is a relative term. Pricing for most fixed-wing, powered aircraft in the LSA class typically falls between $50,000 and $125,000, not exactly little, but at least a few companies have plans to rent LSAs at locations around the U.S. Rental rates haven't been defined yet, but you can bet that they'll be lower than comparable hourly fees for a Cessna Skyhawk or Piper Cherokee.
Sportsplanes.com of Draper, Utah, is one of the companies planning to offer a variety of LSAs for rent and for sale. The Utah company already has appointed 24 regional centers and is working with a number of domestic and international manufacturers to sell, service and rent a selection of two-seat, LSA aircraft, many of them formerly pure kitplanes and many others imported from Europe.
Sportsplanes.com's director, Joss Foss, has been preparing for the certified light sport aircraft by offering training in the AMD Alarus. While the FAR 23-certified two-seater is a wee bit heavy for qualification as a LSA, the trainer emulates an LSA extremely well. Foss has used the Alarus as the workhouse of his training fleet and will continue flying the aircraft even after LSA deliveries begin.
Predictably, the sport-pilot license allows operating a variety of other predominately sport aircraft—gliders, lighter-than-air vehicles, gyroplanes, powered parachutes and weight-shift trikes—but the majority of LSAs probably will be fixed-wing airplanes. In addition to purpose-built LSAs, existing aircraft that fit the legal definition above may be flown by holders of a sport-pilot certificate.
I recently flew three of the new LSAs in conjunction with the Sun 'n Fun Air Show in Lakeland. The first was the American Legend Cub, a new variation on a theme by Piper. The Legend Cub looks identical to the original, but it incorporates a number of upgrades and improvements.
---
I flew the first of the new Legends, serial number 001, off the company's Sulphur Springs, Texas, production line. From the outset, it was obvious that there had been some changes made.
First, the Legend Cub's fuselage is three inches wider. The airplane incorporates a 100 hp Continental in place of the original's 65 hp mill and is fed by wing-mounted fuel tanks. Standard equipment includes an electric starter and a basic instrument package, and options will encompass such goodies as a BRS parachute, floats, Garmin avionics and even a flat-panel display.
No matter, the Legend Cub flies very much like its namesake, only better. Flying out of Plant City, Fla., at zero-dark-30 to avoid the nasty winds that plagued this year's Sun 'n Fun show, I formed up on the Cessna Skylane photo ship and marveled, once again (for what seems like the thousandth time), at what a delight any Cub is to fly.
The Legend's target weight will be under the 1,320-pound LSA limit, and there's no question that you're flying a light airplane, but the newest Cub manifests a pleasant control harmony and lightness of response that once again, reinforces why the airplane became such an icon of general aviation. Maneuverability is somewhere between glacial and evolutionary, but somehow, it seems appropriate to the airplane's low and slow personality.
Climb is probably on the order of 700 fpm with half fuel and two big men aboard. There's no risk of exceeding the LSA's 120-knot cruise limit, but with the original fat, high-lift wing in place, and wheels and struts hanging out all over the place, you can plan on perhaps 85 to 90 knots of cruise. The price of admission for a bare-bones Legend Cub will be under $70,000.
If the new Cub is an improved traditional design steeped in the past, the Czech SportStar is a pure sportplane with both the look and the speed of a true, two-seat, low-wing hot rod. Built by Evektor-Aerotechnik of Kunovice, Czech Republic, the SportStar is a two-seater constructed primarily of aluminum with composite wingtips and cowling.
---
The SportStar features a large bubble canopy that provides good visibility in every direction except straight down. You can even twist around in the seat and look straight back if need be to check your six. The cabin is a comfortable 46 inches across, easily adequate to accommodate even two beefy pilots.
Controls are light and relatively quick, and a 100 hp Rotax 912ULS engine provides encouragement for the ground-adjustable, three-blade, MT, composite propeller. TBO is listed at 1,500 hours.
The SportStar has been certified at 550 kilograms (1,210 pounds) and falls well within the LSA class. Climb is listed at 1,200 fpm, but even if that's more than a little optimistic, 1,000 fpm should be realistic. Speed can be pretty much as you like it (depending upon the pitch of the MT prop), but for LSA applications, it will be confined to a maximum of 120 knots.
Expect to pay about $117,000 base for a basic SportStar, $130,000 for a reasonably well-equipped model. Perhaps surprisingly, floats are available (for about $17,000).
Another entry into the LSA class is Zenith Aircraft's Zodiac CH 601. Zenith Aircraft of Mexico, Mo., has been offering the CH 601 and other Chris Heintz designs for 20 years, and now, the CH 601 has backed into its status as an LSA under the experimental category, the E-LSA. The current CH 601 HD features a wider cabin (44 inches), an enlarged baggage compartment and other goodies.
Like the later SportStar, the CH 601 features a bubble canopy, a Rotax 912 engine and a composite, three-blade prop. Gross weight is 1,050 pounds, and maximum climb pushes an honest 1,000 fpm. Cruise speed is right up against the LSA's 120-knot limit, and stall is below 40 knots. One result is excellent short-field performance, takeoff and landing distances under 500 feet. With 30 gallons of fuel aboard, the CH 601 HD offers up to 600 nm of range plus reserve. Prices hadn't been announced at press time.
---
Also newly certified in the LSA kingdom is the IndUS Aviation
Thorp Sky Skooter
. If you think the Thorp looks like a Piper Cherokee, you're not alone. Both designs came from the same man, the legendary John Thorp. The Thorp has enjoyed an FAA certification as a FAR 23 airplane for years, but Dallas-based IndUS is upgrading and improving the design for the LSA category.
The Thorp Sky Skooter is a ton of airplane for the money. The $79,995 all-metal Sky Skooter is light on the controls and offers wonderful visibility. The canopy slides all the way open for a convertible sports-car flying experience. Even more remarkable is the fact that the design is absolutely spin-proof.
"When you get a chance to fly this airplane, you'll see what a genius John Thorp was," says IndUS Aviation president Dr. Ram Pattisapu. "You can't make this airplane spin, no matter how hard you try. What an excellent safety feature."
The Thorp Sky Skooter comes with an 85 hp Jabiru 2200 engine. It delivers about a 100-knot top cruise speed as well as a climb rate of about 700 fpm. For an additional $5,000, IndUS Aviation also offers the Thorpedo, which has the same Thorp airframe but utilizes a six-cylinder, 120 hp Jabiru 3300 engine instead. The increased power adds about 15 knots to cruise and pushes the climb rate past the 1,000 fpm mark. There are, perhaps, another dozen models hoping to make inroads to the LSA market, all entry-level sport machines designed specifically for the pilot for whom the simple act of flying is more important than where you can go or how fast you can get there.