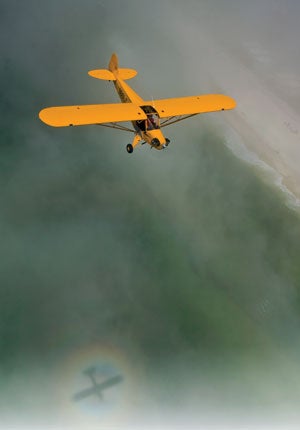 As a prospective LSA owner, you might justifiably conclude that once you've made the crucial decision to buy an aircraft, the most difficult decision is behind you, yes? To quote Comrade Putin: Nyet!
In truth, your Decision Quest has just begun. Once you've decided to bring a new LSA home, the real challenge begins: Which type, level of performance, onboard toys and sheer flying feel are going to best fit your desired flight style?
The burgeoning list of top-quality LSA keeps on a-burgeonin', making the choice even tougher—as in "ice-cream store" tough. At this writing, no less than 87 LSA designs have gained FAA ASTM approval just since April 2005.

The Sport Pilot Envelope
To borrow a playbook page from our ever-lovin' fed gov, "We're here to help." We'll start the drill with some thoughts on how to begin your search. Then you can peruse our snapshot guide to the latest hot ships.
First, let's review the sport pilot performance envelope. The sport pilot rule allows a maximum stall speed of 45 knots and a level-flight, full-power speed of 120 knots. LSA can carry only a pilot and one passenger, and are permitted a single reciprocating engine, fixed landing gear, an unpressurized cabin and a maximum gross takeoff weight of no more than 1,320 pounds.
Although LSA can be made IFR-capable, sport pilot ticket holders are constrained to VFR conditions and a maximum altitude of 10,000 feet MSL. (Note: Rule revisions are in the works to include a max of 2,000 feet AGL over higher-terrain regions.) Also, sport pilots can't fly at night.
Because many current models can easily cruise above 10,000 feet, if you have or might get the full private pilot certificate, consider the full performance range of the LSA you choose—you may want a broader range of capabilities in the future. So much for the reg. Let's head to the ice-cream store.
Which Plane Fits You?
LSA come in many yummy flavors. The wing shape that rocks your world may be a $20,000 powered parachute; a high-speed hang-glider/motorized-trike unit; a $40,000 aluminum-tube ultralight; a gyrocopter; a 50-foot-span motor glider; a $130,000 low-wing, composite cruiser; a high-wing, all-metal runabout; a fabric-covered taildragger or…well, you get the idea.
Even after you decide on the type of aircraft that stirs your flying fantasies, the decision fire-walk isn't yet run. Many LSA on the market come outfitted with EFIS panels as standard equipment. Ironically, many LSA models will only provide "steam-gauge" instruments as an option!
EFIS panels integrate all kinds of instrumentation into one easy-scan display: flight instruments (airspeed and altitude, etc.), engine readouts (rpm, CHT and EGT, etc.), magnetic compass, slip/skid ball and even GPS, clock/timer, G-meter and density-altitude/true-airspeed calculators.
One important point: Don't take published aircraft prices at face value, here or elsewhere. Compare apples to apples: Decide on the equipment and options you want, then price all your final target aircraft with those options.
---
For example, many companies include whole-aircraft parachute systems—such as those produced by BRS (
www.brsparachutes.com
)—as standard equipment. Others make 'chutes an option. This welcome evolution in GA flight has already saved hundreds of lives—carefully weigh the consequences of a structural failure, midair collision or loss of power over inhospitable terrain against the cost and weight of an all-plane 'chute. Then consider this: I once saw a big sign in a Navy parachute rigger that read: "If you ever need one…and you don't have one…you'll never need one again."
Finally, many top LSA come from Europe, but you may prefer an American-made model. With the euro/dollar imbalance recently adjusting back in our favor, you might think that the prices of European-imported LSA would adjust downward. Many distributors, however, have been eating the currency-conversion "tax" to increase their competitiveness, so prices may not adjust at all.
In the end, whatever LSA flavors make your mouth water, take a demo flight—or several. Put the airplane into situations like those you'll expect to experience as an owner. Ask yourself if you like the handling: Is it too responsive? Too stiff and stable? How does the airplane feel in light chop? In medium turbulence? Is climb-out performance satisfactory? What about fuel economy or range with full fuel? Can you fit your golf clubs, or is baggage space minimal?
There's only one sure path to your ultimate purchase decision—do your homework. Now to the next step: stoking those dream fires.
AMERICAN LEGEND CUB
Ranked #2 in U.S. registrations, this taildragging throwback to the early days of personal flight is a modern retooling of the original Piper Cub. It's really a Super Cub in performance, comfort and design enhancements. The fabric-covered, all-metal-airframe bird comes with lots of options (composite prop, TruTrak EFIS glass panel with autopilot) and engine packages (Continental O-200 or Jabiru 3300A). Price: $103,895. Contact: American Legend Aircraft Company, (903) 885-7000, www.legend.aero.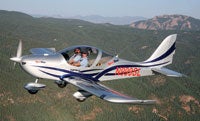 EVEKTOR SPORTSTAR SL
Enhanced since the low-wing SportStar debuted as the first S-LSA to gain ASTM approval in the United States, the new SL offers a roomy 46.5-inch cabin topped with a forward-hinge, single-piece canopy for enhanced visibility. The all-aluminum primary airframe is dressed in a contoured composite shell. The 115-knot top cruise speed and 700 nm range (31.2-gallon wing tanks) support training and cross-country roles. Standard equipment includes the Rotax 912 ULS (100 hp) engine, nosewheel steering, dual control sticks, mechanical flaps and adjustable rudder pedals. Price: $120,000. Contact: Evektor Aircraft, www.evektor-aircraft.com.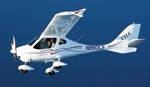 FLIGHT DESIGN CTLS
Flight Design, a German company, continues its winning ways (#1 in U.S. registrations) with the sleek, sporty CTLS, a refined version of its popular all-carbon-fiber CTSW. The comfortable, fast (120-knot) high-wing cruiser is roomy (49-inch cabin), strong (certified to two international airworthiness standards) and comes standard with dual Dynon EFIS glass panels, a Garmin radio and GPS (with XM Weather), a Mode C transponder, a BRS parachute system and much more. Price: $133,800. Contact: Flight Design USA, (860) 963-7272, www.flightdesignusa.com.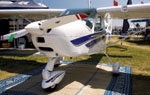 TECNAM EAGLET
The fourth entry from Italian manufacturer Tecnam (ranked #3 in the United States), the Eaglet debuted at U.S. Sport Aviation Expo 2008 in Sebring, Fla. Derived from two other Tecnam designs, the all-aluminum, high-wing aircraft is aimed at the training market but also has sport pilot–style cross-country appeal. Cruise at 75% power is a healthy 116 knots. The standard price includes a traditional six-pack, NAV and strobe lights, a landing light, a PM3000 intercom and Garmin's GTX 327 transponder and SL40 COM radio. Price: $119,900. Contact: Tecnam Aircraft, (770) 309-4155, www.tecnamaircraft.com.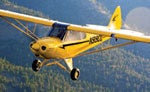 CUBCRAFTERS SPORT CUB S2
One of three current LSA resurrecting the venerable Piper Cub design, this Cubby modernizes the breed with standard AmSafe air bags; metal fuselage, tail and wings; 40 new carbon-fiber and composite parts; and an AWI "4 into 1" exhaust system to boost the Continental's power output. A reworked engine mount, vortex generators, an updated tailspring, double-puck brakes and lighter/stronger windows (plus tundra tire and float packages) only top the list of many new features and options. Price: $119,500. Contact: CubCrafters, (509) 248-9491, www.cubcrafters.com.
---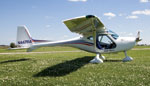 REMOS GX
Remos (#7 in U.S. sales), another German builder, expands on its successful G-3 design with the GX. The carbon-fiber high-winger has a useful load of 650 pounds, new fuselage, ground-adjustable prop, and +4 and -2 G-load rating. The Dynon EFIS D100 glass panel is standard. The aircraft features slotted flaps, five-minute folding wings, a roomy 46.8-inch-wide cabin, electric flaps and trim, a 112-knot cruise speed and a 1,050 fpm climb rate. Power is via a 100 hp Rotax 912 ULS. Price: $120,500.
Contact:
Remos Aircraft, (877) REMOS-88,
www.remos.com
.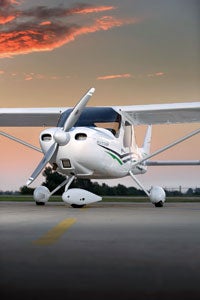 CESSNA SKYCATCHER
The all-metal, high-wing Cessna 162 will be produced in China and assembled/tested in America. First deliveries: 2009. The aircraft will come standard with a Mode C transponder, VFR GPS, 121.5 MHz ELT and Garmin's G300 MFD, SL40 COM radio and GTX 327. The 162 features two-spar metal wings, slotted flaps, steel-tube landing gear and a useful load of 490 pounds. The 100 hp Continental O-200D delivers a 118-knot max cruise speed and an 890 fpm climb rate. Price: $111,500. Contact: Cessna Aircraft Company, (800) 4-CESSNA, www.cessna.com.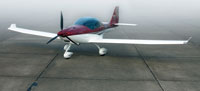 CIRRUS SRS
Like Cessna's Skycatcher, the graceful, all-composite SRS is still in development. First deliveries are projected for 2009/2010. Powered by a 100 hp Rotax 912S, the aircraft will cruise at 120 knots, have a 500-pound useful load and carry 18.6 gallons of onboard fuel. A Cirrus Airframe Parachute System (CAPS) is standard. The sculpted, single-piece canopy opens to a cabin width of 45 inches. The SRS will offer a four-point safety harness, castering nosegear, electric flaps and "advanced avionics." Price: $125,000. Contact: Cirrus Design, (888) 750-9927, www.cirrusdesign.com.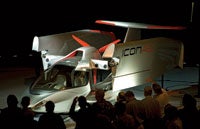 ICON A5
No LSA made a bigger visceral impact than the Icon at EAA AirVenture 2008. Marketing for the amphibious S-LSA is aimed at the sport vehicle owner. The production version will weigh in at 1,430 pounds, with an estimated 450- to 530-pound useful load. Its prototype flew in July 2008, and the company projects FAA approval sometime in 2010. Power is delivered by a 100 hp Rotax 912 ULS; range is 300 nm. The wings fold for trailering. Price: $139,000. Contact: Icon Aircraft, (424) 201-3505, www.iconaircraft.com.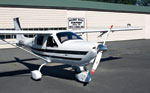 JABIRU J230-SP
(www.usjabiru.com)
An upgrade of Jabiru's popular J250 (ranked #5 in U.S. sales), the J230-SP offers improved cabin room and comfort. The smaller and higher-aspect-ratio wings enhance the aircraft's low-speed performance. Additional features include a 120 hp Jabiru 3300 cc engine, a 120-knot cruise speed and an 800 nm range. Price: $104,900.
CZAW SPORTCRUISER
(www.sportaircraftworks.com)
This U.S.–designed, Czech-produced low-wing monoplane has a wide-ratio (4.5:1) speed envelope (stall is 26 knots, top speed is 117 knots). Climb rate is 1,200 fpm, and range is 745 nm. Price: $95,000.
FANTASY AIR ALLEGRO 2007
(www.fantasyairusa.com)
The Czech-built Allegro 2007 has an all-metal wing, a center-section truss, a Kevlar/composite fuselage and two Rotax 912 power options (80 or 100 hp). The T-tail bird has a 105-knot cruise speed, a 34-knot stall and a 350 nm range. Price: $84,000.
---
ZENITH STOL CH 750
(www.zenithair.com)
Zenith Aircraft aims to market this kit as an S-LSA in early 2009. Based on the 20-year-old Chris Heintz–designed CH 701, the all-metal CH 750 launches in 100 feet, lands in 125, climbs at 1,000 fpm and cruises at 87 knots. Price: $99,900.
URBAN AIR LAMBADA
(www.urbanairusa.com)
A well-balanced hybrid (S-LSA cruiser and 30:1 L/D soaring machine), the Lambada is the only ASTM-approved motor glider. The roomy tri-gear design comes standard with wing extensions and an all-aircraft parachute. Power is delivered by an 80 hp Rotax 912. Price: $99,000.
SPORTAIR STING S3
(www.sting.aero)
Refining the successful StingSport, the S3 has a lower stall speed (39 knots) and higher climb rate (1,000+ fpm). The all-composite ship includes a 360-degree canopy with a roll cage, ballistic all-plane 'chute, steerable nosegear and differential toe brakes. Cruise is 116 knots. Price: $119,900.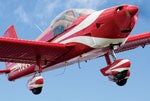 INDUS T211 THORPEDO
(www.indusav.com)
Evolved from John Thorp–designed kitplanes, the low-wing, all-metal T211 Thorpedo is powered by a 120 hp Jabiru 3300 cc engine. The aircraft features a strong useful load of 605 pounds, a 1,000 fpm climb and a 115-knot cruise speed. Diesel and primary trainer versions are also available. Price: $90,000.
SKYLEADER 500
(www.kappaaircraft.com)
Originally the Kappa KP-5, this bubble-canopy, low-wing, all-metal aircraft has Fowler flaps, trailing link gear and a 47-inch-wide cockpit. Produced in the Czech Republic, the airplane's speed range is a wide 31 to 120 knots. The Skyleader 500 comes standard with the Garmin 396 GPS. Price: $118,950.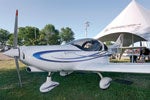 GOBOSH 800XP
(www.gobosh.aero)
Sister ship to the Gobosh 700S, the 800XP updates the (Czech) Aveko VL-3 as an LSA. All-composite construction, high-performance specs (119-knot cruise, 730 nm range, 850 fpm climb) and lots of options. Price: $123,700 (Elite Edition).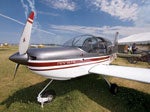 RANS S-19LS
(www.rans.com)
Longtime U.S. innovator Randy Schlitter offers this low-wing, aluminum monocoque flivver, powered by a 100 hp Rotax 912 ULS. It comes equipped with bubble-canopy visibility, a 13-cubic-foot (70-pound) baggage area, spring-steel nosegear, a 28-gallon fuel capacity, electric pitch and Dynon's D100 EFIS and EMS-D120. Price: $120,000.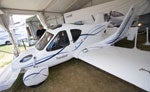 TERRAFUGIA TRANSITION
(www.terrafugia.com)
Described as a "proof-of-concept roadable" LSA, this innovative, American-designed and -built vehicle folds its wings out electrically from inside the cockpit. It's projected to have a 100-knot airborne cruise, highway speeds and a 460-mile range (20-gallon fuel capacity). Anticipated price: $194,000.
AIR ELITE STORM RALLY
(www.lightsportamerica.com, www.aireliteaviation.com)
The Italian-designed Rally has an all-carbon-fiber/Kevlar-strengthened composite construction. Unusual is the limited 1,000-hour/two-year warranty. Cruise at 75% power is 107 knots. Price: $124,000.