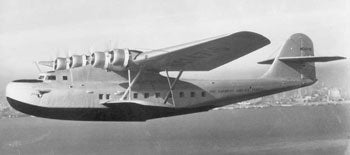 STANDARD DATA: (M-156) Seats 46. Gross wt. 63,000. Empty wt. 30,414. Engines four 1,000-hp Wright Cyclones.
PERFORMANCE: Top mph 190. Cruise mph 156. Takeoff mph 70. Range 2,410. Ceiling 15,500.
The first aircraft to span the Pacific Ocean in scheduled commercial operations was the Martin 130 flying boat. It became famous in 1936 as the "China Clipper" when it was used to open Trans-Pacific service by Pan American World Airways. The giant Martin Clipper carried 10 passengers on overseas flights with a range of 3,200 miles. On shorter routes, its capacity was 48 passengers. The M-130 had a cruising speed of 163 mph, weighed 53,000 pounds when fully loaded, and a wingspan of 130 feet. The Model 156, a later development, was built for Pan American Airways. Lateral buoyancy was provided by seawings rather than conventional sponsons or outboard floats. Interior furnishings provided for either a maximum of 46 passengers or a more luxurious arrangement allowing for night sleeping for a reduced number of passengers. Four 1,000-hp nine-cylinder radial engines were mounted in nacelles on the leading edge of the center section.