It's true, Maule pilots do it on dirt, sand, gravel, grass or any straight stretch of open area at least 250 feet long. And they have more fun! Probably because of where they like to go or what they like to carry. Lonnie Messenger of Dallas bought his Maule M-7-260C to get away from it all. As he says, "My flying is totally recreational. I like to stay away from people, TFRs and stuff like that."
Messenger's day job is running a construction company in Dallas, arguably Texas' busiest city, but his real love is flying. "I'm building a house and hangar on an airpark northeast of McKinney, Texas," says Messenger. "We had always lived where my wife wanted and after 35 years, she decided it was okay to live where I wanted. This way, I'll be closer to the airplanes and I can fly when I want to. The house will face the grass strip and have a pool, and our dogs will love it. I think we're going to call it 'Lime Green Acres,' after the TV show.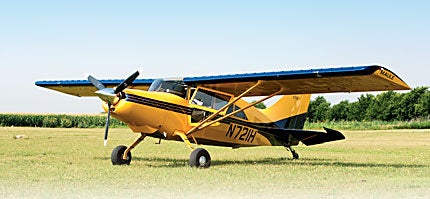 "I love flying low and slow with the doors open. I used to have a Husky, which is the best airplane in its class with 26-inch wheels. But the trouble is, it's a one-man airplane. Stuff someone in the back, and they get mad after three to four hours. That's why I bought the Maule, so I could share the experience with someone else. That's kind of hard to do when they're sitting behind you."
The open skies of the West promise adventure and call to Messenger's desire to see it all from the air. "A few years ago, my brother and I took a trip out West," remembers Messenger. "He was flying a Super Cub and I was in a Husky. We were headed generally northwest and made it as far as Cut Bank and Kalispell, Montana, before the weather turned us south. We played around Big Horn and stopped at all the little airports along the way to Arizona. We didn't have any destination in mind, really. We just had fun. It was a great trip of just over two weeks.
"I just like backcountry flying in taildraggers, and I've got several, including unflyable planes. I have a Clipper, a Pacer, a Stinson 108-3, a 90 hp Super Cub and the Maule. I've even got the Luscombe 8A my dad flew in 1947 when he took my mom and uncle for a ride. All of my planes will fit in the new 65×85-foot hangar."
Like most pilots today, Messenger learned how to fly in tricycle-gear airplanes. He flew nosedraggers for several years before falling in love with conventional airplanes. "I learned to fly in 1976 in a little town in Oklahoma," says Messenger. "My wife told me she was going to learn to fly, and I figured I had better keep up. We took lessons in a straight-tail Cessna 150 and bought a Piper Colt and then a Skylane. I took my check ride in the Skylane. My wife doesn't fly much right now, but she's a great copilot and navigator. I hope to get her back into it in a Cessna 172 or 182.
---
"I owned different Cessna 182s for several years, up until the mid-'80s. In the '90s, I got back into it and learned how to fly taildraggers in a Super Cub. Now, when I go flying, I head away from cities. I like flying in west Texas, where there's a lot of space. I usually have no particular destination in mind. At 110 mph, it takes a while to get anywhere. It's all beautiful country, and there's so much to see! I like landing on riverbeds like the Red River, or the Canadian or the Brazos, north of Possum Kingdom Lake. You'd be surprised how many grass strips are out there. I'm very respectful of the landowners and won't land somewhere unless I've asked them."
And for Messenger, the Maule is the perfect VFR plane. "I never finished my IFR ticket. It's just not the type of flying I'm interested in. The Maule is the best airplane for what I like to do—throw the camping gear in the plane and go somewhere with my brother or whoever wants to go. It's fun to just see how things work out."
Belford D. Maule designed the venerable Maule for a mission just like Messenger's. Maule was an Ohio farm boy with a natural affinity for mechanical things. By the age of 15, he had built a tractor, and at 18, he joined the Army to work on dirigibles. Soon after that, he designed his first airplane, a single-seat monoplane on floats or wheels, in which he taught himself to fly. His designs included a low-cost mechanical starter for light airplanes, and he started his company making steerable tailwheels in 1941. In the 1950s, he worked on the prototype for the M4, his first certified design. There are 13 original Bee Dee Maules still flying; notably, only two of those are on the East Coast.
Open skies and spaces are where Maules belong. Alaska, the home of modern bush flying, has 18% of all Maules on the FAA registry. The vast majority are found in Western states.
Backcountry flying requires the ability to carry a huge load and operate out of short strips. A typical Maule can beat a 50-foot obstacle in 600 feet, and a lightly loaded one can take off in 250 feet. Maule himself used to demonstrate the ultimate STOL takeoff by lining up the airplane at the back of a 125-foot hangar and getting airborne by the front door.
Today, Maule Air is constantly developing new variations on the basic M4 design. Currently, there are 19 or 20 models (certified and pending). Maule Air is developing a diesel version, considering a Rotax engine and working on a four-blade composite propeller, all at the same time. It's the Burger King of airplane makers—you can have it your way: skis; floats; spring gear; oleo gear; two-, three- or four-blade props; two, four or five seats; Patroller doors; double-wide cargo doors; IFR; VFR; and turbine power—whatever you like. Just name it, and Maule will build it. If you already own a Maule, you can get aftermarket conversions for the landing gear, seats, doors, bigger engines, 26-inch donut tires, fishing poles and even a 10-cubic-foot icebox to bring back all those fish caught on the bank of that remote river.
The Maule is a versatile, robust, simple-to-maintain airplane that will go just about anywhere and carry almost anything you can fit into it. A couple of important tips to keep in mind for a prospective Maule pilot: 1) when getting in, you should put your inside foot on the step and your outside knee in the middle of the seat and then twist to sit down; and 2) don't forget the rudder. With five-foot ailerons way out there on the fat wing, rolling without leading rudder induces…umm…a tad bit of yaw.
For Messenger, the Maule represents freedom. "I'm thinking of trading in the 260 hp version for a 180 hp one with the MT prop and flow-matched exhaust," he says. "I've got a lot of fishing and camping to do in Idaho and Wyoming, and a useful load of 1,350 pounds will make it much easier."
For more information, contact Maule Air Inc. at (229) 985-2045 or log on to www.mauleairinc.com.
SPECS: Maule M-7-260C Orion N721H