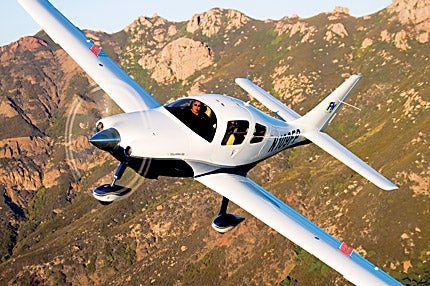 I was introduced to a new kind of flying at an open house in Long Beach, Calif. Erik Lindbergh, grandson of Charles Lindbergh and cofounder of iFly, spoke of the "world's first exclusive aero club," a membership-only venture that provides shared access to technologically advanced aircraft and high-end customer service. Having recently earned my private license, I typically rent airplanes (and envy friends who own theirs). But iFly's program was intriguing, so I decided to check it out.
What's An Aero Club?
iFly isn't about rentals, ownership or fractional ownership; nor is it your standard flying club. Instead, pilots pay a membership fee for hassle-free access to a fleet of identical, state-of-the-art, high-performance aircraft at different locations. Maintenance, repairs, insurance and cleaning are taken care of; a member needs only to show up.
Unlike whole or fractional ownership, shared access means no unpredictable costs; nor is there a residual value risk at the end of contract disposal. "I originally wanted to purchase an airplane," says iFly member Dean Shold. "But when I ran the numbers, iFly made sense based on how much I was flying." Furthermore, the company's four-to-one member-to-aircraft ratio guarantees greater availability than what most shared-ownership programs can offer. "Each time I've requested a plane, I've gotten one," notes Shold. "It's always clean and ready to go at a nice FBO, where my family can relax and watch TV while I do flight planning. The convenience is amazing." iFly has developed touch-screen kiosks that automate the check-in process by allowing pilots to swipe an ID card and retrieve the aircraft key.
The company's aircraft of choice is the 310 hp Columbia 350, equipped with a Garmin G1000 glass-panel system. "We selected the Columbia 350 because it represents the modern aircraft," explains Lindbergh. "It has so much capability in terms of situational awareness, with total integration of traffic, weather and terrain." Shold agrees: "The more I learn about the Columbia 350, the more versatile I realize it is. The G1000, climate control and speedbrakes make it extremely user-friendly."
---
Should a member need anything while traveling, iFly has probably already thought of it. In the baggage compartment of each plane is a Flyaway Kit, which contains useful items like oil, rags, a first-aid kit, garbage bags and hand wipes. "Rentals aren't nearly as seamless," says Shold. "With iFly, you pay a reasonable price and receive premium service." A five-year membership runs $39,900 plus additional fees of $1,795 per month and $70 per hour flown. Those who aren't ready to commit can opt for the Experience iFly Promotion, which provides 25 hours over two months for $9,900. To qualify, private pilots must have at least 150 hours of flight time.
Currently, there are aircraft based in seven Southern California locations. "iFly has plans for rapid expansion," says Joshua Chaiton, iFly's cofounder and VP of Operations & Member Care. "We'll be expanding our footprint to other Southern California airports, and then to the Bay Area and beyond. Our long-term goal is to be nationwide. In the future, if you're traveling for vacation or business and want to fly, you'll know an airplane will be available."
Columbia 350 Transition
Each member is transitioned into the Columbia through the Columbia Aircraft factory training program. "iFly is great at providing access to first-rate instructors," says Shold. "They're passionate, which makes you feel comfortable and builds your confidence."
I was to spend four days with John Fiscus, Chief Pilot of the Flight Academy. Before we met, I completed a prearrival assignment of 150 questions, with help from the POH, King School's Cleared for Flying the Garmin G1000, and Sporty's Flying the Garmin G1000. But I had a lot of my own questions as well. Although my previous time in a Cirrus SR22 proved beneficial, as a relatively low-time pilot, there was plenty new that I had to consider: prop control, vapor suppression system, crosstie switch, rudder limiter, Vernier engine controls and inflatable door seals—not to mention the Garmin G1000.
"It's important not to try to take in everything all at once," coached Fiscus, who has more than 6,000 hours of teaching in technologically advanced aircraft, mostly Cirrus. "Take each new piece of equipment one at a time, and eventually you'll know everything." Fiscus' company, the Flight Academy, which he launched with fellow instructor Luke Lysen, specializes in this kind of training.
---
"Thousands of hours were spent designing this equipment to make it intuitive. Once you understand the logic of the systems, it becomes much easier to work with. New pilots and student pilots may have an increased time investment, but it pays off in spades when using all this technology to make a flight safer and easier."
The first day of training focused on aircraft familiarization. Take off with 12 degrees of flaps, prop control full-forward, backup fuel pump set to armed, full power, right rudder and rotate at 75 knots. At cruise, rpm comes back to 2,500 and mixture to 50 degrees lean of peak, per Columbia's Transition Training Syllabus. After steep turns, slow flight and stalls, we reviewed the autopilot system, which had useful features that were new to me such as Control Wheel Steering and Flight Level Change (or airspeed hold). Patterns are flown at a comfortable speed of 110 knots on downwind, 95 on base and 85 on final, with no unusual or difficult characteristics in the flare.
The remainder of the training was a delight: short-field operations at Catalina Island, patterns at Chino and Borrego Valley Desert (normal, 12 degrees flaps, no flaps, speed-brakes, engine outs), and Class B airspace navigation (made simple with the G1000's moving map) at San Diego's Lindbergh Field. After being signed off and meeting with Chaiton for a two-hour orientation, I was set free.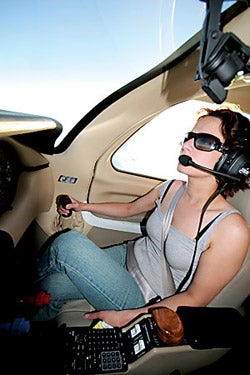 iFly, youFly
There were two goals I hoped to achieve with iFly: sharing general aviation with someone new to flying, and growing as a pilot through new experiences. My sister, Rachel, a newcomer to "little planes," came out to California from New York for a weekend flying trip to the Santa Cruz area. Staged at Santa Monica's Atlantic FBO, our Columbia looked impressive lined up next to Gulfstreams and Citations. This setting had Rachel expecting a Hollywood superstar to appear at any moment. "This is how travel should be!" she exclaimed.
A large TFR for fires was on the direct route to our first stop, King City, Calif., but its depiction on the G1000 was reassuring as we navigated around it. Having previously shrugged off autopilots (don't they take the fun out of flying?), I was now realizing their benefits. Flying this outstanding aircraft with reduced visibility caused by smoke while fielding an endless stream of questions from my right-seater, the autopilot was invaluable in managing workload.
At King City's Tutima Academy of Aviation Safety, a dealer for Extra Aircraft, Rachel rode in a new Extra 300L for an air-to-air photography session flown by air show performer Bill Stein (see "The Collaborators!" on page 58). "What a thrill to experience two different types of flying in one afternoon," Rachel said. "It was like arriving in a limousine to take a ride on a Harley." Stein joined us on the next leg to Watsonville, fitting comfortably in the airplane, in spite of several suitcases, miscellaneous bags, an oversized box, Stanley the teddy bear and two large boogie boards.
---
Two days and many ocean waves, roller coaster rides and shops later, we were back on the ramp packing up the airplane when another pilot approached us. "Will you really fit all of that in?" he asked, and watched as we did without a problem. The return flight was just over an hour, and as my sister marveled at the Pacific Ocean sunset, I smiled at the stream of cars on Highway 101 (an unpleasant seven-hour drive in my Jeep).
It took only one weekend with iFly for Rachel to figure out what general aviation pilots have always known. After leaving her at the American Airlines terminal at LAX, I received a text message that said it all: "Flying commercial is so lame."
Feeling similarly spoiled, I reserved an iFly airplane again for the very next weekend. A long cross-country to the Colorado Rockies would push me out of familiar surroundings into mountain flying, high-density altitude and weather. I appreciated being joined again by Stein, a much more experienced pilot who could provide insight to almost any situation.
I must have changed my mind about departure a dozen times. Santa Monica was convenient; however another iFly location, Van Nuys, was a surer bet to avoid a marine layer in the morning. No matter how many times I switched the reservation, the staff at iFly remained flexible and accommodating. In the end, I made a last-minute decision to depart the evening prior to my reservation. With only a few hours' notice, iFly had N104FP relocated, fueled and staged, with the key waiting at the front desk.
Flying over mountains, we were grateful for the terrain feature on the G1000's moving map as the sun disappeared below the horizon. The next morning, we continued to Colorado via the Grand Canyon. Navigation to and through the corridors was made easy by inputting user waypoints into the G1000. Stein flew wingovers ("the airplane was well-behaved and nimble") so that I could photograph the amazing scenery below.
Our destination airport was Buena Vista, at an elevation of nearly 8,000 feet. The first thing I did upon arrival was answer questions about the Columbia as local pilots approached to see our "nice ride." A stay at a relative's cabin provided photo opportunities to fill up several more memory cards, and we were ready to fly again. Just 26 nm to the north, Leadville, Colo., North America's highest-elevation airport, is at 9,927 feet. It proved impossible to resist in spite of (or because of?) a 14,000-foot density altitude. After consulting performance charts, we headed there for a landing, taxied back and took off. (A short visit still counts!) On this hot, humid day, the Columbia 350 performed great.
Afternoon thunderstorms thwarted our return, and the G1000's real-time weather dictated it prudent to stop at Page, Ariz., for the night. "No problem," was iFly's response to the delay. They worked the aircraft schedule to eliminate any pressure on me to fly in a situation outside my comfort level. Instead, we watched the dynamic air show of lightning strikes from the shore of Lake Powell.
---
Storm activity prevailed the next morning, but the lightning-strike data and NEXRAD enabled us to navigate a path around the weather while constantly reevaluating our route. The resulting bonus was that we passed over Meteor Crater and Sedona, Ariz., which looked so inviting that we landed for lunch. After arriving back in Santa Monica, I spent a few minutes to fill out an iFly trip form and returned the keys to the desk. And that was all—no fuss about it. My sister's initial assessment was right: This is how flying should be.