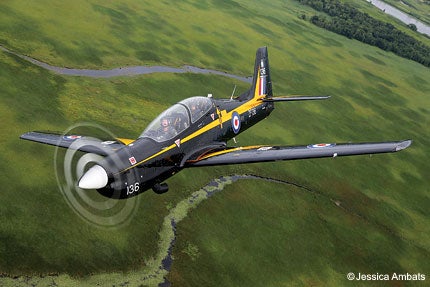 Patty Wagstaff and Lee Leet in Lee's Short Tucano T Mk1.
Lest we forget: Oshkosh AirVenture is the alpha and the omega of U.S. air shows. Airplane lovers young and old have flocked here to revel in the air show and hundreds of indoor and outdoor exhibits for 61 years. This year, the weather was so remarkably un-Oshkosh-like—balmy, breezy and downright cold some nights—that attendance was brisk (likely 500,000-plus) with good crowds even on Sunday, typically a ghost town-like getaway day.
No event in this year's chock-full lineup drew more raw excitement than the outdoor "sneak preview" screening of Disney's new animated film, Planes. The crowd was so massive, a couple of friends who thought they'd beat the rush ended up sitting on top of dumpsters at the extreme back of the grass lot.
The event was safely run in spite of the org's recent flap with FAA, that wants to charge EAA a cool half-million bucks for providing air traffic controllers for the week. That fight rages on.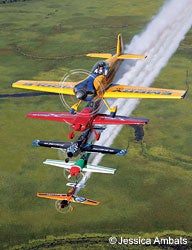 Air show performers Matt Chapman (Eagle 580), Jack Knutson (Extra 300), Rob Holland (MXS-RH), Kevin Coleman (Extra 300SHP) and Nicolas Ivanoff (Edge 540).
EAA's new Chairman Jack Pelton summed up the event with a list of accomplishments. A few highlights:
• the stunningly choreographed reenactments of Japan's 1941 attack on Pearl Harbor
• aerobatic legend Patty Wagstaff's return, doing her awesome routine in a Short Tucano T Mk1 turboprop trainer and making flights paying homage to women warbird pilots
• another legendary aerobat, Sean Tucker, was named honorary Young Eagles chairman
The Jetman, that wild and crazy guy Yves Rossy, strapped on a little carbon/kevlar wing and two jet engines (a $100,000 package) to fly formation with a B-17 above the crowds, then land by parachute.
Icon A5 announced that FAA allowed a 250-pound weight exemption for the long-delayed amphib SLSA, for an MTOW up to 1,680 pounds. The A5 also got another bump: a price increase to $189,000.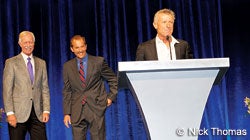 Sean Tucker is named honorary Young Eagles chairman.
Another long-promoted aircraft still sneaking up on production is the Terrafugia Transition SLSA flying car, which flew at the show.
Oshkosh reflects the times, through boom and bust, yet one thing has held true for 61 years: Whether it's new or old, real or in development, homebuilt or production aircraft, if it flies, you'll see it here sooner or later.
---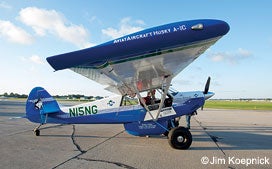 Aviat Aircraft debuted its CNG-fueled Husky A-1C, a project with the Aviation Foundation of America.
Aviat Husky CNG
For years, general aviation's many crises have made for a cloak of gloomy colors, notably ever-more-expensive flight training, hamburger flights over $100, the search for leaded avgas alternatives and more. Electric flight propulsion and autogas conversions have gotten most of the attention so far. Then came Stu Horn of Aviat Aircraft with another idea.
His 180 hp Aviat Husky showed up looking 8.75 months pregnant with its pendulous belly tank. In the tank? An overlooked fuel source and something we're all familiar with: compressed natural gas (CNG). CNG has a lot going for it: high octane (138), cleaner burning, and it's cheap at less than a buck a gallon. Compare that to 100 low lead's $5 to $6.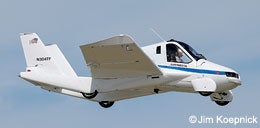 Terrafugia Transition LSA flying car
Horn's tilt at Big Oil's windmill is a dual-fueled affair: cockpit-selectable avgas or CNG, a nod to the lack of CNG pumps at our airfields. But then there aren't any electric "pumps" yet either…we're in transition mode in GA, and CNG is commonly used for heating hangars, and gas pipelines are common near many airports.
The project, a joint venture with Aviation Foundation of America (AFA), took several months to complete. That big-belly tank holds an equivalent 14 gallons of CNG and weighs 135 pounds full. To demonstrate the concept in the best way possible, Horn flew the CNG Husky to Oshkosh from Afton, Wyo. What a gas! Contact: www.aviataircraft.com.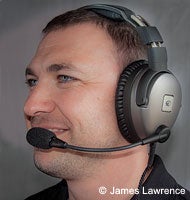 Lightspeed's new Zulu PFX headset.
Lightspeed Zulu PFX Headset
Another noteworthy innovation debuting at Oshkosh is this ANR (Active Noise Reduction), Bluetooth-capable headset that goes one step beyond to quiet down the ever-present din of cockpit noise. An extension of the successful Zulu headset family, it's two ounces lighter and has lower-profile ear cups.
The company's new PFX (Personal Flying Experience) technology takes a two-layered approach to delivering the quiet ride:
•Acoustic response mapping actively measures and adapts to the sound "landscape" of your own ears to enhance sound quality
•Streaming Quiet dynamic ANR uses microphones on the sides of the ear cups to continuously sample the environment and update noise cancelling, such as from taxi to full power. Zulu claims it's the world's quietest headset.
The audio experience is fully customizable to your personal preferences (bass, clarity, etc.) using FlightLink, the proprietary app Lightspeed introduced at last year's Oshkosh.
Enhancements include a battery box with a 1 million calculation-per-second CPU that's firmware upgradeable. Connection ports allow for future innovations. Even the cables are neat—silver-coated copper alloy wraps around a Kevlar core; strong, yet flexible as cooked spaghetti. Contact: www.lightspeedaviation.com.
---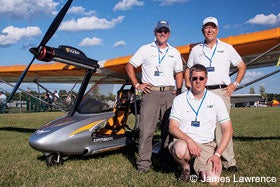 The GreenWing team and electric eSpyder e280.
GreenWing Electric eSpyder e280
Think of the eSpyder's place in history as equivalent to the 1908 Wright Flyer: It's not the first electric airplane to fly, but after several years development and with 1 to 1.5-hour endurance per charge, it's now in full production (as an Experimental kit for $39,9000.)
Certified to Germany's stringent DULV certification standard, the e280 says electric has arrived, and you can be a part of it.
Other production electrics exist in the U.S. But as with the 1908 Flyer, eSpyder enters the game as a mature design with deep financial backing and a commitment to global production, infrastructure and service to back its play. Initial production run is 50 aircraft, divided between the U.S. and overseas.
Based on the FlightStar ultralight, the e280 is highly evolved from that venerable classic. Sporting a max cruise of 68 mph, stall of 31 mph and empty weight of 410 pounds (max takeoff weight: 620 pounds), its Yuneec-developed motor delivers 32 hp-equivalent power (24 kilowatts) yet is under eight inches in diameter and weighs 27.5 pounds!
Lithium batteries power the whole affair. Charge time is two to three hours.
Noise? Fifty-one decibels. Cruising the Oshkosh ultralight pattern, I reached into the 40 mph airstream with my cell phone to snap a self-portrait…and easily heard the click-click of its shutter! Mostly you hear the wind noise and Yuneec carbon prop, like a big room fan.
A sophisticated smart charger and airframe parachute system are included.
GreenWing hopes to debut the production version of the exciting e430 two-place, electric SLSA at AirVenture 2014. Flight testing is already underway. Contact: www.greenwing.aero.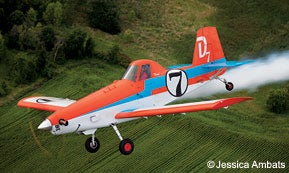 Rusty Lindeman brings Dusty Crophopper, the star of Disney's animated film Planes, to life.
Disney's Planes Rocks AirVenture
The advance premiere of the animated feature Planes had a real-life counterpart: the character Dusty Crophopper from the movie, flying in the form of a painted-up turbine-powered AT-400A crop duster flown by Rusty Lindeman.
Meanwhile, the turnout at EAA's Fly-In Theater Friday night was a record buster: 15,000 AirVenture guests jammed the lawn and environs to watch the premiere on the five-story-high outdoor screen. Director Klay Hall and producer Traci Balthazor-Flynn whipped up the excitement screening outtakes of the production staff's research, including airport visits, pilot interviews and flights in a variety of planes to make sure the animators got the look and feel of flying right. Judging from an over-the-top audience response, they nailed it.
EAA President Jack Pelton was instrumental in getting Disney to launch the film at the AirVenture event. An Interactive Disney Display Hangar also offered fun games, prizes and toys for kids. Rusty and Dusty will delight kids and their parents at another 10 air shows this summer across North America. Contact: www.movies.disney.com/planes.
---
Eight Kids, Two Weeks, Two New Airplanes Built
Two groups of high-school students from Michigan and Minnesota each built a Glasair Sportsman as part of the company's Two Weeks to Taxi program. The high-energy fun took place at Glasair's factory in Arlington, Wash.
Build A Plane Foundation President Lyn Freeman and Peter Bunce, CEO of GAMA, partnered to create the program along with Jeppesen. The eight students were heavily involved in every aspect of the building right up to the maiden flights. The teams from Michigan and Minnesota were winners of a nationwide contest in which many high schools created virtual aircraft design in software. The final designs were voted on by a panel of GAMA judges.
The all-expense-paid trip included a visit to Oshkosh, financed by Jeppesen's CEO, Mark Van Tine. The young builders took some enjoyable breaks during the project, including a Glasair-funded trip to Boeing's nearby assembly plant and flights to a lake in a Sportsman floatplane. Contact: www.glasairaviation.com.
AvMap Ultra EFIS
AvMap's compact, impressive Ultra EFIS is a stand-alone, palm-sized avionics device with a lot of robustitude for its diminutiveness (5.1-ounce, 3.3-inch panel hole size). The advanced ADAHRS unit (Air Data, Attitude and Heading Reference System) connects to an onboard GPS receiver and pitot static system to provide reliable data readouts. Ultra EFIS is intended for LSA, ultralight and EAB (Experimental Amateur Built) owners, and is loaded with solid-state gyros, accelerometers, magnetic field sensors, air data sensors, and includes UAV's motion processing software.
Its sunlight-readable 960×240-pixel screen displays:
• roll, pitch and heading
• airspeed, altitude, heading and V-speed
• intelligent position calculation (even without GPS input)
• wind, side slip and vertical speed HSI (Horizontal Situation Indicator)
A micro SD memory card slot is onboard, and the Ultra integrates with the company's EKP V "Portable Glass Cockpit" GPS. Contact: www.avmap.us.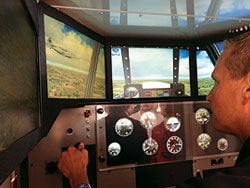 Redbird Aerostar Challenge
Redbird Aerostar Challenge Simulation
Redbird Flight Simulations was back with another hoot of a simulator experience. Last year, we chronicled their J3 Cub sim, based on the Redbird MX2 Hummingbird. The module is a single-pilot, small-footprint (8×8 feet), FAA-certified advanced training device. Multiple display screens in the enclosed cockpit recreate the sensation of flying, and the sim is really lifelike.
This year, the MX2 was mocked up as a Yak 52 as flown by the Aerostars flight demonstration team. A competition called the Aerostars flight challenge ran all week. The task: fly a "formation" simulation with the Aerostars team.
More than 350 AirVenture visitors took the challenge of a group launch, 15-, 30- and 60-degree bank turns left and right in formation and a good landing. Only 16 were able to successfully fly the entire program.
Their names went into a hat. Two winners got gaming headsets from Challenge cosponsor Sennheiser. The grand prize winners got to take the real ride with one of the Aerostars. Redbird will bring the Challenge to other air shows in the future: time to practice your sim skills! Contact: www.redbirdflightsimulations.com.
---
MyGoFlight Sight Line Display
The interesting concept here is how MyGoFlight gets around the cockpit limitations of Apple's iPad/iPhone/iPod Touch devices (shutdown from heat, reflective screen glare and poor sunlight readability) by porting critical flight information directly from any of those Apple devices onto the company's proprietary screens (measuring 10 inches or a smaller, 16×9-ratio display).
The secondary, independent screens easily attach to the glare shield or any other desired location to put them placed in the line of sight of the pilot, rather than requiring looking around the cockpit…and away from the outside view.
Both screen sizes are bright, sunlight-readable, rugged, can handle the heat (0° to 140°F), and mount anywhere, including up on the glare shield. The open architecture design allows Apple app developers to create apps for the device. An interesting wrinkle: how the Sight Line Display (SLD) takes advantage of the mirroring technology built into Apple devices. Whatever is displayed on the native iPad or iPod Touch elsewhere in the cockpit is remotely mirrored to the display. Contact: www.mygoflight.com.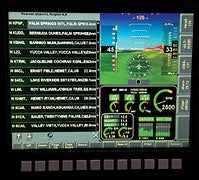 MGL iEFIS Challenger
MGL iEFIS Challenger Touch Screen
MGL Avionics adds to its iEFIS line of quality touch-screen displays with the Challenger's 10.4 inches, intended for experimental and light-sport aircraft. The Challenger's full 10.4-inch size is a step up from the 8.5-inch Explorer introduced last year. It features a bright (2000 nit) resistive touch-screen display configured for cockpit use. The system is proactive in minimizing accidental taps and swipes in turbulent conditions—a drawback of aircraft touch-screen displays—by requiring a more deliberate finger push.
The full-featured EFIS displays flight, engine, fuel and navigation data. It plugs into the "iBox" central unit and can be mixed with any other iEFIS screens (such as the Explorer), with a total capability of eight distinct display screens possible.
The Full Monty of displays is part of the iEFIS technology, including AHRS, full engine monitoring, GPS, 3D synthetic terrain with highway-in-the-sky navigation, voice alerts and a lot more. Full user customization is possible. The iBox handles all pitot/static, GPS and signal processing inputs, as well as communication with all devices via the CAN bus network. Contact: www.mglavionics.com.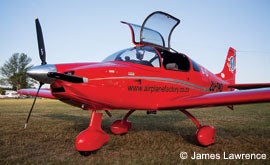 Sling 4
Sling 4 Four-Seat Kit
South Africa's The Airplane Factory, a company that likes to strap on its airplanes like seven-league boots to prove their long-distance chops, was at it again at Oshkosh.
Company founder Mike Blyth and son Greg flew their new, four-seat Sling 4 EAB kit plane from Johannesberg north to the Azores in the Eastern Atlantic, then hopped the ocean on a 1,300-mile leg to St. John's, Newfoundland. A "short" trip of several hundred miles ended at AirVenture.
I had the pleasure of flying the airplane. It's a smooth creature: very responsive yet solid and stable; great at slow flight with LSA-like stall docility. Well-appointed inside and out, the Sling 4 Kit is essentially a stretched-fuselage version of the nimble, fun-flying Sling LSA. The larger aircraft plugs in a Rotax 914 Turbo for a little extra muscle.
The company is in a bit of a niche of its own with this EAB four-seat, lightweight kit plane that cruises up to eight hours at an average 120 knots airspeed…on less than six gallons per hour! Useful payload: nearly 1,000 pounds. The gullwing-door, all-aluminum Sling 4 has been tested to beyond-normal category load limits. Back seats are roomy and comfy, and there's a baggage compartment aft with separate door access. Contact: www.airplanefactory.com.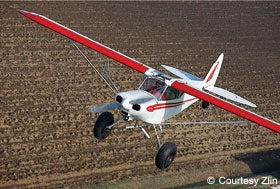 Zlin Cub-S LSA
Zlin Cub-S 180 hp SLSA
Czech maker Zlin, known for its excellent Savage line of Cub-clone LSA, has a new Super Cub-like model with a 180 hp engine and redesigned airframe. Two years of study and collaboration with veteran Alaskan bush pilots led to the finalized version, available as an LSA or EAB-built. Longer in length for greater pitch stability and with more tail surface area to handle increased engine torque, there's also a large baggage compartment. Useful load is 495 pounds, MTOW is the LSA-maximum 1,320 pounds.
The engine compartment was beefed up for the bigger, heavier Lycoming IO-320 tuned engine, which delivers some impressive performance stats:
• 2,100 fpm climb rate! (1700 at MTOW)
• 97 knots cruise on 75% power
• 34 mph stall speed, full flaps
• four hours range
• takeoff run: 60 feet (single pilot); 81 feet (MTOW)
Of course, if you don't want to bore vertical takeoff holes in the sky all day, there are a number of other engine packages to suit the sexy, venerable Super Cub styling of the Cub-S. Contact: www.sportair.aero.
Next month, we'll continue our AirVenture roundup and feature additional new products and pilot gear.