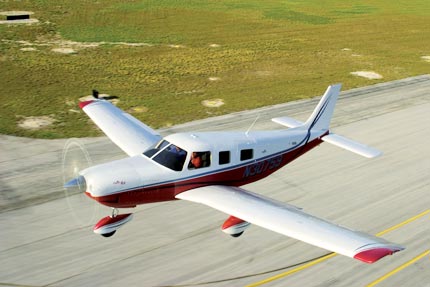 Piper recertified the 6X and 6XT last summer, and the company quickly cranked out 25 airplanes to fill the domestic and international pipeline. The basic PA-32 always has been a popular model overseas, especially in places such as Africa, Australia and South America where paved runways aren't always available.
Settling into the New Piper 6X is a little like coming home for me. Although I've never owned a Cherokee Six, I've flown one or another of the type regularly for the last 30 years. Back in the 1970s and 1980s, Sixes of various descriptions were popular international ferry airplanes, and I spent my share of hours driving Sixes across the Atlantic or Pacific, to Central or South America, or to some other allegedly exotic locale (heavy emphasis on "allegedly").
Former Piper PR director Joe Ponte often loaned me a Cherokee Six 300 for my annual two-week vacations each Christmas, and I would sometimes fly my wife, parents and stepsister around Florida or to the Bahamas. Back in California, I had access to a friend's nicely restored older Cherokee Six and flew it often when I needed six seats.
Today, I'm in the captain's chair of a considerably evolved 2004 version of that original airplane. The new machine is still designated the PA-32-301, and it still looks and flies pretty much the same as it did in 1990 when Piper produced the last, fixed-gear Saratoga.
Piper recertified the 6X and 6XT last summer, and the company quickly cranked out 25 airplanes to fill the domestic and international pipeline. The basic PA-32 always has been a popular model overseas, especially in places such as Africa, Australia and South America where paved runways aren't always available and airplanes are judged more for where they can go and what they can carry than how fast they can get there.
Bart Jones smiles from the right seat of the 6X. A Piper production test pilot for the last 20 years and now New Piper's chief pilot, Jones shares my affection for the basic 6X, certainly the hardest working and one of the simplest of New Piper's airplanes. Jones has flown pretty much everything Piper has built, right up through the Cheyenne 400, and he frankly acknowledges that the 6X, by any other name, is one of his personal favorites.
In fact, the original PA-32 was arguably one of the best ideas Piper had since the Super Cub. One paragraph of history: The original Six was born in 1965 with only 260 hp to protect it. Within a year, Piper bumped the horsepower up to 300, and although the 260 was to remain in production through the 1970s, the Six 300 became the dominant machine. In 1980, Piper mounted a stretched version of the Warrior wing, renamed the airplane the Saratoga and continued to build the model through 1990.
---
Today's version of the old Six that we all grew to know and love reflects well on what went before. The fuselage is approximately the same, although the small, aft side windows (that looked out from the baggage compartment) have been omitted as an economy measure. The gear is the Cherokee Six's tough oleo system; the wing is the semi-tapered airfoil used on the Saratoga HP; and the basic, twin scoop, axisymmetric cowling (sans provisions for the retractable nosegear) also is borrowed from the HP.
Best of all, the Six's considerable talents remain outstanding. Just as in the 1960s when the original Cherokee Six was designed to compete with the Cessna 206, the current 6X is targeted at the new Cessna Stationair, another essentially intact revival. Both airplanes are utility models, both are tough, tractable designs, both are capable of carrying big loads at reasonable speed, and neither is that picky about where it flies.
Hard or soft field, long or short runway, the 6X can probably handle it, carrying more weight than most other types. At sea level, the 6X can operate from 2,100-foot strips with room to spare and even clear the ubiquitous 50-foot obstacle.
It seems most airplanes, like most people, gain weight with age. To partially offset that problem in reviving the Six/Saratoga, New Piper embarked on a weight-reduction program, installing lighter vinyl interiors and generally trying to economize on pounds wherever possible.
As a result, the 6X offers a useful load of about 1,400 pounds. Useful load is the more operative term on utility airplanes, as models in this class often trade fuel for payload. Full fuel is 102 gallons, so it shouldn't take a nuclear brain plumber to figure out that payload is around 800 pounds.
With six seats relatively unrestricted by CG, you can leave some fuel in the truck in exchange for more weight in the cabin. That's an option 6X buyers may be more likely to execute than owners of other types. The door at right front and double cargo doors at aft left provide the 6X with uncommon loading flexibility, and buyers use all the portals to maximize advantage. The illusion of comfort in the back is greater than the reality, as the aft four passengers must overlap legs, but the airplane makes a super-comfortable four-seater with built-in footrests. With four folks in the front and rear buckets and only three hours of fuel plus reserve aboard, for example, you could bring along 300 pounds of baggage.
New Piper's 6X even provides convenient stuff stowage in front of the firewall and behind the rear seats to help balance the load (limit 100 pounds each, so you would need to stow the last 100 pounds on the center seats). One fringe benefit of using the nose baggage compartment is that placing cargo up front helps soundproof the cabin. Also, you can be fairly certain any baggage placed just behind the engine will stay warm, no matter what the altitude or temperature.
---
Taxi pressures are heavy with the weight of that big, 300-hp Lycoming IO-540 over the nosewheel, and the airplane responds best to pilots who treat it more like a miniature airliner than a heavy single. The trick is to add breakaway power to get the mass moving—then, avoid using differential brakes for directional control or stopping unless necessary. Taxiing is ponderous at best, with heavy rudder pressures required to hold the centerline.
Climb starts off at 1,100 fpm, but it's down to half that at 8,000 feet. The service ceiling is listed at 17,200 feet, but in truth, the 6X isn't a high-altitude machine. If you plan to operate at consistently high-density altitudes, you might want to consider the 6XT, the same airplane with the AiResearch blower installed.
Like its predecessors, the 6X is stable as a table in the air, a happy IFR platform just heavy enough to plow through clouds and turbulence with minimum disturbance. I once delivered a new Saratoga from Vero Beach, Fla., to South Africa in some of the worst weather I've seen; yet, the airplane made the trip seem less frantic and imminently more sensible than it probably was. Although the Saratoga was loaded about 800 pounds over gross with ferry fuel, it flew the same as normal in the African heat, went where I pointed it and got me to Capetown, South Africa, pretty much on time.
One key to the 6X's personality is that it seems to fly better with an aft loading than a forward CG. Indeed, in ferry airplanes, we had to resist the temptation to burn off too much aft fuel too fast to avoid pushing the CG too far forward.
Most pilots don't buy a heavy-hauler and expect big cruise speeds, but the 6X's performance is nothing to be ashamed of, considering its drag profile. Expect 145 knots at high cruise, 140 knots at 65%, the more reasonable trade of fuel for flight.
If your own loading configuration allows carrying the full 102 gallons, you could plan 4 ½-hour flights at 65% and traverse well over 600 nm of sky. If fuel availability is a problem and you must throttle back to 55%, expect 130 knots at 10,000 feet, burning only 14.5 gph. The turbocharged model delivers more cruise at higher altitude, but demands another 2 gph for the privilege.
Whichever model you choose, you'll be buying handling more reminiscent of a Peterbilt than a Porsche, and contrary to what you might think, that's not all bad. At a gross weight of 3,600 pounds, you wouldn't logically expect quick, light control response, and sure enough, you don't get it. Personally, I find the 6X and its predecessors offer handling appropriate to their mission. Nothing happens very fast. Aileron and elevator response are both slow and heavy, and it's absolutely vital to keep the trim moving with any significant change in power or pitch.
---
Despite this (or perhaps because of it), one of the joys of the 6X is its extreme tractability in the pattern. With a full-flap stall speed of 59 knots, the 1.3 Vso rule suggests you could use approach speeds as slow as 77 knots, and sure enough, you can. Short-field efforts don't feel too aggressive, even down to 70 knots. In IFR conditions, the 6X loves to fly the ILS at 90 knots, but you can speed up to 100 or even 110 knots if there's a need to stay ahead of the Aerostar five miles from the outer marker.
Piper's new model is one of those airplanes that makes any pilot look good in the flare. Judging the payoff and finessing the airplane onto the ground are easy, and the 6X just naturally rotates into that nose-high flare that encourages main-gear-first touchdowns. It's probably possible to make a bad landing, but certainly, I've never made any.
The 6X stacks up well against its only real competition, Cessna's 206 Stationair. On the plus side, the 6X is a few knots faster, climbs a little quicker to a higher service ceiling and offers more fuel for greater range and payload flexibility. On the minus side, it's not as quick coming off or getting back on the ground, and the low wing may be a limitation in some places.
The 6X/6XT joins the Warrior, Archer, Arrow, Seminole, Saratoga HP/Saratoga TC, Seneca V, Malibu Mirage and Meridian to bring the total model line to nine or 11, depending on how you count. New Piper's base price for the 6X is $365,500. That buys a reasonably equipped airplane, IFR-capable with an all-Garmin stack—GPS430, SL30 VHF navcom, GTX327 transponder and a GMA 340 audio panel. After that, the sky is very much the limit. Step up to a GPS530, S-TEC Fifty Five X autopilot, HSI and electric trim for $55,740, and/or add an "awareness package" of Skywatch and Stormscope for $36,705. If you must have the best of everything, you can purchase the 6X with the Avidyne Entegra flight display for $413,000, and you'll be fully integrated with the latest avionics. There's also air-conditioning, a valuable option if you spend much time in hot locations.
When you're done, you'll be well north of $500,000, but you'll be flying an airplane nearly as comfortable as a suite at the Waldorf and smart enough to do everything short of last year's tax return. Add to that the ability to transit the planet at nearly 150 knots with five friends for company, and the Piper 6X just may have the ingredients for success on today's tough market.
For more information, contact New Piper Aircraft at (772) 567-4361 or log on to www.newpiper.com.
SPECS: 2007 Piper 6x