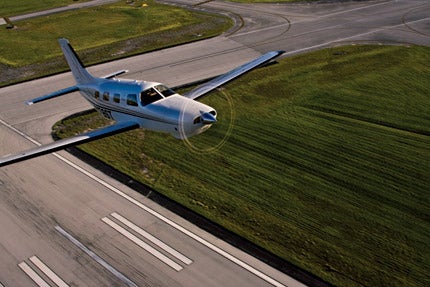 Marathon Key gleams in the late-afternoon sunshine. It's like an emerald in Florida's highway of island pearls, which dot Route 1 from Miami to Key West. Marshmallow cumulus graze on the rainbow of color beneath us. The Caribbean waters translate from jade and lime green to a myriad of blues—sapphire near the land to azure offshore to indigo and navy in the deep.
Somewhere down there, in fact, practically everywhere down there, the annual migration of "Great White-Backed Snowbirds," from such northern climes as Ohio, New York and Massachusetts, splash suntan oil on each other in hopes of looking like tan gods and goddesses. 'Tis the Christmas season, time for tourists in Florida.
Today, we fly to Marathon in style, aviating above swamp and ocean in the new Piper Matrix, a slightly different answer to the question of transporting six folks by sky. I guide the Matrix around the patch and perch onto Marathon's wide runway without breaking anything. Flying Piper's newest is like shaking hands with an old friend; it's familiar, comfortable and confident, yet somehow different.

Yes, as you may have guessed from James Lawrence's photos, the Matrix is based heavily on the popular Malibu Mirage, but we couldn't have guessed that it would turn out to be much more than that.
The original Piper Malibu seemed almost a minor miracle when it was unveiled in 1984. The PA46-310 was a totally new airplane that had virtually nothing in common with previous Pipers except the marquee.
At the time, there was only one other pressurized single on the market, the Cessna P-Centurion, and the Malibu knocked it right out of the box for a year. Cessna shelved the P210 for 1984, though the Wichita company did come back with a greatly improved version, the P210R, in 1985 and 1986 before discontinuing all piston production in deference to the liability problem.
As Piper's first all-new airplane since the short-lived Tomahawk, the Malibu has prospered in the 23 years since its introduction. It's one of only two Piper models in continuous production through the tough times of the late '80s and early '90s (the other was the Seneca). In total, Piper has sold some 1,300 Malibus and Mirages, and demand is still strong enough to justify continuing production.
---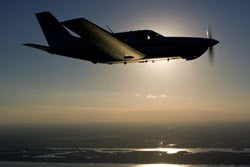 Because it doesn't require the implements associated with pressurization, the unpressurized Matrix offers an additional 200 pounds of payload over the pressurized Mirage.
Today's updated Piper Mirage continues as one of a kind—currently the only pressurized, piston, single-engine model available. Walter Extra's innovative, water-cooled Extra 400 took a brief run at the market a few years ago (I ferried the first one to fly across the Atlantic in 2004), but retired after only a year. Step up to turboprop singles, and there are a trio of models to choose from.
Despite (or perhaps because of) the Mirage's success, Piper knew that many Malibu/Mirage pilots didn't always use the airplane's pressurization unless they were flying tall on long trips. The Vero Beach, Fla., company also was aware there wasn't always a need for six seats, and impressive sales of four-seat turbo models such as the Columbia (now Cessna) 400, Cirrus SR22 Turbo and Mooney Acclaim suggested there might be a market for an unpressurized Mirage.
Enter the Matrix (without Keanu Reeves) PA46-350. Technically, the project was relatively easy, a simple matter of leaving out all the hardware and structural components necessary to inflate the Mirage's cabin to a five-pound pressure differential. Without any weight or aerodynamic changes, certification demanded a minimum of flight testing, avoiding the myriad of spin tests. There was a slight CG shift from the removal of about 200 parts, however, so the Matrix didn't exactly get a free ride from the feds. (The good news is that removing the pressurization hardware actually expanded the CG envelope so much that's it's difficult to imagine any reasonable loading scenario that would push the airplane outside its limits.)
One most obvious and immediate benefit of an unpressurized Mirage is the total reduction of pressurization cycles. A pressurized airplane's life is at least partially measured in cycles—the number of times the airplane is pressurized and depressurized—which causes the fuselage to flex, expanding and contracting ever so slightly. The Mirage employs a relatively mild 5.0 psi pressurization system that doesn't stress the pressure vessel unduly, but the Matrix obviously doesn't stress the cabin at all.
Similarly, leave out all the plumbing and hardware associated with pressurization and you pick up almost 200 pounds of additional payload. In fact, payload has always been one of the Mirage's minor shortcomings. The pressurized Mirage is a plush, comfortable, six-seat cruiser, but with a standard package of options and full fuel aboard, it can't carry more than a pilot, two passengers and toothbrushes. Leave 60 gallons in the truck and you're up to five folks total, but you're also down to two hours of endurance plus reserve.
Conversely, the Matrix's lower empty weight increases the standard full-fuel payload to more like four plus toiletries rather than three. Reduce the fuel by only 30 gallons and you're up to five folks.
Another not so obvious benefit of leaving out pressurization is that the air-conditioning gets a major boost in power. It's the same system used in the Mirage, but it's far more efficient without having to drive pressurization. Turn on the switch, and the AC is almost automotive in nature. Even on a hot day in Florida, cold air comes pouring out in short order. If you're based in Arizona or Florida, you're almost guaranteed to love the Matrix A/C system.
---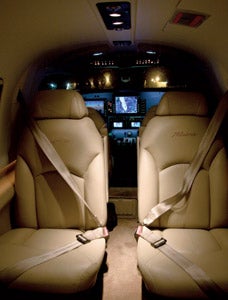 The Matrix cabin measures 49.5 inches across by 47 inches tall; the same dimension is maintained from front office to rear seats.
Standard avionics on the Matrix is the talented Avidyne Entegra, a two-screen integrated flight deck. You can also add an active, heads-up, traffic advisory system, a tactical weather-avoidance system and interfaced international options such as distance-measuring equipment and an automatic direction finder (two features sadly relegated to insignificance here in the States). We've written about the Avidyne system several times before, so we won't review its talents again here. It suffices to say that once you're up to speed on the Avidyne's operation, you'll absolutely love it.
For our first test flights, the initial load included nearly full fuel and three folks; photographer James Lawrence, my buddy (Piper pilot Stan Riker) and me. This brought us to 150 pounds below gross. We departed Piper's manufacturing facility at Vero Beach, flew to Boca Raton to pick up Sandi Shofner and lofted back up to altitude for some cruise checks.
By any measure, the Matrix's cabin is an impressively comfy enclosure, offering plentiful creature comforts, depending, of course, on the size of your creatures. At 49.5 inches across by 47 inches tall, the cabin maintains the same dimension from front office to rear seats, Boeing-style, so everyone enjoys the ride. This was part of designer Jim Griswold's philosophy on the original Malibu—produce a consistent fuselage to the rear of the cabin, then attach the tail without transitioning through an extended empennage that would add weight and wetted area.
For our flights, the left front was the best seat in the house, if only because it was where I sat. Climbing up front through the narrow aisle was a slight challenge, but once settled in, there's plenty of room in every direction. Shofner and Lawrence luxuriated in copious space in back.
Takeoff in the new Matrix is a fairly casual affair. With 350 hp out front to move well over two tons of airplane, the PA46-350 needs to gather itself for the task ahead. It's among the slowest-accelerating GA machines off the line—a Skyhawk could probably outdrag it for the first 100—but once the Matrix hits its stride, it climbs away cleanly. I saw initial climb rates well over 1,000 fpm on our high jump to cruise altitudes between 10,500 and 17,500 feet.
Of course, flight at such levels means wearing cannulas or masks to feed oxygen, and we chose cannulas. When properly fitted, they're less obtrusive than you might imagine. Getting them properly fitted is the trick. If you do opt for oxygen altitudes, you can expect to pick up 10 to 15 knots more cruise over the Matrix's best effort at 10,000 feet.
The standard oxygen bottle is only 50 cubic feet, fairly small in contrast to airplanes such as the Mooney Acclaim (which uses a standard 77-cubic-foot bottle and offers a huge 115-cubic-foot container as an option). Still, you can fly with two or three folks aboard for several hours at high altitude.
---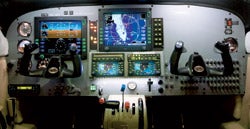 The two-screen Avidyne Entegra integrated flight deck comes standard on the Matrix. Optional features include a "Flight Into Known Icing" package and speed brakes.
Since gross weight and horsepower are unchanged and there are no aerodynamic mods, there's also no logical reason for any differences in performance, but perhaps strangely, the Matrix does seem to benefit from the transition. Both airplanes climb at about 1,000 to 1,200 fpm once they catch their breath, and up at FL250, the Mirage and Matrix are pegged at a max cruise of about 215 knots. Load both airplanes with the same payload, however, and you'd likely see a slight advantage for the lighter Matrix.
In addition to fielding the Matrix as a six-seat alternative to the Cessna 400, Turbo Cirrus and Mooney Acclaim, Piper is offering the PA46-350 as an alternative to the Saratoga TC, with the obvious benefit of the cabin-class entryway and 20 knots more speed.
Price the two airplanes with comparable equipment, and the Matrix winds up about $140,000 more expensive than the top Saratoga. That's without the "Flight Into Known Icing" (FIKI) package that boosts the Matrix price by $55,000. Remember, however, that the FIKI system is a fully approved anti-ice/deice package, whereas the Saratoga's optional TKS system is for inadvertent encounters only, not approved for deliberate operation in known ice. Both airplanes offer speed brakes as an option, a feature that should be included as standard to reduce potential shock cooling.
Almost inevitably, however, many prospective buyers will compare the Matrix to its big brother, the Mirage, and you can't help wonder if Piper might be shooting itself in the foot. Will the Matrix subtract at least a few Mirage sales? The price difference is significant, to say the least. The Matrix is about $385,000 less than the Mirage, and Piper reports 100 advance sales to dealers on its new airplane. The Matrix's $757,000 price buys an airplane without pressurization but with slightly better climb, perhaps an extra knot or two of cruise with the same payload and an extra 190 people pounds of payload than the Mirage.
Okay, so the Acclaim, Cessna 400 and Turbo Cirrus are all a few knots faster. But can any of them carry six folks?
For more information about Piper Aircraft, log on to www.piper.com or call (772) 567-4361.