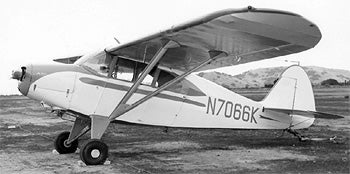 STANDARD DATA: Seats 4. Gross wt. 1,950. Empty wt. 1,010. Fuel capacity 36. Engine 135-hp Lycoming.
PERFORMANCE: Top mph 139. Cruise mph 125. Stall mph 48. Initial climb rate 620. Range 580. Ceiling 15,000. Takeoff distance (50′) 1,600. Landing distance (50′) 1,280.
The PA-20 Pacer was first introduced in 1949 as the PA-16 Clipper, a development of the PA-15 Vagabond. The "Clipper" name lasted only a year because Pan Am owned rights to that trademark. As the first four-seater to be built on the "short" Piper wing, the PA-16 featured a 115-hp Lycoming engine. In 1950, the PA-20 Pacer appeared with a larger tail, larger fuel tanks, wheel controls (versus a stick), and balanced elevators. The PA-20 was then produced in several versions, each featuring slight differences in engine size. Between 1950 and 1951, it was built with either the 115-hp or 125-hp Lycoming engine. From 1952 until production ceased in 1954, the 125-hp and 135-hp Lycoming powerplants were used.