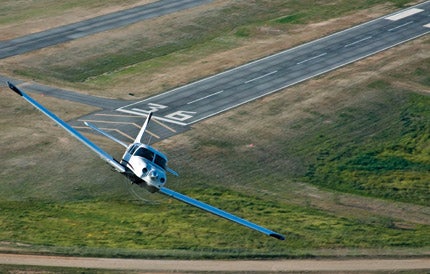 The runway we had just landed on wasn't bad by Alaskan standards: A combination of dirt and grass, probably 1,800 feet long, but mostly unimproved and pretty rough for anything but bush planes—or so I thought.
It was the summer of 1993, and we had arrived a half hour earlier in Art Hindley's Cessna 180 on oversized bush tires, plopping down and using less than a fourth of the abbreviated "runway." Hindley was truly an artist at insinuating his Cessna into places it didn't belong. Our reason for being there, somewhere north of Tazlina near the Glenn Highway, was mostly because we could. Nothing there to attract us except Alaska's usual commodities: spectacular scenery, moose, bear, foxes and the ever-present snowshoe rabbits, busily hopping everywhere and creating more rabbits.
The silence was deafening. Just as we were reveling in the sheer joy of total isolation in this northern paradise, we heard an aircraft engine and watched in amazement as a Piper Saratoga circled our little strip, lowered its gear and set up an approach.
"This should be interesting," said Hindley as we watched the aircraft turn short final, expecting the worst. Instead, we watched the big Piper squat expertly onto the first 100 feet of turf and use little more horizontal distance than we had used to stop. As the Piper taxied by, we noticed that the airplane seemed to be filled with huskies—though it did have a human pilot. I also noticed that it had no gear doors, the better to clear the potholes.
It was probably one of the most beat-up Turbo Saratogas I'd ever seen, obviously ridden hard and put away wet. The pilot, a bearded free spirit from Dawson Creek, shut down, let his three Siberians out the back door, walked over, shook hands and smiled at our amusement at his unconventional bush plane.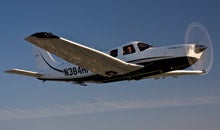 "Yeah," he laughed, "it's a pretty unlikely bush bird, with the low wing, nosewheel and retractable gear, and I certainly can't go everywhere you guys can, but it more than makes up for that with its huge cabin, wide, flat floor and big cargo doors. Plus, I have a quick-change interior that lets me go from all cargo to all seats in a few minutes. On top of that, the turbocharger helps me get out of some of these places up high and lifts me over the mountains."
Hindley and I watched as he unloaded some lumber and building materials from the back of his Saratoga, stacked them neatly near the makeshift runway, rounded up his dogs and headed off toward Fairbanks, planning to fly over the mountains rather than through the passes like us.
Indeed, turbocharging has come a long way in a relatively short time. In the '70s and '80s, I owned or operated a succession of airplanes with turbochargers under their bonnets, from Senecas and Navajos to Mooneys and Turbo Arrows, and much of the time, it seemed the technology simply wasn't ready for prime time. I bought a new, turbocharged single in 1979 to help solve a tax problem, and it did just that. It also ate turbochargers so often, I wound up paying much of my tax savings back to the shop over the eight years that I owned the airplane.
---
No more: Turbos have gone legit. What used to be a maintenance nuisance is now little more than an extra item on the annual inspection checklist. These days, the new generation of exhaust-driven compressors are practically as reliable as the engines they feed.
Whether you're flying one of the current nine-pack of turbo singles—Cessna 400, Stationair TC or Skylane TC; Cirrus SR22 Turbo; Mooney Acclaim; Piper Mirage, Matrix, 6XT or Saratoga II TC—turbocharging offers all the talents of compressed power without the maintenance downside associated with its predecessors.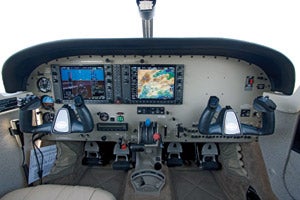 Take, for instance, the aforementioned Piper Saratoga II TC, a defender of the type for more than three decades. Of the group above, only the Stationair has embraced turbocharging longer. The current retractable Saratoga, descended from the Lance of 1976 through 1979, is an airplane that continues to sell, if not well, at least consistently. There are few San Andreas–level faults left in an airplane this old, and if true airframe/powerplant innovations are few, the 2007 model PA32R-301T soldiers on into its fourth decade of production with a minimum of warts.
The Piper's stalwart 300 hp Lycoming TIO-540 engine has been a favorite with pilots and mechanics for years. Putting aside the traditional Lycoming/Continental debate, the Saratoga II TC's TIO-540-AH1A has a justifiably durable reputation. It's a version of a similar engine previously installed in pairs in the Piper Aerostar 700, Navajo Chieftain and Mojave (not to mention the Mirage and Matrix) and rated for 350 hp in those applications. Just as with Piper's twins and premier single, TBO is 2,000 hours, though it's perhaps more regularly attainable in the derated PA32R-301T.
The current Saratoga II TC's blower preserves the engine's full sea-level power to the high teens, which means you can pull an easy 75% at 20,000 feet. More importantly, it means you'll still have sea-level power available for any reasonable high/hot departures.
If high speed at high altitude is the most glamorous attraction of turbocharging, the ability to operate safely in situations where normally aspirated airplanes would be grounded is the primary operational benefit. Need to leap out of Leadville or Telluride on a hot July afternoon? The Saratoga II TC will oblige.
Over the years, we've flown a variety of PA32s that put the wheels to bed, and there's little question that the current model is the best of the bunch, though it's little changed from the original. Piper got it right the first time out of the box, and while the current airplane is a significantly improved machine with optional Garmin G1000 avionics, Piper Inadvertent Icing Protection System and enough other options to make an Airbus captain green with envy, the basic fuselage/airfoil shape remains essentially the same as that of the first semitapered-wing Saratoga of 1980.
---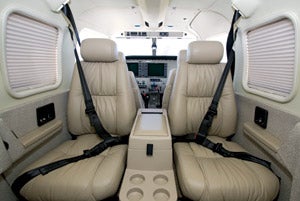 Passengers will enjoy the spacious and comfortable cabin, with leather seats and plenty of leg room.
The 2007 Saratoga II TC provided to us by Mike Gordon of High Performance Aircraft (www.socalpiper.com) on Gillespie Field in San Diego, Calif., was certainly the most comfortable and accessible of the lot, fitted with air-conditioning, the big, double, left aft doors and two large baggage compartments.
In fact, comfort and convenience have always been the Saratoga's bywords. If turbocharging helps define the mission of a Saratoga II TC, comfort is its true raison d'etre. Prior to the recent introduction of the Piper Matrix (which was covered in the April 2008 issue; read the article here), the Saratoga was generally regarded as the most comfortable, unpressurized, six-seat piston single in the sky, and it's still an impressive place to visit for a few hours or a few days. It's slightly wider than any non-Piper, and with the air-conditioning option, it offers perhaps the ultimate in creature comfort.
The Saratoga's front pit measures more than four feet across, broad enough to accommodate even the largest pilots. Passengers relegated to the rear won't feel second class in any sense, as dimensions remain friendly, and there's enough cabin length in the rear to prevent foot or leg overlapping in opposing seats.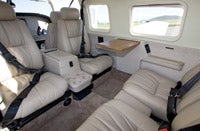 Baggage goes aboard in either of two compartments, one aft of the rear seats rated for 100 pounds and another, separate container between the forward cabin and engine firewall, worth another 100 pounds. In addition to helping balance any aft load, that forward space serves other purposes. It insulates the cockpit from some of the sound and vibration out front, plus its proximity to the engine compartment automatically keeps things warm up front.
Fuel capacity on the big Piper is 102 gallons, providing pilots with the flexibility to fly with lots of fuel or lots of people, but not both. Standard useful load runs around 1,140 pounds, so it's apparent that full tanks would leave only about 400 paying pounds. If the required endurance is only an hour or so, you could leave 60 gallons in the truck and fly with nearly five folks (or perhaps four plus two).
In fact, short stage lengths are more the rule than the exception. Several years ago, the National Business Aircraft Association surveyed its members and discovered that the average business flight was only 352 nm. And remember, this is in a class that consists of mostly turboprops and jets. Many pilots simply fill the tanks out of knee-jerk habit, but it costs fuel to haul fuel. Accordingly, many pilots are learning to carry only what they need.
---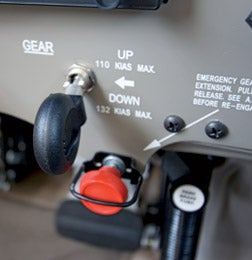 The Saratoga's gear can be dropped at speeds of up to 132 knots.
As with any six-seater, the Saratoga II TC is a heavyweight on the controls, featuring smooth but slow ailerons and muted pitch response. That's as it should be in a 3,600-pound single. The PA32 series was never designed for ultimate speed or maneuverability. The intention was to create a good heavy hauler with comfort in mind.
Oxygen is an option in the PA32R, but the nature of the airplane is such that few pilots will fly it in rarefied air. Still, cruise at 11,500 to 12,500 feet will yield a slight advantage from the turbo. You should expect about 175 to 178 knots at heights of up to 12,000 feet, 180 knots at 14,500 feet. In other words, if you're willing to fly tall in the southern half of the country, you could expect to cover the country, coast to coast, in a single day.
No one suggested such performance would be cheap, however. Fuel burn at max cruise is on the order of 19 gph, 17 gph pulled back to 65%. In this day, when avgas costs more than reasonably priced Chablis, you can expect to pay about $100 hourly for fuel, so a coast-to-coast hop will run about $1,000 for petrol. But remember that you could theoretically be transporting more than one person.
Payload can be pretty much whatever you wish. If you don't need to transport a team of huskies, there are a myriad of other items that will fit. With the seats removed, you can load almost anything you want into the big cabin. Piper used to run ads showing three workmen loading a small piano into the back of a PA32. That's not as much of a stretch as you might imagine.
Base price for a Saratoga II TC is $573,500. A fully blissed-out airplane—fitted with air-conditioning, the optional Garmin G1000 avionics suite (Avidyne's Flight Max Entegra flat-panel display is standard equipment) and all the other options most pilots order—brings the total to considerably more than that. The fully equipped airplane we flew from High Performance Aircraft had a $621,576 sticker price.
That's still about $127,000 less than the new Piper Matrix, a true cabin-class machine that carries more pounds and flies faster, but offers less loading flexibility. Like all airplanes, the Saratoga II TC is a compromise between speed and utility, efficiency and capability, comfort and economy, but many pilots feel the trade-offs work to Piper's advantage.
SPECS: 2007 Piper Saratoga II TC PA32-301T