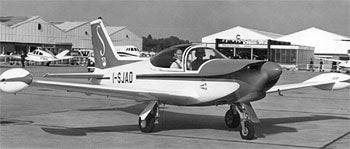 STANDARD DATA: Seats Seats 3. Gross wt. 2,430. Empty wt. 1,543. Fuel capacity 63. Engine 260-hp Lycoming.
PERFORMANCE: Top mph 235. Cruise mph 214. Stall mph 65. Initial climb rate 1,770. Range 1,275. Ceiling 21,370. Takeoff distance (50′) 1,390. Landing distance (50′) 1,610.
The Siai-Marchetti SF.260 looks very much like the Procaer Picchio except for its wingtip fuel tanks and rearward one-piece sliding canopy. The prototype of the aircraft was built by Aviamilano and flew for the first time in 1964. It was powered by a 250-hp Lycoming engine. Production of the airplane was subsequently taken over by the Siai-Marchetti Co. and the SF.250 was upgraded to a 260-hp Lycoming, thus the designation SF.260. The cabin has accommodations for three occupants, one in the rear seat and two in the front seats. Two small children can be carried in the back seat as long as their combined weight does not exceed 250 pounds. Construction of the Siai-Marchetti is all metal with four fuel tanks (two in the wings and two tip tanks). Its landing gear is a retractable tricycle type. The SF.260 holds two FAI speed records in the C-I-b class and are listed under the aircraft's United States designation: Waco Meteor.