It's not every day you fly an airplane where sensuality in form joins a flying function so affable, you wonder if you're flying the same airplane you climbed into. Case in point: the TL-3000 Sirius, from TL-Ultralight. The Czech company, which has delivered 650 light-sport-style aircraft worldwide, makes the excellent Sting S3 composite low-wing S-LSA (the all-time #10 U.S. seller).
Sirius is a carbon-fiber composite, a sleek, sculptured beauty that evokes, in profile and planform, the clean, flowing lines of a thoroughly modern airplane. TL's engineers used CAD programs and extensive physical prototyping to minimize drag, from the engine-hugging, "conformed cowl" design, to the flap and aileron actuator housings on top of the wing. Yet Sirius's sensuous lines belie a flight experience that's anything but haughty. This airplane has the heart of a tomboy. To illustrate, let's jump into the middle of my demo flight with SportairUSA's chief cook and bottle washer, President Bill Canino.
Classy, Smooth And Friendly
We've just climbed up through a hole in the broken deck of clouds. Performing maneuvers, I'm handling the airplane, especially one as elegant as this, with decorum and kid-glove respectability. I would no more yank Sirius around the sky than I would jerk a date all over the dance floor.
Seeing my reticence to "man up" at our near-stall speeds, and no doubt stifling a yawn or two borne of his decades of flight experience, former Air Force pilot Bill says, "Here, hold my beer and let me show you what this airplane can do." (Just kidding about the beer.)
He takes the leather-covered right yoke (Sirius also has dual, adjustable rudder pedals and hydraulic toe brakes—great for training) and sets up a simulated short final approach at 40 knots. "We do this low-speed maneuverability training a lot," he says of his CFI training operation in Little Rock, Ark. "We have owners set up a 30-degree bank at 40 knots, where we're just nibbling at the stall."
"Okay," I say, "you're turning base, near the stall—whoa, there's an airplane! Turn, turn, turn!"
To demonstrate, he rolls the yoke hard to the right a lot faster than I expect, the left wing shoots up, and we're going the other way—all this at 40 knots. But the fun isn't over. He gives the airplane back to me and barks, "Okay, there's another airplane—quick, turn, turn!" and I roll the yoke fast, back to the left with some rudder, and by golly, down comes that left wing, quick as you please.
For half a minute, we super-Dutch-roll through the sky like a couple of kids who drank too much Kool-Aid, and the airplane—at 40 knots, remember—hangs right in there. "Wow!" I say, genuinely impressed. I've flown some LSA that don't roll that fast at cruise speed—true story.
---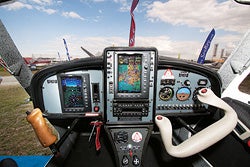 The demo Sirius comes with both a stick-like yoke control and a traditional yoke. Either is available to buyers. Shown is the Garmin G3X panel. The standard avionics package includes one Garmin 696, a Garmin SL40 and a Garmin GTX 327. Several options packages include Dynon SkyView, TruTrak and Grand Rapids.
Sirius is a tomboy, alright.
Corollary to the slow-speed responsiveness is its smooth-as-butter control feel in roll and pitch. That comes by way of the pushrod and ball-bearing linkage for those axes, which bring instant, smooth and minimal-effort translation of control-force input to control-surface deployment. It offers a lovely handling experience, and in the top tier of LSA I've flown.
"We spend a lot of time showing owners how much they can do at low speeds, because some pilots are completely gaga near the stall. Knowing they can do this at approach and departure speeds will save their butts!"
Rudder input is proportional to yaw/roll forces and plenty effective. Sirius isn't what you would call a rudder ship, but centering up with a touch of pedal in turns and on climb keeps her ladylike.
Rounding Out The Stable
My introduction to SportairUSA came two years ago at Sebring's LSA show in Florida, when Bill took me up for an equally fun introduction to the sporty Sting S3, also designed and built by TL-Ultralight. SportairUSA has a new iteration of the Sting, the S4, coming soon, and also distributes the popular SeaRey LSA amphib—and the new iCub. This spiffy version of the Zlin Savage (#18 in U.S. sales, also from Czech Republic) has the taildragging soul of a Piper Cub, time-warped into the 21st century by a standard-equipment Apple iPad "information center."
"Forty Sirius have been produced already," Canino says as we run through a stall series. "It was designed three years ago. The first mock-up pull from the composite molds was so good, they made it into a full-scale aircraft model. We introduced it at Oshkosh two years ago, but as these things go, it took longer to develop than expected. We waited a year after it hit the European market to bring it over here."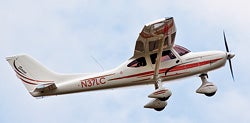 TL's goal all along was to execute a classic design in carbon fiber for pilots who prefer high-wing visibility and ops. Excellent viz is well supported, with plenty of window space and wing struts that attach to the fuselage behind the vertical plane of the seat back. The roomy 46-inch cockpit is half a foot wider than a Cessna 172, with plenty of overhead for tall pilots: Bill is 6 feet, 2 inches, but he has four inches of space above his noggin. All but the tallest pilots won't feel they're sitting up inside the wing. Interior ergonomics are well accomplished, with excellent placement of knobs and switches. Some controls live overhead for easy reach from either seat, ideal for training flights. But Sirius's full-range performance should keep it attractive to new pilots as their skills grow.
One of TL's design goals was to minimize engine vibration to the airframe. Sirius is as smooth as any airplane I've ever flown—and quiet with only 58 dBA of cockpit noise, less than an air conditioning unit! In flight, it feels like a luxury sedan. Nice little touches abound, such as the console-mounted electric flap lever that you tap once for takeoff settings and twice for full flaps, or hold for preferred settings, and PTT and autopilot disconnect buttons on both yokes.
---
Performance is right up there with top LSA performers: 116-knot cruise, 120 max level and 34 gallons of wing tank storage plus the 100 hp Rotax 912 ULS (with oversized radiator and oil cooler—a Rotax 914 at 115 hp is optional). Worry-free ranges in excess of 800 miles should be attainable.
Vx (best angle) and Vy (best rate) climb speeds are listed at 55 knots and 65 knots respectively. I saw 900 fpm at 55 knots at over 3,000 feet: The book figure of 1100 fpm at Vy seems right on. Typical cruise climb is 75 knots.
Safety First
Bill Canino and company have always lived and breathed safety. "We've never offered a plane without a parachute." Sirius follows suit with a GRS Galaxy system as standard equipment. The four-point harness also will come with an optional Amsafe airbag system. The airbag system is designed to keep an occupant's arms inside; Amsafe is currently finalizing the installation, which it custom-designs for both GA and LSA models.
Stalls straight ahead and in turns are difficult to even pull off and a snap to recover from with a touch of power. Landings are equally friendly. Bill talked me through the first landing I experienced in the airplane, and it was a breeze: in with half flaps at 75 knots, power to idle, drop to approach flaps at 65, pitch for 60. Sirius has an excellent glide.
Across the threshold and, "Don't dive for the runway," cautions Bill, then round out at 55, touch of rudder, hold it, hold it…a little thermal pop, a quick counterroll with the yoke, and there's that wonderfully quick low-speed aileron response again, and we settle on, almost like I knew what I was doing….but it always helps to have a jet jockey in the right seat.
The fiberglass gear is solid and just springy enough for a secure feel in ground handling. Toe brakes and the castering nosewheel work just fine.
What else? Easy ingress/egress with the top-hinged door (which can lock up in flight); nice appointments, including high-quality carpeting on doors, kick panels, floor, glare shield, baggage area (very large and holds 100 pounds); and attractive woven fabric seats. I guess
I had the rudder pedals too close, which bent my legs too much and made my tailbone sore. Next time, I'll have to readjust the pedals—or add a little seat padding.
For water puppies: Sirius can be rated as an LSA seaplane with add-on floats and an expanded MTOW of 1,430 pounds.
The instrument panel of my demo had a Garmin G3X EFIS display. Sirius comes standard with TruTrak EFIS with EMS, Garmin 696, Garmin SL40, Garmin GTX 327 and Zaon PCAS. Dynon SkyView or Garmin G3X are options, or SportairUSA will customize to suit.
If your dance card has room for a gorgeous, friendly, all-around solid airplane, pencil in the TL-3000 Sirius.