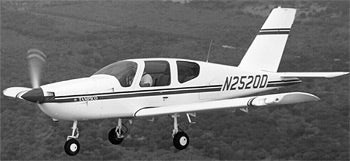 STANDARD DATA: Seats 4. Gross wt. 2,332. Emptywt. 1,428. Fuel capacity 40. Engine 160-hp Lycoming0-320-D2A.
PERFORMANCE: Top mph 127. Cruise mph 122. Initial climb rate 738. Ceiling 11,000. Range 505. Takeoff distance (50) 1,706. Landing distance (50′) 1,378.
EADS, an acronym for European Aeronautic Defense and Space Company, is Europe's largest aerospace manufacturer, and the second largest aerospace and defense company in the world. Products range from Airbus airliners to Eurocopters to Ariane rockets. EADS Socata, a wholly owned subsidiary of EADS, specializes in general aviation aircraft, with models including the Tampico, Tobago, Trinidad and TBM700. The headquarters and production are located in the Toulouse region of Southwest France.
The Tampico is the Socata entry-level airplane and has been widely accepted as a viable training platform here in the United States. With 160 hp, the Tampico doesn't exactly burn up the skies, but it does supply plenty of power to haul around two average couples and 70 pounds of baggage on full fuel. Visibility in the Tampico is virtually unsurpassed by anything else in the training category, and because of the Socata's exclusive forward positioning of the vertical stabilizer and the rear-mount horizontal stabilizer, the the aircraft can handle up to 25-mph crosswinds.