Great weather, record-setting crowds and thrilling air show acts combined to create what many called the best Sun 'n Fun in recent memory, which began on a high note for us on a demo flight with the AeroShell Aerobatic Team, compliments of team sponsor Bose. While final numbers have yet to be published, John "Lites" Leenhouts, SnF's president and CEO, said preliminary figures indicated attendance was 11% ahead of 2014, which itself was a record-breaking year. Two jet teams, the U.S. Air Force Thunderbirds and the Breitling Jet Team (making its first appearance in the U.S.), set the tone for high-powered excitement, while a host of new product introductions made this a very newsy SnF. Here are some of the items that grabbed attendees' attention.
Mooney Announces M10
www.mooney.com
A year ago at SnF, Dr. Jerry Chen, CEO of Mooney International, announced the rebirth of the moribund maker of high-performance singles, backed by a $50 million investment. This year in Lakeland, Chen introduced the company's new Mooney M10, a composite, diesel-powered two-place with optional third seat. The M10 will be offered in both trainer (M10T) and sport (M10J) configurations. (The "J" designation is an homage to Mooney's iconic M2 0J "201.") "I had a rough idea and some vision, but the vision without execution won't get anywhere," Chen told us, crediting his engineering team for making his "dream" of reviving the company and creating a new product a reality. The M10s uphold the Mooney tradition of speed and efficiency. The M10J, powered by a 155 hp Continental CD-155 diesel, will cruise at 160 knots, burning five to six gph. Certification is anticipated in late 2017, said Anthony Parker, VP, Engineering & Product Development. Prices haven't been set.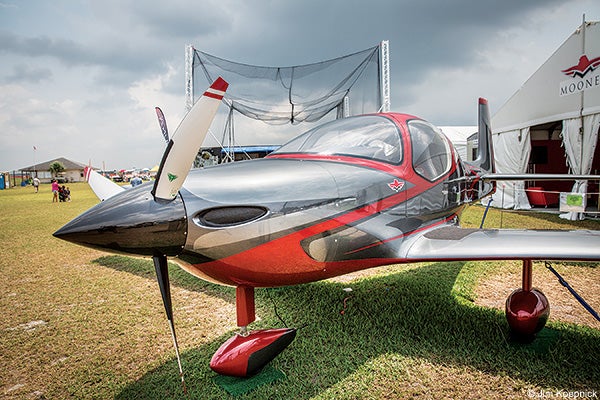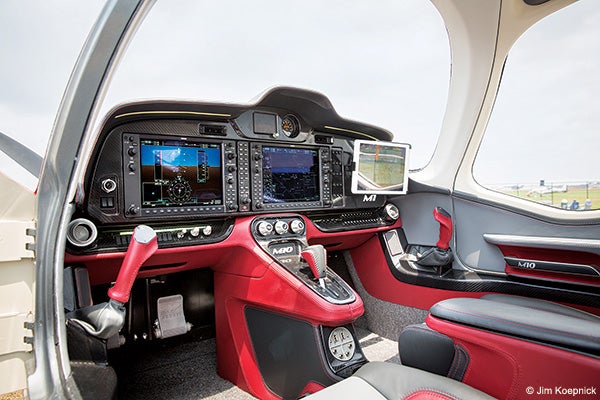 Mooney M10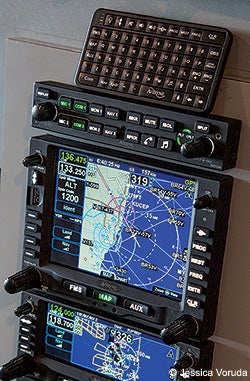 Avidyne MK10 Mini Keyboard
Wireless FMS Control From Avidyne
www.avidyne.com
Avidyne introduced its MK10 Mini Keyboard, which allows wireless control of the company's IFD540 and IFD440 FMS/GPS/NAV/COM systems via Bluetooth. The first wireless device for the IFD540 and IFD440 systems, Avidyne CEO Dan Schwinn vowed there would be more, citing the many possibilities when "integrated Bluetooth and WiFi technologies open up." Using the small keyboard (4.5×2.25×0.375 inches), pilots can perform functions including entering flight plans and waypoints, executing "Direct TO" operations, changing Pages and Tabs, and zooming the Map range in and out. The MK10 Mini Keyboard will be enabled initially via a Supplemental Type Certificate (STC) following certification of the upcoming Release 10.1 software upgrade for the IFD540 and IFD440. Avidyne also announced that the FAA has awarded Approved Model List-Supplement Type Certificate (AML-STC) for the Avidyne AXP340 Mode S Extended Squitter Transponder for installation in over 1,000 general aviation aircraft makes and models.
---
Public Debut Of Piper's New M-Class Models
www.piper.com
Barely a week after the rollout at its Vero Beach, Fla., factory, the public got its first look at Piper's new M-class models (M350, M500 and M600), which offer "additional payload and exceptional range, increased options, more progressive avionics, and more contemporary interiors," said Piper CEO Simon Caldecott. The 230-knot, piston-powered M350 ($1.15 million), a derivative of the Mirage, incorporates a hypoxia recognition system and emergency descent mode. The 260-knot M500 ($2.26 million), a derivative of the Meridian turboprop, will also incorporate more envelope protection features through its G1000 panel. The M600 ($2.82 million) is a new M variant, featuring a Garmin G3000 panel, clean sheet wing and a 700-pound useful load advantage over the M500. The M350 and M500 are available now, and certification of the M600 is expected by year's end. Piper will continue production of the Matrix, its entry-level M-class aircraft.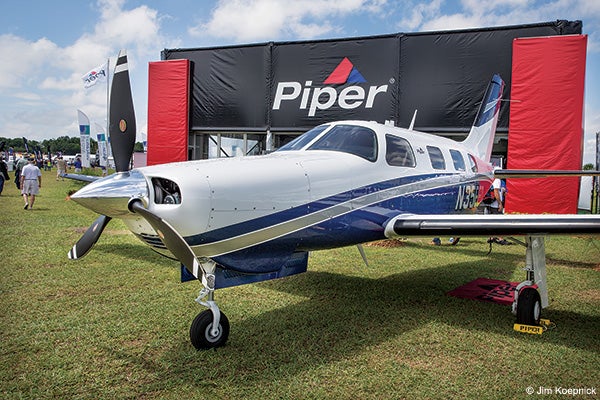 Piper M350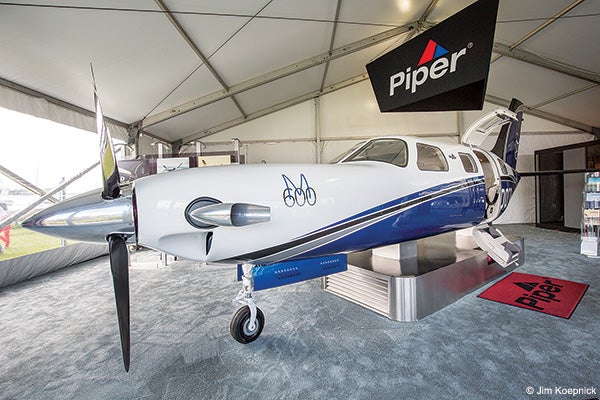 Piper M600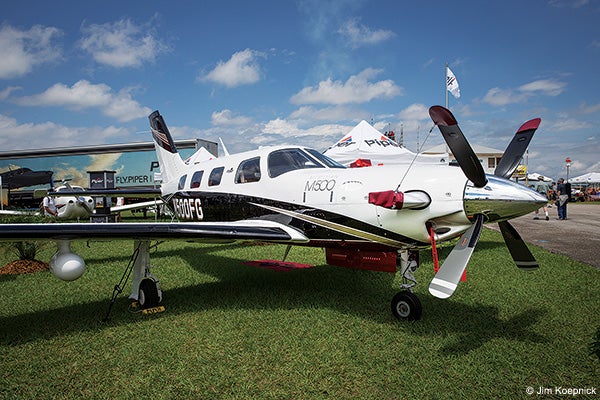 Piper M500
RANS Unveils New Courier
www.rans.com
RANS Aircraft debuted its updated S7S Courier, its popular two-place tandem bush plane, and designer and company founder Randy Schlitter showed off the aircraft for us on a flight from Paradise City, SnF's ultralight and LSA headquarters. The redesign features a lighter and stronger stick control system and reconfigured landing gear, as well as a simplified and lower weight fuel system for faster engine installation. A header tank and redesigned cowl also allow for installation of injected engines, but Schlitter says the company isn't advocating customers take advantage of the capability. "We like carbureted engines," he said, citing their economy and simplicity. We found the non-injected Rotax 912ULS in the demo aircraft did just fine. Complete airframe kit less firewall forward is $27,500, and the company will offer the aircraft as an LSA as well, Schlitter said.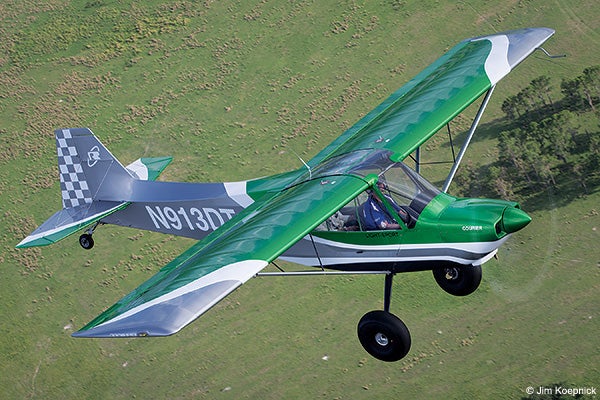 Rans Courier
---
Aspen Adds AOA Indicator
www.aspenavionics.com
Aspen Avionics introduced its Evolution Angle Of Attack (AOA) indicator incorporated into its retrofit flight display software. James Buck, director of flight
operations, showcased the AOA on the Entegra panel in his 2003 Cirrus on a demo flight from Plant City Airport. Buck noted other AOA indicators recently brought to market require a separate display, and don't adjust for whether the aircraft is flying with flaps up or down, which obviously impacts stall speed. Aspen's AOA display can be presented in several ways on its PFD or MFD, with two indicators simultaneously presenting AOA data for flaps up and down configurations, changing colors from green to red as a stall approaches. Seeing the difference between the two stall speeds vividly demonstrated the benefits of displaying the appropriate AOA value for the aircraft's configuration. Still in a beta version, Aspen anticipates the AOA function will be available this July.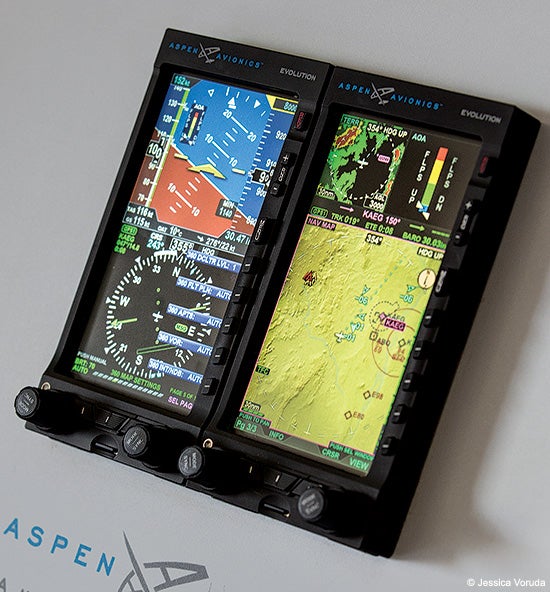 Aspen Evolution Angle Of Attack
Carbon Cub EX-2
www.cubcrafters.com
CubCrafters, maker of the kit-built Carbon Cub, debuted its Carbon Cub EX-2, the second generation of its modern re-creation of Piper's classic bush plane. The company showcased the updated design, aimed at lightening lateral forces needed to control the aircraft, at its Camp CubCrafters at South Lakeland Airport (X39). The EX's flat control surfaces have been replaced by G-Series ailerons, flaps and tail feathers in the EX-2, imparting much lighter, cleaner and crisper control authority in all axes. On a flight with Scot Warren of distributor Warren Aircraft, we found the EX-2's flight controls nimble while retaining a feeling of authority and stability, whatever direction the stick is moved. No question in our opinion that the EX-2 represents a real improvement in the Carbon Cub's handling. The company plans to offer an EX-2 LSA, as well as kit version, though the former has about a 500 pound lower MTOW per LSA weight limits.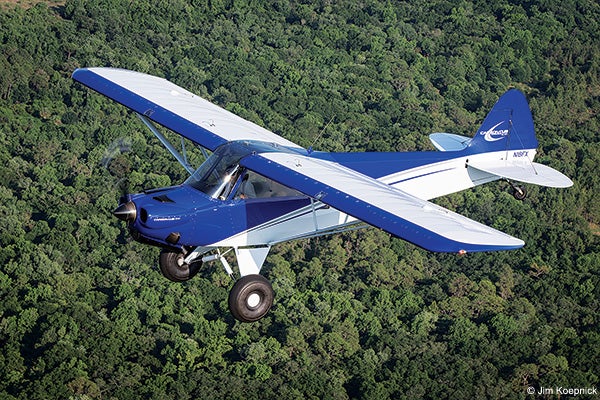 Carbon Cub EX-2
Aviat's Reversible Prop Husky
www.aviataircraft.com
Aviat Aircraft unveiled the first piston-powered, reversible propeller certificated aircraft, created via a hydraulic/electric propeller hub made by Flight Resources, swinging an MT prop. "The hub is electric and the control is near the throttle, and within a certain RPM and manifold pressure range, you can change the pitch of the propeller," Horn explained. The company has an STC on the system, installed on an amphibious Husky. An equipped aircraft operating on land can be brought to a stop at a greatly reduced distance, and on water, the plane can be maneuvered, or backed into a dock slip, even in strong currents. The cost of the reversible propeller system is "about $30,000 for a retrofit" application, Horn said, and likely a few thousand less when installed on a new aircraft.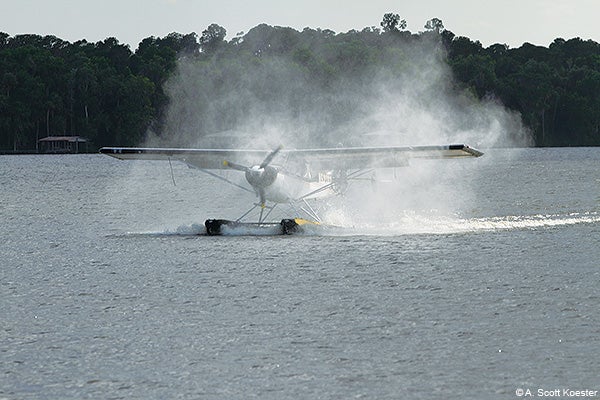 Aviat Husky
Gemini Diesel Engines From Superior
www.superiorairparts.com
Superior Air Parts announced plans for a family of diesel engines, under the Gemini name, ranging in power from 100 to 600 hp. Superior will initially develop powerplants in the 100 to 125 hp range for LSA applications. Company CEO Tim Archer said, "We anticipate having preproduction engines within 90 days." The Geminis' cylinders each have two opposed pistons, with combustion occurring between them as the pistons simultaneously move toward the center of the cylinder. Superior is in discussions with OEMs of experimental aircraft and LSAs, who would likely first offer Gemini engines as a powerplant option, Archer said. The company plans to make the engine overhaulable (2000-hour TBO), unlike some current aviation diesels that require replacement after reaching their life limit. Target price for the engine in this power range is $24,900. Development of diesels in the 300 hp range, its next goal, is "down the road," Archer said.
Just's SuperSTOL Gets Stretched
www.justaircraft.com
Just Aircraft debuted the SuperSTOL Stretch XL, a lengthened version of its SuperSTOL short takeoff and landing, two-place high wing. "The only difference is two feet [of added length] in the fuselage, and about six inches on the nose to accommodate larger engine mounts," said company test and instructor pilot Harrison Smith. "Everything else is the same." The Stretch was created specifically to accommodate Lycoming O-320-series and UL Power 520-series engines of 150-160 hp. Equipped with a UL 520 engine, the Stretch XL has a rate of climb of about 3,000 fpm, cruises at 109 mph at 2600 rpm and has a stall speed in the low 30s, Smith said. The aircraft can be built as an experimental and will be offered as an LSA, and the factory has a builder-assist program. Firewall aft price of the Stretch XL kit is $44,300.
Flight Design's C4 Takes Off
www.flightdesign.com
On the heels of its first flight two weeks before SnF, Flight Design showcased a cabin mock-up of its eagerly anticipated C4, the composite four-place high wing, based on the company's popular CT sport aircraft line, currently undergoing certification. Company CEO Tom Peghiny had just returned from Europe where he had overseen the first flight. "It was very fulfilling to see it fly so well," Peghiny said, recounting the flight test program, and at SnF "we've had great response" from attendees, he added. The C4 will be powered by a Continental IO-360AF Alternate Fuels engine, and will feature a glass panel and integrated full airplane BRS parachute system. EASA Certification will come first, expected in early 2016, with FAA certification to follow "a few months later," Peghiny said. Flight Design has 44 U.S. orders for the aircraft, with a target price of $250,000.