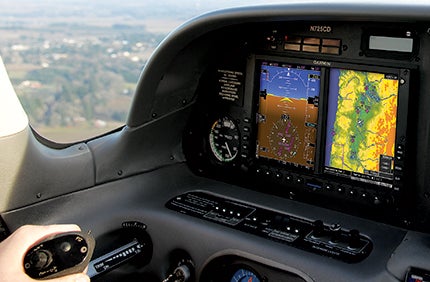 Garmin's G600 glass-panel system replaces the typical "six-pack" flight instruments in airplanes such as this early-model Cirrus SR22.
Just a few years ago, state-of-the-art instrument panels for GA aircraft included a traditional "six-pack" of flight instruments connected to a panel-mounted moving-map GPS. Those panels look dated in comparison to modern glass panels, which replace all flight instruments with a single primary flight display (PFD), and provide moving-map and other functions on a companion multi-function display (MFD).
Garmin believes many owners using older systems would like an upgrade to get the benefit of a glass panel in an existing airplane. Its solution is the G600 system, which consists of 6 to 14 line-replaceable units (LRUs), depending on the specific installation, including a GDC 74A air data computer, GRS 77 attitude heading reference system (AHRS), GTP 59 temp probe, GMU 44 magnetometer and at least one WAAS-capable GNS 480, CNX 80, GNS 400W– or GNS 500W–series GPS. (Garmin has no plans to support non-WAAS or non-Garmin GPS hardware.) The most visible component of the system is a GDU 620 display that combines two vertically oriented, 6.5-inch, diagonal LCD units in a single bezel. The display on the left is configured as a PFD, and the one on the right as an MFD. Hard-coded buttons and knobs are available on the lower edge of the bezel, while software-coded buttons are available on the left and right edges.
While I haven't yet had a chance to fly an airplane with a G600 installed (at this writing, Garmin has it in only a few airplanes), I have been able to spend some time in a G600 simulator at Garmin's Olathe, Kans., headquarters, read the manuals and interview two pilots who've flown with it.
The PFD offers a presentation quite similar to that on a G1000 glass panel; it features a digital attitude indicator on top and an electronic horizontal situation indicator (EHSI) below, and is surrounded by tape-style airspeed, heading and altitude indicators on the left, top and right edges of the display. The EHSI indicates both horizontal and vertical deviations from a primary navigation source (which can be a GPS or VOR/localizer) and bearing pointers for a secondary navigation source (GPS, VOR/localizer or ADF). The G600's PFD doesn't provide an inset map like the G1000; because the MFD is right next to the PFD in the same bezel, it really isn't necessary.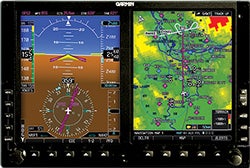 The G600's GDU 620 display provides a complete PFD and MFD in a single bezel sized to fit most GA panels.
The MFD normally shows a moving map, with user-configurable options for what features (terrain, roads, airways, navaids, etc.) are displayed, but it also can be configured to display terrain and warning system (TAWS) data, instrument procedures (both Jeppesen and NACO charts are available as options), Garmin's SafeTaxi runway diagrams, XM Satellite Weather (with an optional GDL 69 satellite radio receiver) and traffic (with an optional GTX 300 Mode S transponder). Unlike the higher-end G1000 (which is typically built into new airplanes, though the company also sells it as an upgrade for some Beech King Air models), the G600's MFD doesn't display engine-performance data, and there's no button for a reversionary mode (which puts engine and PFD data on both displays on a G1000).
Operationally, there are some significant differences between the G600 and G1000, most notably NAV/COM tuning and flight-plan/waypoint data entry, all of which is done on the attached GPS. Functionally, the result feels more like Avidyne's Entegra than the G1000. Users already familiar with the GNS 400/500 series or GPS 480 should have a very short learning curve with the G600.
The G600 supports a variety of autopilots, including most S-TEC, Century, Bendix/King and Rockwell Collins models. The system supports GPS roll steering, either directly or by sending appropriate heading signals to the autopilot. In some cases, altitude preselect and flight director modes will be supported (potential customers should call Garmin to discuss specifics).
According to Garmin's Jim Alpiser, the installation of a complete G600 system on an airplane that already has at least one compatible GPS installed should require approximately 70 shop hours, though this will vary depending on the autopilot and other installed options. Garmin expects that most owners will choose to retain their existing airspeed and attitude indicators and altimeter as backup instruments, moving them to the side to make room for the GDU 620. In some cases this may require replacing vacuum/pitot tubing when the instruments are moved. The total weight of a basic G600 system is "about 11 pounds," according to Alpiser, though this can vary from installation to installation. Taking into account the weight of older instruments replaced by the GDU 620, Alpiser says the overall change in weight is usually very small: "In some cases, after taking out older gyros, you may actually wind up weighing less than when you started."
Garmin is handling certification of the G600 through an STC and approved-model list that currently covers some 785 fixed-wing airplane types, ranging from piston singles through turbine twins. According to Alpiser, helicopters aren't supported, "though at least one customer is attempting to get a field approval." Typical electrical power consumption is 55 watts, which Alpiser says may require a larger alternator on some aircraft. There's no built-in battery backup to provide standby power if the alternator fails.
Planned future options include support for TAWS-B, onboard radar, Honeywell and L-3 Communications traffic display systems, and eventually ADS-B. Alpiser also told us that Garmin is "optimistic" that some form of synthetic vision will eventually be offered on the G600.
Base price for the G600 is $29,995, and keeping the built-in databases up-to-date requires subscriptions that start at $295 and add up quickly for such options as Jeppesen instrument charts and XM Satellite Weather. The hardware is covered by a two-year warranty. According to Alpiser, "More than 600 authorized Garmin service centers are at your service. Most repairs can be handled through single-box repair or swapped out for replacement the next business day. We also have spares strategically located worldwide." Browse www.garmin.com or call (800) 800-1020.