Why am I enjoying flying this bird so much?
That's the question that pops into my mind, 10 minutes into my Magnaghi Sky Arrow 600 demo flight with Hansen Air Group's Mike Hansen. Clear of the hectic airspace of Lakeland, Fla.'s, busy Sun 'n Fun event, I cage my eyeballs straight ahead and reframe the question: What's cool about this airplane? What makes it stand out?
First answer: The unobstructed view is 90% sky and puffy-white cotton balls. Who wouldn't put "great view" at the top of their flying gratitude list? Far below, Florida's verdant green flats stretch out in all directions. Tiny cars roll up the highway like ants. White egrets glide in for landings on one of the area's many lakes. Far to the west, Tampa's skyscrapers pierce the sky. This is severe-clear, big-picture flying at its best.
Second answer: I feel like I'm in a P-51 Mustang fighter. Two reasons for that: It's a tandem cockpit, with Mike Hansen right behind and above me, and the airplane is a pusher. Control setups like this add to a Top Gun cockpit feeling, and Sky Arrow doesn't disappoint. The foam-padded stick grip mounts along the right side rail, while the throttle lever group (with choke and excellent friction thumbwheel) rests on the left rail panel. It's a kick-back, armchair-relaxed setup that feels, well, kinda wonderful. I wish every airplane were rigged like this.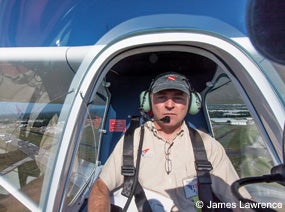 Mike Hansen demos the tandem-seat Sky Arrow 600 light-sport "fighter."
You climb aboard, settle into the well-padded, comfortable front seat, buckle up the five-point harness, rest your arms naturally onto the side rails, and bam, the controls are right there to fill your hands. Fill your hand, Ned Pepper! (That's for you True Grit fans).
The large-tube rudder pedals, cockpit-adjustable with a center-mount pulltoggle for a wide range of pilot sizes, feel solid under the feet. Disc brake levers for the sturdy, bowed composite main gear sit on the right-side rail. I don't recall ever seeing this on any other LSA: They're split levers, meaning the left lever brakes the left wheel, and the right, the right.
I expected split hand brakes to feel a tad awkward in ground handling, but no worries. Just pull both levers back to brake or let one relax a touch for differential steering. And, with that big movable tail back there, rudder-only steering is solid above 10 knots or so, anyway.
All in all, the fit, Sky Arrow's finish and feel are top quality. The downward cockpit rake of this well-established (1992) flight-trainer/all-purpose workhorse gifts the front pilot with that expansive, generous view over the sloping nose, reminiscent of a sailplane.
---
And, as with a Czech L-39 Albatros jet trainer, the rear seat rises several inches above the front seat. That affords an excellent view from the back, too, another plus unknown to those of us who have enjoyed typical American tandems like Mr. Piper's Cub or the Decathlon. Here, the rear-seater (think instructor) is able to see what the front-seater (think student) is doing with little neck craning. It's not as expansive a view as from the front, but there's no "in-the-cave" feeling back there. It has generous rear side windows that add excellent down and back viewing, too.
Go Ahead: Get Pushy
Back to that distinguishing feature of the Sky Arrow: its pusher configuration. There's no whirring prop to look through, for one: Nothing interferes with that splendid view. The 100 hp Rotax 912 lives inside the super-clean engine cowling mounted as the top of the trailing edge.
In flight, the deck and nose are around 15 to 20 degrees below the horizon, so you feel like you're way out in front of the airplane…and you are. "First-timers tend to climb at about 350 fpm when they think they're flying straight and level," says Mike Hansen. "They're used to a big GA-style panel blocking their forward view."
Enough Top Gun daydreaming: Let 's do some air work. First and foremost, Sky Arrow handles beautifully. Its control feel is crisp, quick, responsive and light—not twitchy, but always fast, solid and suh-weet, thanks to the control tube linkage. Flick your wrist left or right, and you're rolling. I did some cranking and banking just for the fun of it.
Control forces between stick and rudder pedals are nicely balanced. And, although the bird is agile, it's plenty forgiving for a student pilot, and plenty sporty for experienced pilots, too. You can even steer it around pretty well with rudder only.
A caveat for all skill levels: You do need to use rudder. This is no feet-on-floor spam can. If you're even slightly out of whack, the airplane lets you know with added wind noise. There's a touch—not a lot—of adverse yaw rolling into turns. You do want to lead with the inside foot, and you'll get that clear feedback when you don't. That's great for flight training and sharpening veteran skills alike.
Maybe it's the narrower fuselage compared to the side-by-side two-seaters I usually fly, but it seemed I could feel yaw more easily. I tend to have a heavy right foot (decades of gas pedal pushing?), and every time I heard that windier, "draggy" sound, I knew to lighten up on the pedals. Like the stick forces, the rudder pedals bring a quick and snappy response. I was overdoing it until I imagine I was petting a panther: gingerly, brother, gingerly.
---
Quit Stalling Around
Mike Hansen demonstrated, then talked me through some stalls with flaps (0, 10, 20 and 30 degrees, electric-toggled), and power on and off. As expected, the thick-camber wing holds onto flight like a cat to a high tree branch. It mushes along, burbling warnings until it gently drops the nose and maybe a wing…but with good manners. Relax the stick, and you're instantly flying again, typical of most LSA.
The one-pilot-width panel, although narrower, has plenty of room for a robust avionics kit: Dynon SkyView 10-inch EFIS center stage, Garmin SL 40 Com radio and a Sigtronics Sport 200S intercom. There's also analog trim, engine rpm, airspeed, altitude and directional compass.
Magnaghi provides lots of factory options, too. None is likely better known than the company's "Disabled Pilot Kit," a left-side hand control combining rudder and throttle so pilots can fly without using their feet. Hansen Air Group, Sky Arrow's distributor for the Southeast region, has made these specially equipped LSA available to Able Flight (www.ableflight.org), an organization I've often written about. Charles Stites heads up that non-profit, which awards full sport-pilot training scholarships to soldiers and civilians who have been wounded or injured and lost the use of one or more limbs. It's a wonderful program, and Hansen Air Group has been supporting it, from the beginning.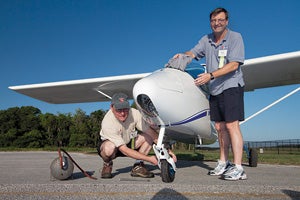 Mike Hansen, left, and fellow airline pilot and cousin Jeff Hansen spiffy up the Sky Arrow before James Lawrence's demo flight at Sun 'n Fun 2013.
Are We Done Here?
It seems I've hardly scratched the surface. Let's see: handles like a sweetheart. Solid, rugged construction…oh, forgot to mention the trailing link nose gear. Its rubber-bumped shock absorption gives Sky Arrow a robust rough-field capability. What else? You wouldn't expect much baggage room, but surprise—there's a good-sized compartment below the rear seat. Rotate it forward and load up.
Speaking of loads, as an LSA, the airplane's a mite short on empty weight useful load at 480 pounds. With full fuel (29.5 gallons or 177 pounds), that cuts you to just 303 pounds of cargo. That's not a knock for flight school use, where lower fuel loads typically get the job done just fine. For longer cruising, you're legally limited to two lightweights in the seats or a solo pilot and baggage.
The airframe is rated to 8Gs positive. Climb rate is solid. Even in a 70-knot cruise climb, we indicated 750 fpm. Book is 1,100 fpm at best climb speed, and I bet that's right. Sky Arrow isn't a slippery airplane. Still, it serves up a 95- to 100-knot cruise at 75% (I saw 95 at 5,100 rpm with a compromised cruise/climb prop), just below 40-knot stall and a 108-knot cruise at 5,000 feet. Coupled with a range of six hours or around 600 miles, that should massage any cross-country kinks in your system.
---
Brought back from bankruptcy oblivion last year, the airplane is produced by new owner Magnaghi Aeronautica, a $120 million aerospace company and an aviation subcontractor for giants including the Italian military, Boeing, Bombardier (Rotax) and Piaggio since 1936.
A final note: Several hundred Sky Arrows continue to serve in a variety of roles including law enforcement, environmental research, surveillance patrol and as news eye-in-the-sky. Lots of gear can be cobbed onto the belly and nose as compared to what choppers can—at a fraction of the cost. It has been certified in several categories: S-LSA (#21), European J-VLA, FAA part 23. There's even an Experimental Amateur Built (EAB) kit, and a UAV version is under study.
Sky Arrow is a seasoned, proven S-LSA that joins the chorus of quality-made, high-personality sport aircraft available today. I was pleasantly surprised—I bet you will be, too.
Pusher Or Tractor: Which Is Better?
In propulsion, each has clear advantages, but it comes down to a matter of how the designer applies it. For example, many amphibs are pushers, since keeping the prop as far away from water and the cockpit as possible minimizes water spray erosion.

The Sky Arrow as a pusher gains superb forward visibility and no prop strike risk: big pluses in flight training.

Generally, a tractor prop in clean air can deliver around 92% of engine power into usable thrust. A pusher interacts with airframe drag, cutting that efficiency to 87%. Both camps cite cherished viewpoints:

Pusher
• More efficient prop blast: no prop-blast drag from the fuselage and wing root
• Enhanced wing efficiency: The wing sees only smooth relative wind.
• Superior visibility
• Improved slow-speed control: The prop-blast is closer to tail surfaces.
• Fuel is behind the crew, so leaks and engine fires will flow aft…although tail feathers are in more immediate fire danger.

Tractor
• Improved L/D from prop-blast (faster than relative wind) over central wing.
• In a bad crash, the tractor engine can absorb much of the impact. A pusher's engine mass can smash forward into the cockpit. (Note: There's no case history where this has ever happened.)
• More passenger protective structure in front.
• Less prop damage potential from debris thrown up by wheels.
• Air cooling advantage: Pushers don't have cooling prop-blast—it's less of a factor with Rotax and other liquid-cooled engines.
• Lower prop noise, prop drag and vibration: Tractor props rotate through clean air. Pusher props turn in and out of the wing/ fuselages' laminar flow. Sky Arrow's prop also sees disturbed airflow from the engine cowling, pylon and fuselage's top half.
• Lower potential yaw and pitch changes from varying power settings. Pusher prop blast is closer to the tail feathers and more impactful.

These arguments are just the tip of the iceberg. You'll find a lot of debate on tractor vs. pusher online. Bottom line: At LSA speeds (120 knots and less) the relative advantages are likely negligible. Mission specifics (i.e. amphib vs. long range cruise) ultimately determine the designer's choice.