The best way to experience a Howard DGA is to imagine it from the eyes of a 1930s pilot, who would have witnessed years of increasingly sophisticated single-engine, cabin-class aircraft. For a decade, airplanes had been growing in size and speed. Stinson Aircraft had introduced an endless stream of Reliant variants to the market to compete with cabin Wacos, Fairchilds and Bellancas. Most were powered by Wright and Jacobs radials, which ranged from 250 to 285 hp; pilots of the era were astonished by the big numbers showing up on their ASIs.
With his first production airplane, the Howard DGA-8, Benny Howard entered the fray with an advantage few designers could match, a reputation for speed. In 1935, a year before the DGA-8 was completed, Howard's designs triumphed at the National Air Races. His airplanes won all three prestigious races, thus earning the Bendix, Thompson and Greve trophies. The 1935 races were playfully dubbed the "Benny Howard National Air Races."
Howard, along with friend and collaborator Gordon Israel, had previously coined the term "go-grease" in reference to what a fast airplane required. Howard's best-known racer, Mister Mulligan, apparently received a liberal application of their speed lubricant. Mister Mulligan was the proverbial quantum leap for Howard and, within a year, based largely on that design, he would bring the DGA-8 to the market. This Wright-powered Mister Mulligan look-alike was designed to capitalize on Howard's reputation for quickly moving an airplane through the air.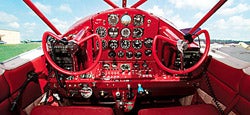 After a 15-year labor of love, Ronnie Rippon completed the restoration of his dream plane, a Howard DGA-15P. His handiwork on both the interior and exterior has preserved the aircraft's original luxurious and romantic feel.
In 1937, the Howard Aircraft Corporation of Chicago was born. Later that year, the company began offering the DGA-9, with a 285 hp Jacobs L-5 powerplant. As was manufacturing custom at the time, each Howard airplane was painstakingly custom built, and from 1936 to 1939, approximately 30 were completed.
It's claimed that early in his career, in the midst of Prohibition, a young and poor Benny Howard accepted a Houston, Tex., bootlegger's offer of a good sum of cash if Howard could successfully modify the bootlegger's airplane to haul 16 cases of liquor. Howard did his work so well that the rumrunner reportedly declared his newly altered airplane a "Damned Good Airplane." From then on, beginning with his first design, the DGA-1, every Howard was known as a DGA.
---
Among the best-known and most sought-after Howard planes was the DGA-11 of 1937. This was the first time Howard merged the 450 Pratt & Whitney R-985 to one of his airframes; the results were spectacular. Pilots were reaching cruise speeds of approximately 200 mph. The well-to-do, including movie stars and corporations, were eager to plunk down the then-exorbitant $17,685 for the immensely popular DGA-11. It was an airplane that only needed a little tweaking to gain greater capacity and range. That version was to be the Howard DGA-15P certified in 1940.
The big DGA-15P has three belly tanks for fuel, a design choice made by Howard for his earlier airplanes. Howard's belly tanks are far easier to fuel than the competition's wing tanks, because there's no need for ladders. The R-985 Wasp Jr. requires an oil tank capacity of eight gallons and is rated at 450 hp for takeoff and 400 hp for continuous cruise at 2,200 rpm at 5,000 feet.
Like the Howards that preceded it, the DGA-15P is a broad-shouldered airplane that visually conveys a sense of purpose—to comfortably move several people at high speeds. But even with its large powerplant, thick cabin-area profile and dual-strut, braced wing, the Howard carries its size and weight gracefully. Perhaps that's because its front-to-rear taper came from the mind of a man whose overall design principle for his cabin airplanes was that of speed plus comfort. If an airplane can have great heft and still be sleek, it is the Howard DGA.
Best seen on green grass, and through the eyes of a pilot of the Golden Age of Aviation, the Howards reveal themselves as magnificent and advanced machines, beautiful not because of their size but because of how that size was achieved. Those in use today also flew over 60 years ago, carrying passengers on missions of business and missions of war. Today, they fly on missions of history and as a labor of love.
RONNIE RIPPON'S HOWARD DGA-15P
Back in 1952, Ronnie Rippon was using a Howard to haul live turkeys. Just a few years out of the Navy, and using his GI Bill benefits to learn how to fly in a J-3 Cub, Rippon was one of many post-WWII pilots who sought just about any means to earn a living in an airplane. To the 24-year-old, the newly purchased Howard was just a tool; the first in a succession of flying tools. What he didn't know was that he would go on to own a Howard for nearly all of his adult life, and would eventually become an award-winning restorer of several of Benny Howard's airplanes.
The first few years were hardly an auspicious start for Rippon's aviation career, so he headed to Illinois for a steady paycheck as a corporate pilot flying a Twin Beech. That was the beginning of nearly three decades of business flying in the left seat of a Twin Bonanza, a King Air and finally a Lear jet, before his retirement in 2000.
---
Even while flying successively more sophisticated airplanes, with someone else footing the bills, Rippon kept returning to the stately round-engine singles designed by Benny Howard and Gordon Israel. In 1962, he bought his second Howard, and from that time on, he would never be without one. He recalls its condition when he discovered it in California, "When I got it, it was flyable, but it had been in storage for 25 years out in Santa Paula, Calif. The wings were off, and the gear was off, and the propeller was on a dolly. I went out there with five guys and put it together, and I ferried it home. It used a gallon of oil an hour on the way home; but it ran smooth."
Looking for his dream Howard, Rippon decided he would need to start almost from scratch. "I picked up three more Howards in pieces," he explains. That was the beginning of a 15-year project that culminated with the finished Howard DGA-15P NC1227 in 1999.
During the decade and a half he spent restoring NC1227, Rippon continued to work as a full-time corporate pilot, spending most of his time off on the project. He owned a Cessna 140 and a Stinson 108, both of which kept him up to speed on old tailwheel aircraft until the Howard was ready. He was so fond of the Howard paint scheme that he painted both the Cessna and the Stinson to match. After completing the restoration in 1999, he flew the Howard to Oshkosh, Wisc., where it won Grand Champion Custom Classic honors, the same award his previous Howard restoration won 20 years earlier.
Though he now owns a Bonanza, the big Howard is the machine in which Rippon and his wife Ellen love to travel. And he's quick to point out that without Ellen's patience and support, he'd have never attempted the restoration that has resulted in an airplane he considers so comfortable that he compares it to a flying armchair—a fast flying armchair.