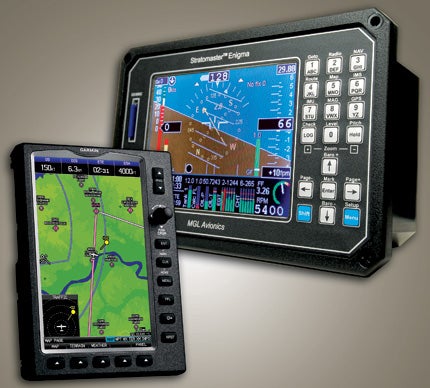 From front to back, the GPSMAP 696 from Garmin and the Stratomaster Enigma MKII EFIS from MGL Avionics
Once upon a time, intrepid pilots rapped with their oil-stained, gloved knuckles on balky steam gauges; needles quivered unstuck, and all was right across the skies. Then somebody got the bright idea that you could put aviation instrument data on those cool little computer-screen thingies, and the age of the glass cockpit was upon us quicker than you could say "bank loan."
The page-two part of this story may be how quickly LSA and experimentally built cockpits have taken the lead in the recent migration to (relatively) low-cost, super-whiz-bang electronic gizmos. The prime driver here is that FAA certification isn't required for LSA, as it is for GA aircraft. That has opened the floodgates to a broad and deep range of sophisticated, compact, affordably exotic instruments from literally scores of companies.
Today's LSA glass displays cost a fraction of what similar GA instrumentation did just a few years back. It doesn't take Nostradamus to see that, one day, all-electronic panels will be commonplace in all aircraft: They almost are already!
You know you've arrived when you can pop off the tarmac on a balmy day, climb to 5,000 feet, punch in GPS destination, flick on autopilot, dial in satellite or MP3 tunes and kick back. Now that's big bucks–style cruising on a Big Mac budget—almost. An EFIS panel, GPS and autopilot can purloin your purse of several G-notes in a hummingbird's heartbeat. Still, many who take delivery of their shiny new LSA with nothing but a handheld radio are soon haunting avionics shops or making computer-mouse skid marks to shop for the hottest of the latest superhot stuff!
Advanced Flight Systems' AF-4500EF Advanced Deck (left) and Dynon's FlightDEK-D180 (right)
EFIS Envy
If your buddy has a panel that turns his/her Aerotrekker into a Star Trekker, then you just gotta upgrade, right? Acronym alert: EFIS stands for electronic flight information system. EMS means engine monitoring system. PFD = primary flight display. MFD = multi-function display.
Advanced Flight Systems
AFS offers a variety of EFIS decks, including the new 8.4-inch AF-4500EF Advanced Deck backlit display. Any AFS screen can be configured as an EFIS, EMS or both. System features include moving map, XM weather, GPS and more. All AFS systems have full-featured voice-alert systems. Price: $5,947. Contact: www.advanced-flight-systems.com.
---
Grand Rapids Technology's Horizon HX (left) and Sport S200-HS PFD (right)
Dynon Avionics
You'll see this industry leader's dual-screen EFIS devices, EFIS-D100 and EMS-D120, in most well-equipped S-LSA. The EFIS-D100's seven-inch screen shows attitude, airspeed, altimeter, HSI, gyro-stabilized magnetic heading, vertical speed, turn/bank, etc. Price: $2,400.

AvMap's EKP-IV Pro portable navigation system
The EMS-D120 replaces 16 separate steam gauges (such as rpm, EGT and CHT) and can monitor up to 27 engine sensor points. Price: $2,000.
Limited panel space? The FlightDEK-D180 combines EFIS and EMS into one efficient powerhouse package, and you save a few bucks, too. The seven-inch split screen can be configured in several ways. Price: $3,200.

ATC 4401 Mode C transponder from Becker Avionics
Dynon's SkyView system for experimentals and LSA is a next-generation offering with two bright, dimmable screen sizes: the 10-inch SV-D1000 and seven-inch SV-D700. SkyView's comprehensive display has ADAHRS and EMS modules, an autopilot, a GPS receiver/antenna puck, a backup battery, synthetic vision and top-down terrain. Optional moving-map software, NAV/COM and ARINC 429 data bus will be offered soon. The system will offer flexibility in components and remain fully upgradeable as new capabilities are developed. At this writing, prices weren't available. Dynon will accept trade-ins of earlier-model Dynon EFIS and EMS systems. Contact: www.dynonavionics.com.

Icom's IC-A210 air-band transceiver
Garmin
Future-tech leader Garmin keeps putting the heat to the competition with its G3X upgrade kit, which integrates the GDU 370 or GDU 375 MFD into a dedicated PFD or PFD/MFD display. Price: $9,995.
A hot MFD that's popping up in a lot of LSA is the portable, kneeboard-sized (seven-inch) GPSMAP 696 unit that the GDUs above are built around. It includes moving map, HSI, instruments page, terrain alerts and more. Price: $3,595. Contact: www.garmin.com.
---

PM3000 stereo intercom from PS Engineering
Grand Rapids Technology
Sport S200-HS PFDwith AHRS ($2,800) and S100-HS MFD ($1,800). Both can be outfitted with optional 8.4-inch screens, as well as EIS (engine information system), internal GPS, XM weather and more. If synthetic vision is on your shopping list, then the Horizon HX dual PFD/MFD with engine monitoring deserves a look. Price: $13,350. Contact: www.grtavionics.com.
MGL Avionics
More turf means easier viewing. The horizontal, 5.7-inch Stratomaster Enigma MKII with integrated GPS unit is packed with features: voice terrain warning, nine programmable screens, moving map, engine monitoring, checklists, weight/balance calculator, etc. Price: $2,350. Contact: www.mglavionics.com.

EFIS & EMS Integra TL-6624 from TK Elektronic
TL Elektronic
The EFIS & EMS Integra TL-6624 multifunctional system monitors flight and engine with primary flight and engine instruments, HSI, 3-D terrain mapping, headphone voice alerts and more. Price: $3,190. Contact: www.tl-elektronic.com.
TruTrak Flight Systems
TruTrak's EFIS SG panel-mount display shows flight instruments such as HSI, airspeed, altimeter, artificial horizon, gyro, heading and altitude bugs, GPS, airspeed warning and more. Upgrade models include built-in single- or dual-axis autopilot and GPS steering. Price: $3,800. Contact: www.trutrakflightsystems.com.
UAV Navigation
Spain-based UAV Navigation offers its EFIS, an integrated PFD and HSI, in a 3.5-inch, panel-mount screen. The PFD screen displays all flight information such as altitude, airspeed, etc. The HSI shows standard two-needle navigation, including GPS-based HSI, ADF, TAS and more. Check this: Everything is touch-screen-controllable! Price: about $5,000. Contact: www.uavnavigation.com Autopilots, Transponders, Radios & More.

The prime driver here is that faa certification isn't required for lsa… that has opened the floodgates to a broad and deep range of sophisticated, compact, affordably exotic instruments…

---

TruTrak's DigiFlight II VSVG autopilot fits standard 2.25-inch round instrument holes and also can be equipped as a panel mount.
AvMap
The EKP-IV Pro portable, moving-map, 12-channel GPS comes with a seven-inch screen, aircraft checklists and aircraft systems integration capability such as autopilot. The device is Jeppesen NavData–capable and offers storage for 15 flight plans of up to 100 legs each. The display has vertical or horizontal orientation, turn-by-turn vocal instructions, aircraft checklists, TAWS and much more. Price: $1,499. Contact: www.avmap.us.
Becker Avionics
This Austrian company's solid-state ATC 4401 Mode C transponder is a 2.25-inch panel mount that offers VFR/IFR operation up to 15,000 feet. Price: $1,895. Becker's AR 4201 VHF/AM transceiver also mounts in a 2.25-inch slot. It offers 99-channel memory. Price: $1,295. Contact: www.becker-avionics.com.
Dynon Avionics
Autopilot functions come with every Dynon EFIS or FlightDEK: Just install servos for each control axis ($750 each) and—presto!—you've got a full-featured dual-axis autopilot. Having two Dynon EFIS devices provides welcome redundancy, as either can provide autopilot functions. Price: $450 (AP74); $1,500 (AP76). Contact: www.dynonavionics.com.
Garmin
The SL30 packs a 760-channel VHF COM transceiver and a 200-channel VOR/LOC/ GS NAV receiver with DME display into one small space. This is the only panel-mount NAV/COM with a standby frequency monitoring feature, providing the capability of two NAV/COMs in one. Price: $3,729. Contact: www.garmin.com.
Icom
Icom's IC-A210 is a panel-mounted, air-band transceiver with a large, bright OLED (organic light-emitting diode) display that features enhanced brightness and vividness; a high-contrast, wide viewing angle; and a quicker response time when compared to traditional displays. Additionally, it offers easy channel selection, GPS memory, VOX intercom, and 10 regular and 200 group memory channels. Price: $1,995. Contact: www.icomamerica.com.
MGL Avionics
On a tight budget? The 3.5-inch E1 Engine Management System combines everything you need to monitor your LSA engine in one compact package: EGT, CHT, rpm and more. The E1 display is a high-resolution LCD screen. Price: $250. Contact: www.mglavionics.com.
---
PS Engineering
Mustn't forget cockpit chatter: The sophisticated panel-mount
PM3000
hi-fi stereo intercom features top-notch VOX and squelch controls, VOX circuitry, adjustable LED power and transmit intensity, a single squelch-control knob for simple and quiet operation, and separate pilot/copilot transmission capability. Price: $493.
Contact:
www.ps-engineering.com
.
Trig
This company claims its TT21 Mode S transponder is the world's smallest and lightest at around one pound! That's good news for small LSA panels. Low power consumption and a very small panel footprint make it ideal for space-challenged LSA decks. Price: $1,795. Contact: www.trig-avionics.com.
Trio Avionics
The EZ Pilot solid-state, single-axis autopilot has a lot of features for it's low price point: pilot command steering, selectable track offset, speed-controlled bank angle, GPS flight-plan tracking and a lot more. Price: $1,770. Contact: www.trioavionics.com.
TruTrak Flight Systems
TruTrak is well known for its autopilots, which are offered as standard equipment on many production S-LSA. The DigiFlight II VSGV comes in two flavors: 2.25-inch round-hole or flat-pack mount. The device has a digital slaved directional gyro, track selector, altitude hold, wheel steering, GPS steering and GPS NAV mode—and it weighs just six pounds including servos! Price: $5,225. Contact: www.trutrakflightsystems.com.
Zaon
The portable, stand-alone PCAS XRX collision-avoidance system sits on the glare shield. It can link to GPS moving-map and EFIS devices and display traffic using TCAS-like symbology. Price: $1,495. Contact: www.zaon.aero.