The beautiful sunlight of Sebring in late afternoon wanes into long shadows and golden hues—a photographer's favorite time of day. Kneeling/squatting/tiptoeing as I shoot my way around the Tecnam P92-TD (for "TailDragger") S-LSA, I'm reminded, in every detail, what top-quality, beautifully crafted airplanes this company makes.
Trademark Tecnam features, such as lovely metal riveting work, quality paint, and the "looks right, feels right" placement of controls, knobs and levers inside the cockpit, are part of the winning equation. Hop in for a demo, and you have the added joys of comfortable, quality upholstered seats, superb in-flight handling and error-forgiving performance.
The S-LSA industry now boasts 131 distinct models. Most—amazingly, given the economy—remain in production. Tecnam, working hard to expand its recognition factor in the U.S. market, enjoyed a market uptick for 2012 with six U.S. registrations and 12 sales. That may not sound like fist-pumping time, but it conferred a ninth-place finish for the year, and that's in terms of FAA registrations only.
I often quote registrations as compiled by Jan Fridrich, in articles and my blog. It's a conservative approach, but at this point, it's the only indisputable whole-industry view available.
Here's CEO Phil Solomon's take on the question of surveying LSA market activity: "LSA registrations are highly misleading, but with the absence of any reporting from the companies themselves, it is all that Jan (Fridrich) has to go on. We (Tecnam North America) actually delivered 12 planes and took orders for another six but…those deliveries were from inventory."
The Italian company, founded in 1948, has five ASTM-certified S-LSA models (with variants that bring the total to 10). Tecnam commands a firm hold on sixth place in the overall U.S. horse race, with 146 total registrations since 2004.
My first Tecnam pilot report years ago was on the P92 Eaglet, a training-optimized offshoot of the original P92 Echo. I still love that airplane. As an in-training sport-pilot student, it was a delight to fly, easy to land and solidly built.
---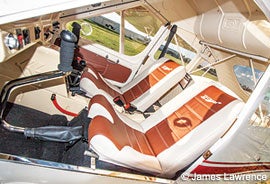 A bend in the control sticks makes for easy clearance when entering and exiting the airplane.
The Echo first flew in 1993 in Europe; congratulations to Tecnam in this 20th anniversary year. Popular overseas for flight training, personal and club ownership and even as a reconnaissance aircraft/trainer for the Cambodian Air Force, there have been 12 iterations of the design. The list includes a truly beautiful SeaSky float/amphib version (with fully enclosed float rudder controls!), and the P92-TD taildragger we're about to fly, here.
The worldwide P92 fleet numbers nearly 2,000 aircraft. Now that's pedigree, brother.
Side-By-Side Taildraggin'
With its big swept tail but also an oval turtledeck window and retro short-field look, Tecnam has crafted a decidedly old/new, retro appeal for its P92-TD. It's also the first taildragger the company has ever built.
Another cool-factor standout is the seating. Many taildraggers, including Legend and CubCrafters cub clones, and all those classic Piper J3 Cubs, Taylorcrafts, Aeroncas, Citabrias et al, come with tandem seating. The TD restores pilot-to-pal or sweetie-pie eye contact without undue risk of whiplash.
That feature alone puts the new bird squarely into the revered genre of classics such as the Cessna 170, 180 and 185. And like those Cessna bushplane-style flivvers, the TD is all metal—a huge draw, Tecnam hopes, for a particular type of pilot.
Another big appeal is the Lycoming YO-233-B2A 115 hp power plant with electronic ignition. Two other engines are offered with the TD: Rotax 912 and 914 Turbo. For those seeking the classic sound and rumble of an air-cooled, opposed-cylinder, American-made power plant, the Lyc is your modern e-ticket to those thrilling days of Aviation Yesteryear.
The instrument panel is finished in a retro-style simulated-wood veneer and features a Dynon D120 EFIS.
Peeking behind the company curtain, Tecnam's market research found that more than half its potential P92 buyers wanted a taildragger—and even more asked for side-by-side seating. One can only stare at the back of wifey's new "'do" for so long.
Topping the survey's feature wish list was an all-metal airframe. Only time will tell how well "Survey Says!" translates into "Sales Made!"
Not Your Dad's Taildragger
Let's climb aboard and get flying. The first thing my host pilot, Ron White, tells me to do is to taxi with quick taps on the toe brakes to keep the non-steerable tailwheel back where it belongs during taxi.
---
"Proper-behaving airplanes is Tecnam's passion," Tommy Grimes, President of Tecnam North America, had told me earlier. "They all have the same feel: stick pressures, positive stability. They're hands-off airplanes that are a pleasure to fly. In flare, the size of the TD's vertical tail and rudder is just enormous, so it doesn't need a steerable tailwheel. Almost as soon as you power up, the rudder has full control, and off you go."
Ground viz forward is just fine: The deck angle seems less severe than a J3's. Fishtailing is always a good idea, though, for seeing what's ahead.
The roomy instrument panel is finished in a handsome, retro-style simulated-wood veneer. Our demo aircraft has the standard TD setup—a spray of analog round gauges and the Dynon D120 EFIS—but there's plenty of turf for more instrumentation.
I like the bend in the control sticks— makes for easy foot clearance during ingress/egress, since the TD is tallish. Rocker switches (Master, Avionics Master etc.) and fuses tidily parade left to right below the panel. In the middle of the console lie the carb heat knob and electric flap toggle.
Flap control is stepless, meaning you push down until you have the setting you want. Max flaps is 35 degrees, for real STOL-style flying. Nice.
Putting Grimes' comments to the test, I pour in the throttle. Indeed, rudder comes alive in a couple seconds, and we're off in short order. Climb rate is muscular behind the Lycoming—beyond 1,000 fpm (book is 1,200 to 1,100 with the Rotax). Decent right foot keeps things lined up (left foot for at-idle descents).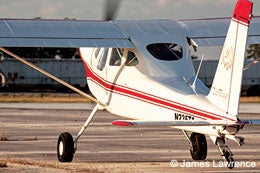 A swept tail and oval turtledeck window complete the retro look of the P92-TD.
We do a couple of stalls, clean and dirty, from slow flight and under near-full power. The TD's manners are impeccable: relax back pressure on the stick, feed in power as needed, but it's flying again in no time, with no significant wing-drop tendencies. The airplane handles well in the low-speed regime, and is smooth, firm and balanced in low- and high-bank turns at all speeds.
At 3,000 feet and 2,500 rpm, I see 110 knots indicated, or about 116 true. Book is 118, so we're right in the ballpark. The stick-top, electric push-button trim is excellent: not twitchy, just right. Throttle and mixture on the angled center console live right where you want them.
Setup for landing is nominal: approach at 60 knots, ease off to 55 across the fence, hold off and let her settle on. My landing is, however, far from the "settle on" variety: I chop throttle too abruptly with all 35 degrees of flaps in, and after a surprise sink-out and overcorrection, we do a good bounce-balloon impersonation of trampolining. The sturdy main gear absorbs my indiscretion admirably, though White helps out, and we're rolling for the turnoff soon enough. Clearly, student-style landings are no sweat in the TD.
---
Rolling to a stop, I feel like I've taken a turn in an old friend. The P92-TD is such a pleasure to fly, with solid, smooth handling, plenty of climb power and 20 years of refinements on its airframe.
Taildragger-loving pilots now have a real LSA alternative to those fabric-covered short-field and pleasure-cruising airplanes. TD, for taildragger…and touchdown!
Why Fly A Taildragger?
Most aircraft at the dawn of aviation came with skids or wheels under their tails. It was easier to design and build aircraft that way, given the aerodynamic knowledge and materials technology of the day.

After World War II, tricycle airliners and military and civilian planes changed all that. It's now uncommon to see a new taildragger like the P92-TD debut in any aircraft market. So what, beyond the usual, "Makes a better pilot out of you!" are the advantages of the beast so many pilots remain intimidated by?

• Avemco Insurance offers a Safety Rewards credit to any pilot who gets a tailwheel endorsement. Hundreds of accidents, each year are laid at the nose of loss of directional control at slow airspeeds, i.e. on takeoff and landing. Most are crosswind accidents but cobbing the power such as for go-arounds is another major cause. Cost to insurance companies: millions of dollars per year. The conclusion: Avemco knows taildragger pilots have better control over their aircraft in the slow-flight speed regime.
• Taildragger flying requires better skills, such as effective use of aileron and rudder—together—at slow speeds where control effect typically falls off.
• Tailwheel airplanes can handle worse adverse wind conditions. Flight controls are more effective in stronger winds, such as making turns into the wind by deflecting the ailerons and weathervaning into the wind.
• For rough-field bush flying, some nose gears aren't as beefy as they need to be. Off- field landings can mean extensive, expensive repairs that are less likely to even happen in an out-landed taildragger.
• The two main wheels on a trigear airplane are behind the CG. On takeoff, the tail must be forced down for pitch up, which requires more ground speed for elevator effectiveness and thus a longer run. A taildragger's natural stance at rest already offers a high angle of attack. As soon the tail flies, the perfect lift-off angle is pitched to, making for shorter takeoff runs at optimal speed.
• One wonderful exception I've flown that overcomes the trike gear's inherent disadvantages is the fabulous Peterson Katmai STOL, a Cessna 182 mod that adds a canard, longer wing and other bush-worthy beef-ups.
• Tailwheel aircraft do hone more precise stick-and-rudder skills. Anything that keeps your head in the game and in sync with your airplane's flight-handling aerodynamics makes you a better pilot.
• Tailwheel aircraft are a great conversation starter for modern pilots to commune with "old-timer" tailwheelers.
• Nostalgia appeal: New pilots and passengers have seen pictures most of their lives of tailwheel classics and warbirds.