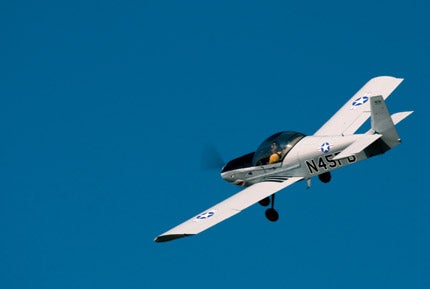 In some respects, Steve Smith is exactly the kind of pilot for whom LSAs were designed. Smith is a 53-year-old entrepreneur in Santa Rosa, Calif., who owns a software company and only began flying a little over a year ago.
Though he's been successful in business, designing software primarily for the corporate market, Smith wasn't enthused about the prices of normal-category airplanes. "There's little question that standard production airplanes offer excellent avionics sophistication," says Smith, "but even entry-level models are above $150,000, and a new, well-equipped Skyhawk runs more like $220,000. For flight schools and those who have a need for four seats, that's probably acceptable, but I was looking for a new two-seater that was a lot less costly."
Accordingly, Smith investigated the light-sport market and discovered the Zenith Zodiac CH 601 XL. The 601 series has been around for nearly a quarter-century, so it's a proven all-metal design; it's famous for being easy to build and it's equally well-known as a simple flying machine.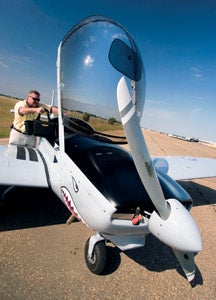 The Zodiac 601 XL features a semi-bubble canopy that hinges in the front and provides access into a roomy office (it's as broad as a Cessna 206).
"As it happens, Quality Sport Planes [www.qualitysportplanes.com], the local Zenith dealer, is right up the road from me in Cloverdale," says Smith. "Michael Heintz, Quality's president, is the son of the Zodiac's designer, Chris Heintz, so he's a font of knowledge about the airplane. The kits are produced at the Zenith plant in Mexico, Mo., and they come with precut, predrilled skins and components, along with CAD drawings and photos to assist in the buildup. Here in California, Quality Sport Planes offers an on-site build-it-yourself program with their assistance. Their quick-build 601 XL looked like a good way to get into flying with minimal expense and in minimum time, so my brother, Alan, and I signed up for two of their XLs."
Smith and his brother took the absolute shortest route to complete their airplanes, meanwhile working on their sport-pilot licenses. Steve Smith finished his training for the license in 46 hours while he was building his airplane ("I'd be surprised if anyone can make it in the minimum 20 hours," he says), and working together, the Smith brothers completed construction of their airplanes in four months.
Smith says in some respects, the construction process was easier than the flight training. "I've been a tinkerer all my life, so there was nothing especially intimidating about building the Zodiac. The airplane is pretty straightforward in design, though there are some aviation-specific processes that took some study," Smith comments. "Everything is conventional, with 6061-T6 aluminum for skins and structures and Avex blind rivets to hold everything together. The airplane is low-tech in construction, but high-tech in performance, delivering speed that's equal to the limit of the class.
"I think anyone who's even moderately competent with his hands could get through the build process fairly easily," continues Smith. "There's really nothing that difficult about assembling a 601 XL if you're smart enough to figure out a screwdriver, wrench, drill gun and riveter. Zenith's factory spec for construction time is 400 hours, but that's probably for someone without any dexterity with tools."
---
AMD
Aircraft Manufacturing and Development, located in Eastman, Ga., is a Part 23–certified aircraft manufacturing factory that has been producing Chris Heintz–designed airplanes in the same facility for 10 years. They build the Alarus, which is IFR and Part 23 certified, as well as two other LSAs, the Zodiac 601 XLi and the Patriot. AMD has the honor of being a light-sport manufacturer that builds an IFR-certified S-LSA. They feature only the Part 33–certified Continental O-200 engine. To see their factory-built, certified aircraft, visit them online at www.newplane.com or call (478) 374-2759.
A plethora of engines are available for the Zodiac, so you can pretty much have it as you like it, depending upon your budget and inclination. The 601 can be adapted to Subaru and Corvair automotive engines, along with the Continental O-200, Lycoming O-235, Austrian Rotax 912S and the Australian Jabiru 3300.
Smith chose the latter engine, which is perhaps the most popular of the bunch. This powerplant is a fairly simple 3,300 cc mill rated for 120 hp at a coincidental 3,300 rpm. The engine is a lightweight (178 pounds), air-cooled, six-cylinder design that Smith calls "smooth as butter." It's roughly a Down Under answer to the popular Rotax used on dozens of homebuilts all over the world. The engine uses a Bing altitude-compensating carburetor that Smith claims is the next best thing to a single power control. TBO is a generous 2,000 hours, and the Jabiru has built a reputation for reliability in Australia.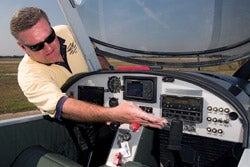 Smith has flown the Lycoming-powered Zodiac and says he prefers the Jabiru version, primarily because it's inherently smoother with six cylinders out front rather than four, and it's nearly 100 pounds lighter than the Lycoming. That's an especially important consideration when you're limited by regulation to 1,320 pounds gross, and every pound reduced from empty weight translates directly to payload.
Smith admits he went a little over the top on his airplane, spending about $75,000 for the finished product, but that's partially because of his penchant for avionics, a Dynon FlightDEK-D180 flight-instrument system, a Garmin 60 GPS, a Zaon traffic warning device and other goodies. He suggests you could easily get by for half of what he invested. "If you're willing to do all the work yourself with a minimum of prefabrication, you could build the airplane very cheaply," he says. "The kit is only $16,000 and there are a number of options to configure the airplane the way you wish. At the bottom end, you could use a Corvair engine for another $4,000. Tack on all the other expenses you'll incur in the buildup, and you'll probably wind up with a finished airplane for little more than the price of an Infiniti G35 Sedan. I know of one builder who went that route and produced a basic airplane for a total investment of only $35,000."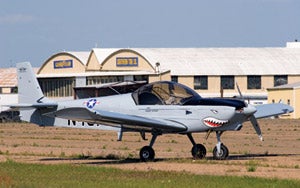 Fitted with long-range, 30-gallon tanks and a Jabiru engine, Steve Smith's Zodiac offers excellent endurance (five hours plus reserve).
Flying the Zodiac 601 XL is more reminiscent of a normal-category machine than an LSA. The semi-bubble canopy hinges at the front and opens to reveal a wide, comfortable office. Elbow-to-elbow, the 601 XL measures 44 inches, so it's plenty big for two folks, actually as broad as a Cessna 206. Smith has fitted his airplane with dual sticks, but you could economize if necessary and mount only a single-stick control à  la the early Bonanza.
Like any lightweight aircraft, payload makes a big difference in climb performance. Flying light, with half fuel and only himself aboard, Smith says he can easily see 1,200 fpm. With full fuel and two up, the number is closer to 1,000 fpm.
Smith's airplane is fitted with the long-range, 30-gallon tanks, and in combination with the efficiency of the Jabiru, that allows excellent endurance—an easy five hours plus reserve. With power at the forward stop, that means a cross-country range in excess of 500 nm. Pulled back to more like 55% to 60%, the airplane can easily traverse 550 nm between pit stops. "I see about 5 gph if I'm cruising hard," asserts Smith, "but I can get it all the way back to 3 gph if I need to, and the math suggests I can make more than 25 mpg at that setting."
---
With some 180 hours in his logbook, nearly all of it in his Zodiac 601 XL, Steve Smith has become something of a modern-day barnstormer. "I've been to the Copperstate Fly-In in Casa Grande, Ariz., up to the Eugene Oregon Air Show in Colorado and to lots of local events.
"Some days, I'll just take off in an arbitrary direction and fly, stopping at every airport I see just for the fun of it," Smith laughs. "A while back, I landed at 12 airports in one day. It's a great way to have fun and enjoy what I believe is one of the most talented LSAs in the sky." For more information about the Zodiac CH 601 XL, contact Zenith Aircraft at www.zenithair.com or (573) 581-9000.
Zenith Zodiac CH 601 XL

Engine make/model:
Jabiru 3300
TBO hrs.:
2000
Horsepower:
120
Gross weight (lbs.):
1320
Empty weight, std. (lbs.):
695
Useful load, std. (lbs.):
625
Usable fuel, std. (gals.):
24
Payload, full std. fuel (lbs.):
481

PERFORMANCE

Max cruise speed (kts.):
120
Best rate of climb, SL (fpm):
1200
Takeoff distance (ft.):
500
Landing distance (ft.):
500
Source: Zenith Aircraft