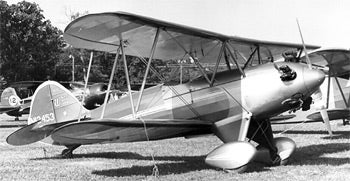 Waco 1BA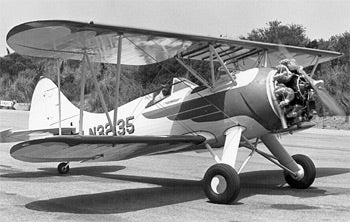 Waco UPF-7
STANDARD DATA: (UPF) Seats 2. Gross wt. 2,650. Empty wt. 1,870. Fuel capacity 50. Engine 220-hp Continental.
PERFORMANCE: Top mph 138. Cruise mph 123. Climb to 9,000 in 15 minutes. Ceiling 15,800.
Waco open-cockpit biplanes were first produced in 1923. The most popular and common survivor is the UPF-7 (PT-14) because it was produced in the largest numbers as a primary trainer from 1937 to 1942. The Waco F series was the replacement for the older 1928 0 series and was put into production in 1930. The F series airplanes represent the majority of Wacos still seen flying. The first to be assembled were the INF and the KNF, which housed 125-hp and 100-hp Kinners respectively. In subsequent years, numerous models were added, each differing for the most part by the powerplant: in 1931, the PCF (170-hp Jacobs) and QCF (165-hp Continental); in 1932, the PBF (170-hp Jacobs) and UBF (210-hp Jacobs); in 1934, the UMF (210-hp Continental) and YMF (225-hp Jacobs); and in 1935, the CPF (250-hp Wright) and YPF (225-hp Jacobs).
An explanation is necessary for an understanding of the Waco designation pattern. In the case of the UPF-7, the U stands for the 220-hp Continental engine, the P stands for the Waco wing that was used, the F indicates the model with twin open cockpits and seating for three, and the 7 means it is the seventh in the series of this basic type. After 1930, the third letter designations indicating year of introduction and style were as follows: F, 1930 with seating for three in two open cockpits; G, 1930 single-seat; C, 1931 standard cabin model until 1935 when it became the custom model (20 mph faster); M, 1931 mail plane version; A, 1932 single open cockpit with side-by-side seats; D, 1934 military export open or closed tandem cockpits; C-2, 1935 Standard model; S, 1935 Standard cabin model with four seats; F, 1939 cabin model with five seats; and N, 1939 tricycle version of the C.
The first letter engine designations are as follows: A, 330-hp Jacobs; 13, 165-hp Wright; C, 250-hp Wright; D, 285-hp Wright; F, 350-hp Wright; H, 300-hp Lycoming; 1,125-hp Kinner; J, 365-hp Wright; K, 100-hp Kinner; M, 125-hp Menasco; O, 210-hp Kinner; P, 170-hp Jacobs; Q, 165-hp Continental; R, 110-125-hp Warner Scarab; S, 420-450-hp Pratt & Whitney Wasp Junior; U, 220-hp Continental; V, 240-hp Continental; W, 450-hp Wright; Y, 225-hp Jacobs; and Z, 285-hp Jacobs.
Waco construction generally consisted of a wooden wing structure with metal leading edge covered in fabric and a steel-tube fuselage also covered with fabric.